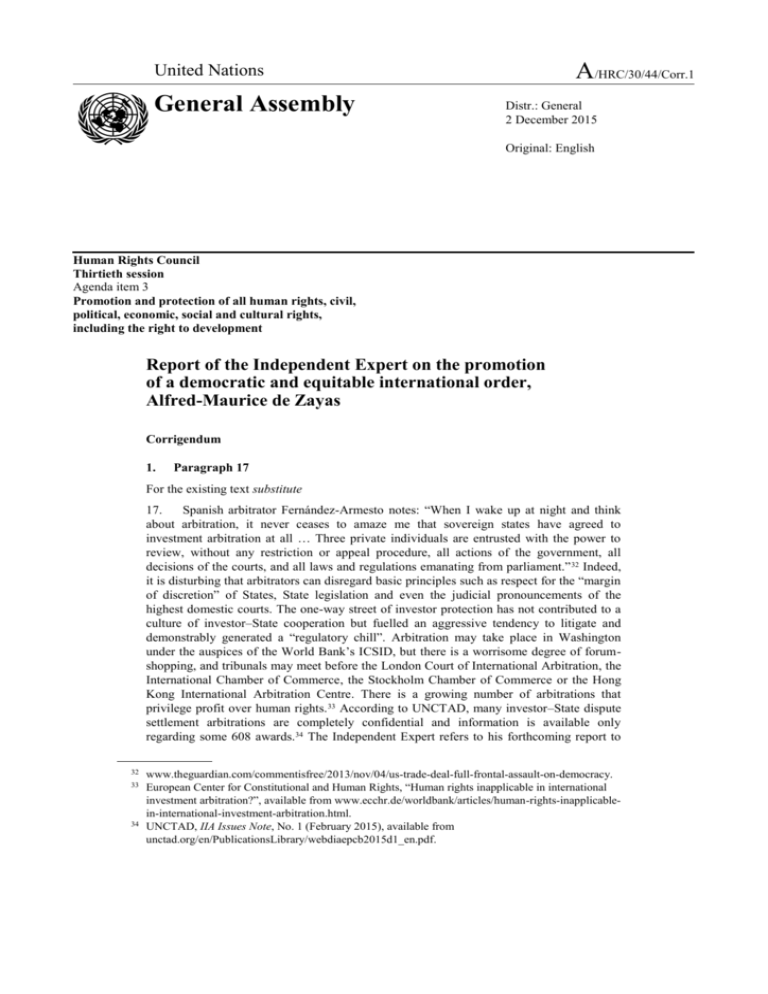 A/HRC/30/44/Corr.1
United Nations
General Assembly
Distr.: General
2 December 2015
Original: English
Human Rights Council
Thirtieth session
Agenda item 3
Promotion and protection of all human rights, civil,
political, economic, social and cultural rights,
including the right to development
Report of the Independent Expert on the promotion
of a democratic and equitable international order,
Alfred-Maurice de Zayas
Corrigendum
1.
Paragraph 17
For the existing text substitute
17.
Spanish arbitrator Fernández-Armesto notes: "When I wake up at night and think
about arbitration, it never ceases to amaze me that sovereign states have agreed to
investment arbitration at all … Three private individuals are entrusted with the power to
review, without any restriction or appeal procedure, all actions of the government, all
decisions of the courts, and all laws and regulations emanating from parliament." 32 Indeed,
it is disturbing that arbitrators can disregard basic principles such as respect for the "margin
of discretion" of States, State legislation and even the judicial pronouncements of the
highest domestic courts. The one-way street of investor protection has not contributed to a
culture of investor–State cooperation but fuelled an aggressive tendency to litigate and
demonstrably generated a "regulatory chill". Arbitration may take place in Washington
under the auspices of the World Bank's ICSID, but there is a worrisome degree of forumshopping, and tribunals may meet before the London Court of International Arbitration, the
International Chamber of Commerce, the Stockholm Chamber of Commerce or the Hong
Kong International Arbitration Centre. There is a growing number of arbitrations that
privilege profit over human rights. 33 According to UNCTAD, many investor–State dispute
settlement arbitrations are completely confidential and information is available only
regarding some 608 awards.34 The Independent Expert refers to his forthcoming report to
32
33
34
www.theguardian.com/commentisfree/2013/nov/04/us-trade-deal-full-frontal-assault-on-democracy.
European Center for Constitutional and Human Rights, "Human rights inapplicable in international
investment arbitration?", available from www.ecchr.de/worldbank/articles/human-rights-inapplicablein-international-investment-arbitration.html.
UNCTAD, IIA Issues Note, No. 1 (February 2015), available from
unctad.org/en/PublicationsLibrary/webdiaepcb2015d1_en.pdf.
A/HRC/30/44/Corr.1
the General Assembly and flags a few cases in order to illustrate litigation practices and
their human rights implications.
2.
Paragraph 26
For the existing text substitute
26.
In 2009, an Ecuadorian court fined Chevron for environmental damage caused by its
activities. Chevron refused to pay and sought damages from Ecuador for lost profits in the
arbitration proceeding instituted under the United Nations Commission on International
Trade Law (UNCITRAL) Arbitration Rules.44 Arbitration is ongoing.
44
2
www.italaw.com/cases/257. See also truth-out.org/news/item/23788, fpif.org/nafta-20-modelcorporate-rule/, and content.time.com/time/world/article/0,8599,2053075,00.html.