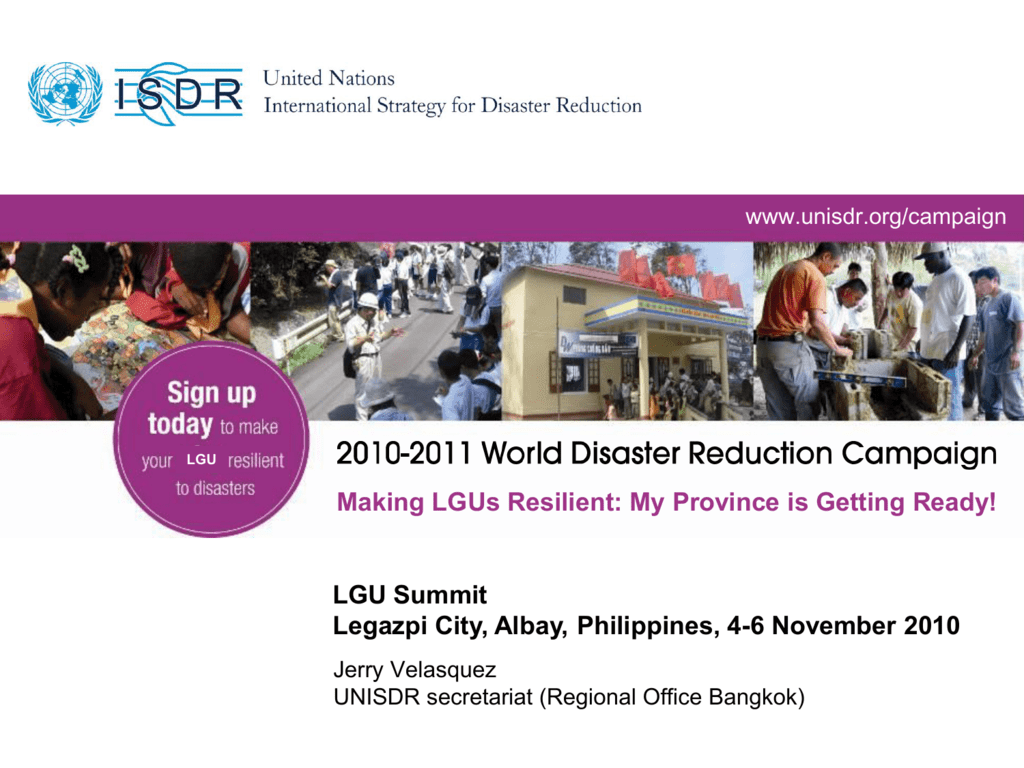 1
www.unisdr.org/campaign
LGU
www.unisdr.org
Making LGUs Resilient: My Province is Getting Ready!
LGU Summit
Legazpi City, Albay, Philippines, 4-6 November 2010
Jerry Velasquez
UNISDR secretariat (Regional Office Bangkok)
2
www.unisdr.org
Philippines - Highly Susceptible to
Disasters
• Archipelago,
composed of 7,100
islands with low lying
areas
• Highly susceptible to
sea level rise
• Among longest
coastlines in the world
with 32,400 kms
(susceptible to storm
surges)
3
www.unisdr.org
From a report
funded by
Sweden and
Canada
released in
January 2009
4
www.unisdr.org
List of Vulnerable Provinces in the Philippines
VUL: Climate change vulnerability index; RANK: Rank of climate change vulnerability index (across SEA); CHAZ:
Multiple climate hazard index; SENS: Sensitivity index; ADAP: Index of inverse adaptive capacity; PDEN: Population
density in 2000 (population/km2); PROT: Protected area (% of total area); POP: population (thousand); INC: per capita
income in 2005 (US$PPP); POV: Poverty incidence; HDI: Human Development Index.
Color coding: High vulnerability: red bold; moderate vulnerability: black bold; mild vulnerability: black.
5
from
ASEAN Disaster Risk Management Initiative
(ASEAN DRMI)
Synthesis Report on Ten ASEAN Countries
Disaster Risks Assessment
www.unisdr.org
undertaken by UNISDR, World Bank and Risk
Management Solutions for ASEAN
presented to ASEAN last week in Korea
6
www.unisdr.org
Socio-economic impacts and trends
We experience more
storms than other hazards
and they cause the most
number of deaths
The number of disaster
events is increasing but the
total number of deaths are
decreasing
7
www.unisdr.org
Socio-economic impacts and trends
All hazards affect a large
number of population
The number of affected
population is slightly
increasing
8
www.unisdr.org
Socio-economic impacts and trends
Floods and storms cause
the most economic
damage, followed by forest
fires
Economic damage is
increasing rapidly (18 times
more since 1970)
www.unisdr.org
9
The 20-year return period (an event with 5 per cent
probability of exceedance) loss for all natural hazards
is $1.208 billion (0.37 per cent of GDP PPP), while
the 200-year return period (an event with 0.5 per
cent probability of exceedance, generally corresponds
to a catastrophic event) loss is $2.14 billion (0.66 per
cent of GDP PPP).
10
www.unisdr.org
From the Asia
Pacific Disaster
Report 2010,
released last
week in Korea by
the United
Nations (ESCAP
and UNISDR)
11
www.unisdr.org
For 20 months return period
12
www.unisdr.org
Do you want similar but more
detailed analysis for your province?
• We cant do more without provincial level
data on disaster damage and losses
• Its available in your provinces, its just
not put in a database and analyzed
• UNDP and UNISDR can offer technical
support through a system called
"DesInventar"
13
2010 – 2011 World Disaster Reduction Campaign
Making LGUs Resilient: My Province is Getting Ready!
Objective
 Achieve resilient, sustainable local
communities through actions taken by
local government units to reduce
disaster risk
Know More
www.unisdr.org
Invest Wisely
Build More Safely
14
2010 – 2011
www.unisdr.org
Making LGUs Resilient: My Province is Getting Ready!
Global Launch: 30 May 2010, Bonn, Germany
Governors and Mayors from all regions symbolically signed up to the 10
campaign essentials
15
Sign up to the:
Ten-Point Checklist
- Essentials for
Making LGUs
Resilient
www.unisdr.org
LGU
16
Ten-Point Checklist - Essentials for Making LGUs Resilient
Essential 1 - 4
1. Put in place organization & coordination to clarify
everyone's roles & responsibilities.
2. Assign a budget & provide incentives for homeowners, lowincome families, private sector to invest in risk reduction.
3. Update data on hazards & vulnerabilities, prepare & share
risk assessments.
www.unisdr.org
4. Invest in & maintain
critical infrastructure,
such as storm drainage.
17
5. Assess the safety of all schools and health facilities & upgrade
these as necessary.
Essential 5
One Million Safe Schools and Hospitals Pledging Initiative
http://www.safe-schools-hospitals.net
The campaign urges individuals or organizations to make a commitment to do
specific actions on any of the three components that could make schools and
hospitals safer before a disaster:
 Public awareness,
 Emergency and disaster preparedness, and
www.unisdr.org
 Disaster risk reduction
 To make people aware about
safe schools and hospitals
 To be prepared in case of
emergencies and disasters
 To contribute time, effort or
resources to make schools and
hospitals safer
18
6. Enforce risk-compliant building regulations & land use
planning principles, identify safe land for low-income citizens.
Essential 6 - 10
7. Ensure education programmes & training on disaster risk
reduction are in place in schools and local communities.
8. Protect ecosystems & natural buffers to mitigate hazards,
adapt to climate change.
www.unisdr.org
9. Install early warning systems & emergency management
capacities.
10. After any disaster,
ensure that the needs of
the affected population
are at the centre of
reconstruction.
19
Sasakawa Award for Disaster Risk Reduction 2011
- Prize Money: US$50,000
(Will be shared between the
Sasakawa Laureate/s and
recipient/s of the Certificates of
Distinction and Merit)
www.unisdr.org
- Presented biennially during the
Global Platform for Disaster
Risk Reduction (GP)
- Next Award Ceremony:
Beginning of May 2011,
Geneva, Switzerland
- All information available at:
http://www.unisdr.org/eng/sasakawa
20
Sasakawa Award for Disaster Risk Reduction 2011
Who is eligible?
Individuals / institutions that have carried out outstanding and
internationally-recognized action that contributes to the
implementation of the Hyogo Framework for Action
Achievements should be linked to the Making LGUs Resilient: My
Province Is Getting Ready campaign and address issues of
local governance and urban risk
www.unisdr.org
Nomination & Selection Process
Nominations should be submitted to
the UNISDR secretariat by
28 February 2011.
An international jury will decide
on the Award winners.
The Call for Nominations is now open!
21
www.unisdr.org
Permanent provincial coordinating office for DRR, Albay, Philippines
The provincial government of established an independent and
institutionalized disaster risk reduction office with permanent staff.
The government decentralized and mainstreamed disaster risk reduction into
local governments' plans and programmes.
22
www.unisdr.org
Building local capacity- safer homes, Vietnam
A French NGO worked with local governments to promote cyclone-resistant
buildings and related awareness-raising activities for local communities.
Local Leadership remains now in local governments
Training, education, public awareness resulted in safer homes and
communities
Local government network sharing experience in Vietnam functioning.
23
www.unisdr.org
Comprehensive Disaster Management Programme, Bangladesh
A whole-of-government strategy led by the Government of Bangladesh and
implemented by a range of local government and private organizations.
Standardized community risk assessment, and helped develop local action
plans for mainstreaming disaster risk reduction into the work of government
authorities.
Provides a local funding structure to implement priority actions, motivating
local authorities and communities to take part.
24
www.unisdr.org
Urban Flood Early Warning System, Jakarta, Indonesia
Improved Flood Early Warning System for Jakarta, been a true multi-stakeholder
process, involving many local authorities and partners. AIMING TO GET THE
WARNING TO COMMUNITY LEVEL, improving existing system
Technical improvements mean that earlier flood warnings are now possible.
Preparedness capacity has been built and streamlined.
25
www.unisdr.org
Civil Protection- community projects Acajutla Municipality, El Salvador
•Reducing Vulnerabilities in Ahuachapán and Sonsonate Programme (PRVAS)
•Improve collaboration between NGOs, local government authorities and local
communities. --strengthening existing Civil Protection Committees and communitybased DRR projects:
•disaster preparedness training, drills and simulations, small mitigation projects,
community awareness raising and support for community action.
26
www.unisdr.org
Community Awareness: Serua and Namosi provinces, Fiji
•long-term approach to strengthening local level disaster risk reduction, UNDP
Pacific Centre with multiple partners and stakeholders
•raised awareness of the links between development and flooding within the
planning process,
•developed early warning systems, supported communities to assess their
vulnerabilities, drawn up plans of action and put those plans into practice.
•Provincial Administration of Serua and Namosi provinces were highly committed.
27
Thank you
LGU
United Nations, secretariat of the
International Strategy for Disaster Reduction
www.unisdr.org
[email protected]
www.unisdr.org/campaign
28
2010 – 2011
Making LGUs Resilient: My Province is Getting Ready!
LGUs commitments were achieved in regional
launches and related events in Bonn, Davos, Lima,
Delhi and Durban.
Participating LGUs – Role Model LGUs - Champions
www.unisdr.org
The following Philippines
cities / provinces joined
the campaign:
Albay Province,
Dagupan City,
Dumangas City,
Makati City,
Pasig City,
Saint Bernhard City,
San Francisco City.
29
Benefits for cities to join the campaign
Participating LGUs will have access to campaign specific information
and knowledge:
 Invitation to policy dialogues, learning workshops, and other
campaign-related events at the global and regional level.
 Access to "Induction packages" for local governments on urban risk in
collaboration with training centres and academia, promoting capacity
development and learning opportunities for cities and local governments
in each region.
www.unisdr.org
 High-visibility media events and communication tools.
 UN-Sasakawa Award for Disaster Risk Reduction 2010-2011,
which will prioritize nominations from
cities who participate in the Campaign.
 Additional resources and opportunities
are under negotiation (2011)
www.unisdr.org
30
www.unisdr.org
31
32
Population Density - The population density map was obtained from the
Urban Extent Database (GRUMP version 1) of the Center for International
Earth Science Information Network (CIESIN), Columbia University
(http://sedac.ciesin.columbia.edu/gpw); the International Food Policy
Research Institute (IFPRI); the World Bank; and Centro Internacional de
Agricultura Tropical (CIAT). The data is in geographic coordinates of
decimal degrees based on the World Geodetic System spheroid of 1984
(WGS84) in 30- arc-second (1-km) resolution.
www.unisdr.org
Protected Areas - Areas Declared as National/Protected Parks Data on
national/protected parks as well as maps were obtained from the
Terrestrial Ecoregions GIS Database of the World Wildlife Fund (WWF) at
http://www.worldwildlife.org/science/data/item1875.html.