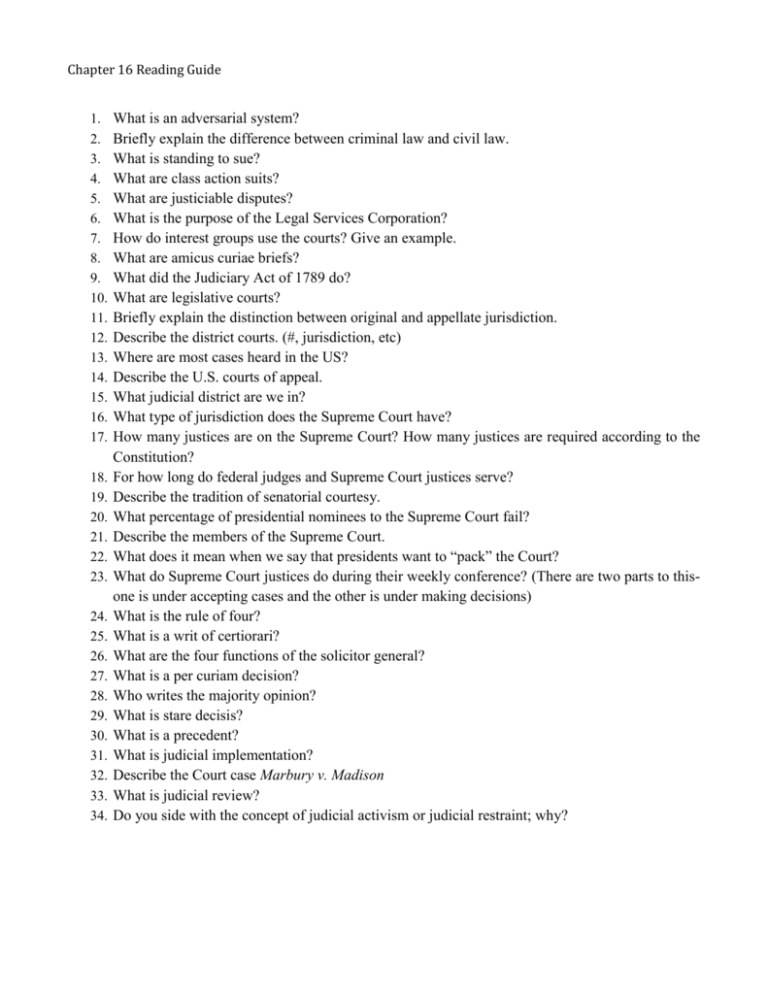 Chapter 16 Reading Guide
1.
2.
3.
4.
5.
6.
7.
8.
9.
10.
11.
12.
13.
14.
15.
16.
17.
18.
19.
20.
21.
22.
23.
24.
25.
26.
27.
28.
29.
30.
31.
32.
33.
34.
What is an adversarial system?
Briefly explain the difference between criminal law and civil law.
What is standing to sue?
What are class action suits?
What are justiciable disputes?
What is the purpose of the Legal Services Corporation?
How do interest groups use the courts? Give an example.
What are amicus curiae briefs?
What did the Judiciary Act of 1789 do?
What are legislative courts?
Briefly explain the distinction between original and appellate jurisdiction.
Describe the district courts. (#, jurisdiction, etc)
Where are most cases heard in the US?
Describe the U.S. courts of appeal.
What judicial district are we in?
What type of jurisdiction does the Supreme Court have?
How many justices are on the Supreme Court? How many justices are required according to the
Constitution?
For how long do federal judges and Supreme Court justices serve?
Describe the tradition of senatorial courtesy.
What percentage of presidential nominees to the Supreme Court fail?
Describe the members of the Supreme Court.
What does it mean when we say that presidents want to "pack" the Court?
What do Supreme Court justices do during their weekly conference? (There are two parts to thisone is under accepting cases and the other is under making decisions)
What is the rule of four?
What is a writ of certiorari?
What are the four functions of the solicitor general?
What is a per curiam decision?
Who writes the majority opinion?
What is stare decisis?
What is a precedent?
What is judicial implementation?
Describe the Court case Marbury v. Madison
What is judicial review?
Do you side with the concept of judicial activism or judicial restraint; why?