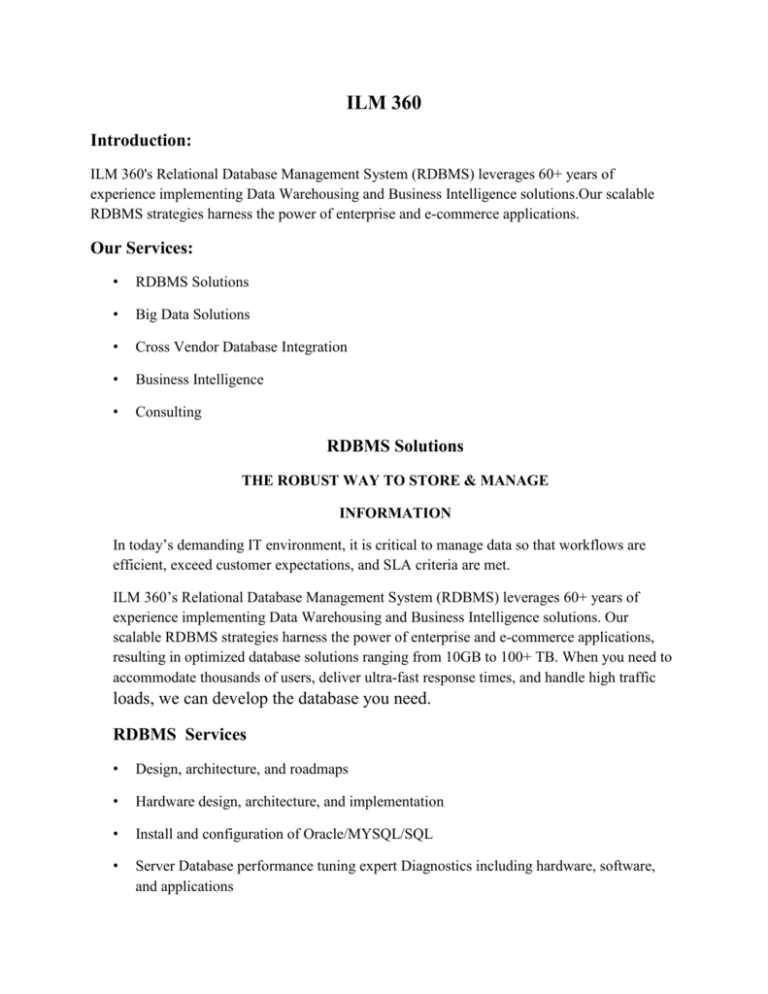 ILM 360
Introduction:
ILM 360's Relational Database Management System (RDBMS) leverages 60+ years of
experience implementing Data Warehousing and Business Intelligence solutions.Our scalable
RDBMS strategies harness the power of enterprise and e-commerce applications.
Our Services:
•
RDBMS Solutions
•
Big Data Solutions
•
Cross Vendor Database Integration
•
Business Intelligence
•
Consulting
RDBMS Solutions
THE ROBUST WAY TO STORE & MANAGE
INFORMATION
In today's demanding IT environment, it is critical to manage data so that workflows are
efficient, exceed customer expectations, and SLA criteria are met.
ILM 360's Relational Database Management System (RDBMS) leverages 60+ years of
experience implementing Data Warehousing and Business Intelligence solutions. Our
scalable RDBMS strategies harness the power of enterprise and e-commerce applications,
resulting in optimized database solutions ranging from 10GB to 100+ TB. When you need to
accommodate thousands of users, deliver ultra-fast response times, and handle high traffic
loads, we can develop the database you need.
RDBMS Services
•
Design, architecture, and roadmaps
•
Hardware design, architecture, and implementation
•
Install and configuration of Oracle/MYSQL/SQL
•
Server Database performance tuning expert Diagnostics including hardware, software,
and applications
•
Zero-downtime upgrades
•
Platform/inline migration
•
Critical patches (security compliance)
•
Proactive monitoring solutions (Managed DBA services)
•
Partitioning and lifecycle management of data
•
Replication and synchronization services
•
High availability, disaster recovery, and business continuity solutions
Supported Platforms
•
HP-UX (PA-RISC) 64- and 32-bit
•
HP-UX Itanium2
•
IBM AIX Power PC 64-bit
•
Linux on POWERPC
•
Linux Intel 64-bit
•
Red Hat Linux
•
SuSE LINUX
•
Sun Solaris (SPARC) 64- and 32-bit
•
Partitioning and lifecycle management of data
•
SCO UnixWare
•
Windows
•
Contact us today and discover how our RDBMS solutions can help you become more
efficient and profitable.
Experience | Flexibility | Customer Service
ILM 360 delivers cost-effective, seamless solutions that help clients get the most out of their
database systems and IT infrastructure.
Big Data Solutions
WHEN YOUR DATA OUTGROWS YOUR BUSINESS, WE MAKE EVERYTHING
MANAGEABLE AGAIN
When you're moving from gigabytes to petabytes, from stable data models to flat schemas,
from centralized to distributed systems, ILM 360 delivers the big data solutions you need to
manage growth and profitability.
We help you:
Handle high velocity data
Maintain performance with large data volumes
Control complex distribution and implementations (cloud, on-premise, multiple locations)
Additionally, we deliver big data solutions through efficient and intelligent strategies to help
you save costs and avoid operational disturbances. As a result, you can focus on growing
your business instead of becoming overwhelmed by your data.
Knowledge & Experience
ILM 360 leverages over four decades of IT experience to develop the best data and business
intelligence solutions for a wide range of clients.
Cross Vendor Database Integration
MAKING IT ALL WORK TOGETHER
In the effort to grow and give customers the best products and services possible, many
enterprises unfortunately end up with a complex jumble of custom-built, third-party, and
legacy applications and systems. This often results in unmanageable IT environments with
multiple tiers of various operating system platforms.
ILM 360's cross vendor database integration can solve these crucial enterprise-level
dilemmas. We provide a wide range of integration strategies using Quest Shareplex and
Oracle GoldenGate. Our integration solutions address multiple data replication topologies
including one-to-many, many-to-many, cascading, and bidirectional, using low-overhead
architecture to capture transactions from a source database and support high-volume and
rapidly changing environments.
Our extensive range of use cases features real-time business intelligence, query offloading,
zero-downtime upgrades and migrations, disaster recovery and active/active configurations
for data distribution, data synchronization, and high availability.
A range of solutions, however, is not effective unless you have an accomplished team to
develop and implement them. ILM 360's team features some of the industry's leading
experts and executives with decades of experience.
Our team highlights include:
One of first implementers and early adopters of Shareplex and GoldenGate, starting in 2004.
Contact us today and discover how our cross vendor database integration can make your IT
environment smoother and more efficient.
Dedicated to Client Satisfaction
We are steadfastly dedicated to helping clients optimize their IT strategies. As a result, we
build long-term relationships and customer loyalty—the hallmarks of truly beneficial
partnerships.
Business Intelligence
SMARTER ORGANIZATIONS SIMPLY HAVE BETTER BUSINESS
INTELLIGENCE
In today's uber-fast and constantly evolving economy, enterprises need IT solutions that
discover, gather, store, retrieve, and analyze data—all to help them make better decisions.
With ILM 360's Business Intelligence offerings, organizations get the software strategies
they need to succeed.
Our BI solutions start with a detailed analysis of your specific enterprise and IT infrastructure
elements. Because one size definitely does not fit all, we develop customized BI programs
that are ideal for your specific markets, competitive landscapes, and customer dynamics. We
then harness the best available BI applications and implement them seamlessly with your
existing infrastructure.
Our BI expertise includes the following tools:
•
SAP Business Objects
•
IBM Cognos
•
MicroStrategy
•
QlikView
•
Microsoft SQL Server
•
Business Intelligence Solutions
To learn more about our Business Intelligence solutions and how we make your data work
for you, Contact us today.
From Custom to Turnkey
We develop highly tailored IT solutions for large enterprises with complex systems. We also
create seamless turnkey solution for smaller organizations that need to optimize their IT
infrastructure.
Consulting
FROM IT INFRASTRUCTURE TO DATA MANAGEMENT STRATEGIES, ILM
360CAN MAKE YOUR BUSINESS STRONGER, MORE EFFICIENT, & MORE
PROFITABLE INFORMATION
In today's dynamic technology landscape, countless vendors claim to provide robust
consulting services and solutions. What makes ILM 360 rise above the competition and be a
leader in this market? Three factors:
•
Unrivaled expertise;
•
Superior customer service;
•
Cost effectiveness.
Unrivaled Expertise
With over four decades of industry experience, the leadership at ILM 360 has the perspective and
in-depth knowledge to address and anticipate a wide range of issues.
Superior Customer Service
We create tailored solutions that consider your specific market, competitive, and organizational
dynamics. As a result, you get creative IT strategies that prevent problems and grow along with
your business.
Cost Effectiveness
We are nimble and efficient, which enables us to deliver solutions that cost less than our
competitors. But, we never sacrifice the quality or integrity of our IT strategies. Our experience
and commitment to client satisfaction makes this rare combination of excellence and
affordability possible.
Cost Effectiveness
We offer a wide range of consulting services, including:














Service Oriented Architecture Solutions
ERP Systems and CRM Solutions Implementation and Upgrades
Microsoft Dynamics
Open ERP
PeopleSoft
Business Intelligence
Data Warehousing
Architecture Services
Consulting and Placement Services
Security and Compliance Services (PCI, Financial, and Sarbanes Oxley compliance)
Replication Technologies (such as Shareplex, GoldenGate)
Integration of Cross Platform Data Sources
Outsourcing and Business
Consulting Web Solutions
Contact us today and discover how our consulting services can optimize your IT environment .
Excellence & Affordability
We deliver solutions that cost less, but we never sacrifice quality or integrity. Our experience
and commitment to client satisfaction makes this rare combination possible.