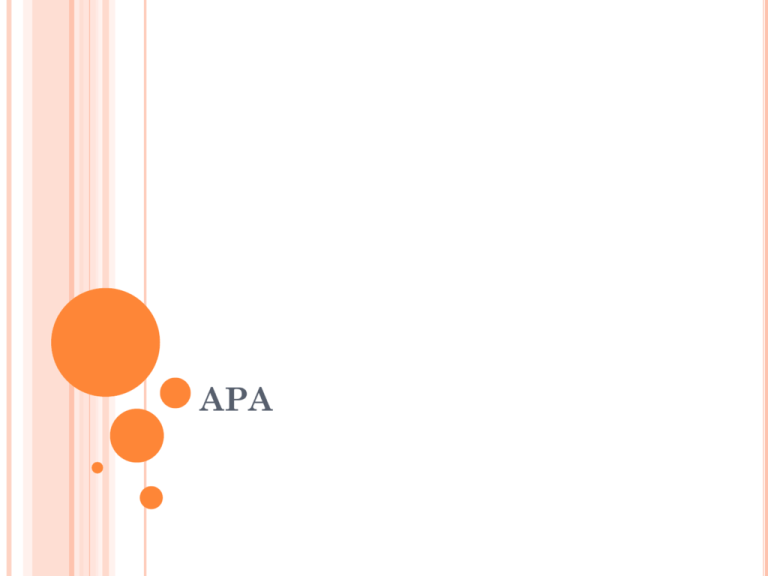 APA
REVIEW OF LITERATURE


A literature review is helpful as it lets the
researchers
 gather the ideas of others who are interested
in a particular research question
 read about the results of other similar or
related studies
Thus, researchers will be able to
 locate other work dealing with their intended
area of study
 evaluate this work in terms of its relevance to
the research question of interest
STEPS IN A LITERATURE REVIEW

Decide on a topic; identify key words

Look through sources using your key words


Skim the articles to get a general idea of the
purpose and content of the article
Group the articles into categories
STEPS IN A LITERATURE REVIEW

Take notes while reading
 Define key terms (note the differences in the
definitions of the key terms)
 Select useful quotations you might include in your
review (note author name, volume no., page no.
etc.)
 Note (and critique) the research methodologies,
findings and conclusions in the studies
 Identify relationships among the studies
 Make sure all the points you have noted are
relevant to your topic
Keep in mind: you should stop
somewhere!!
STEPS IN A LITERATURE REVIEW
 Write



the literature review
Develop critical skills. Simple summary is
not enough for literature review. It is NOT
series of annotations. This does NOT mean
to criticize the work of others; ask
questions about the significance of the
work and make connections between the
other readings you have done
Indicate why certain studies are important
Cite all the studies appropriately
 Use
your review of the literature as a
means of showing why your research
questions are important.
 E.g.
If there is a lot of research in
literature about the general topic of your
research field (X), but just a little or no
research on a sub-topic (X1), you can
justify this assertion in your literature
review.
CITING STUDIES IN THE TEXT




American Psychological Association Style (APA6th edition)
In research others' ideas and words must be
formally acknowledged. This is done by citing
original documents in the text and then
documenting all these studies in an alphabetical
order in the Reference section.
Citing others' work can be done directly or
indirectly.
PS. Only surnames of the authors are used!!
INDIRECT CITATION
CITING A WORK BY SINGLE AUTHOR

If the name of the author appears in the text:

Thus, there have been concerns regarding the
effectiveness of standardized testing in assessing
writing. In an attempt to overcome some of the problems
associated with standardized testing, many researchers
have advocated assessment procedures that are ongoing
and process-oriented. For example, Stiggens (2005) calls
for the use of assessment for learning models that focus
on ongoing formative assessment of students' progress
rather than the widely used assessment of learning
models which are more static in nature and are limited
to testing the end product of learning through
measuring students' achievement rather than their
progress.

If the name of the author does not appear in
the text:

The advent of DA is relatively new in the field
of educational assessment in general and in
the field of second language assessment in
particular (Ableeva, 2009).

If you need to cite more than one article of the same
author in the same year:

Unfortunately, this proliferation of research addressing
ESL writing, on the one hand, and socio-cultural learning
theories, on the other, has not yet been paralleled with the
same enthusiasm to find writing assessment methods
reflecting the socio-cultural nature of learning which can
be used as alternatives to standardized testing since the
latter has been continuously criticized for its being an
invalid writing assessment method (Hamp-Lyons, 1990a).

The use of standardized tests in assessing writing has
received even more criticism since the use of such an
assessment procedure does not seem to accurately measure
writing ability (Hamp-Lyons, 1990b).
CITING A WORK BY TWO AUTHORS

Surnames of both authors are used all the time:

According to Lantolf and Poehner (2005), formative
assessment methods seem to implicitly consider
assessment and instruction as two separate entities
where the role of assessment is simply to bring about
change in instruction.

Following that, a review of literature on formative
assessment is presented since formative assessment can
be considered one way to overcome many of the
problems associated with standardized testing in
addition to being compared to DA in aiming for ongoing
assessment rather than focusing on final achievement
testing only (Lantolf & Poehner, 2005).
CITING A WORK WITH 3 OR MORE AUTHORS


Write all the names when you first cite them:
 The theoretical underpinnings of DA can be traced
back to the Vygotskian concept of Zone of Proximal
Development and the theory of Mediated Learning
Experience (Feuerstein, Rand & Hoffman, 1979).
In subsequent citations, include only the surname of
the first author followed by 'et al'.
 Thus, one can see the similarities between
Vygotsky's ZPD and Feuerstein et al. (1979) MLE
since both emphasize the role of intervention by a
more capable peer in promoting development.
Citing an edited work
 You should mention only the name of the author,
not the editor.

Citing groups as authors
 When cited the first time, the name of the group is
written.



In 2000, Department of Immigration and Ethnic
Affairs (DIEA) …
Use the abbreviation when cited again

DIEA (2000) reported that…
CITING MULTIPLE REFERENCES

If we need to cite multiple references for the
same idea, use either alphabetic or chronologic
order and separate author groups with a
semicolon.

It is worth noting that whereas Lidz's (1987)
definition seems to emphasize that the goal of
DA is mainly to achieve cognitive
modifiability, more recent definitions of DA
(Ableeva, 2009; Anton, 2009; Poehner, 2005)
stress the social rather than cognitive aspect of
this assessment procedure.
CITING WORKS WITH NO AUTHORS

If a work does not have author, use the first two
or three words of the title and capitalize each
word. Italicize them and use double quotation
mars

A special one-off visa category was announced
("Assessment Criteria", 2001).
DIRECT CITATION


If you want to use others' words as they are, you must
use quotations and the page number.
For a quotation of fewer than 40 words (4 lines)

Testing, on the other hand, is "a special form of assessment
administered under contrived circumstances. In other
words, all tests are assessments, but not all assessments
are tests'' (Kizlik, 2009, p. 1).

Lantolf and Poehner (2004) contend that "dynamic
assessment integrates assessment and instruction into a
seamless, unified activity aimed at promoting learner
development through appropriate forms of mediation that
are sensitive to the individual's (or in some cases a group's)
current abilities" (p. 50).


A quotation of more than 40 words must be set apart
from the text (block quotation). The left margin of the
block should be set in from the left margin by the
same spacing as the first line of a new paragraph.
Sample 1
In accordance with this point of view, Yancey
(1999) further adds the following:
This model of writing assessment, with its
different genres and multiple texts and classroom
writing environment, seemed more valid still. But
built into the model was another new feature, a
reliability based not on statistics, but on reading
and interpretation and negotiation. (p. 492)


Sample 2
…that it is sometimes necessary for testing to lead
the way:
We believe that language testers can serve
linguistic theory by examining the way in which
their tests work, how their different components
interrelate, and what they reveal about candidates'
language proficiency. Insights from such an
analysis of test results should contribute to the
development of a better understanding of what is
involved in knowing and using language.
(Alderson, 1992, p. 164)
LIST OF REFERENCES
BOOKS
One Author
 King, M. (2000). Wrestling with the angel: A life
of Janet Frame. Auckland, New Zealand: Viking.

Two authors
 Treviño, L. K. & Nelson. K. A. (2007). Managing
business ethics: Straight talk about how to do it
right. Hoboken, NJ:Wiley.

Three authors and above
 Krause, K.-L., Bochner, S., & Duchesne, S.
(2006). Educational psychology for learning and
teaching (2nd ed.). South Melbourne, Vic.,
Australia: Thomson.

Electronic with NO DOI
 Will, R. J. (2002). The characteristic symphony in
the age of Haydn and Beethoven [Ebrary Reader
version]. Retrieved from Ebrary database.

Electronic with DOI
 Larochelle, M., Bednarz, N., & Garrison, J.
(2010). Constructivism and Education.
doi:10.1017/CBO9780511752865


N.B. Although the book was first published in
print in 1998, this online version is published in
2010. Use 2010 as the year of publication
Book or report by a corporate / group
author
 World Health Organization (2008). WHO global
report on falls prevention in older age. Geneva,
Switzerland: Author.

BOOK CHAPTERS
Chapter in an edited book
 Helber, L. E. (1995). Redeveloping mature resorts
for new markets. In M. V. Conlin & T. Baum
(Eds.), Island tourism: Management principles
and practice (pp. 105-113). Chichester, England:
Wiley.


Bergquist, J. M. (1992). German Americans. In J.
D. Buenker & L. A. Ratner (Eds.),
Multiculturalism in the United States: A
comparative guide to acculturation and ethnicity
(pp. 53-76). New York, NY: Greenwood.
Thesis/Dissertations
 Dewstow, R. A. (2006). Using the Internet to
enhance teaching at the University of Waikato
(Unpublished master's thesis). University of
Waikato, Hamilton, New Zealand.

PERIODICALS/JOURNALS
Journal Article /Printed
 Shepherd, R. (2008). Strategic position and
performance of winter destinations. Tourism
Review, 63(4), 40-57.

Journal Article with a DOI
 Shepherd, R., Barnett, J., & Walton, C. (2007).
Towards an understanding of British public
attitudes concerning human cloning. Social
Science & Medicine, 65(2), 377-392.
doi:10.1016/j.socscimed.2007.03.018.

Journal Articles with NO DOI
 Harrison, B., & Papa, R. (2005). The development
of an indigenous knowledge program in a New
Zealand Maori-language immersion school.
Anthropology and Education Quarterly, 36(1), 5772. Retrieved from Academic Research Library
database.

Journal Article / Internet Only
 Snell, D., & Hodgetts, D. (n.d.). The psychology of
heavy metal communities and white supremacy.
Te Kura Kete Aronui, 1. Retrieved from
http://www.waikato.ac.nz/wfass/tkka.

WEBPAGES


Statistics New Zealand. (2007). New Zealand in
profile 2007. Retrieved from
http://www.stats.govt.nz.
University of Waikato, Law Library. (n.d.).
Commentary. Retrieved July 19, 2009, from
http://law.waikato.ac.nz:8080/lrs/index.
References
Black, P. & Wiliam, D. (1998). Assessment and classroom learning. Assessment
in Education, 5(1), 7-74.
Black, P. & Williams D. (2004). Inside the black box: raising standards through
classroom assessment. In S. Chappuis, R. J. Stiggins, J. Arter, and J.
Chappuis (Eds.), Assessment for Learning: An Action Guide for School
Leaders (pp. 10-21). Portland, OR: Assessment Training Institute.
Boud, D. (2000). Sustainable assessment: rethinking assessment for the learning
society. Studies in Continuing Education, 22(2), 151-167.
Clapham, C. (2000). Assessment and testing. Annual Review of Applied
Linguistics, 20, 147-161.
Gaines, B. R. & Shaw, M. (2010). Webgrid 5. http://gigi.cpsc.ucalgary.ca:2000
Hamp-Lyons, L. (2007). The impact of testing practices on teaching: ideologies
and alternatives. In J. Cummins and C. Davison (Eds.), The International
Handbook of English Language Teaching, Vol. 1 (pp. 487-504). Norwell,
MA: Springer.