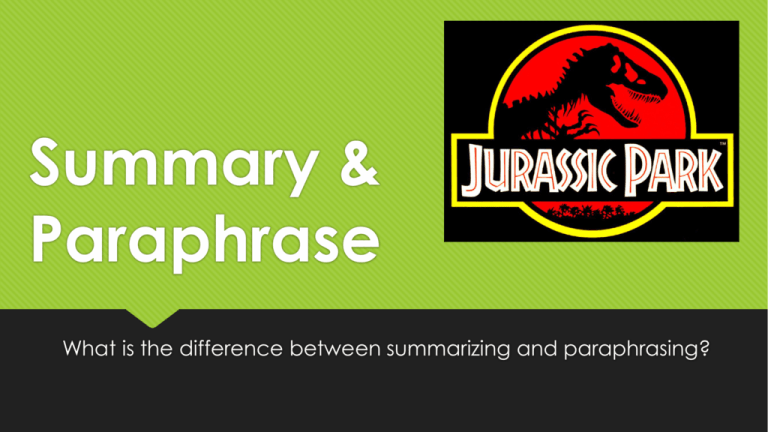 Summary &
Paraphrase
What is the difference between summarizing and paraphrasing?
sum·ma·ry
ˈsəmərē/
noun
a brief statement or account of the main points of something.
"During a preview tour, a theme park suffers a major
power breakdown that allows its cloned dinosaur
exhibits to run amok. "- IMDB
https://youtu.be/v4PrBLnukwE
• A brief restatement, in
your own words, of the
content of a passage
or article.
So what does a good
summary need?
Create your own! Wasn't the video better
because of the bunnies acting it out? However,
all the central ideas of the movie stayed the
same…
In groups of 2-3, write a one sentence summary.
• It should focus on the
central idea(s).
• The central idea of a
passage is often found
in the thesis statement.
• It should have a clear
time line or list of
events.
A summary is always comprised
of
your own words.
You may have to keep some key words so
as to not distort the meaning.
A summary is much
shorter than the
original.
Sum up these scenes…
par·a·phrase
ˈperəˌfrāz/
verb
expresses the meaning using different words,
to achieve greater clarity.
Original: "I spared no expense."
Paraphrase: "I spent money on extravagant things expecting to make
it back later."
Summaries vs.
Paraphrases
Paraphrases are like the rings in the water,
summary is the T-Rex causing those rings.
• Summaries are
shorter than the
original, whereas
paraphrasing will
be about the
same length
• Summaries just
cover main events
or ideas.
Paraphrasing is
more specific and
detailed.
Summary
• Less in depth
• Encompasses
more
• Still retains
main ideas
• Carefully
integrate
the source
identified
Both in
your OWN
WORDS!
Paraphrase
• Approximately
the same length
• Detail oriented
• May be
sentence level
• Should make
things clearer
and identify the
author/source
BA2
Paraphrase:
- "Why Good English Is Good for You" –
paragraph 19
- "Lost in America" – paragraph 32
- "Do You Speak American?" – paragraph 18
1. Lion King
2. Avengers
3. Frozen
4. Finding Nemo
5. Toy Story
6. Twilight
IMDB
1. Lion cub and future king Simba searches for his identity. His eagerness to please
others and penchant for testing his boundaries sometimes gets him into trouble.
2. Earth's mightiest heroes must come together and learn to fight as a team if they
are to stop the mischievous Loki and his alien army from enslaving humanity.
3. When the newly crowned Queen Elsa accidentally uses her power to turn things
into ice to curse her home in infinite winter, her sister, Anna, teams up with a
mountain man, his playful reindeer, and a snowman to change the weather
condition.
4. After his son is captured in the Great Barrier Reef and taken to Sydney, a timid
clownfish sets out on a journey to bring him home.
5. A cowboy doll is profoundly threatened and jealous when a new spaceman
figure supplants him as top toy in a boy's room.
6. A teenage girl risks everything when she falls in love with a vampire.