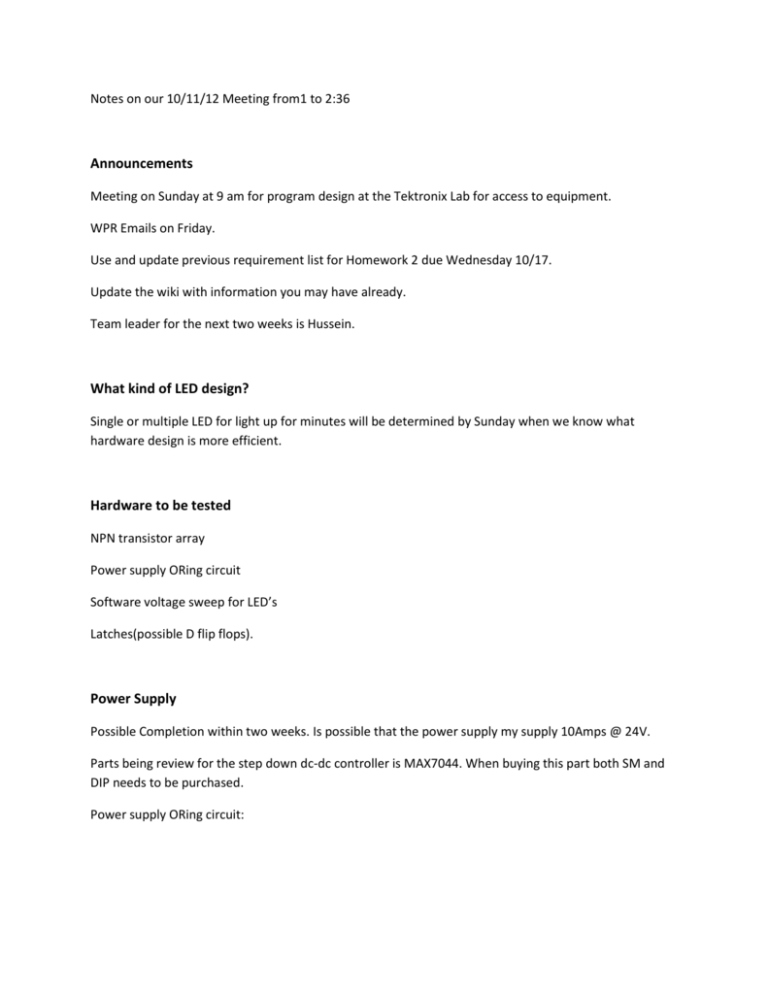 Notes on our 10/11/12 Meeting from1 to 2:36
Announcements
Meeting on Sunday at 9 am for program design at the Tektronix Lab for access to equipment.
WPR Emails on Friday.
Use and update previous requirement list for Homework 2 due Wednesday 10/17.
Update the wiki with information you may have already.
Team leader for the next two weeks is Hussein.
What kind of LED design?
Single or multiple LED for light up for minutes will be determined by Sunday when we know what
hardware design is more efficient.
Hardware to be tested
NPN transistor array
Power supply ORing circuit
Software voltage sweep for LED's
Latches(possible D flip flops).
Power Supply
Possible Completion within two weeks. Is possible that the power supply my supply 10Amps @ 24V.
Parts being review for the step down dc-dc controller is MAX7044. When buying this part both SM and
DIP needs to be purchased.
Power supply ORing circuit:
Description for each section of our project web link
Repository:
Schematic
Flowchart
Programs
Project report
Documents:
Completed Homework's
Documents that have been completed.
Wiki:
Video
links to URL on References and datasheet's(describe for what part of circuit)
Pictures
requirements (met and not met)
News:
Updates on what project design and hardware has worked and what hasn't.
Calendar:
Schedules of our meetings.
Next week
Nathen and Randy- programming Arduino Uno.
Nathen- working on Calendar.
James- Enclosure and LED circuit designing.
Hussain- finish design for power supply and order parts. Design due Friday 10/19 and parts order after
Friday.