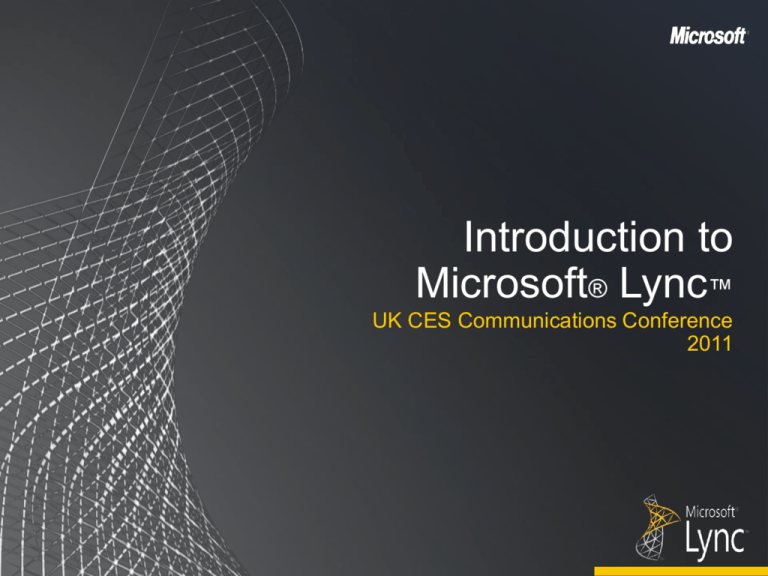 Introduction to
Microsoft® Lync™
UK CES Communications Conference
2011
What do We
Experience Today?
Current communications and collaboration experience
Source: Ideal Communications and Collaboration Research by Microsoft, 2009
Extension and Clientele Acceptance
• Is there acceptance among the groups for both
delivery and receiving of programming delivered
in this manner?
•
•
•
•
•
There exists a generational divide
Transition should begin with technology education
There is the willingness factor
Internet service to the community
Benefits to both sides
•
Programming is no longer time sensitive
•
•
We can deliver quicker and
The client can receive when it is convenience
• In Five years this will be a necessity
April 18, 2007
New Tools For the Toolbox
• New Communication Medias and Program
Delivery Medias
•
•
•
•
•
•
•
•
•
Podcasts
Blogs
List serve capabilities
Interactive Software, i.e. Centra
Webcasts
Interactive Publications
Video Conferencing
Chat Rooms and Forums
Interactive information systems i.e. Garden Data.org
April 18, 2007
What is driving us to seek new communication tools?
Workforce Distribution
▪ Work from dispersed locations: Extension Employees are spread out across Kentucky
Lack of Technology Integration
▪ Overwhelmed: Large organizations like Extension often average more than six communications devices
and almost five communications applications per employee
▪ Frustrated: Collaboration inefficiencies waste up to 25% of staff time
Demand for New Technologies
▪ Mobile phone = New PC: 600 million smart-phones will be used for business in 2011
▪ Virtual meetings on the rise: Videoconferencing technology could replace 20% of business travel WW
Lync Provides a Integrated Experience
Users can benefit from a single client experience for IM, voice, video, and data sharing
What do you Want
Ideal communications and sharing experience
Lync Provides a Presence Across Office Applications
Common features across Microsoft Word, Excel, PowerPoint, Outlook, and
SharePoint can help to improve the user experience
Contact Card
Click to communicate from Microsoft
Backstage™ view and review tabs
(Word, Excel, PowerPoint)
Lync 2010 works on different platforms
Options for those who use Macs, mobile phones, browsers, and other devices
Connect with Mac users
▪
"Lync for Mac"
Communicate through mobile phones
▪
Lync Mobile, iPhone app, Nokia
Reach through the browser
▪
Lync Web App
Experience Lync through numerous devices
▪
Polycom, Plantronics, Jabra, Aastra and more…
Lync Connects People in Flexible Ways
Access
Connect
messages
in real time
through
across
your
devices
PC, mobile
from adevice,
familiarorinterface
the Web
PC
Mobile
Web
Putting Lync to work in UK CES
How might Lync be used in our own organization







Multi-County program planning between agents
Joint meeting from wherever you are
Specialist delivered programs to agents/clientele
Proofing/sharing documents agent-agent and agent-specialist
Staff meetings
Online classes
Program delivery for clientele
 Live to different offices/individual locations
 Recorded presentation to be viewed at any time


Communicate with staff within larger offices
Using Lync inner-office
 Clientele visit awareness
 Task management with staff members
Getting Started
You already have an account

Talk to your District Tech

UK Wiki site: http://wiki.uky.edu/lync/Wiki%20Pages/Home.aspx
© 2010 Microsoft Corporation. All rights reserved. Microsoft, Exchange ActiveSync, Excel, Lync, Outlook, PowerPoint, SharePoint, SQL Server, Windows, Windows Live, Windows Mobile, Windows Server,
and other product names are or may be registered trademarks and/or trademarks in the U.S. and/or other countries. The information herein is for informational purposes only and represents the current view of
Microsoft Corporation as of the date of this presentation. Because Microsoft must respond to changing market conditions, it should not be interpreted to be a commitment on the part of Microsoft, and
Microsoft cannot guarantee the accuracy of any information provided after the date of this presentation. MICROSOFT MAKES NO WARRANTIES, EXPRESS, IMPLIED OR STATUTORY, AS TO THE
INFORMATION IN THIS PRESENTATION.