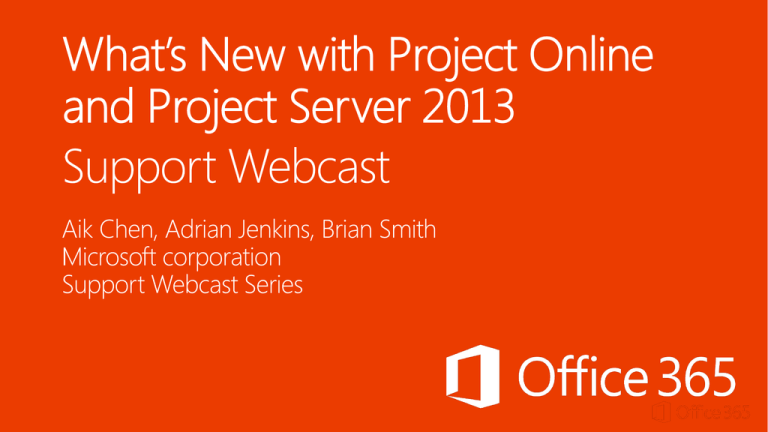 •
We are recording today's session, and will have the slide show presentation
and the video recording on the original blog post and also the video
recording can be found on our Video Channel http://www.youtube.com/microsoftoffice365
•
Questions can be asked at the end of the presentation through the Lync
Meeting Console.
•
We are recording today's session, please understand that you may be
captured in the recording. If you do not wish to be recorded, please do not
type in the Lync IM Window or please leave the meeting.
Agenda
Project Online
http://blogs.technet.com/b/projectsupport/archive/2014/08/11/project-online-look-out-for-afew-changes-in-project-web-app.aspx
https://support.office.com/Article/Where-did-the-BI-Center-site-go-in-ProjectOnline--4b71a920-d603-4ffd-b2ab-654e398c73d5
http://support.microsoft.com/kb/2998445
Project and Project Server 2013
Cumulative Updates
•
Please answer the survey questions posted at the
end of this meeting.
•
Let us know what sessions you want! Email Heather
Correa at v-hcorre@microsoft.com. Feel free to give
feedback too.