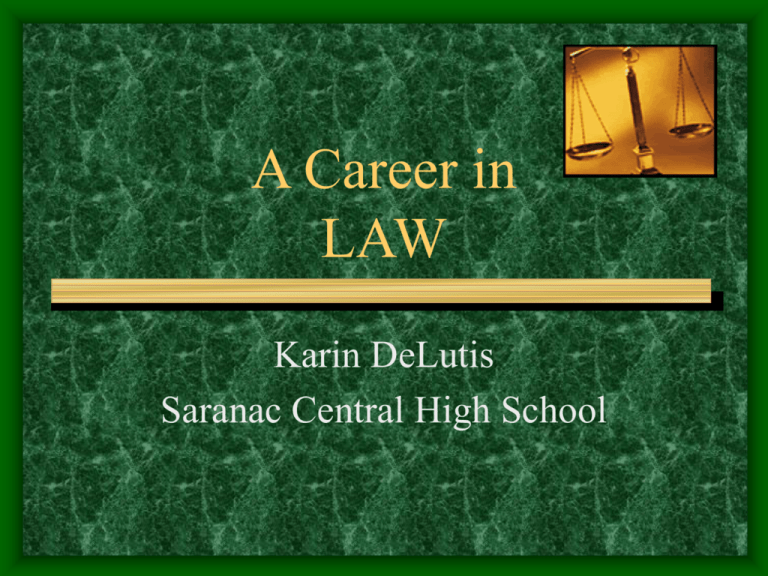 A Career in
LAW
Karin DeLutis
Saranac Central High School
What is Law?
Rules of conduct created by society's
governing institutions or by people like you
and me.
What do lawyers do?
•
•
•
•
•
NEGOTIATE
ARGUE
INTERPRET
DISPUTE
LITIGATE
Do you have what it takes to
become a lawyer?
• A desire to work in a field that has an
•
•
•
•
•
impact on the world around you?
Committed to long work hours and high
stress?
Want great pay?
Love the law?
Enjoy loads of paperwork
Researching skills
Two Major Categories of the
Profession
Litigation Attorney
• Deals with legal
problems after they
occur. Examples
include: white collar
crime, breech of
contract, employmentrelated problems, etc.
Transactional Attorney
• Deals with business
issues. Examples
include: bankruptcy,
contracts, and
corporate financing.
They "get the deal
done".
Essential Skills
• Excellent and persuasive oral and
•
•
•
•
•
written communication skills
Detail-oriented
Reasoning ability
People person
Perseverance
Creativity
CURRENT TRENDS
Decentralization
Globalization
DECENTRALIZATION
Not all jobs are in big City's like New York,
Washington, D.C. and Chicago anymore.
The development of satellite offices allows
you to choose the geographic
location that is best for you!
GLOBALIZATION
Law office locations are not
limited to the United States.
There are many
offices located all over the world.
What are the biggest areas of law
today?
•
•
•
•
•
Bankruptcy
Litigation
Health law
Employment law
Intellectual property (the protection of
copyrighting, art, computer programs)
Which Career Track would you
choose?
•
•
•
•
•
•
Big-City Power Firms
Regional Specialized firms
Corporate in-house Counsel
Government Law
Public Defender/Legal Aid
Public Interest
Big-City Power Firms
• 150 in country
• Full-range of services nationally and
•
•
•
•
internationally
150-200 attorneys on staff
Clients spends millions on services each year
Pay highest salaries
Tough hiring process
BRINKS HOFER GILSON & LIONE
Regional and Specialized firms
• Middle-tier firms
• Employ 80-100 attorneys
• Serve local businesses, such as restaurants,
hospitals, schools, stores, etc.
• Less pay
Corporate In-House Counsel
• Attorney that is hired to handle day-to-day
business activity.
• Competitive salary
• Hours of work better
• One client
Government Law
• Employed by federal, state and local
•
•
•
•
•
•
government
Employ thousands of lawyers
Major employer: Department of Justice
Not high paying
Great benefits
Decent hours
Job security
Public Defender/Legal Aid
• Appointed by the court to defend those that
•
•
•
•
do not have attorneys
Located in most major cities. Most
important office is in Washington, D.C.
Lower pay
Hard to get because of competition
Work is both frustrating and satisfying
Public Interest
• Most prestigious. You are working with
organizations such as American Civil
Liberties Union, National Center for Youth
Law, NAACP, Legal Defense Funds, etc.
• Lower paying
• Extremely rewarding
• Great deal of client contact
Drawbacks
• Long hours (10-14 per day)
• Personal ethics (a case may go against your
personal beliefs)
• Heavy pressures
• High Stress
Compensation
• In 2002, the median salary was $90,290
• The middle half earned between $61,060
and $136,810
• The lowest paid 10 percent earned less than
$44,490
Specific Courses to take in High
School
•
•
•
•
•
•
Business Law
Business Communications
Computer Applications
Math
English
Psychology
Employers that will hire you
during high school
•
•
•
•
Local attorneys offices
Attorney General's Office
District Attorney's Office
Legal Aid
Training
• Four years of undergraduate study and 3
years of law school
• Additionally, to practice law in the courts of
any State you must be licensed, or admitted
to its bar
• You must pass a written bar examination
• You must pass a written ethics exam in most
States
Two-Year College in Clinton
County
• Clinton Community College
Criminal Justice Curriculum
Four Year College in Clinton
County
• Plattsburgh State University
Criminal Justice Curriculum
Employers that will hire College
Graduates in Clinton County
Harris Beach LLP
O'Connell and Aronowitz, P.C.
Stafford, Trombley, Owens & Curtin, P.C.
.
Asadourian Law Firm, P.C.
Lewis, Rogers & Meconi, P.C.