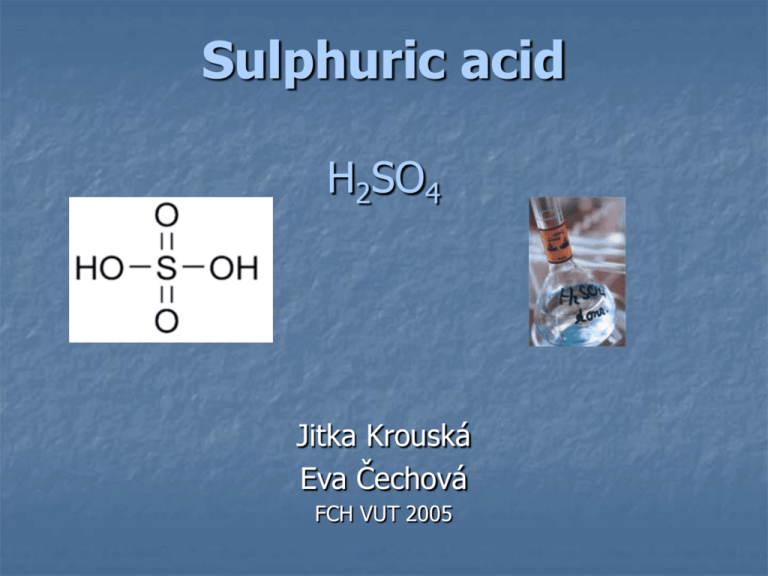 Sulphuric acid
H2SO4
Jitka Krouská
Eva Čechová
FCH VUT 2005
History





9th century: Islamic physician and alchemist
Ibn Zakariya al-Razi - heated green
vitriol FeSO4 . 7H2O and blue vitriol
CuSO4 . 5H2O  dilute solution of sulfuric
acid
13th century: German alchemist Albert Magnus
17th century: German-Dutch chemist Johann
Glauber – burned sulphur with
saltpeter (potassium nitrate - KNO3)
18th century: Joseph Gay-Lussac, John Glover –
lead chamber process
19th century: Peregrine Phillips – contact process
dilute - zředěný, saltpeter – ledek, lead chamber – Pb komora
Physical and chemical properties
molar mass
98,08 g/mol, dibasic acid
appearance
clear, colourless, corrosive,
odorless oil, not flammable
density
1,84 g/cm3 at 20°C
boiling point
337°C
melting point
10°C
pKa
1,99
special form
oleum (when high conc. of SO3 is
added)
viscosity
26,7 cP at 20°C
solubility in water
fully miscible (exotermic process)
Manufacture of H2SO4
two basic methods:
1. lead chamber process
2. contact process
Lead chamber process
 hot sulphur dioxide SO2 gas enters the reactor called a
Glover tower  mixes with nitric oxide, NO, and
nitrogen dioxide, NO2, dissolves in it
 some of the sulphur dioxide forms the acid (Glover acid about 78% H2SO4)
 mixture of gases (including sulphur dioxide and trioxide,
nitrogen oxides, nitrogen, oxygen, and steam)
 lead-lined chamber, reaction with water
 sulphuric acid is formed by a complex series of reactions
 condensation on the walls of the chamber
(3 - 12 chambers in a series)
 chamber acid (contains 62% to 68% H2SO4)
Glover tower – called after John Glover
Contact process
- based on the catalytic oxidation of SO2
1. Solid sulfur, S(s), is burned in the air to form SO2
S(s) + O2(g) -----> SO2(g)
2. In the presence of a vanadium catalyst (vanadium (V) oxide)
– production of SO3(g)
2SO2(g) + O2(g) -----> 2SO3(g)
3. SO3(g) is dissolved in 98% (18M) H2SO4, to produce
disulfuric acid or pyrosulfuric acid, also known oleum, H2S2O7
SO3(g) + H2SO4 ------> H2S2O7
SO3(g) + H2O(l) -----> H2SO4(l) (slow)
4. water is added to H2S2O7 to form H2SO4
H2S2O7(l) + H2O(l) -----> 2H2SO4(l)
vanadium (V) oxide – V2O5
The sulphuric acid industry










fertilisers, acid rain
chemicals like laboratory reagent
dyes and pigments
catalyst
iron and steel industry
rayon and film
industrial explosive
pulp and paper industry, metal i., car i.
electrochemistry (electrolyte) – lead accumulator
raw material for manufacture of H3PO4, ...
fertiliser – hnojivo, rayon – umělé hedvábí, raw material- surovina
Health hazard








pulmonary edema
burning sensation
coughing
wheezing
shortness of breath
headache, nausea
vomiting
R/S statements:
R: 35
S: 26, 30, 45
pulmonary edema – plicní embolie, burning sensation – pocit rozehřátí,
wheezing – dýchavičnost, nausea – mdlo, vomiting - zvracení
Sources

http://en.wikipedia.org/wiki/Sulphuric_acid
http://www.akerkvaerner.com/Internet/IndustriesAndServices/Metals/AcidPl
ants/SulphuricAcidConcentration.htm
http://www.na-ag.com/NA_en/rohstoffe/roh_schwefel
http://www.uyseg.org/greener_industry/pages/sulphuric_acid/2SulphuricAci
dUses.htm
http://www.pollutionengineering.com/CDA/ArticleInformation/products/BNP
ProductItem/0,6654,150482,00.html
http://www.noram-eng.com/technologies/sulphuric.html
http://www.schoolscience.co.uk/content/5/chemistry/catalysis/catsch3pg4.h
tml
http://www.ausetute.com.au/sulfacid.html

http://www.ratson.com/chemicals/sulfuric.htm







Thank you for your attention!