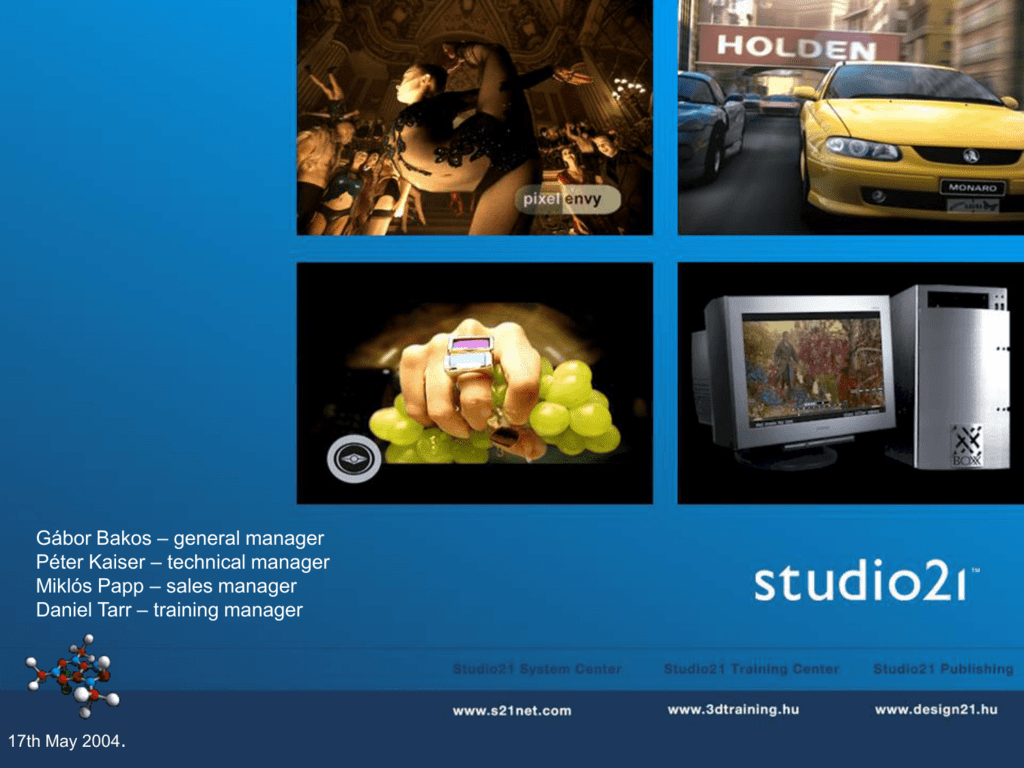 Gábor Bakos – general manager
Péter Kaiser – technical manager
Miklós Papp – sales manager
Daniel Tarr – training manager
17th May 2004.
Studio21 History
1999 : Studio21 System Center – Sales & Distribution
2000 : Studio21 Training Center – Discreet & Autodesk partnership
2000 : Magma Show – first 3D event in Hungary
2001 : Design21 – bimonthly magazine
2002 : New Media Expo – has become the biggest regional event
2002 : Design21.hu – online portal and web community
2003 : Studio21 Training Center – Web & Modular | Credit System
Philosophy
Customer
Media Concept
Quality of Service
"the right content for quality production"
Product
Technology
Company structure
Consulting
Marketing
Distribution
Sales
Mission
Networking
Training
Development
On-line database
Magazine
Web community
Contest
Support
Business
Studio21 Systems Center
Studio21 Training Center
Design21
Studio21 Publishing
Studio21 Systems Center
Studio21 Systems Center focuses on trading animation
effect and editing software and hardware solutions and
on the respective support activities.
Distributed software include:
• Adobe
• Autodesk
• Avid
• Discreet
• Macromedia
• Maxon
• Newtek
• Realviz
• Softimage
• Toon Boom
Distributed hardware tools include:
• 3Dlabs
• Apple
• Art Render
• Bluefish444
• Boxx tech
• Cybermind
• Iiyama
• Matrox
• Nvidia
• Silicon Graphics
• Wacom
Studio21 Systems Center
Realviz
4%
New tek
8%
Leading products include:
Adobe
6%
Apple
3%
Autodesk
15%
Maxon
15%
Softimage
1%
Boxxtech
7%
Discreet
41%
• Discreet 41 %
• Autodesk 15 %
• Maxon 15 %
• Newtek 8%
• Boxxtech 7%
• Adobe 6%
• Realviz 4%
• Apple 3%
• Softimage 1%
Studio21 Systems Center
700.000
Revenue
Euros
Sales
Training
Other
Profit
Expenditure
1999
2000
2001
Years
2002
2003
Studio21 Training Center
It is a SCHOOL - Integrated into the National Educational System
Development of own training materials and course content
The Training System covers all areas of Digital Media
Great variety of software training
Modular system allows for gradual and intensive training
Small group allows for personal consultation
Training focuses on practical skills
Studio21 cirruculum meets international demands
International Background : Autodesk Training Center & Discreet
Training Center & Toon Boom Training Partner
Regional position: Dealer Training for Autodesk and Discreet
Free demo and upgrade courses for customers
Design21 and Publishing
Design21 Magazine
News & Articles
Technology & Innovations
Product desciptions
Tutorials
Demos and Trials
CD-Rom
Publishing
Books
Course Materials
Web-design
Production
Flash
Studio21 Web Presence
s21net.com
3dtraining.hu
Product information
Sales
Promotion
Training information
Course content
Learning materials
Discount offers
Demo Software
Design21.hu
3000 registered users
Interactive web community
Forum & Discussion Groups
Daily News & Newsletter
Content & Downloads
4 contests per year
Events
2000: Discreet Magma show
 1000 participants
2001: Web, 3D, and interactive conference
 1000 participants
2002 : New Media Expo conference and exhibition
 2000 participants
2003 : New Media Expo conference and exhibition
 2000 participants
2003 : Anifest film festival workshop
 600 participants
Other exhibitions:
• Construma
• Ifabo
• Educatio
• etc.
Strategies
Keeping the market leading position in Hungary
Extending international partnership in Europe
Establishing regional networking
Investment in the future
Optimizing operations for long-term and not for
short-term success
Adjusting to new market demands and changes
Anybody can sell a box of software!
Training is essential: present students will become
customers in the future
Combining sales and training to as many areas of
software as possible
Increasing support activities
Strengths
4 years of high level training in 3D Animation
5 years track of market sales record
Extended customer relationships
Extended marketing channels
Regional significance – national community
Training + Support + Sales
Distributional and Reseller activities
Sales and Promotion
Organizing Events
What we can offer for Alias
We are ready to offer high level Maya education
Start full range of Maya training straight away
Sell software in production and education market
we lose with 3ds max having 30 day trial – Alias has PLE
Continuous publicity – e.g.: Chip Magazine, DigitArt, PC World
Design21 : Maya special edition & Maya online contest
Daily news and support via our marketing channels
Organize Alias promotion and events
Maya Direct Mail for existing Discreet users
Bigges education deal is still on the horizont: University intends
to buy 400 copies of education 3d animation package
What we ask from Alias
Alias recognition of Studio21
Hungarian market specific business deals
Support for Studio21 System Center
Reseller | Distributional Partnership
Support for Studio21 Training Center
Alias Training Partnership
Protection from European competitors
Partners
We believe that partnership is the key to success in all areas of life.
We need commited partners to build the most professional 3D company in Hungary.
Thank you for your attention.
Please visit our websites
for further information.