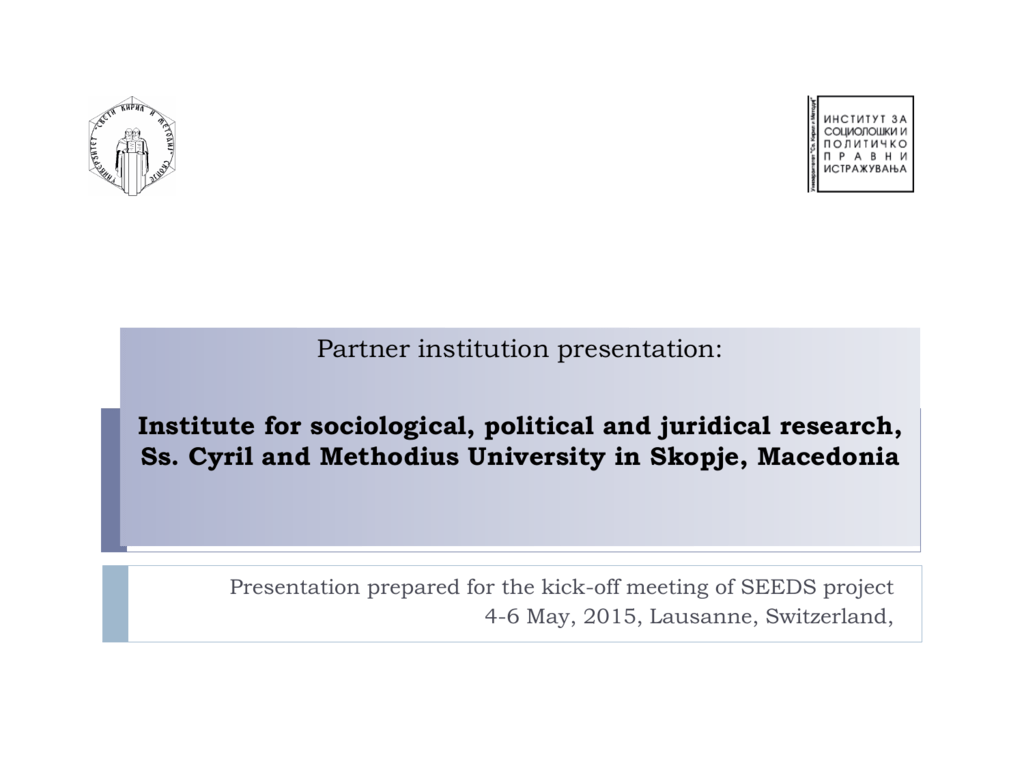 Partner institution presentation:
Institute for sociological, political and juridical research,
Ss. Cyril and Methodius University in Skopje, Macedonia
Presentation prepared for the kick-off meeting of SEEDS project
4-6 May, 2015, Lausanne, Switzerland,
I. DESCRIPTION OF INSTITUTION
The Institute for Sociological, Political and Juridical Research (ISPJR) is one of the oldest public
university research institutions in the social sciences in the Republic of Macedonia, founded in
1965;
Main activities of ISPJR:
- scientific and applied research projects;
-postgraduate (MA and PhD) studies in Sociology, Political science, Management of human
resources, and Communication science.
26 staff:
15 PhD- Research Fellows,
2 - Research Assistants,
3- Research Support Staff and
6- Administrative and Technical Personnel
SEEDS PROJECT
Partner institution presentation
I. DESCRIPTION OF INSTITUTION
ISPJR has conducted a large number of scientific and applied research projects in the fields of
Sociology, Political Science, Law, Management and Communication studies;
Cooperation with many national and international academic and professional organizations;
National institutions: Ministry of Education and Science of the Republic of Macedonia, Ministry of
Culture of the Republic of Macedonia, Government of the Republic of Macedonia, City of Skopje,
Agency for Youth and Sport, Macedonian Center for International Cooperation, Media
Development Center, Foundation Open Society Macedonia, etc.
International institutions: World Bank, OSCE, UNHCR, UNICEF, WHO, Swiss Agency for
International Development, International Republican Institute, Friedrich Ebert Stiftung, etc.
SEEDS PROJECT
Partner institution presentation
II. PARTICIPANTS IN SEEDS PROJECT
Dr. Aneta Cekik, Assistant professor of Political science;
Dr. Klime Babunski- Head of applied research, documentation and publishing;
Dr. Vesna Zabijakin Chatleska- Assistant professor of Management.
SEEDS PROJECT
Partner institution presentation
III. POLITICAL AND RESEARCH CONTEXT IN THE COUNTRY
Political context:
Unconsolidated democracy- political party dominance; controlled judiciary; corruption; the
lowest level of media freedoms in the region;
Post conflict society (ethnic conflict 2001);
High unemployment and poverty rates;
Current situation: the biggest political crisis since the independence of the country.
III. POLITICAL AND RESEARCH CONTEXT IN THE COUNTRY
Research context:
Legal context: National strategy for research and development in accordance with the EU
goals in this area (only declaratory).
Recent changes in the Law on higher education violate the autonomy of university.
Unfavorable factors: serous lack of national funds for research (0.21% of GDP, among the
lowest in Europe); shortage of research staff; insufficient research support resources
(access to up to date scientific literature, computer software, training in statistics, lack of
funds for participation at academic events and courses for staff, among others).
Funds for research in the Social sciences are redirected to research in history, archeology,
language studies etc. as a part of the political agenda of the current government.
III. POLITICAL AND RESEARCH CONTEXT IN THE COUNTRY

In 2008, Social sciences received 8.6% of the total Gross domestic expenditure for research.
The largest share of national expenditure for research (more than 90%) consists of staff
salaries and current expenditures for institutions (Josimovski, 2011; State statistical office of
the R. Macedonia, 2014) with low level of investments and therefore is not developmental.

Research is concentrated in the public sector/universities (especially in the research
institutes), and in Macedonian academy of sciences; Public sector employs more than 90% of
all researchers in the SSH.

Private universities are mostly teaching oriented, with several exceptions;

NGOs and think tanks perform significant amount of research, especially in the last 5-10 years,
and mostly in the Social sciences.

Social sciences still rather slowly adapt to the new possibilities offered by the EU R&D
programmes.
III. POLITICAL AND RESEARCH CONTEXT IN THE COUNTRY
No data archiving policy/practice neither at the national level, nor within single research
institutions;
The significance of the SEEDS project: fulfils the lack of institutionalized activity in the area of
data archiving in Macedonia.