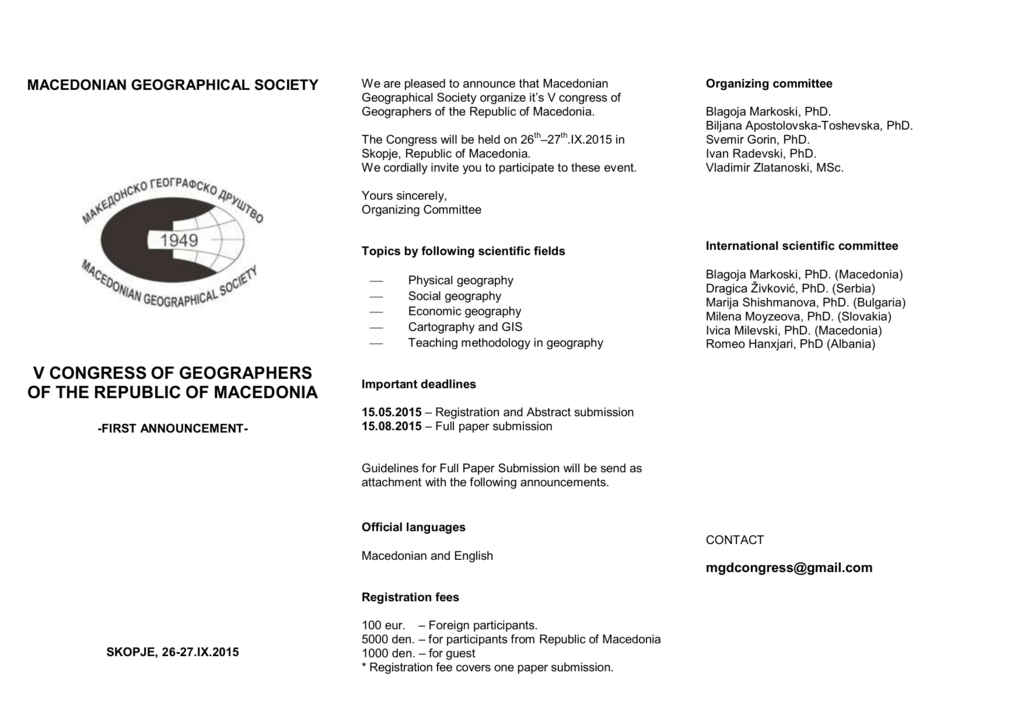 MACEDONIAN GEOGRAPHICAL SOCIETY
We are pleased to announce that Macedonian
Geographical Society organize it's V congress of
Geographers of the Republic of Macedonia.
th
th
The Congress will be held on 26 –27 .IX.2015 in
Skopje, Republic of Macedonia.
We cordially invite you to participate to these event.
Organizing committee
Blagoja Markoski, PhD.
Biljana Apostolovska-Toshevska, PhD.
Svemir Gorin, PhD.
Ivan Radevski, PhD.
Vladimir Zlatanoski, MSc.
Yours sincerely,
Organizing Committee
Topics by following scientific fields





V CONGRESS OF GEOGRAPHERS
OF THE REPUBLIC OF MACEDONIA
-FIRST ANNOUNCEMENT-
Physical geography
Social geography
Economic geography
Cartography and GIS
Teaching methodology in geography
International scientific committee
Blagoja Markoski, PhD. (Macedonia)
Dragica Živković, PhD. (Serbia)
Marija Shishmanova, PhD. (Bulgaria)
Milena Moyzeova, PhD. (Slovakia)
Ivica Milevski, PhD. (Macedonia)
Romeo Hanxjari, PhD (Albania)
Important deadlines
15.05.2015 – Registration and Abstract submission
15.08.2015 – Full paper submission
Guidelines for Full Paper Submission will be send as
attachment with the following announcements.
Official languages
CONTACT
Macedonian and English
[email protected]
Registration fees
SKOPJE, 26-27.IX.2015
100 eur. – Foreign participants.
5000 den. – for participants from Republic of Macedonia
1000 den. – for guest
* Registration fee covers one paper submission.