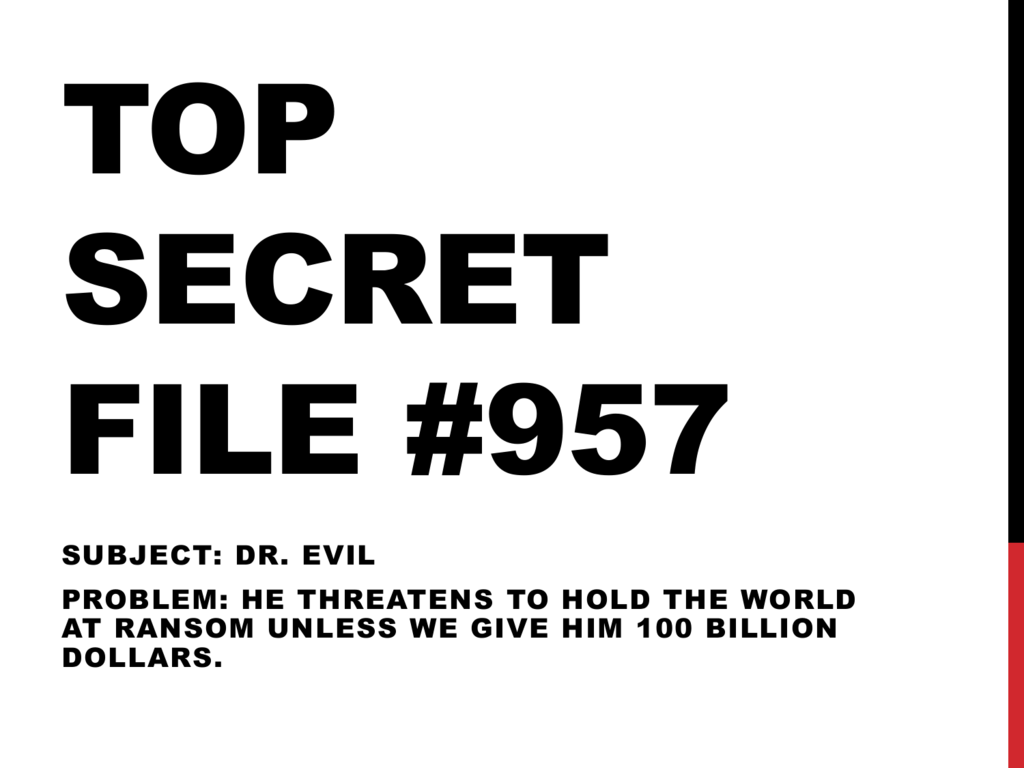 TOP
SECRET
FILE #957
SUBJECT: DR. EVIL
PROBLEM: HE THREATENS TO HOLD THE WORLD
AT RANSOM UNLESS WE GIVE HIM 100 BILLION
DOLLARS.
THIS VIDEO WAS SENT TO THE PENTAGON THIS
MORNING AT 0800 HOURS.
YOUR MISSION:
• Write a business letter that will persuade
Dr. Evil to attend our diplomat ball in
order to make a peace treaty.
• Refer back to the business letter
handout that one of your agent's
provided to help you with your
formatting.
• For your own protection, you need to
take on an alias name.
HOW TO CHOOSE YOUR
ALIAS NAME:
Use the first letter of
your first and last
name to create your
secret undercover
identity. Write it
H-Jesse
down!
I-Hayden
A-Riley
J-Kennedy
B-Jordan
K-Quinn
C-Tyler
L-Raegen
D-Blair
M-Casey
E-Aaron
N-Gale
F-Reese
O-Frankie
G-Shayne
P-Emerson
Q-Fran
R-Caden
S-Cameron
T-Asher
U-Rylan
V-Kai
W-Zayden
X-Jase
Y-Ty
Z-Ari
THINGS YOU SHOULD
KNOW ABOUT DR. EVIL
• Dr. Evil's biggest pet peeve is when business letters he
receives aren't formatted correctly.
• He also hates spelling errors.
• He loves animals including sharks with laser beams and
hairless cats.
• He loves money.
• He disowned his son because he wasn't evil enough.
• He likes to rap.
• He has a clone named "Mini-Me" that he takes with him
everywhere.
THIS IS WHAT HAPPENED TO THE LAST
UNDERCOVER AGENT WHO SENT DR.
EVIL A BAD BUSINESS LETTER.
INFORMATION YOU'LL NEED TO
COMPLETE YOUR BUSINESS
LETTER
•
Your address: 1820 Rimpau Ave, Corona, California 92881
•
Title and address:
Virtucon
16101 Neeley rd.
Guerneville, CA 95446
•
Your title/occupation:
Alias Name
Chief of Staff in the Centennial Quarter of the Pentagon
•
REMEMBER: We are inviting Dr. Evil (don't forget about MiniMe) to the Diplomat Ball that is taking place on January 20th,
2014.
•
Be creative! The agent with the best letter (formatting,
spelling, and creativity) will have their letter sent to Dr. Evil
and will receive an honorable award.
PARAGRAPHS
SHOULD INCLUDE:
1.
Situation: Reason for Writing
1.
2.
Explanation: The second paragraph presents your information and
details to support your reason for writing.
1.
2.
3.
Why you writing to Dr. Evil? Explain.
Provide information and details to support your viewpoint.
Mention reasons why his plan would not work or why it
would negatively affect him.
Action: What action do you want your reader to take? This is a
conclusion.
1.
2.
3.
4.
Wrap up your argument for the reader.
Tell him what he should do next.
Don't forget to invite him and Mini Me to the Diplomat Ball that is
taking place on January 20th, 2014!
You should also end by thanking the person for taking the time to
consider your viewpoint.
SENTENCE FRAMES
Paragraph 1 – (Reason for Writing)
I am writing to inquire about / request ...
I would like the option / possibly of…to be considered…because
I would be grateful if…
Paragraph 2 - (Information / Details that
I would appreciate if…
support your reason for writing)
I would like to work with….because…
Based on my experience, I think . . .
In my opinion,…
I predict / imagine that…
My associates and I are willing to…
Paragraph 3 – (Conclusion / Action you want Reader to Take)
Due to my skills and experience, I believe...
I hope the option of….will be considered…because…
Please consider…
Thank you for taking the time…
I look forward to hearing…
I'm looking forward to…
GOOD LUCK
AGENTS!
The safety of the
world is in your
hands, make our
President proud!