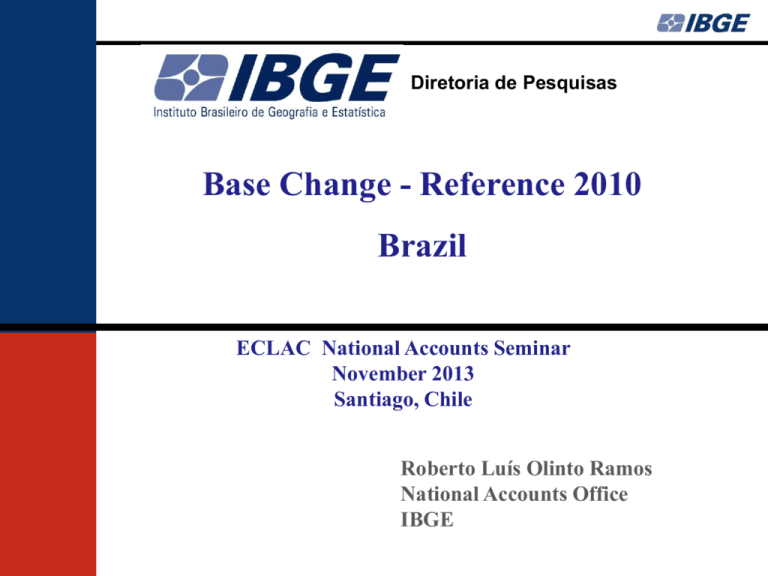 Diretoria de Pesquisas
Base Change - Reference 2010
Brazil
ECLAC National Accounts Seminar
November 2013
Santiago, Chile
Roberto Luís Olinto Ramos
National Accounts Office
IBGE
What are the reasons to change the series of the
System of National Accounts?
• Update the weights
no longer makes sense because the
recommendation is to value the constant price
accounts in the previous year prices.
•
•
•
•
Classification
Database
"Benchmark surveys"
International recommendations
Changes in Brazilian SNA
1947 – 1989
CONSOLIDATED
SYSTEM OF
NATIONAL
ACCOUNTS
1997 - "NEW
SYSTEM OF
NATIONAL
ACCOUNTS"
(1990 – 2004)
2007 – SYSTEM
OF NATIONAL
ACCOUNTS
REFERENCE
2000 (1995 – 2009)
2014 - SYSTEM
OF NATIONAL
ACCOUNTS
REFERENCE
2010
Initially the basic dillemas: 
How to proceed the updates?
Wait until completing all tasks?
How long?
Accuracy x timeliness.
Definition: the updates cannot go over and over
the years.
Initially the basic dillemas: 
How to proceed the updates?
The 2010
SUT aren´t
Wait until completing all tasks?
ready yet?
How long?
Accuracy x timeliness.
Definition: the updates cannot go over and over
the years.
if one takes too long…
SUT
SUT SUT SUT
SUT
SUT
SUT
SUT
Actions:
 No more than three years
 Recommendations split into three groups:
immediately feasible, feasible within a short
time lenght, not feasible or not important.
 The base change extends for five years.
 Setting a timeline for new revisions
 Seminars on methods with intense users
2010 CHANGE - Why?
• CNAE 2.0 Classification (ISIC Rev. 4)
• Database
• New data
• Surveys periodicity (not annual)
• "Benchmark surveys"
• International recommendations – 2008
SYSTEM OF NATIONAL ACCOUNTS 2008
Improvements
Agriculture:
- data incorporation from the Census of
Agriculture 2006
Manufacturing and Services:
- Intermediate Consumption Survey
- Trade and Transportation Margins Surveys
- Treatment of government units, households,
NPIs serving households;
GFCF
- Research and Development: Satellite
Account developed with the Ministry of Science,
Technology and Innovation;
- Software: to be estimated, the assessment
is that it is possible to obtain data;
- Database: no data;
- Military Equipment: already estimated;
- Mineral exploration: current assessment
of the available sources;
Government: detailing of the IS Public Corporations
(currently with non-financial corporations)
Consumption:
- Incorporation of data from the Household
Budget Survey (POF);
- Incorporation of fiscal data of households
- Model for allocation of rents based on the
Census of Population 2010;
- New model for estimating consumption
Multinational Enterprises: we adopted the
recommendation
Social Security Contributions:
The classification of contributions in pension or
non pension will not be adopted. That is, there is
no detailed information. As for the benefits,
disaggregated data is available.
Defined benefits and defined contributions
Although there is no specific classification for the
operations of this type of plans in the 2008 SNA, their
identification is relevant for allocating the
contributions. In Brazil, there are technical and
operational
issues
for
implementing
the
recommendations of identifying the type of scheme
contributions and benefits, considering the size of the
public sector in Brazil and the wide variety of
situations among states and municipalities. It remains
being the treatment for the Union, with the defined
benefit system, but it must consider all provision funds
itself (FUNPRESP) to the new servers, which is being
regulated, and whose system should be a defined
contribution plan.
Value of life insurance production
Recommendation to replace the compensation for
occurred damages in the calculation of the adjusted
production. Not relevant in the case of Brazil, who
have no history of natural disasters that have a
strong impact on claims paid.
Transition
•
3 years
•
Seminars for dissemination
•
Methodology reports available at the website
•
Interruption of the definitive national accounts series
(SUT y IEA)
•
Quarterly accounts as reference
•
Revision of the complete annual series 1995-2005 (SUT
and IEA)
•
Revision of the quarterly series 1990-2005 (1990 ou
1995?)
Regional Accounts (2002) and GDP Municipalities
•
Definitions
2010
2010
Database
2011/10
.......
QUARTERLY
2011
1995
1996.I/2013.IV
2012
Regional
Municipalities
Schedule 2010 Base
2012 Methodological definitions, 2010 database
compilation, and estimation of Brazilian SNA
2010 at current prices.
2013 Estimation of 2011 at current and constant
prices and 2010 revision (result of 2011)
revision from 2010 to 1995
2014 Estimation of 2012, quarterly series,
Regional Accounts and Municipalities GDP
2015 Publication 1995-2012 – first quarter
Thank you.