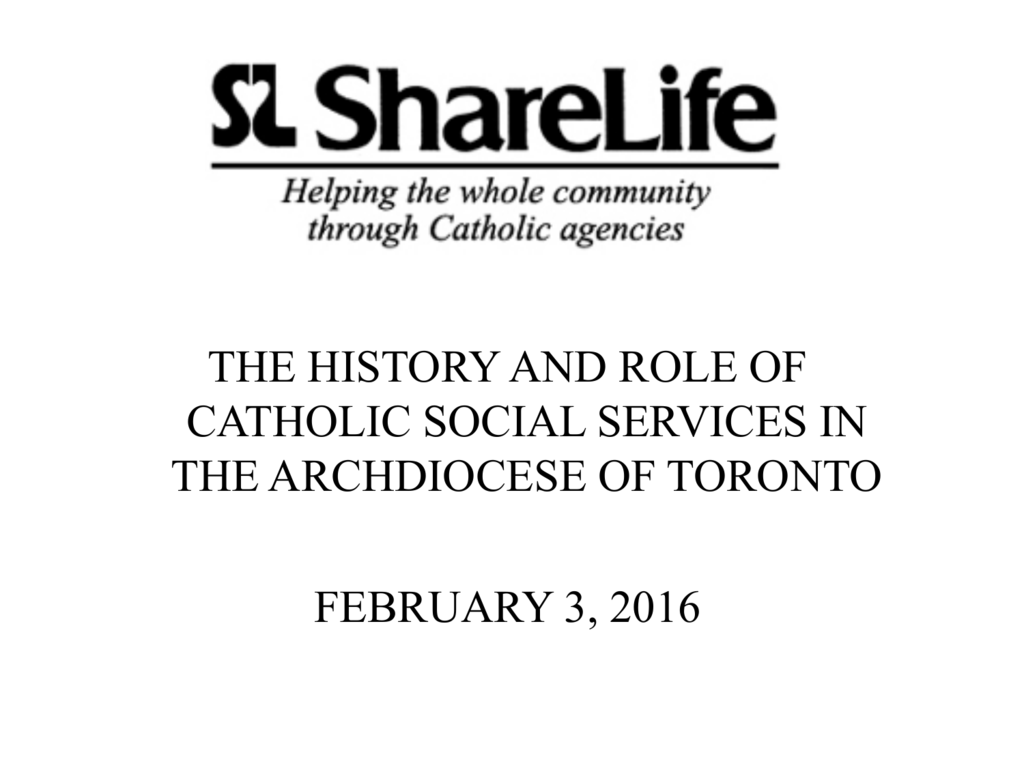 THE HISTORY AND ROLE OF
CATHOLIC SOCIAL SERVICES IN
THE ARCHDIOCESE OF TORONTO
FEBRUARY 3, 2016
ARCHDIOCESAN ANNUAL
APPEALS
• Some may believe that the history of
holding an annual appeal dates back to
1976, and the founding of ShareLife, but
there have been structured appeals going
back as far as the early 1900's, and the
provision of social services as far back as
the 1850's.
THE HISTORY OF CATHOLIC SOCIAL
SERVICES IN THE ARCHDIOCESE OF
TORONTO
• Sacred Heart Orphanage (1851) and Houses of
Providence (now Providence Healthcare, 1857)
were founded by the Sisters of St. Joseph
• St. Vincent de Paul had been assisting individuals
through parishes since the1850's, and in 1894
founded the Children's Aid Society of St. Vincent
de Paul. Today, this it the Catholic Children's Aid
Society.
THE HISTORY OF CATHOLIC SOCIAL
SERVICES IN THE ARCHDIOCESE OF
TORONTO
• Sisters of the Good Shepherd had a refuge for
young women lawbreakers.
• Christian Brothers ran St. John's Training School
for young men in trouble with the law
• In 1908, the St. Elizabeth Visiting Nurses
Association was formed at the request of
Archbishop McEvay. This started with four
nurses working from their homes. This is known
today as St. Elizabeth Healthcare.
THE HISTORY OF CATHOLIC SOCIAL
SERVICES IN THE ARCHDIOCESE OF
TORONTO
• In 1913, The Carmelite Sisters opened an
orphanage
• All of this preceded the co-ordination of the
work of Catholic organizations.
THE FOUNDING OF
CATHOLIC CHARITIES
• In 1913, Archbishop McNeil outlined to Father
Patrick Bench his perception of the gaps and
overlaps in assistance being provided to the poor
and needy of the Archdiocese.
• The Archbishop wanted to see co-ordination of the
work of Catholic agencies, and felt there was a
need to have a central body to plan for future
needs and work with the Chancery.
THE FOUNDING OF
CATHOLIC CHARITIES
• In September, 1913, Archbishop McNeil
announced the founding of Catholic
Charities and appointed Father Bench as the
first Superintendent.
• Father Bench was instrumental in getting
new social services started in the
Archdiocese:
CATHOLIC CHARITIES
• Father Bench started his work by volunteering to
serve as a probation officer for Catholic men
charged before the courts. He also hired a court
worker for women, who worked with the Good
Shepherd Female Refuge as an alternative to
prison.
• In 1914, Father Bench set up an employment
bureau for women, which lasted until 1920.
• Father also set up a simple legal aid program
through Catholic Charities, obtaining legal
assistance to those who could not afford the costs.
CATHOLIC CHARITIES
• In 1914, working with Archbishop McNeil, the
Sisters of Misericordia were invited to open a
home for unmarried women and their infants. St.
Mary's Infants' Home was formed, which today is
known as Rosalie Hall.
• In 1918, Catholic Charities initiated a Catholic Big
Brother Movement in Toronto. The Holy Name
Society started a Big Brother network in parishes,
and accepted responsibility for all Catholic boys
put on probation by the courts. In 1919, the
Catholic Big Sisters Association was formed.
CATHOLIC CHARITIES
• When asked how he would obtain funds to
assist others, Father Bench indicated that he
would beg for donations in his weekly
Catholic Charities column in the Catholic
Register, and the response always bore out
the promise of Christ ' Ask and ye shall
receive.'
CATHOLIC CHARITIES
• While carrying out the work, the agencies
always worked toward the preservation of
the Catholic faith.
FEDERATION FOR
COMMUNITY SERVICE
• In 1919, all agencies carrying out welfare work in
the City of Toronto got together and formed the
Federation for Community Service.
• As a result of joining this organization, Catholic
agencies saw an increase to their funding.
• Father Bench was elected as the first President of
the Board of Management of the Federation.
NEW LEADERSHIP
• In 1921, Father Bench was named Pastor of
St. Gregory Parish in Oshawa, and Brother
Barnabas, a Christian Brother, became the
next Superintendent of Catholic Charities.
CATHOLIC WELFARE
BUREAU
• In 1922, Archbishop McNeil carried out a
Social Welfare Survey (needs assessment,)
of the Archdiocese of Toronto.
• This report led to the creation of the
Catholic Welfare Bureau, which would be a
co-ordinating and administrative agency
doing direct service which had been offered
by Catholic Charities.
CATHOLIC WELFARE
BUREAU
• The intention of the formation of this bureau
seemed to be to co-ordinate the services being
provided by various entities, and to ensure
consistency between agencies providing similar
services.
• In 1922, Father Joseph Haley was appointed as the
Director of the Catholic Welfare Bureau and the
Superintendent of Catholic Charities.
LOSS OF FUNDING
• In 1927, The Federation for Community Service
announced that no Catholic agency or institution
would receive funds from the annual appeal.
• This decision was based on the issue that 11% of
the total amount collected in the campaign came
from Catholics, but 25% of the funds allocated
went to Catholic agencies.
• This decision did not take into account that
Catholics comprised 15% of the population in
Toronto, and generally belonged to the lower
socio-economic level of society – many were
immigrants with large families and little money.
LOSS OF FUNDING
• There was also the insinuation that large
contributions to the appeal would be
withheld if Catholic institutions continued
to receive these funds.
• The Toronto Star supported the Catholic
position, while the Toronto Telegram
supported the Federation's decision
THE FIRST ARCHDIOCESAN
APPEAL
• As a result of this decision Archbishop McNeil founded
the Federation of Catholic Charities, and launched a
campaign in October of that year.
• A goal of $100,000 was set through parishes and offices.
• This was met in 4 days.
• In 3 weeks $178,000 was raised.
• When people questioned why parishes outside of Toronto
were asked to contribute to the work of agencies located
within Toronto, Archbishop McNeil wrote a pastoral letter
outlined the number of people being served by these
agencies who came from outside of Toronto, and stressed
the need to contribute to the campaign.
NEW AGENCIES
• In 1931, The Redemptorists of St. Patrick's
founded Catholic Settlement House, and
added a Nursery in 1934 (Catholic
Settlement House Day Nursery.)
• In 1929, the Knights of Columbus in
Toronto founded the Columbus Boys camp
in conjunction with the Basilian Fathers,
and today this is known as Camp Ozanam.
OTHER WAYS TO HELP
• During the Depression, the campaign would often
not meet its goal, and there were other ways to
help.
• Shamrock Tag Days took place on March 17th of
each year, where volunteers took to the streets to
raise funds for Catholic Charities.
• A Rosary Guild was set up, and each of the 825
members were required to supply two new articles
of children's clothing once a year
UNITED WAY
• WWII brought the Catholic and Jewish
population into closer relationships with
Toronto citizens, and the new solidarity led
to the formation of the United Community
Fund, which replaced 18 individual
campaigns.
• The United Community Fund eventually
became the United Way in 1956.
NEW AGENCIES
• Good Shepherd Refuge was formed in the
early 1960's.
• The Catholic Immigration Bureau, which
became Catholic Cross Cultural Services,
was formed in 1954.
• Sancta Maria House, a residence for girls
with special needs, joined Catholic
Charities in 1966.
SHARELIFE
• In May of 1975, the United Way of Toronto
approved the admission of Planned Parenthood as
a member agency.
• In June of that year, a meeting was held at the
Chancery, outlining the position of the Council of
Charities and hoping that a solution could be
arrived at.
• Planned Parenthood was asked to withdraw their
application, on the understanding that they would
be given serious consideration the following year.
SHARELIFE
• In February of 1976, the United Way made a
decision to admit the Planned Parenthood
Association of Toronto as a member agency. This
organization's policy included counselling
abortion as a valid choice for a pregnant woman.
• To Msgr. Mulvihill, and Father Paul Lennon, and
our Catholic agencies, the purpose of our
existence was to nurture and protect clients, and
by being in an organization that supported Planned
Parenthood 'we would be associating with those
who would eliminate one of these clients.'
SHARELIFE
• Less than a month later,Archbishop Pocock
convened a meeting of the Council of
Catholic Charities, and on March 19, the
Archbishop formally announced the
decision of the Council of Catholic
Charities to withdraw from the United Way
of Greater Toronto.
SHARELIFE
• In his statement, Archbishop Pocock said 'I am
prepared to take the responsibility of sustaining
the services of Catholic Charities to the
Community.'
• The Councils of Catholic Charities and it's
member agencies receiving funding: Catholic
Settlement House Day Nursery, Providence Villa,
Columbus Boys Camp, St. Elizabeth Visiting
Nurses Association, Catholic Family Services of
Toronto, Sancta Maria House and Rosalie Hall all
resigned from the United Community Fund.
SHARELIFE
• This decision was supported by, among
others, the Knights of Columbus, Catholic
Women's League, St. Vincent de Paul, and
the Toronto Catholic District School Board.
SHARELIFE
• In 1976, the parish campaign goal was
$1.875 million and $2.119 million was
achieved from our parish communities.
• Volunteer parishioners went door to door,
seeking support for the ShareLife agencies.
SHARELIFE TODAY
• Over time, we have added various components of
our annual appeal, a schools campaign, an
employee campaign, and a corporate campaign.
• In 1992, the direct mail program was started,
where parishioners were sent a letter seeking
support for ShareLife from the Archbishop of
Toronto.
• Today, almost 180 parishes are on this program,
and over $11.7 million was raised from these
parishes in 2015.
SHARELIFE TODAY
• Parishes have often conducted dances,
walk-a-thons, bake sales, and other special
events to support the local parish ShareLife
effort.
• In 1996, the ShareLife office started an
annual walk, which ran for 10 years.
SHARELIFE TODAY
• Over time, the number of agencies
supported by ShareLife has grown from 8 to
42, including grant recipients.
• 29 of the agencies are overseen by Catholic
Charities, who provide agency monitoring,
professional development, and are
responsible for the allocations to these
entities.
SHARELIFE TODAY
• Services are now provided to families in crisis,
people with special needs, the elderly, children
and youth, immigrants and refugees, and also to
support development work through Development
and Peace, Canadian Food for Children, and the
Pastoral Mission Fund.
• In addition, ShareLife is a significant funder of St.
Augustine's Seminary and provides financial
support to the Redemptoris Mater Seminary and
Serrsa House/Office of Vocations.
SHARELIFE ALLOCATIONS
• In October of each year, the Allocations
Committee of the Advisory Board reviews the
results of the previous campaign and sets
allocations for the next calendar year.
• The ShareLife Advisory Board and Trustees
approves the allocations at their October meeting,
to start the next January.
• These funds must be raised in the campaign that
takes place during the following year.
• The ShareLife campaign starts in March, and as
such ShareLife often borrows funds to bridge the
gap between the start of allocations and the parish
campaign.
SHARELIFE ALLOCATIONS
• In 2016, the allocations to all agencies and
grant in aid recipients total $13.2 million.
• The parish campaign goal is $12.95 million.
Other campaigns include schools, employee
funds, and a corporate campaign.
OTHER SOCIAL SERVICES
• While ShareLife is providing funds to over forty
different entities, there are many other important
services that are taking place across our
Archdiocese that are supported or driven by the
Catholic community.
• In the past, Catholic Charities has given
community grants to organizations such as the
Lazarus House, L'Arche, St. Stephen's House,
Project Rachel, and Pathways among others.
OTHER SOCIAL SERVICES
• Barrett House, run by the Little Brothers of
the Good Shepherd, was Toronto's first
residential care facility for people living
with HIV/AIDS.
• The goal is to offer a supporting, caring and
secure environment – a 'family.'
OTHER SOCIAL SERVICES
• The Sisters of St. Joseph founded Toronto's
Food Bank and the Furniture Bank.
• Covenant House came to Toronto at the
request of Cardinal Carter.
OTHER SOCIAL SERVICES
• At the invitation of Cardinal Carter, Madonna
House was invited to open a field house in
Toronto in 1982.
• The Capuchins of Central Canada established St.
Francis Table in 1987 as a low cost food outreach
in Parkdale.
• Many parishes across the Archdiocese conduct
food banks, soup kitchens, out of the cold
programs, drop in centres, seniors groups, and
other programs to help those in need in their local
communities.
NEW FOR 2016
• ShareLife is investing $770,000 new dollars
into our agencies in 2016. The following
are some of the key areas for new
investments:
• Increased funding of $200,000 (to $1.7
million,) for St. Augustine's seminary.
NEW FOR 2016
• Increased funding of $136,100 to Catholic
Community Services of York Region and the Rose
of Sharon to replace allocations previously
provided by other funders.
• •Increased funding of over $72,000 to support the
Office for Refugees. These funds will support the
infrastructure of the office to help with the
increased number of families being sponsored
through our refugee programs.
NEW FOR 2016
• One time additional funding of $10,000 to Street
Haven to support necessary capital enhancements
in 2016.
• Increased funding of $3,500 to the deVeber
Institute to support the publication of resources on
the matter of euthanasia and assisted suicide.
These resources will be of assistance to Catholic
hospitals, long term care facilities, social workers,
and clergy within the archdiocese
NEW FOR 2016
• Increased funding to Catholic Charities of
$353,000 to support the following priority areas:
• Shared services between agencies, which helps to
reduce administrative overhead costs and provides
value added back office support to a number of
agencies. Currently, agencies share resources in
financial management and human resources, and
information technology options are being
explored. St. Elizabeth Healthcare serves as a
service provider for this program.
NEW FOR 2016
• Help agencies to build capacity to report on the
effectiveness and impact of programs and services,
which helps to demonstrate the importance of
ShareLife funding to the organizations.
• A pilot project to test the applicability of a grief
reconciliation approach for young mothers who
have suffered trauma and other mental health
issues.
NEW FOR 2016
• The introduction of a new program to
support outreach to seniors in Peel Region
and Simcoe County. Working with the local
Catholic Family Service agency, this
initiative will implement a program to
provide assistance to seniors who are shut in
and isolated.
NEW FOR 2016
• According to Statistics Canada, 20% of older
people in Canada report that they are lonely, and
approximately 84% of seniors were living alone.
• This new initiative will be implemented in six
parishes. The program aims to connect trained
volunteers with seniors living in isolation to
provide support in their daily lives, as well as to
connect them to local resources available in their
community.
• It is our intention to expand this program in future
years.
CONCLUSIONS
• The Catholic community has a long history
of providing social services to the greater
community.
• When asked, the Catholic community will
collectively rise to the challenge of
financially supporting the Catholic Charities
of the Archdiocese.