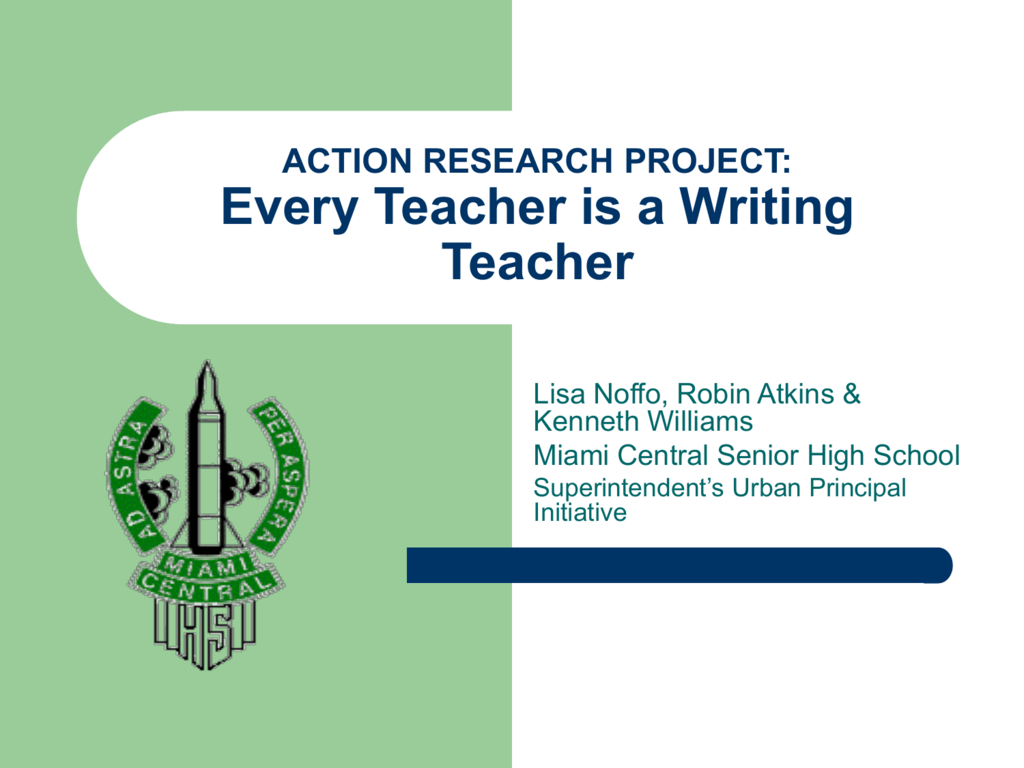 ACTION RESEARCH PROJECT:
Every Teacher is a Writing
Teacher
Lisa Noffo, Robin Atkins &
Kenneth Williams
Miami Central Senior High School
Superintendent's Urban Principal
Initiative
Abstract of the Study

The focus of this action research is to
improve the writing test scores at Miami
Central Senior High School.
3 strategies were used:
1.
2.
3.
Team teaching which served as a professional
development tool for non-language arts teachers.
An eighth period writing course was implemented for all
10th grade students.
Writing across the curriculum was implemented in all core
and elective courses.
Introduction/Background
The major concern at Miami Central Senior High is
that students are having difficulty mastering the
writing process. The researchers believe that as a
result of student difficulties and limited foundational
writing skills our students demonstrate a lack of
proficiency in writing semantics. Our goal is that
Miami Central High School students will acquire
writing skills which will result in an improvement in
the writing process.
Background Information
Miami Central Senior High
School was built in 1959 and
resides on 95th Street and
17th Avenue. MCHS has
115 classrooms and utilizes
16 portable classrooms.
Approximately.

Student background information
–
82% of the student population is
Black non-Hispanic
–
17% of the student population is
Hispanic
–
1% of the student population is
White non-Hispanic
–
Less than 1% Asian/Indian
Multicultural
–
17% of the student population is
enrolled in the Exceptional
Student Education program
–
5.5% of the population are
Limited English Proficient
Students(ESOL)
–
60% of the students are on free
and reduced lunch.
Research Question

How will team teaching, writing across the
curriculum and an intensive 8th period writing
curriculum improve writing scores?
Literature Review
1.
2.
3.
Kelly, Melissa, "Writing Across the Curriculum," –
http://712educators.about.com/cs/writingresources/a/writing.htm
This article was chosen because the author discussed many strategies that
can be used to improve writing skills in tenth grade students. Most
importantly these strategies were ones that could be used in all content
areas. Theses strategies were most useful to our non-language arts teacher.
Team Teaching - : The Northern Nevada Writing Project Teacher-Researcher
Group Paperback) http://www.todaysteacher.com/TeamTeaching.htm
This article was used because it addressed various items needed to
facilitate a good collaborative team effort between two teachers. This
article was based on the book Team Teaching , (Stenhouse Publishing,
1996). This book gives multiple models of successful team teaching.
Writing Across the Curriculum and Writing in the Disciplines http://owl.english.purdue.edu/handouts/WAC/
This article was selected because in gave further insight on the need in
writing in discipline areas. This article although focusing on the collegiate
level, lead the researcher to various websites on topics that can enhance a
writing program.
Methodology/Intervention





To implement our plan we paired all non-language arts teachers with a reading
or language arts teacher. This was done in order to provide professional
development to the non-languages arts teacher and broaden the scope of
language arts instruction. It was our hope that the non-language arts teacher
would model the type of instruction they are observing in their co-teaching
class.
Writing across the curriculum was infused in all classes through daily
mandatory journaling.
The "Academic Improvement Period" (8th Period) was used as an intensive
writing course for all tenth grade students.
The Health and Physical Education classes, which are predominantly 10th
grade students, were used periodically as a writing lab. The Reading Coach
facilitated the instruction to reinforce writing strategies.
These interventions were consistently employed throughout the school year.
Data Collection

Tools used to collect the data:
–
–
–
Learning express prompts – various sample writing prompts
given to students on a bi-weekly and quarterly basis in their
language arts classes.
Teacher surveys – given before and after the co-teaching
model was put in place. Teachers were not receptive to the
co-teaching strategy initially, but post surveys show that
teachers, seeing the value in team teaching are willing to try
it again for the 2006-07 school year.
FCAT Writing scores – were used to gauge the
improvement of students writing scores. The test was
administered in March
Data Analysis
FCAT Writing Results - M ean Scores
6
5.5
5
4.5
Mean Score
4
3.5
3
2.5
2
1.5
1
0.5
0
1998
1999
2000
2001
2002
2003
Year
2004
2005
2006
2007
Findings/Results

Based on the results of the FCAT Writing test, our students did not
show improvement in their writing performance. The baseline data that
we started with, 3.5 dropped to a 3.3. While increasing in the
expository component by .1, MCSH lost .6 points in the persuasive
component.
FCAT writing
expository
FCAT writing
Persuasive
FCAT writing
combined score
2006
3.4
3.0
3.3
2005
3.3
3.6
3.5
Conclusions, Recommendations, Implications, or
suggestions for future action for yourself or others
Conclusions:
 Our data revealed that more professional development and an
increase in the rigor in the area of writing is imperative in order
to yield satisfactory results, thus, meeting the state mandate.
 The state's data showed a slight increase of .1 in expository
writing, but a .6 drop in persuasive writing.
 Our data indicated that our students must be exposed to a wide
range of current event topics in order to respond effectively in
writing to higher order prompts.
Conclusions, Recommendations, Implications, or
suggestions for future action for yourself or others
Implications and recommendations:
 Focus on higher level prompts in the persuasive
writing component
 Continue with the team teaching model as a source
of professional development and modeling
 Look at ways to enhance the writing instructional
focus calendar.
 Continue to use the writing disc provided by the
state.
 Employ a full time writing coach to model writing
across the curriculum.