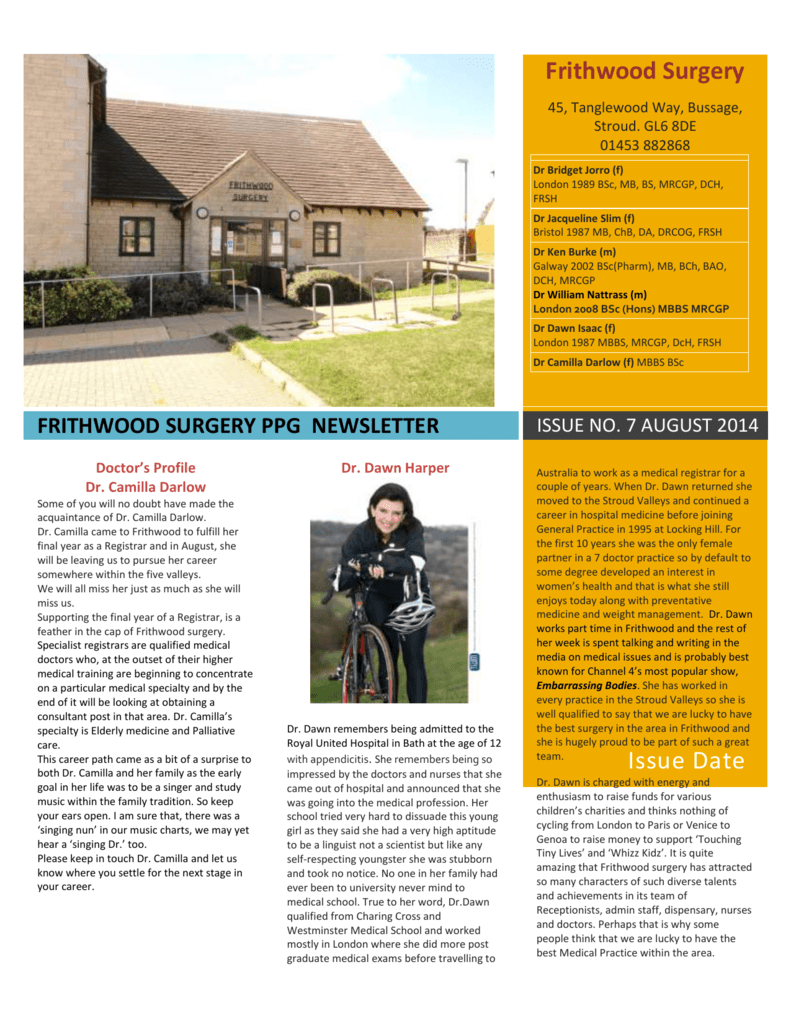 Frithwood Surgery
45, Tanglewood Way, Bussage,
Stroud. GL6 8DE
01453 882868
Dr Bridget Jorro (f)
London 1989 BSc, MB, BS, MRCGP, DCH,
FRSH
Dr Jacqueline Slim (f)
Bristol 1987 MB, ChB, DA, DRCOG, FRSH
Dr Ken Burke (m)
Galway 2002 BSc(Pharm), MB, BCh, BAO,
DCH, MRCGP
Dr William Nattrass (m)
London 2008 BSc (Hons) MBBS MRCGP
Dr Dawn Isaac (f)
London 1987 MBBS, MRCGP, DcH, FRSH
Dr Camilla Darlow (f) MBBS BSc
FRITHWOOD SURGERY PPG NEWSLETTER
Doctor's Profile
Dr. Camilla Darlow
Some of you will no doubt have made the
acquaintance of Dr. Camilla Darlow.
Dr. Camilla came to Frithwood to fulfill her
final year as a Registrar and in August, she
will be leaving us to pursue her career
somewhere within the five valleys.
We will all miss her just as much as she will
miss us.
Supporting the final year of a Registrar, is a
feather in the cap of Frithwood surgery.
Specialist registrars are qualified medical
doctors who, at the outset of their higher
medical training are beginning to concentrate
on a particular medical specialty and by the
end of it will be looking at obtaining a
consultant post in that area. Dr. Camilla's
specialty is Elderly medicine and Palliative
care.
This career path came as a bit of a surprise to
both Dr. Camilla and her family as the early
goal in her life was to be a singer and study
music within the family tradition. So keep
your ears open. I am sure that, there was a
'singing nun' in our music charts, we may yet
hear a 'singing Dr.' too.
Please keep in touch Dr. Camilla and let us
know where you settle for the next stage in
your career.
Dr. Dawn Harper
Dr. Dawn remembers being admitted to the
Royal United Hospital in Bath at the age of 12
with appendicitis. She remembers being so
impressed by the doctors and nurses that she
came out of hospital and announced that she
was going into the medical profession. Her
school tried very hard to dissuade this young
girl as they said she had a very high aptitude
to be a linguist not a scientist but like any
self-respecting youngster she was stubborn
and took no notice. No one in her family had
ever been to university never mind to
medical school. True to her word, Dr.Dawn
qualified from Charing Cross and
Westminster Medical School and worked
mostly in London where she did more post
graduate medical exams before travelling to
ISSUE NO. 7 AUGUST 2014
Australia to work as a medical registrar for a
couple of years. When Dr. Dawn returned she
moved to the Stroud Valleys and continued a
career in hospital medicine before joining
General Practice in 1995 at Locking Hill. For
the first 10 years she was the only female
partner in a 7 doctor practice so by default to
some degree developed an interest in
women's health and that is what she still
enjoys today along with preventative
medicine and weight management. Dr. Dawn
works part time in Frithwood and the rest of
her week is spent talking and writing in the
media on medical issues and is probably best
known for Channel 4's most popular show,
Embarrassing Bodies. She has worked in
every practice in the Stroud Valleys so she is
well qualified to say that we are lucky to have
the best surgery in the area in Frithwood and
she is hugely proud to be part of such a great
team.
Issue Date
Dr. Dawn is charged with energy and
enthusiasm to raise funds for various
children's charities and thinks nothing of
cycling from London to Paris or Venice to
Genoa to raise money to support 'Touching
Tiny Lives' and 'Whizz Kidz'. It is quite
amazing that Frithwood surgery has attracted
so many characters of such diverse talents
and achievements in its team of
Receptionists, admin staff, dispensary, nurses
and doctors. Perhaps that is why some
people think that we are lucky to have the
best Medical Practice within the area.
2
A Generous Donation
Someone who wished to remain anonymous
must have agreed with the last statement,
from Dr. Dawn, as they donated £1,500 for a
new ECG machine for the surgery. Thank you
whoever you are!!
An ECG is used to measure the heart's
electrical conduction system. It picks up
electrical impulses from cardiac tissue and
translates into a waveform. The waveform is
then used to measure the rate and regularity
of heartbeats, as well as the size and position
of the chambers, the presence of any damage
to the heart, and the effects of drugs or
devices used to regulate the heart, such as a
pacemaker. Along with Blood Pressure
Monitors, the ECG machines are some of the
most used equipment in a surgery. ECG
machines are always present in Soaps and
films. It is the piece of equipment that keeps
showing a wavy line on the screen whilst
making a regular 'PING' sound. If the sound
stops and the wavy line stops, it means that
the heart has arrested and resuscitation may
be required with the use of a defibrillator.
Now you know!!
What a wonderful and generous donation.
Thank you again.
In News Letter 3 (April 2014) we
highlighted the following. "General
practices are facing a growing crisis, as they
struggle to provide the care needed by an
increasing patient population. Our surgery
has recently been extended to cope with
demand. Ballooning workloads, declining
resources and an overstretched workforce
are placing a huge strain on services that
remain our first point of contact with the NHS
for our catchment area.
This is bad news for patients, when we face
longer waits for appointments to see our GPs
and a lower level of appointment time than
our GPs want to provide. Our surgery is
coping with this workload at the moment,
thanks to the hard work from the surgery
team as a whole."
It is very important that this funding situation
is brought strongly to the attention of our
Government in order that existing NHS funds
can be re allocated in favour of General
Practices. Please help by signing the petition
which is readily available on the reception
counter. The Royal College of GPs and the
National Association for Patient Participation
Groups are campaigning for the governments
of the UK to increase funding for general
practice from 8.39% to 11% of the NHS
budget by 2017.
Please help us all by signing the petition.
Patient Involvement with the
Frithwood Practice.
Well! How involved are you as a patient, in
airing your views ?
As we outlined in our very first News Letter in
February this year:- What is the PPG?
PPG stands for Patients Participation Group.
Every registered patient to our Frithwood
Surgery is automatically a member and one
has the opportunity to improve general
communications between Doctors and the
general body of Patients, and in particular, to
provide feedback to the Practice about
Patients' principal concerns and expectations.
Feedback can be made via any member of
the PPG committee, or the suggestion box at
the front of the reception.
You could make comment on such things as:
Reviewing complaints

Making changes to our
appointment system

Highlighting particular issues you
think have been over looked.

Surgery opening hours

Disabled car parking spaces

Debate about the use of Statins
What we need, is to hear from you please,
otherwise we will continue the way we are at
present. That of course might be good,
because it may mean we are meeting all or
most of your expectations; but we doubt it.
Once a suggestion theme has become
evident, we will publish it in our News Letter
and provide Feed Back as to what and how
the Practice has addressed your suggestion.
So please, please, drop us a line or pick up
the phone or make a suggestion and post it in
the suggestion box at reception. We really
want to hear from you. THANKS.
Calendar of Events.
Please try and join our fun Treasure Hunt
and BBQ, starting from The Lamb Inn on
Saturday 23rd August (Bank Holiday) at 5pm
from the grass embankment opposite the
Eastcombe Stores. There are some super
raffle prizes and prizes for the winners of the
Treasure Hunt. So please come along and
support.
The Lamb Inn is organizing a BBQ and they
are DONATING £1.50 to the PPG fund on
every menu item sold from the BBQ.
All profits from the day are being directed
towards a new 24 hr. Blood Pressure Monitor
for the surgery. Look on the surgery web site
for more details.
A Few Funnies to brighten up
your day.
The Irish have the lowest stress rate because
they do not understand the seriousness of
most medical terminology...
Medical Term Irish Definition
Artery - The study of paintings
Bacteria - Back door to cafeteria
Barium - What doctors do when patients die
Benign - What you be, after you be eight
Cauterize - Made eye contact with her
Coma - A punctuation mark
Dilate - To live long
Fester - Quicker than someone else
Fibula - A small lie
Impotent - Distinguished, well known
Labor Pain - Getting hurt at work
Medical Staff - A Doctor's cane
Morbid - A higher offer
Nitrates - Rates of Pay for Working at
Night, Normally more money than Day
Outpatient - A person who has fainted
Pelvis - Second cousin to Elvis
Post-Operative - A letter carrier
Recovery Room - Place to do upholstery
Rectum - Nearly killed him
Secretion - Hiding something
Tablet - A small table.
AH WELL.