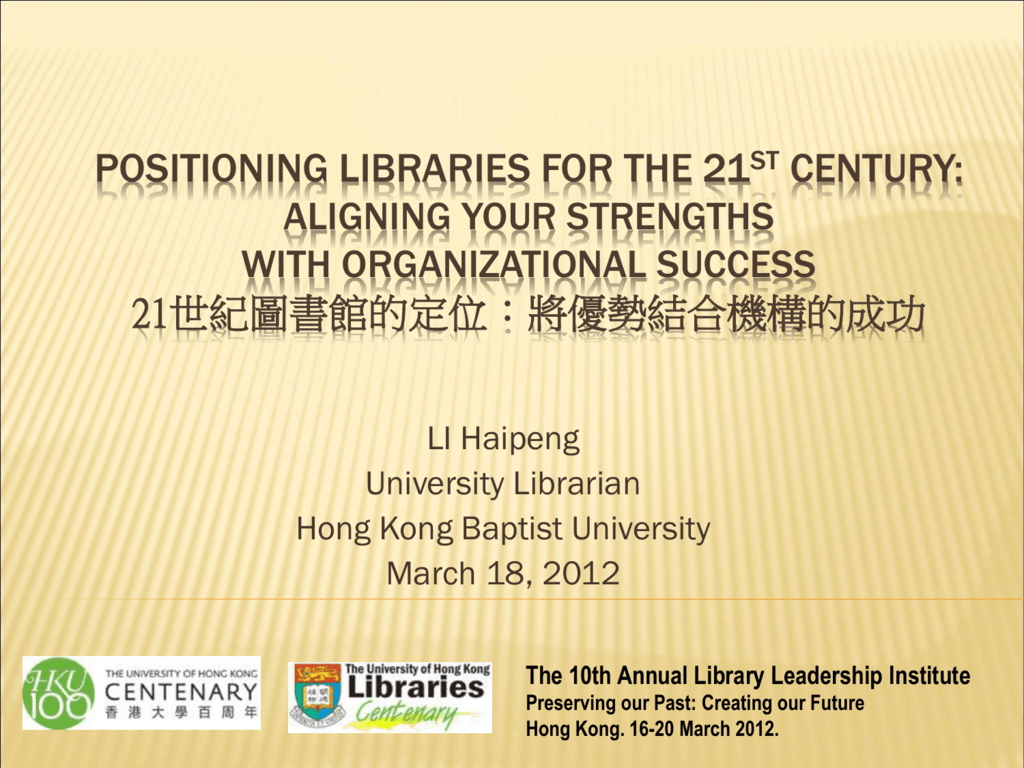 POSITIONING LIBRARIES FOR THE 21ST CENTURY:
ALIGNING YOUR STRENGTHS
WITH ORGANIZATIONAL SUCCESS
21世紀圖書館的定位:將優勢結合機構的成功
LI Haipeng
University Librarian
Hong Kong Baptist University
March 18, 2012
The 10th Annual Library Leadership Institute
Preserving our Past: Creating our Future
Hong Kong. 16-20 March 2012.
TIMES OF CHANGE

Changing times
 Information
explosion
 Increasing demands
 Technological development

Changing environments
 Educational
reform
 Millennial generation
 Global city
gleemsworld.wordpress.com
TIMES OF CHANGE

Changing institutions
 Institutional
transformation
 Adapt to Learning, teaching and research

Changing libraries
 Role
of libraries
 Collections
 Services
ideachampions.com
INSTITUTIONAL/ORGANIZATIONAL MISSION

Mission of Institution
Higher Education
 Learning, teaching and research


Role of Library
Support learning, teaching & research
 Provide quality service
 Build quality collection

ORGANIZATIONAL SUCCESS

How to achieve organizational success
 Align
library's goals with mission of institution
 Learning,
teaching, research, service
shutterstock.com
ORGANIZATIONAL BEHAVIOR
Examine organizational behavior
- Squeeky wheel
gets the grease (叫轮得到油)
- Leading bird
gets shot at (枪打出头鸟)
dpchallenge.com
northernwoodlands.org
ORGANIZATIONAL BEHAVIOR

Organizational behavior
 organizational
behavior has to do with how people
behave in an organization, and how their behavior
affects the organization's performance
http://www.sodahead.com/
SELF ASSESSMENT
 Assess
individual behavior
 Type
 Diversity
utsa.edu
 Self-Rating
Scale Frames
http://www.leebolman.com/frames_selfrating_scale.htm
Lee G. Bolman, Ph.D.
Professor and Marion Bloch/Missouri Chair in Leadership
Bloch School of Management
University of Missouri-Kansas City
SELF ASSESSMENT

Individual behavior



Complex – attitude, personality, perception, motivation,
culture
Different – each person is unique
Integration – individual and organizational
northernwoodlands.org
SELF ASSESSMENT
 create
awareness about personality and
behavioral types,
 determine how people fit within an
organization, what their communication
styles are,
 if they make effective leaders,
 how they influence organizational behavior.
LIBRARY ENVIRONMENT

Library as organizations

External influence:



Political/economic, Geographical, Cultural
Parent organizations
Complex structures
takoi.edu.hk
ABOUT YOURSELF
 Know
yourself
 Be confident
 Take initiative
 Reach out
 Build network
 Each individual is a talent
 Seize the opportunity
 Assess yourself
coolcoolbird.blogspot.com
CHANGING LIBRARY, CHANGING LANDSCAPE:
HONG KONG BAPTIST UNIVERSITY LEARNING COMMONS
Thank you!
Questions?