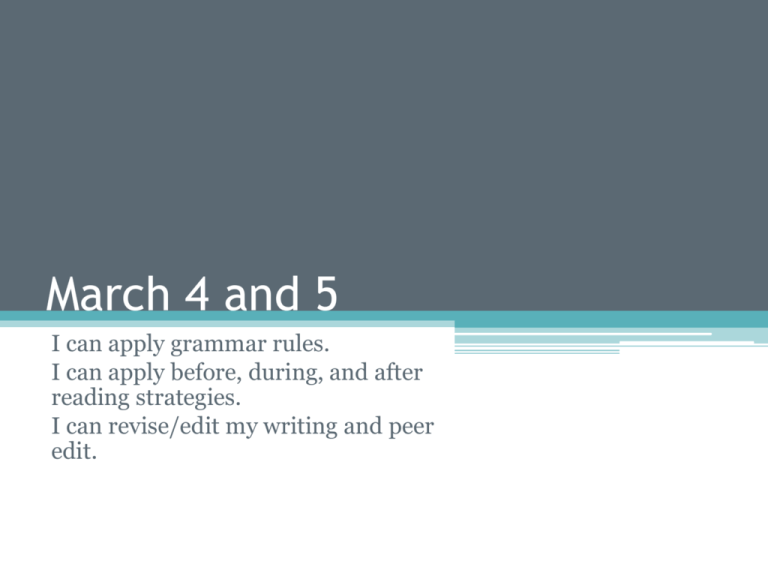 March 4 and 5
I can apply grammar rules.
I can apply before, during, and after
reading strategies.
I can revise/edit my writing and peer
edit.
Bell Ringer
• Pronoun Quiz
• Complete the handout (front and back).
• Turn into the tray.
▫ This will be a grade!
The Alchemist
• Read pages 143-167.
• Answer questions 53-60.
▫ Make sure you have answers to all the questions.
▫ Turn in on google classroom.
▫ This will serve as your study guide!!!!
Discussion Questions (not part of the
study guide questions)
1. What shapes one's identity?
2. Do we control destiny or does it control us?
3. If you had to choose 1 thing, what is 1 thing
worth living for? What would the author say is
worth living for?
4. Are omens really out there and are they
important?
5. Does the simplistic and primitive style of the
book add or detract from the main goal? What
do you think the main goal is?
Discussion Questions (not part of the
study guide questions)
6. Rank the following
in order (1-10, 1
being the highest)
according to their
importance in the
book.
7. Rank them again
but rank them
according to your
opinion.
•
•
•
•
•
•
•
•
•
•
Potential
Love
Spirit
Enlightenment
Controlled luck
Purity
Fulfillment
Trust
Fate
Respect
Questions
53. When we strive to become better than we are
everything becomes better too
54. turn to the hand who wrote it all (soul of the
world). (everything is connected)
55. he only invoked what he already knew
56. Final test
57. It is HIS personal legend and he has to complete it
58. the treasure is within
59. Hero's Journey (full circle)
60. Because he did follow his dream
Writing
• Look over the feedback and make revisions if
necessary.
• Write your conclusion.
• Share your document with a classmate (everybody
has to share with at least one other person)!
▫ Once you have a classmate's document, make
suggestions for revisions and tell them what you like
about their writing. Return it to its owner.
• Once you have your revised (final) draft. Turn it in
on google classroom. Remember I am looking for
organization (transitions) and strong claims!