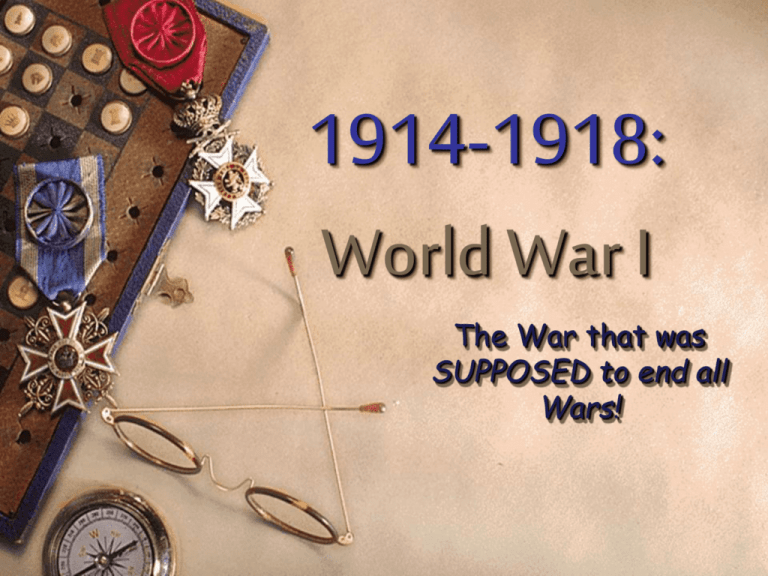 1914-1918:
World War I
The War that was
SUPPOSED to end all
Wars!
Differing Viewpoints
 "Family Feud"
 "Fall of the Eagles"
 "The War to End All Wars"
 "The War to 'Make the
World Safe for Democracy'"
"The Explosive
Material for WWI":
The Long-Term
Causes
Loss of Alsace-Lorraine:
Alsace-Lorraine
Militarism & Arms Race
COUNTRY
SOLDIERS (#)
MONEY
SPENT
(in American $)
Britain
750,000
$ 50,000,000
France
1,500,000
$40,000,000
Germany
8,500,000
$60,000,000
750,000
$22,500,000
1,250,000
$15,500,000
750,000
$10,000,000
Austria-Hungary
Russia
Italy
1910-1914 Increase in
Defense Expenditures
France
10%
Britain
13%
Russia
39%
Germany
73%
German-British Naval Rivalry:
Type of Ship
Great Britain
Germany
Dreadnoughts
29
17
Pre-Dreadnoughts
40
20
Battle -cruisers
34
9
Cruisers
74
41
Destroyers
167
130
Torpedo boats
49
0
Submarines
75
21
German Imperial Ambitions:
Country
Population
Population of
Colonies
Area in km2 of
Empire
Great Britain
40.8 million
390 million
27 million
France
39.6 million
63 million
11 million
Germany
63 million
15 million
2.5 million
Austria-Hungary
50 million
None
None
Russia
139 million
None
None
Aggressive Nationalism
The Schlieffen Plan
The Balkans, "The Powder Keg of Europe"
 Territory formerly
controlled by Ottoman
Empire
 Balkan nationalities like
the Serbia gained
independence after RussoTurkish War (1877-78)
 Austria-Hungary annexed
Bosnia &
Herzegovina(1908) wanted
to expand into Serbia
 Serbia wanted to take
Bosnia from AustriaHungary
 Russia wanted direct
access to Mediterranean
Sea; saw itself as
protector of Slavs &
Orthodox Serbs
The Balkans, "The Powder Keg of Europe"
 First Balkan War (1912)
o
o
o
o
Montenegro declares war
on Turkey
Serbia, Montenegro &
Greece pounce on Albania
Albania regains
independence @ peace
conference
Bulgaria loses spoils to
Serbia, Montenegro &
Greece
 Second Balkan War
(1913)
o
o
o
Bulgaria resists treaty's
demands
Bulgaria defeated by
Serbia, Montenegro &
Greece
Treaty of Bucharest
redrew lines that violated
informal ethnic & nat.
boundaries
THE BISMARCKIAN SYSTEM:
 Bismarck played Peacemaker in Europe for
20 Years. Why?
 Isolate France (keep it w/o allies)
 Maintain a balance b/t Russia & A-H
(Balkans)
 The Answer  An exhausting system of
shifting alliances
 Three Emperors' League (1873)  Germany,
A-H & Russia
 Dual Alliance (1879)  Germany & A-H;
formed @ Congress of Berlin ending RussoTurkish War
 Triple Alliance (1882)  Italy joins Dual
Alliance b/c of tensions w/ France
 Reinsurance Treaty (1887)  Germany &
Russia promise neutrality in case the other
was attacked
Wilhelm II fires Bismarck
The Alliance System
Triple Entente:
Triple Alliance:
The
"Spark"
Archduke Franz Ferdinand &
His Family
The Assassination: Sarajevo
The Assassin:
Gavrilo
Princip
"The Explosion":
Outbreak of World
War I
THE SUMMER OF 1914:
THE IMMEDIATE ROAD TO WWI
 June 28  Assassination of Archduke
Ferdinand
 July 23  Austria-Hungary (A-H) issued
ultimatum to Serbia; emboldened by
Wilhelm's "blank check"
 July 28  A-H declared war on Serbia
 July 29  Nicholas II ordered full
mobilization of Russian troops
 Aug. 1 Germans declare war on Russia
THE SUMMER OF 1914:
THE IMMEDIATE ROAD TO WWI (cont.)
 Aug. 3  Germany declares war on France
 Aug. 4  German troops invade Belgium;
Great Britain declares war on Germany
WWI BEGINS !!!
Blackadder Explains the Causes of WWI:
Who's To Blame?