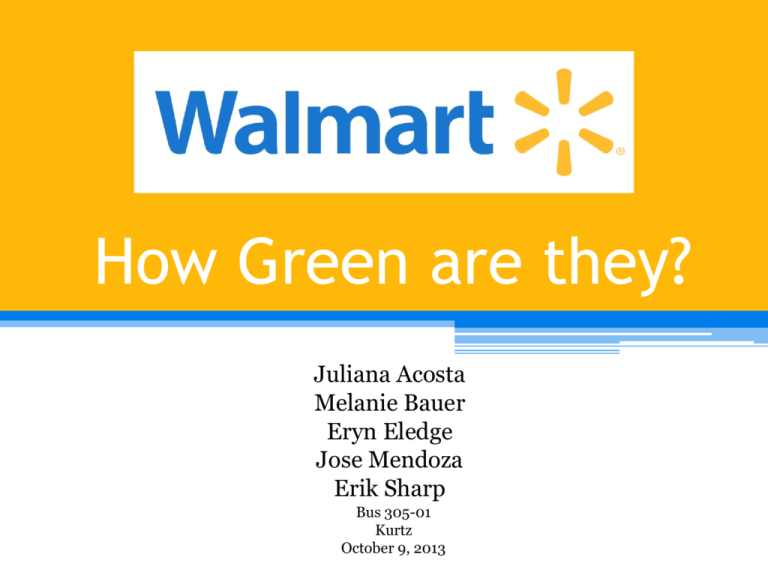 How Green are they?
Juliana Acosta
Melanie Bauer
Eryn Eledge
Jose Mendoza
Erik Sharp
Bus 305-01
Kurtz
October 9, 2013
Agenda
•
•
•
•
•
•
•
•
Background
Facts
The Environment and Corporate Culture (2)
Managing Ethics and Social Responsibility (4)
Commercial Break
Mini Quiz
Leadership (11)
Recap and Questions
Background
• Founded by Sam Walton in 1962
• Publicly traded in 1970
▫ First stock sold at $16.50 per share
• Reached $1 billion in annual sales in 1980
• Went global in 1991
▫ Mexico, Canada, China
• Celebrated 50 years of "helping people save
money so they can live better" in 2012
Facts
• # 1 retailer in the world
• 10,900 retail units
• 27 different countries
• 2.2 million employees
• 1.3 million employees in the U.S.
The Environment and Corporate
Culture
• Top three on EPA's Green
Power Partnership
• Implementing a number of
green energy projects
• Zero waste policy and
renewable energy
• Walmart slogan
Energy Production
• American's image and sustainability
• Harnessing solar power
• More than 180 renewable energy projects in
operation
Efficient Trucking
• New and improved
truck routes
• Implementation of
distribution hubs
• Future goals for
trucking
• The trucks
themselves
The Environment
• The external environment and Walmart
• Sociocultural and assessing the surrounding
area
Green Store, Green Products
• http://www.youtube.com/watch?v=3mAVkrfYJ
Gg
Managing Ethics and Social
Responsibility
• Committed to CSR
• Walmart and its suppliers
• Responsibility and ethics
• Greenhouse gas emissions
Responsibility and Sustainability
• The three R's
• Reusable Bags
• Sustainability
Mini Quiz
1. Who is the founder of Walmart?
2. How many countries have Walmart stores?
3. What is being done to make the trucks more
efficient?
4. What is the 4th "R" that Walmart created?
5. How much was the first Walmart stock sold
for?
Leadership
• Leadership is the
ability to influence
people toward the
attainment of
organizational goals
• Good management
leads to the future
Walmart as a Leader
Walmart can use its place
as a leader in many
markets to set examples
for other companies in
the same industries.
Being an Authentic Leader
Practices
solid
values
Pursues
purpose
with
passion
Leads with
the heart
as well as
the head
The
Authentic
Leader
Connects
with
others
Demonstrates
Self-Discipline
Recap and Conclusions
• Doing their part to make a difference
• Walmart and CSR
• Leader within industry and society
Questions?
Thank you!
Support your local Walmart,
because they support you!
Sources
• Daft, R. L., & Marcic, D. (2013). Understanding
Management. Mason, OH: Cengage Learning.
• http://www.csrwire.com/members/12774-Wal-Mart-StoresInc• http://understory.ran.org/2010/10/27/walmart-goes-out-ona-limb/
• http://www.smartplanet.com/blog/business-brains/walmartplans-solar-for-60-more-stores-in-california/18859
• http://www.treehugger.com/cars/wal-mart-tests-new-dieselhybrid-trucks-reclaimed-cooking-grease-and-lng-fuels.html
• http://authorstream.s3.amazonaws.com/content/1786453_6
35025481464787500.jpg
• Humes, E. (2011). Force of Nature: The Unlikely Story of Wal
Mart's Green Revolution. New York, NY: Harper Collins
Publishers.