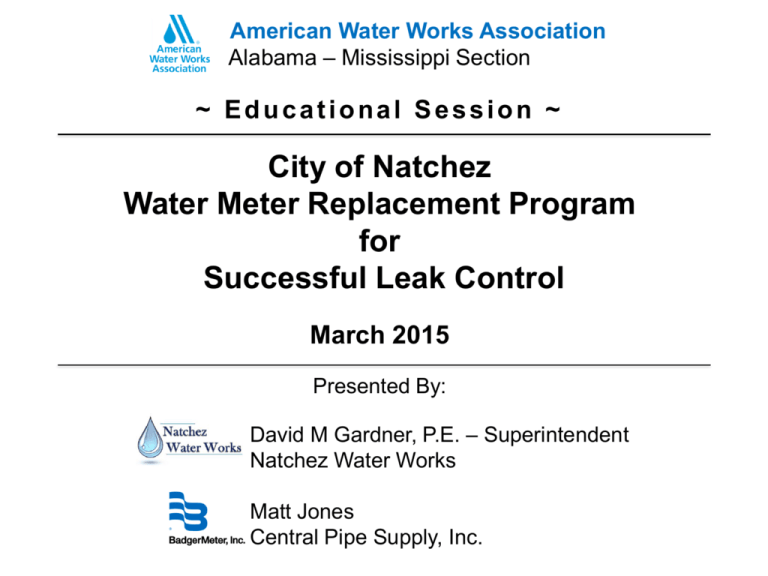 American Water Works Association
Alabama – Mississippi Section
~ Educational Session ~
City of Natchez
Water Meter Replacement Program
for
Successful Leak Control
March 2015
Presented By:
David M Gardner, P.E. – Superintendent
Natchez Water Works
Matt Jones
Central Pipe Supply, Inc.
DUNLEITH PLANTATION
Encircled by 26 stately white
columns, Dunleith is one of the
most beautiful mansions in Natchez,
Mississippi, yet it has a history of
tragedy.
The site was originally occupied by another mansion called "Routhland," built during the late 1700s by
Job Routh and his wife. They both died and left the house to their daughter, Mary, who was 15 years of
age and already a widow. Mary took Charles Dahlgren as her second husband and inherited the house.
Dalhgren was a successful banker since before his marriage to Mary and became a Confederate
Brigadier General during the War Between the States.
In 1855 Routhland was struck by lightning and burned to the ground. Dahlgren built a new mansion (the
present one) in its place in 1856. Mary, still a very young woman, only enjoyed the new house for three
years when she tragically died. The property was sold for $30,000 in order to settle the estate. The new
owner, Alfred Vidal Davis, gave the house the Scottish name of Dunleith.
STANTON HALL
In 1858, Frederick Stanton built the home of his dreams for his family on his new property - an entire city block of
Natchez, Mississippi. The city block cost about $1,550. The house cost over $83,000 before it was even
furnished. Carrera Marble, mahogany doors 2 1/2 inches thick, chandeliers from France, and Italian statuary
appointed the interior. Huge Corinthian columns and granite steps adorned the facade.
Stanton came to America with his brothers in 1815. He made a fortune as a cotton broker, then as owner of more
than 16,000 acres of cotton plantations. Ironically, he lived only one month after his dream home was finished.
Now - Stanton Hall housed a college for young ladies for a short time, then fell into disarray to some extent before
the Pilgrimage Garden Club renewed the antebellum mansion to much of its former glory. It stands today, filled
with original and like antique furnishings as Frederick originally created it, a showcase for the world to see.
LONGWOOD
Dr. Haller Nutt already owned Winter Quarters in Louisiana, but wanted to build a dream home for his wife,
Julia. With the help of architect Samuel Sloan, he designed a beautiful and unique octagonal structure with an
onion dome. The exterior was mostly finished, and the interior in rough form when the Civil War broke
out. Northern craftsmen working on the mansion left the work unfinished and set out for home, fearing reprisals
from those with Southern sympathies. The Nutt family lived in the finely furnished basement for years, though Dr.
Nutt himself died shortly after the war started. Today you can tour the home, inspect the unfinished interior for
yourself, and view the grounds where Julia once tended to acres of roses. Longwood is listed as an official National
Historic Landmark.
THE BIRTH OF A NEW UTILITY
Natchez, the birthplace of Mississippi, is known internationally as a quaint Southern town with a rich culture and
heritage shaped by people of Spanish, French, African, British and American descent. Established in 1714, Natchez
was originally home to the Natchez Indians. The earliest European account of the Natchez comes from the Spanish
expedition of Hernando de Soto in 1542, the French in 1682 , African in 1719 and the British in 1763 until the United
States took control in 1798.
As the settlement grew, Spanish, French, and English residents began constructing homes and buildings in the styles
with which they were familiar, leaving several architectural influences and creating the unique backdrop to the city
with which our residents and visitors enjoy today.
The antebellum mansions in Natchez were built by planters, lawyers, doctors, bankers and merchants who made
enormous fortunes after the invention of the cotton gin, which brought an unbelievable cotton boom to Natchez.
Attracted by the possibility of getting rich and doing it very quickly, entrepreneurs flooded into Natchez, joining
those few families who had settled the area in the eighteenth century. As you could imagine, this expansion of
population created much need for city wide water and sewer services.
Mostly, water was provided by either private wells, cisterns, creeks and naturally occurring springs. Most houses
were equipped with outhouses or privies. By the end of the 19th century, the demand for these city utilities
increased dramatically forming the birth of our system today.
Today, Natchez is home to numerous Antebellum Mansions that are open year round for Natchez Natives and
Visitors to tour. Natchez's total population is 15,792.
The
of the Natchez Water Works
Key Historical Points
Mayor and Board of Alderman of the City of
Natchez, State of Mississippi on January 23, 1889
granted to J. A. Jones of St Louis, MO the right and
privilege to erect and maintain a system of water
works for the City of Natchez.
There was an Artesian well water shortage in 1894
and some discussion as to obtaining water from the
Mississippi River.
January 6, 1895, page 96, J.C. Ballard, M.D., Chief
Health Officer of Adams County wrote, "The
Sweetest, most palatable, and healthiest water
obtainable is FILTERED Mississippi River water"
and strongly urged a change if we could get that.
Page 110 from Evening Bulletin, July 30, 1901: The
Fine Plant of Natchez Sewer and Water Co…..Article
states that the water is as good as any in the
world—pure as crystal, healthful and cold.
City of Natchez, purchased Natchez Water and
Sewer Company between May 7th and May 11th,
1903 for $150,000.
Free Water discontinued to public and private
institutions, meters installed and billed each month.
27, October 1950.
Consumer Deposits: 27 August 1952. $5.00
charged to cover two to three monthly bills.
All water systems have water loss. Although water loss cannot be
eliminated, it can be greatly reduced. Reducing water loss is the
fastest, most economical way for any water utility to increase both
revenue and the amount of water available.
1. HOW MUCH WATER IS LOST?
The world bank estimates the annual worldwide volume of nonrevenue water is 12,893 billion gallons
(48.6 billion m3) – almost 13 trillion gallons! Real losses in developing countries alone could supply
water to 200 million people.
Nonrevenue losses in the United States are suspected to be around 6 billion gallons a day; that is
more than enough to meet the delivery needs of the 10 largest cities in the US. This massive waste
of crucial resource should be viewed as a considerable concern for the country with the third largest
population in the world.
2. A NEW SOURCE OF REVENUE
Reducing apparent loss can result in an immediate new source of revenue for a utility. Apparent
loss means the water was delivered but not paid for. Inaccurate metering, utility accounting errors,
and unauthorized use create apparent losses for a utility. Apparent losses can have a much greater
negative effect on the utility's revenue than do real losses, because apparent losses are valued at
the retail price charged to customers.
3. QUICK PAYBACK
Sound water loss management is a practice that usually generates a direct and quick payback to the
water utility. Water Loss control provides guidance through each step: Water Audit, Assessing
Optimum Water Loss, Pilot Study, Implementing Apparent and Real Water-Loss Reduction Methods,
and Ongoing Program Maintenance.
WATER LOSS TABLE
Table 1-13. Water Loss Versus Pipe Leak Size
Water Loss
Pipe Leak Size*
Per Day Loss ( Gallons)
Loss Per Month (Gallons)
120
3,600
360
11,160
3,096
95,976
8,424
261,144
14,952
463,512
*Based on approximately 60-psi pressure.
Water Accounting-All Water Accounted ForWater In / Water Out
Billed Water Exported
Authorized
Consumption
Billed
Revenue
Authorized
Water
Consumption
Billed Metered Consumption
Billed Unmetered Consumption
Total
System
Input
Unbilled
Authorized
Consumption
(allow
for
known
errors)
Unbilled Metered Consumption
Unbilled Unmetered Consumption
Unauthorized Consumption
Apparent
Losses
Water
Losses
NonRevenue
Water
Customer Metering Inaccuracies
Data Handling Error
Leakage on Mains
Real
Losses
Leakage on Service Lines to Meter
Leakage & Overflows at Storage
OUR DATA MODEL….
Natchez Water Works
FY 2000 Thru FY 2014 WATER PRODUCTION vs SALES
(Fiscal Year SUMMARY)
Fiscal Year
WELL PRODUCTION
Gallon
SALES (Summary)
Cubic Feet
Cubic Feet
LOSS (Summary)
% Sold
Cubic Feet
% Loss
FY 2000
1,358,544,000
181,623,529
118,255,732
65.11%
63,367,797
34.89%
FY 2001
1,336,577,000
178,686,765
106,559,136
59.63%
72,127,629
40.37%
FY 2002
1,420,981,000
189,970,722
102,902,386
54.17%
87,068,336
45.83%
FY 2003
1,220,645,000
163,187,834
103,037,099
63.14%
60,150,735
36.86%
FY 2004
1,259,337,000
168,360,561
104,973,253
62.35%
63,387,308
37.65%
FY 2005
1,239,267,000
165,677,406
103,473,333
62.45%
62,204,073
37.55%
FY 2006
1,301,145,000
173,949,866
106,774,604
61.38%
67,175,262
38.62%
FY 2007
1,230,794,000
164,544,652
99,134,931
60.25%
65,409,721
39.75%
FY 2008
1,253,578,000
167,590,642
100,650,933
60.06%
63,655,479
37.98%
FY 2009
1,085,493,000
145,119,385
94,900,608
65.39%
43,685,340
30.10%
FY 2010
1,064,948,000
142,372,727
92,311,311
64.84%
43,015,852
30.21%
FY 2011
1,121,122,786
149,882,725
94,986,786
63.37%
45,054,337
30.06%
FY 2012
1,137,232,288
152,036,402
89,476,685
58.85%
48,420,850
31.85%
FY 2013
1,068,558,000
142,855,348
88,477,160
61.93%
35,464,436
24.83%
FY 2014
1,080,943,000
144,511,096
91,340,134
63.21%
32,021,715
22.16%
Natchez Water Works
FY 2015
WATER PRODUCTION vs WATER LOSS REPORT
(Monthly Comparison)
Date: March 10, 2015
WELL PRODUCTION
FY 2015
Gallon
Cubic Feet
MONITORED WATER
(Includes WWTP)
LOSS
LOSS
Cubic Feet
% Loss
October
86,924,000
11,620,856
9,623,484
1,997,372
17.19%
November
85,914,000
11,485,829
10,166,722
1,319,107
11.48%
December
83,504,000
11,163,636
9,250,587
1,913,049
17.14%
January
83,307,000
11,137,299
8,958,363
2,178,936
19.56%
February
74,899,000
10,013,235
8,898,023
1,115,212
11.14%
Total Monitored Water
Total Water Loss
Total Percent Loss
(For Fiscal Year)
46,897,179
8,523,677
15.38%
March
April
May
June
July
August
September
SPECIAL NOTES:
Total Gallons
FY to Date Totals:
414,548,000
Average Gallons
Monthly Averages:
82,909,600
Total Cubic Feet
55,420,856
Average Cubic Feet Average Monitored Water Average Water Loss
11,084,171
9,379,436
1,743,176
Average Percent
Loss (Per Month)
15.27%
Annual Consumption - Comparison
Month
Billed Consumption
FY 01
FY 12
October
11,066,099
10,362,643
November
9,134,199
9,186,969
December
9,017,258
8,315,780
January
8,851,204
8,635,950
February
8,551,614
8,022,005
March
7,890,181
7,814,942
April
8,018,656
8,403,669
May
8,494,716
8,557,815
June
9,007,781
8,842,875
July
8,782,528
9,879,126
August
8,611,817
9,713,322
September
9,133,083
8,873,095
106,559,136
106,608,191
Total Consumption Billed:
Average Customers Billed:
Annual Water Loss:
7,597
7,360
40.37%
31.85%
What Does This MEAN….
2013 Water Works Audit:



To Operate System = $1,219,845
Well Production = 1,068,558,000 Gallons (Annually)
Cost = $1.14 Per 1,000 Gallons
DOLLARS LOST COMPARISON
Yearly Loss
($) Revenue Lost
(2013) 24.83%
$302,890 +/-
(2002) 45.83%
$559,060 +/-
(Comparison) 12%
$146,376 +/-
2007 – Major Valve and Large Meter Change-Out Began
(For Comparison)
2007 Water Loss at 39.75% (Avg)
vs
2014 Water Loss at 22.16% (Avg)
Difference of 17.59% over a 7 Year Period = $1,501,920 in Savings
McDONALDS
YEAR
AVERAGE CONSUMPTION
2014
8,580
2013
9,129
*2012
7,949
2011
777
2010
755
2009
683
2008
847
2007
970
2006
824
Water Services Changed to COMPOUND METERS
as recommended by MS Rural Water Services
Note: Consumption Shown in Cubic Feet
BEST WESTERN
AVERAGE CONSUMPTION
YEAR
AVERAGE CONSUMPTION
2014
15,515
2014
45,673
2013
14,791
2013
40,450
2012
14,335
*2012
35,351
*2011
11,645
2011
30,613
2010
11,174
2010
30,864
2009
6,828
2009
33,943
2011 - Changed Meter to Compound Meter
EOLA HOTEL
Early 2012 - Changed Meter to Compound Meter
DAYS INN
YEAR
2014
2013
2012
*2011
2010
2009
AVERAGE CONSUMPTION
35,815
48,433
50,815
31,999
19,529
17,080
2011 - Changed Meter to Compound Meter
BROADWAY HOTEL
YEAR
YEAR
AVERAGE CONSUMPTION
2014
65,922
2013
83,958
2012
103,543
*2011
91,469
2010
48,516
2009
63,575
2011 - Changed Meter to Compound Meter
Note: Estimated Meter Stoped Working
Sometime in 2010
2012 - Changed Meter to Compound Meter
NATCHEZ REGIONAL HOSP.
YEAR
AVERAGE CONSUMPTION
2014
373,719
2013
285,965
2012
234,184
*2011
262,997
2010
163,349
2009
149,761
2011 - Changed Meter to Compound Meter
IN SUMMARY
WATER LOSS, CHANGES MADE TO REDUCE WATER LOSS RATIO

Changed the way water loss is calculated. Originally was direct ratio between
consumption billed in Utility Billing System (UBS) and metered water pumped from the
wells. Some accounts in UBS were "Sewer Only" and these were removed.

Repaired leaks that were known but could not be located such as;
o Homochitto Street – 10" bell joint leaking into storm drain system
o N. Canal Street – 2" manifold leaking into storm drain system & sanitary sewer
system
o Brenham Ave – 16" leaking at tee and 90° bend
o Old Brenham Ave Water Treatment Plant – Leak on 2,000 gpm pump 16" piping
o And many various leaks that occur. Mostly these are 2" and smaller service lines

Installed meters on all active services

Installed compound meters on accounts that are 4" and larger where applicable

Replace turbo meters with compound or disc type meters on some 2" services for
hotels and other businesses. Many of these recommended by Mr. Randy Turnage's
report on 2" meters from the MS Rural Water Association.

Implemented valve change-out program & required proper meter types for new
applications
Revenue – 80/20 Rule

Important Terms

Operating Ranges

Analyzing Meter Application

Meter Operation / Installation Theory

Operating Range: Range of operation from low flow to
intermittent high flow where Badger Meter guarantees an
accuracy of ± 1.5% or 98.5% - 101.5%

(± 0.25% Mag Meter)
Maximum Continuous Duty: High flow where meter
can be run continuously, 24 hours / 7 days a week

Extended Low Flow: Low flow where Badger
guarantees minimum accuracy down to 95%
Size
Model
Operating Range
Max Cont. Duty
Extended Low
5/8"
MLP
M25
1/4-20 GPM
1/2-25 GPM
10 GPM
15 GPM
1/8 GPM
1/4 GPM
3/4 "
M35
3/4-35 GPM
25 GPM
3/8 GPM
1"
M55
M70
1-55 GPM
1 1/4-70 GPM
40 GPM
50 GPM
1/2 GPM
3/4 GPM
1-1/2"
M120
2 1/2-120 GPM
80 GPM
1 1/4 GPM
2"
M170
2 1/2-170 GPM
100 GPM
1 1/2 GPM
E-SERIES ULTRASONIC METER
© 2013 Badger Meter, Inc.
26
Ultrasonic Measurement Technology
• Two basic technologies used in ultrasonic metering:
• Doppler Shift: Measures difference in frequency of the sound
wave reflected off acoustic discontinuities or particles in the flow
stream – well suited for dirty water applications.
• Transit-Time: Measures the time differential between signal sent
upstream and a corresponding signal sent downstream – well
suited for clean water.
E-Series Ultrasonic meter uses Transit-Time technology.
© 2013 Badger Meter, Inc.
27
AWWA STANDARDS
• The E-Series meter was designed to meet and exceed all
applicable portions of the current AWWA standards.
• The American Water Works Association does not currently
have a standard for ultrasonic meters for residential/billing
use.
• A committee, however, exists to develop a standard for static
residential meters (will take several years to accomplish).
© 2013 Badger Meter, Inc.
28
E-Series Ultrasonic Meter Specifications
• 5/8" through 1"
Size
Flow Range
Extended Low
Flow Range
0.1…25 gpm
0.05 gpm
7-1/2"
Stainless Steel and
Engineered Polymer
5/8 x 3/4" 0.1…25 gpm
0.05 gpm
7-1/2"
Stainless Steel and
Engineered Polymer
5/8"
Lay
Length
Material Offering
3/4"
0.1…32 gpm
0.05 gpm
7-1/2" or 9"
Stainless Steel and
Engineered Polymer
1"
0.4…55 gpm
0.25 gpm
10-3/4"
Stainless Steel and
Engineered Polymer
© 2013 Badger Meter, Inc.
29
E-Series Ultrasonic Meter Specifications
• 1-1/2" and 2"
Size
Extended
low flow
range
Lay
Length
1-1/2" 1.25… 100 gpm
0.40 gpm
13"
2-bolt Elliptical Stainless Steel
& Hex NPT
1.50… 160 gpm
0.50 gpm
17"
2-bolt Elliptical Stainless Steel
& Hex NPT
2"
Flow Range
© 2013 Badger Meter, Inc.
Flange Type
Material
Offering
30
Indicators and Alarms
Billing units indicator
Consumption
Display
Rate of Flow
display
Low battery
No flow over 30 days
Suspected Leak
Reverse flow
Meter alarm/error
Meter operating normally
Size
Model
Operating Range
Max Cont. Duty
Extended Low
1 ½"
2"
3"
T160
T200
T450
4 to 200 GPM
4 to 310 GPM
5 to 550 GPM
160 GPM
200 GPM
450 GPM
2.5 GPM
2.5 GPM
4 GPM
1000 GPM
2000 GPM
3500 GPM
5500 GPM
6200 GPM
6600 GPM
10000 GPM
8 GPM
12 GPM
20 GPM
30 GPM
53 GPM
130 GPM
200 GPM
4" T1000
10 to 1250 GPM
6" T2000 20 to 2500 GPM
8" T3500 30 to 4500 GPM
10" T5500 50 to 7000 GPM
12" T6200
65 to 8800 GPM
16" T6600 150 to 13200 GPM
20" T10000 300 to 19800 GPM
Size
Operating Range
Max Cont. Duty Extended Low
2"
1/2 to 200 GPM
170 GPM
1/4 GPM
3"
1/2 to 450 GPM
400 GPM
1/4 GPM
4"
3/4 to 1000 GPM
800 GPM
3/8 GPM
6"
3/4 to 2000 GPM
1500 GPM
3/8 GPM
COMPOUNDS
TURBOS
Where
People
Live
Where
People
Work or
Play
Selected Meter
Turbo
or
Compound
Condo or Apartment Complex
Selected Meter
Turbo
or
Compound
Automatic Car Wash
Selected Meter
Turbo
or
Compound
Large Manufacturing Facility
Selected Meter
Turbo
or
Compound
Anytown USA High School
COMPOUND LOW FLOW
PERCENTAGE
High Flow + Low Flow = Total Flow
Low Flow x 100 = Low Flow Percent
Total Flow
EXAMPLE:
12,000 x 100 = 8.3% Low Flow
144,000

Ratio of low flow registration to total flow registration
provides valuable information for utility

5% or less of the total on the low flow totalizer
 Change to Turbo Meter

10 - 25% of total flow on the low flow totalizer
 Proper size and selection for Compound

More than 25% of total on the low flow totalizer
 Consider Disc Meter
TURBINE AND COMPOUND RECOMMENDED
INSTALLATION
By-Pass (Permanent or Temporary)
Plate
Strainer
Test Plug or
Upstream
Upstream
Valve
Test Tee
Downstream
Minimum
Five Pipe
Diameters of
Straight Pipe
Meter
Downstream
Valve
1.
For Turbo and Compound meters with strainer, minimum of five
(5) pipe diameters of straight pipe upstream of the meter.
2.
Turbo and Compound meters without a plate strainer, REQUIRE
minimum of ten (10) pipe diameters of straight pipe upstream of
the meter. The deletion of a plate strainer is not recommended.
3.
Mag Meter requires only 3 diameters upstream of the meter and
does not require a strainer.
4.
Full-open butterfly or gate valves:
a.
b.
Minimum five (5) pipe diameters upstream of the meter with strainer
Can be used directly downstream of the meter.
5
DO NOT install pressure reducing devices or check valves upstream of the
meter.
6
Check valves MUST be located at least three (3) pipe diameters
downstream of meter and bypass line.
7
Pressure reducing devices: Min. five (5) diameters downstream of meter.
8
Backflow devices MUST be located at least five (5) diameters after meter
and after bypass line. If backflow device is installed before meter, a
RECOMMENDED min. of fifteen (15) pipe diameters of straight pipe and
strainer are required upstream of meter.
9
The service saddle (or reducing tee) for field accuracy testing should be at
least two (2) pipe diameters downstream of the meter.
QUESTIONS?