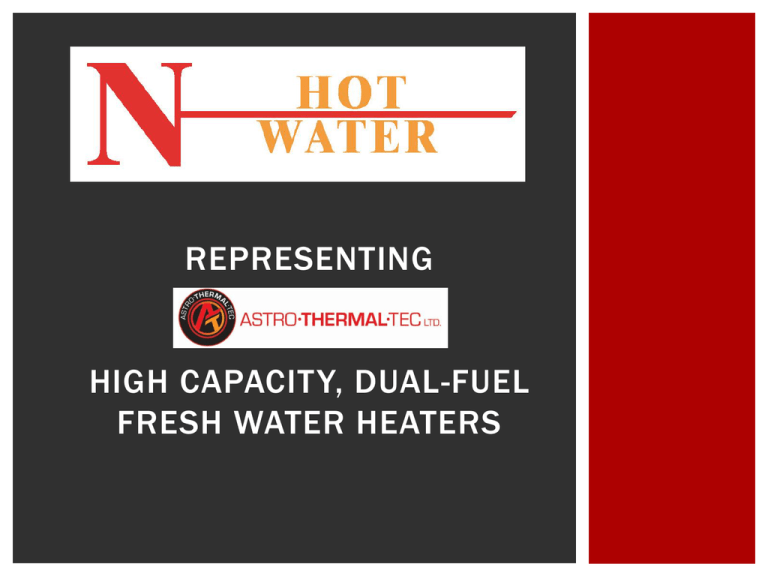 REPRESENTING
HIGH CAPACITY, DUAL-FUEL
FRESH WATER HEATERS
BENEFITS
North American
Manufacturing
Rapid TurnAround/Availability
Environmentally
Friendly
Canadian Based
Company with Techs
located in Brooks,
AB
BENEFITS CONTINUED
90-95%
Thermal
Heating
Efficiency
Low CO2
Emissions
NonPressurized
System – No
boiler ticket
required
Dual-Fuel
Capabilities
ENGINEERING
21 million
btu AirAtomizing
Burner
Burner can
operate on
• Oil or L.P.
• Oil or Nat.
Gas
Flow Rates
up to 800
gpm
Variable
Output
Control
Stainless
or Mild
Steel Tank
The complete panel
With easy to use Danfoss Variable Frequency Controls
COMPLETED
UNIT
PERFORMANCE–
SINGLE PASS WATER TEMP INCREASE
400 GPM
123.8°F / 51°C
500 GPM
107.6°F / 42°C
600 GPM
98.6°F / 37°C
700 GPM
91.4°F / 33°C
800 GPM
87.8°F / 31°C
PERFORMANCERECIRCULATING INTO 400 BARREL TANK @
800 GPM
Starting Temp 70°F / 20°C
5 Minutes
12°F / 7° C
Temperature Rise
10 Minutes
23°F / 13°C
Temperature Rise
15 Minutes
36°F / 20°C
Temperature Rise
20 Minutes
25Minutes
50°F / 28°C
59°F / 33°C
Temperature Rise
Temperature Rise
SPECIFICATIONS
High Speed Motor
• 7.5 HP 480v 3 Phase Blower Motor
Honeywell RM7800L • With Digital Display Module UV Flame
Detector
Flame Safeguard
Control Panel
• Intermittent Gas Pilot
• Transformer 500VA Stepdown 480-120
High Efficiency
Motor
• 480V, 3 Phase, 1750RPM Electric
Motor
SPECIFICATIONS CONTINUED
Burner Atomization
•Remote 5HP Air Compressor
Water Supply &
Discharge
•Two 4" Intake Lines, One 4"
Discharge Line
UL/CSA Approvals
•Gas & Light Oil
•Electrical Connections
Multiple Installations •Truck, Trailer, or C-Can Installations
Available
Available
TRAILER
The unit can be
m o un te d i n a
t r a i l e r l i ke t h e
one shown here
SALES CONTACTS
Scott Ackerman
• [email protected]
• (509) 595-1811
Ken Hanson
• [email protected]
• (509) 991-2365
Ralph Olson
• [email protected]
• (780) 884-8212
SERVICE CONTACTS
Kirk
Jennissen
•[email protected]
•(403) 793-1690
•[email protected]
Eldon
Konynenbelt •(403) 320-1172
WWW.NHOTWATER.COM
COST
SAVINGS
CALCULATOR
Visit our
We b s i te f o r
a c c e s s to
• Videos
• C o s t S av i n g s
C a l c ula to r
THANK YOU!
Thank you for
your
consideration.
Please let us
know how we
can help you!