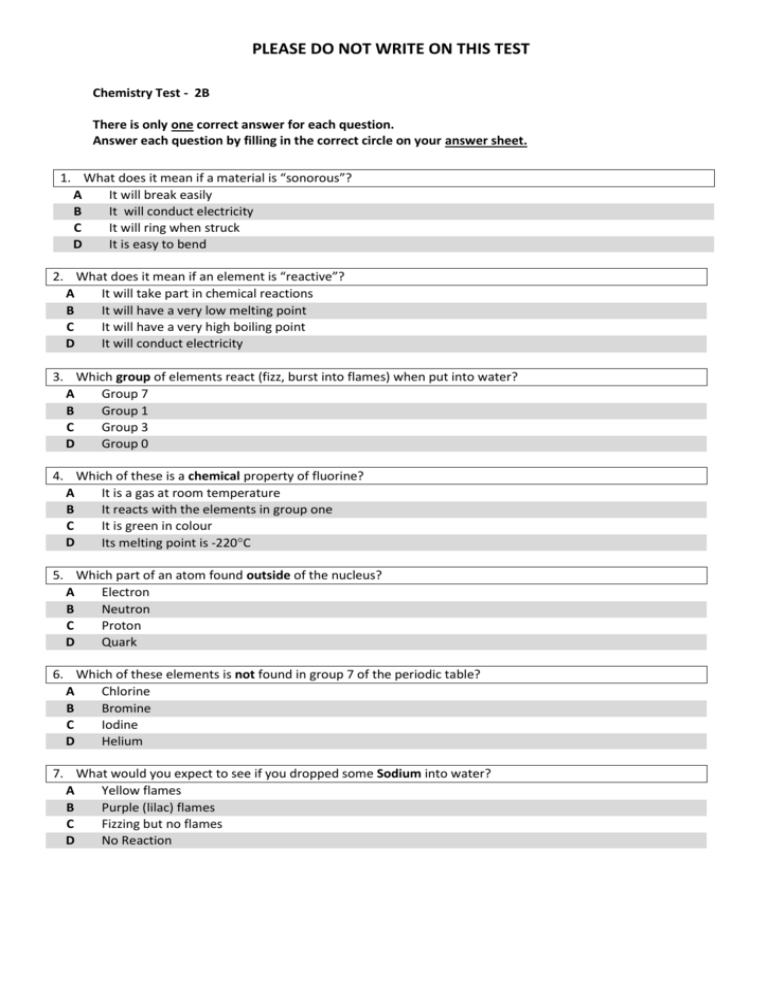 PLEASE DO NOT WRITE ON THIS TEST
Chemistry Test - 2B
There is only one correct answer for each question.
Answer each question by filling in the correct circle on your answer sheet.
1. What does it mean if a material is "sonorous"?
A
It will break easily
B
It will conduct electricity
C
It will ring when struck
D
It is easy to bend
2. What does it mean if an element is "reactive"?
A
It will take part in chemical reactions
B
It will have a very low melting point
C
It will have a very high boiling point
D
It will conduct electricity
3. Which group of elements react (fizz, burst into flames) when put into water?
A
Group 7
B
Group 1
C
Group 3
D
Group 0
4. Which of these is a chemical property of fluorine?
A
It is a gas at room temperature
B
It reacts with the elements in group one
C
It is green in colour
D
Its melting point is -220C
5. Which part of an atom found outside of the nucleus?
A
Electron
B
Neutron
C
Proton
D
Quark
6. Which of these elements is not found in group 7 of the periodic table?
A
Chlorine
B
Bromine
C
Iodine
D
Helium
7. What would you expect to see if you dropped some Sodium into water?
A
Yellow flames
B
Purple (lilac) flames
C
Fizzing but no flames
D
No Reaction
8. Which type of element is the periodic table mostly made up of?
A
Metals
B
Non-metals
C
Metalloids
D
Gases
9. Who developed the modern periodic table?
A
Gregor Mendel
B
Dmitri Mendeleev
C
Albert Einstein
D
Niels Bohr
10. What term could you use to describe a non-metal oxide?
A
Acid
B
Alkali
C
Base
D
Neutral
11. Which chemical property of gold makes it ideal for making jewellery that lasts a long time?
A
It is very shiny
B
It is easy to bend
C
It has a high melting point
D
It doesn't react with anything
12. A row of elements across the periodic table is also known as a:
A
Group
B
Triad
C
Collection
D
Period
13. What property of group 1 elements would you expect to change as you move down the group?
A
They will react less vigorously with water
B
They will be harder to cut with a knife
C
They will be shinier when cut
D
They will have a lower melting point
14. Which of these group 7 elements is the most reactive?
A
Chlorine
B
Fluorine
C
Iodine
D
Bromine
15. A solution of bromine is added to four test tubes containing different group 7 compounds.
Which one will change colour due to a displacement reaction occurring?
A
Sodium chloride
B
Sodium iodide
C
Sodium bromide
D
Sodium fluoride
16. How do the boiling points of group 8 change as you move down the group?
A
They will increase
B
They will decrease
C
They will stay the same
D
They will increase and then decrease
17. The elements of the periodic table are arranged in order of increasing _______________.
A
Atomic Mass
B
Atomic Weight
C
Atomic Number
D
Element name
18. This table shows the boiling points of the group 3 elements. How would you describe the pattern in the
table scientifically?
Element
Boiling Point (C)
boron
3930
aluminium
2470
gallium
2400
indium
2000
thallium
1460
A
B
C
D
The boiling points get smaller as you go down the group
The boiling points decrease as you move down the group
The boiling points get bigger as you go down the group
The boiling points go down as you go down the group
19. What makes group 1 metals different to other metals in the periodic table?
A
They are harder than other metals
B
They are shinier than other metals
C
They have lower melting points than other metals
D
They have higher electrical resistance than other metals
20. How would you identify a sample of the element chlorine?
A
It is a colourless gas
B
It is a brown liquid
C
It is a grey-black solid
D
It is a pale green gas
1. What does it mean if an element is "reactive"?