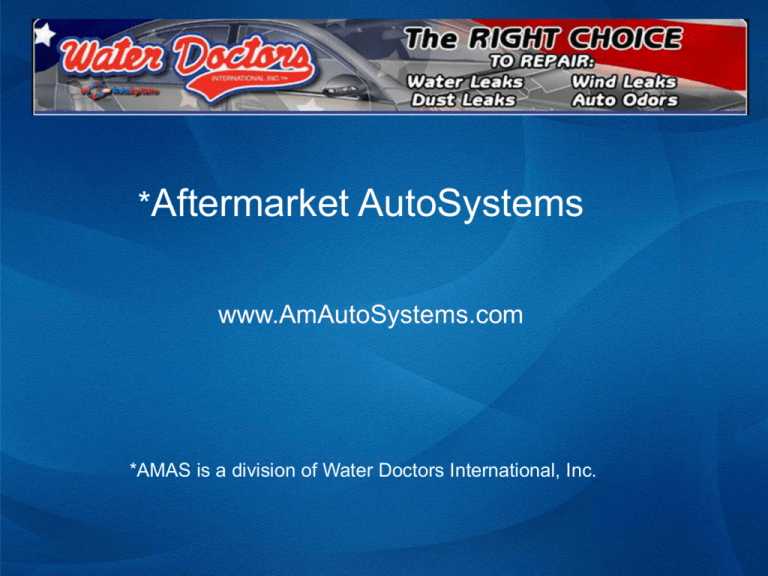 *Aftermarket AutoSystems
www.AmAutoSystems.com
*AMAS is a division of Water Doctors International, Inc.
Why is AMAS different?
AMAS has PROVEN and SUCCESSFUL field repairs from a group of dedicated
service professionals affiliated with Water Doctors over the last 30 years.
Approximately 100,000 and proven field repairs on the data base – based on
over 8,000,000 proven and successful repairs since 1976, by dedicated
professionals from Water Doctors.
Updated DAILY – seamlessly over the web—adding new repairs and
updating older repairs with new diagrams and/or digital photos.
Specialists in these repairs for over 40 years – Jim Vandale, 10 years in vehicle
manufacturing, 30 years providing face to face service throughout North
America. Along with AMAS R&D Team, there are over 240 combined years of
experience and expertise.
• What is AMAS?
– Service opportunity everyone has been
avoiding – water, wind and dust leaks.
– Extremely easy to implement, easy to use,
expertise remains in your establishment, not
with technicians.
AMAS R & D Team
• What is AMAS?
– NO automotive service providers are dealing with
these problems in a professional way – until now.
– NO capital equipment required.
– NO additional technicians.
– NO training costs – simply an annual license
agreement to access AMAS training, which is updated
daily and seamlessly. AMAS Certification presented
to qualified Service Centers and individual
Technicians!
• Why should you be interested?
- Supplemental sales/profit from existing customers
- Use present technicians – fits their skills, with
CERTIFICATION of qualified technicians
- Return on investment with only 2 repairs
- 24/7 repairs, training, technical support
- Certification of Service Centers
- No downloads to rob valuable time and space
on computer hard drive
• Vehicle owners do not know where to go to have
their vehicles repaired.
• Years of completing these nuisance repairs have
shown a market exists.
• AMAS has over 100,000 repairs actually
performed.
• Combined knowledge of all in-field technicians
is incorporated into AMAS, creating a diverse
representation of proven repairs.
Is there a Market for this Service?
Leaks from 1 plant, 1 vehicle model, ¾ YR Production - MINIVAN
(Data tracked by VIN number on repairs WDI has performed)
1 Plant, 1 Vehicle, ¾ YR Production- SEDAN
(Data tracked from VIN numbers on repairs we have performed)
After Market Auto Systems
- NO additional technicians
- NO major inventory of parts, small inventory
of repair parts & sealants
- NO training costs
- NO lag time; database updated online DAILY
- Perform repairs in shop
- Expertise remains in shop
- ROI in 2-3 repairs
What is the Value?
• Speed of Look up – 15 seconds to find PROVEN and
SUCCESSFUL field repair.
• Step by step instructions with digital pictures/diagrams of
actual repairs, length of time to perform the repairs
and list of materials and tools required.
• Depth of Information – Includes 2009 models – back to
1989 – approx. 100,000 repairs on the data base.
• Designed for lowest skill level technicians with
comprehensive training available
• Average repair takes less than 1 hour from start to finish
• Toll free 800 support provided
Diagnostic and Repair Services for Water, Wind and Dust Leaks
• Not regulated by Third Party regulations
• Not restricted by Insurance Company agreements
• Not restricted by Call Center customer 'allocations'
• Provides a service for customers who do not know where to get
these problems repaired.
• Brings the customer into your location for a 'consumer' sale.
Old Fashioned Service –
Solve Your Customer's Problems
at a Reasonable Price and Profit!
What does AMAS look like?
First of 24 Digital Pictures
Complaint – 'Customer
complaining of water leaking onto
passenger floors'
Picture confirms body type, etc.
Provides Testing Procedures
Provides Diagnosis
Starts repair procedures based on
ACTUAL REPAIRS
What does AMAS look like?
Digital Picture #2 in Step by Step repair
Leaking coming in from stove pipe in
plenum chamber
Graphic added to assist
technician to correct location.
What does AMAS look like?
Digital picture #15 in Step by Step repair
"Foam seal tape being removed"
Graphic added to assist technician
What does AMAS look like?
Digital picture #19 in Step by Step repair
"Tech is ensuring nuts holding evaporator
box to plenum are secure"
Graphic added to assist technician
What does AMAS look like?
Digital picture #22 in step by step repair
"Tech is reinstalling plastic shroud"
Final Steps, Estimated time to complete the repair and tech tips
24. Retest to verify repair. It is wise to pull the inner fender back and seal around
the heater drain with dum dum. Seal all grommets with dum dum and spray
complete area with liquid metal.
25. Replace damaged wet detner, refit carpets. Reinstall kick pad and scuff plate.
Tech Tips: Always lift rear carpets and replace rear floor detner. Use a wet vac to
remove all excess water from carpets.
Est. Time of Repair 1 HR.
Materials
Pump sealer, tape 5/8, detner, dum dum, liquid metal, spray glue
Tools
Detner knife, battery or air caulking gun, cordless screw gun, fender
cover, trim plug puller, rags, socket set, flashlight, shutz gun.
Excerpts from a Typical AMAS Repair
Customer's Complaint
Header
Excerpts from a Typical AMAS Repair
Cause
Diagnosis
Water dripping from "A" post trim
• Excerpts from a Typical AMAS Repair
Various testing methods used:
Shower Test
Squirt Bottle
• Excerpts from a Typical AMAS Repair
This Repair includes 44 itemized steps, detailing specific
"how to" instructions, a few of which follow:
Step 1
Steps 5 through 11
• Excerpts from a Typical AMAS Repair
Steps 12 & 13
• Excerpts from a Typical AMAS Repair
Steps 14 through 16
Note the black plastic tag that connects to the 'A' post and the trim.
The black tag must be removed in order to remove 'A' post trim.
• Excerpts from a Typical AMAS Repair
Steps 17 through 21
(regarding removal of visor)
Step 22
Lower headliner to gain access
to further diagnose leak.
• Excerpts from a Typical AMAS Repair
Steps 27 through 30
• Excerpts from a Typical AMAS Repair
Step 33
When water is put into the trough,
it pours in at the top of the windshield.
Step 34
Then put water onto the roof seam
to check windshield and roof seam.
• Excerpts from a Typical AMAS Repair
NOTE: If sealed from the
exterior, water will be
re-directed back into
tracking area of moon roof.
Steps 36 & 37
Use a cordless caulking gun
to apply Water Doctor approved pump sealer
to the inside header at the windshield to seal this leak.
• Excerpts from a Typical AMAS Repair
Step 38
View after sealing the inside header.
Step 39
Use chip board to clean up
sealer and remove excess.
• Excerpts from a Typical AMAS Repair
Steps 40 through 42
• Excerpts from a Typical AMAS Repair
Tech Tips
Use less effort
by use of
cordless caulking gun
Pump sealer
available from
Water Doctors.
Very Important Message:
Although we demonstrate the steps to repair a complaint,
it does not mean that the current repair is the ONLY repair
or cause for a leak with the same complaint.
TSB - No Comparison
•
•
•
•
•
No digital pictures
Not readily available
Not updated daily
No 24/7 technical support
Not a stand-alone repair guide
What does AMAS look like?
Detailed explanation of use of sealants in common areas of leaks –
includes information on the sealant, application, seal time, dry time and example of use.
The Training Information Section is complete with detailed explanation of how to use
various sealants – this is one example
Black Liquid Metal – sealant
Container: 1 quart silver metal cans
Appearance and characteristics: thick black liquid.
Application:
1. Poured straight out of the can - over a seam into a hard to seal area like a seam behind a fender from the plenum.
2. Sprayed out of a schutz gun - over a hard to get seam or area under a dash board.
3. Sprayed over a dum dum seal for insurance.
4. Poured out of a squeeze bottle - over a seam where neatness counts. Use black liquid metal on a clean dry area.
5. Applied with an acid brush. Always use liquid metal on a clean dry area.
Seal time: one to four hours
Dry time: 24 hours
Example of use: 1. Remove the plenum cover. Pour 1 quart of black liquid metal into the plenum drain to seal
the cowl seam behind the fender. 2. Remove the left front floor carpet trim. Remove the detner from the inner
top cowl/dash seam area. Seal the factory sealer skip with dum dum. Water test the left front floor area. Spray
over the dum dum with black liquid metal. 3. Remove the right side plenum cover. Clean the area around the top
fender bolt with mineral spirits. Squeeze out 1/2 pint of black liquid metal over the top fender bolt. Install
plenum cover. Don't test for 24 hours.
What does AMAS look like?
Easy Reference to Vehicle Body part and location – sample shows 'Air Vent' location
Training included on AMAS includes common areas where leaks occur
– example shown is 'burn hole' from vehicle manufacturing.
.
Most common causes of leaks are vehicle production inconsistencies WE DON'T ENGINEER, WE RE-ENGINEER TO CORRECT DEFECTS!
Materials and Tools Required
Materials
Acry-Solv 3 quarts, Shop Towels (or rags) 2 rolls, Clear Seam Sealer 2 tubes, Black Seam Sealer 2 tubes, Sealer
Cartridges 30 cartridges, Strip Caulk (72 ft box) (Dum Dum), 1 box Liquid Metal (clear) 1 quart, Liquid Metal
(black)1 quart, Butyl Tape (round 5/16), 1 pack Urethane (fast set)2 cartridges, Urethane (regular) 2 cartridges,
Deodorizer 1 gallon, Detner (1 x 2 sections) 10 (1 roll), Shim Stock, Foam Tape1, Shim Stock Rubber Tubing 1
each (3/8 round), Silicone Paste1 can, Chip Board1 Bundle, Trim Cement 1 can, Hush Pads1 box
Tools
Air or Battery Powered Caulking Gun 1, Acid Brushes 12, Windshield Plastic
Stick (white knife)3, Shutz Gun 1, Deodorizer applicator (spray gun)1, Squeeze Bottle (6 ounces)1, Plastic
Bottles (quart size)2, Shower Stand 1
Current cost for these supplies are approximately $750, plus shipping.
Any or all of these supplies can be ordered from
helen@amautosystems.com
or 1-800-441-5208
What about Technical Support?
What happens when a problem 'repair' is not on the data base?
Toll Free Technical Support
1-800-441-5208
If our AMAS R&D Team,
with over 240 years of combined experience,
cannot help, we can expand the question out
to over 100 technicians currently in the field
performing these repairs daily.
Where do these efficient techniques come from?
Over 30 years of field diagnostic and repair experience from
dedicated professionals who operate Water Doctors.
Currently there are over 100 technicians in the field daily,
diagnosing, repairing, and the R&D Team are providing updated
information for the database.
Stop spending hours trying to diagnose a leak. Let AMAS show you
the diagnosis and the repair with just the customer's complaint.
With every new model of vehicle, we are expanding our database. Let
AMAS perform the repairs and pass the knowledge on to you. No
lost days for training, because technicians can train in house—even
for the most recent models.
How does AMAS compare to other E-Data Offerings?
AMAS
Other E-Data Offerings___________
Complete repair – step by step
Focuses on TSB's
With user name and password, info
can be accessed from any computer
Information on ONE computer only
Additional users pay added charge
24/7 Technical Support toll free number
Technical support not focused on technicians
Offered in numerous languages
English only
Can supply on site training if required
Not available
Large data base of repairs to reference
At times, pay per request
Teaches in easy to understand terms
Can be confusing if not familiar with technical language
Technical support from experienced techs
Focus has been on software not technical support
• Service Technicians speak Spanish?
WATER LEAK - 2006 TOYOTA TACOMA
EL TECH EST INDICANDO QUE EL
AGUA EST GOTEANDO DEBAJO
DEL PANEL DE AJUSTE DE LA
PUERTA, QUE INDICAR A LA RA Z
CAUSA QUE ES SPLASH-SHIELD
DA ADOS.
ESTA FOTO DEMUESTRA EL TECH
QUE QUITA LA MANIJA INTERIOR DE LA
PUERTA EN LA PREPARACION DE
QUITAR EL PANEL DE AJUSTE DE LA
PUERTA
MANIJA DE LA PUERTA DE LAS
DEMOSTRACIONES DE LA FOTO
QUITADA
• ... Spanish?
ESTO DEMUESTRA EL PANEL DE
AJUSTE QUE ES QUITADO UNA
VEZ QUE SEAN LOS CLIPS DEL
ALAMBRE DESCONECTADO, ALL
EN ESTA FOTO USTED PUEDE VER EL
SPLASH-SHIELD DESPUS DEL PANEL
OTROS CLIPS QUE SE
DE AJUSTE DE LA PUERTA QUITADO.
DESCONECTARON
ESTO ES Una VISION DESPUS DE
QUE SE HAYA REPARADO
SPLASH-SHIELD. DESPUS DE LA
REPARACION VERIFICADA
REINSTALE EL AJUSTE QUE
RECUERDA ENGANCHAR TODO
ELECTRONICO CONEXIONES
CORRECTAMENTE.
• Service Technicians speak French?
WATER LEAK - 2006 TOYOTA TACOMA
LA TECHNOLOGIE INDIQUE QUE
L'EAU S' GOUTTE DE DESSOUS LE
PANNEAU D'QUILIBRE DE PORTE,
QUI INDIQUERAIT La CAUSE De
RACINE TANT Des SPLASH-SHIELD
ENDOMMAGOS.
CETTE PHOTO MONTRE TECHNOLOGIE
ENLEVANT LA POIGNE INTRIEURE DE
PORTE DANS PREPERATION
D'ENLEVER L'QUILIBRE DE PORTE
PANNEAU.
PHOTO LA POIGNE DE PORTE
D'EXPOSITIONS A ENLEV.
• … French?
CECI MONTRE QUE LE PANNEAU
D'QUILIBRE TANT ENLOVENT UNE
FOIS QUE LES AGRAFES DE FIL
SONT D'BRANCHOES, LE
D'AUTRES AGRAFES
D'BRANCHER.
DANS CETTE PHOTO VOUS POUVEZ
VOIR LE SPLASH-SHIELD APRES LE
PANNEAU D'QUILIBRE DE PORTE
ENLEV.
C'EST Une VUE APRES QUE
SPLASH-SHIELD AIT T REPARE.
APRES LA REPARATION VERIFIEE
RE-INSTALLEZ L'QUILIBRE SE
RAPPELANT D'ACCROCHER TOUS
RACCORDEMENTS
ELECTRONIQUES
CORRECTEMENT.
What are people saying about AMAS?
Robby Robbs – Current Chairman of I-CAR
…simple to use, responsive, from a technical perspective....outstanding job in illustrating corrective
procedures. I really see an application for this with OE dealers, body shop, glass installers. Great job.
Don Droske – Retired Engineer – GM
…….the most difficult problems to resolve is the identification of the real root cause and the permanent
repair…….. This data base, provides the tools to efficiently and correctly diagnose and repair the problem
the first time.
Tom Lynch - Ford - Retired Engineer
…..looking for an additional profit opportunity at a very low cost, I strongly recommend you review this
software to add on profit.
Wickstrom Dealer – Brian Cook, Service Director
…in the past we avoided these problems, however we now actively search for these service
opportunities…….we have added incremental revenue and profit…..
Auto Glass – Al Fuller, Owner, Anvil Glass
….this is simple, the training is all included, it works, the ROI is extremely fast, and I like it.
Tire Retailer – Randy Wong – Owner, Goodyear Automotive
….just been introduced to this add on service and profit opportunity – I am very excited about the
opportunity to service this untapped market, solve my customers problems and add profits.
AMAS promotes safety!
•
Air Bag Safety - Always disconnect the car battery if the car airbag may be deployed.
•
Safety Equipment - Always use safety precautions. Wear gloves when needed!
•
Hazardous Material - Always dispose of hazardous materials (i.e. chemicals) in a safe
manner. NEVER put the environment at risk!
•
Knowledge of Leaks - AMAS will show you the repair for a leak--this does not mean it is the
ONLY repair or cause of a leak. Be sure to retest vehicles (as indicated) upon completion to
insure you have performed the repair properly.
•
Not all repairs are covered by a manufacturer warranty.
–
–
–
–
–
Examples of non-warranty repairs:
windshield repairs after the glass has been replaced by a non-dealership establishment
car break-ins (damaging weather-strip and windows)
vibration from large speakers
installing car stereos and/or alarms
*Aftermarket AutoSystems
www.AmAutoSystems.com
*AMAS is a division of Water Doctors International, Inc.