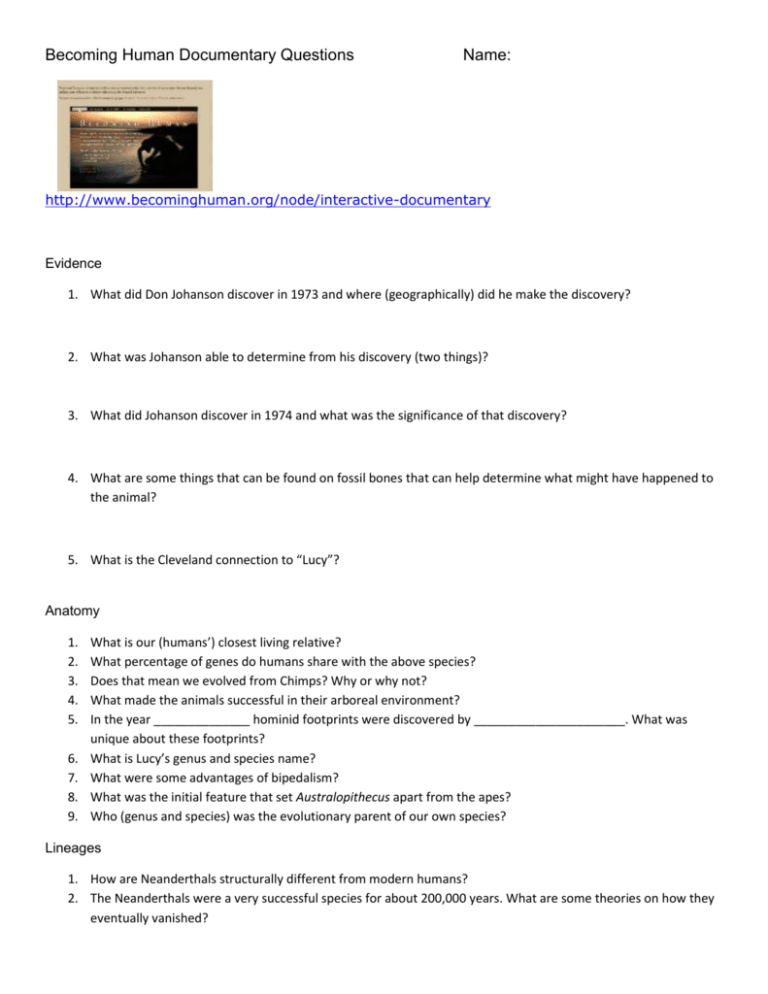 Becoming Human Documentary Questions
Name:
http://www.becominghuman.org/node/interactive-documentary
Evidence
1. What did Don Johanson discover in 1973 and where (geographically) did he make the discovery?
2. What was Johanson able to determine from his discovery (two things)?
3. What did Johanson discover in 1974 and what was the significance of that discovery?
4. What are some things that can be found on fossil bones that can help determine what might have happened to
the animal?
5. What is the Cleveland connection to "Lucy"?
Anatomy
1.
2.
3.
4.
5.
6.
7.
8.
9.
What is our (humans') closest living relative?
What percentage of genes do humans share with the above species?
Does that mean we evolved from Chimps? Why or why not?
What made the animals successful in their arboreal environment?
In the year ______________ hominid footprints were discovered by ______________________. What was
unique about these footprints?
What is Lucy's genus and species name?
What were some advantages of bipedalism?
What was the initial feature that set Australopithecus apart from the apes?
Who (genus and species) was the evolutionary parent of our own species?
Lineages
1. How are Neanderthals structurally different from modern humans?
2. The Neanderthals were a very successful species for about 200,000 years. What are some theories on how they
eventually vanished?
Culture
1.
Cave art (in Australia) has been found dating back 24,000 years. This art is very simple, but what does it tell us
about early humans that other evidence may not be able to?