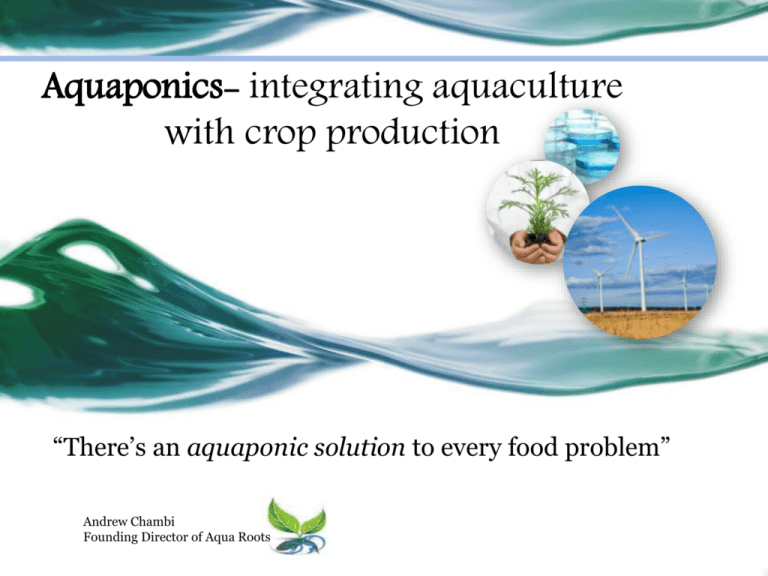 Aquaponics- integrating aquaculture
with crop production
"There's an aquaponic solution to every food problem"
Andrew Chambi
Founding Director of Aqua Roots
Presentation Overview
•
Issues in food production
•
Agriculture industry, Aquaculture, Increasing
food production
•
Aquaponics
•
How it works, Economics of aquaponics, Case
for aquaponics, Existing models of
aquaponics
•
Types of aquaponic systems
•
Deep Water, NFT etc, System components,
Models, Versitility
•
•
Some Examples
Aqua Roots' background
Global agriculture industry
• Decreasing resource
availability:
• Arable land available
per capita decreased by
40% between 1960 and
2000;
• Water demand
increases by 64 billion
cubic meters/year;
• agriculture accounts for
71% water withdrawals;
• By 2030, 47% of global
population will be
living under severe
water stress
Global fisheries & aquaculture
• Fish very important source of animal protein –
especially in low-income food-deficit countries
(LIFDCs).
• Fish consumption has many health benefits:
• Low fat, high protein content
• Essential Omega 3 fatty acids
• Vitamins D and B2
Global fisheries & aquaculture
• Challenges to aquaculture industry
• Environmental degradation through water discharge
and escapes
• Water supply and energy requirement
• Biosecurity
• Fishmeal based aquaculture feeds
Fish/rice culture
• Over 2,500 year old technique
from India and Asia
• Rice provides a habitat for fish
• Rice helps purify the water
• Fish eat insects and circulate
water
• Fish provide nutrients for rice
• Crop diversity – cereal grain and
fish, crustaceans and water fowl.
Aquaculture/irrigation
•
•
•
•
•
•
At least 2000 year old technique
Relevant in places with stored
irrigation water for terrestrial crops
One way flow of water
Water is used twice – once for fish,
and once for plants
Fish wastes fertilise the water –
enhancing growth of downstream
crops
Presence of fish reduces pest and
parasite organisms - mosquitos
How aquaponics works
• Aquaculture waste becomes hydroponic nutrient
• Hydroponic component removes nutrients and
filters water
• Clean water returns to fish rearing tanks
3
2
1
Aquaponics
• Recirculating aquaculture system (RAS)
•
•
•
•
Water efficient
Supports high stocking densities
Requires high level of water filtration and treatment
Creates nutrient rich effluent stream
• Hydroponic plant production
•
•
•
•
•
Water and space efficient
Does not require "agricultural land"
Allows complete control over plants – no weeds!
Nutrients supplied to plants in solution
Can create dangerous, high mineral content waste
stream
Economics of aquaponics
• Plant growth the major component.
• Uses 10% of the water of soil agriculture per unit crop
yield.
• Low maintenance and management time requirement.
• Domestic systems can contribute greatly to food security
and household economies
• West bank study revealed AP system could produce food with a
value 30 - 50% of the average daily salary in WB/Gaza
respectively.
• Increases the variety and quality of food available
• Commercial systems enable significant revenue generation
from "by-products"
– Daily 1kg fish food  700g fish mass  8 lettuces harvested
Case for aquaponics
• Space efficient
• allows high stocking and planting densities.
• Water efficient
• closed loop recirculating system.
• Clean
• zero discharge; all waste processed and used on-site.
• Crop diversity
• Plant and fish production.
• Biological system
• no chemicals allowed.
• Versatile
• can be implemented on micro to massive scale.
• can make use of "non agricultural" land.
System components
•
•
•
•
•
Fish tank(s)
Plumbing
Water pump
Air pump
filter
Flood and drain
• Optimal growbed depth – 30cm
• 3 zones: wet zone, tidal zone and dry zone
DWC / floating raft
• Plants grown on floating sheets (styrofoam)
• Roots in aerated water
• Water depth 20-60cm
• Constant depth – continual flow
• Roots can "suffocate" if water is not well filtered
prior to DWC growbed
• Best suited to production of small, leafy crops
• Favoured commercial technique
Strawberry towers
• Not just for strawberries!
• Plants grown in vertical
pipes
• Volcanic rock, clay beads,
foam strips
• Water trickles from top to
bottom
• Continual flow
• Towers may clog if water
is not well filtered
Wicking beds
• Hydroponic soil growing?
•
•
•
•
15cm "wicking" reservoir at base
20-30cm soil on top
Water moves up into soil by capillary action
Continual flow OR no flow
• Suitable for a wide variety of crops – including root
crops
System examples - mini
System examples - mini
System examples - large
System examples - large
42 days later…
Aqua Roots Background
History & Future
• Setup by a team with a diverse background
• Six years successfully implementing domestic "backyard" and
commercial systems in the UK, the Middle East and Africa.
• Teaching and lecturing mainstream science and community
aquaponics.
• Aim to implement community based, high production systems
in the UK.