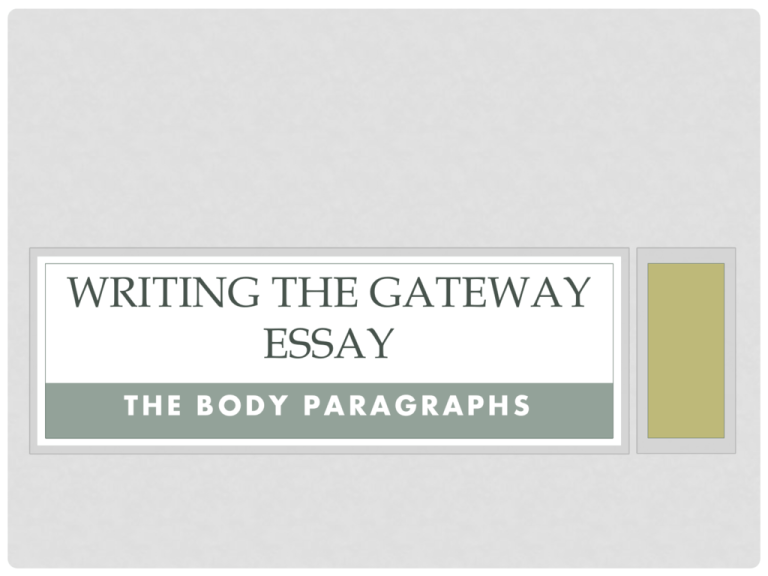 WRITING THE GATEWAY
ESSAY
THE BODY PARAGRAPHS
THE BODY PARAGRAPHS
• Address the key points of the Gateway writing prompt in the
body of your essay. Let's look at this Gateway topic:
• Writing Task – Explain how Odysseus' journeys
helped establish him as an epic hero.
•
• Be sure to include:
• Definition of the qualities of an epic hero
• Details about his journey
• Description of his perils which brought him to victory
•
LANGUAGE ARTS EXAMPLE
• Based on this topic, you will need to choose three
qualities of an epic hero and illustrate these with
specific information about Odysseus's journey and
the perils he faced.
SOCIAL STUDIES EXAMPLE
• Here's another example:
• Writing Task:
• Discuss why the Nile River Valley was a suitable location
for early civilizations.
•
• Include the following:
•
• The use of the land for planting crops
• How the early settlers used the Nile for transportation
• Importance of the Nile River Valley to the people of
Egypt today
•
ORGANIZATION OF THE BODY
PARAGRAPH
• Each body paragraph should begin with a topic
sentence that refers to a part of the thesis
statement. Here is an example:
• Thesis: Odysseus' journeys helped to
demonstrate the qualities of wisdom, strength,
and leadership that can be found in an epic
hero.
• Topic Sentence for paragraph one: The
adventure with the Cyclops illustrates the
quality of wisdom found in an epic hero.
USE OF DOCUMENTS
• Your Gateway Essay assignment will also consist of a
variety of documents on your given topic. You will
need to refer to and cite these documents in the
body paragraphs.
EXAMPLES OF DOCUMENTS
A PASSAGE
• Document A – Odysseus: a Hero in Trouble
• In Homer's day heroes were thought of as a special
class of aristocrats. They were placed somewhere
between gods and ordinary human beings. Heroes
experienced pain and death, but were always sure
of themselves. Odysseus is different. He is a hero in
trouble. We can relate to Odysseus because we
share with him a sense of somehow being lost in a
world of difficult choices. Like Odysseus, we have
to scope with unfair authority figures. Like him, we
have to work very hard to get what we want.
A FACT SHEET
•
•
•
•
•
•
•
•
•
•
•
•
DOCUMENT A
Fact Sheet – Nile River Civilization
The Nile River is the longest river in the world (4,160 miles)
The Nile has benefited the people of Egypt for thousands of years
Earliest civilization settled along the banks because of its fertile land
Today, the Nile River Valley make up 3 percent of Egypt's land, but is
home to more than 90 percent of its population
In ancient times, farmers utilized the annual floods to plant their crops in
the rich soil deposited by the Nile
Dams were built to extend irrigation and allow planting of more than one
crop per year.
The Nile is used to irrigate most of the land in Northern Africa.
(from Glencoe World Geography)
A MAP
HOW TO CITE THE DOCUMENTS
• Once you paraphrase, quote, or refer to one of the
documents, you will need to cite that source.
• Simply name the document in parentheses after the
information is given. (Doc. A)
EXAMPLE
•
The adventure with the Cyclops illustrates the
quality of wisdom found in an epic hero (Doc. B).
Odysseus is faced with the challenge of saving his
men from Polyphemus and bringing them safely
back to the ship. He uses his wisdom by calling
himself "Nhbody," by maiming the Cyclops instead
of killing him, and by tying his men under the sheep
so they can escape. Odysseus exemplifies the
quality of an epic hero that everyone can relate to
because " like Odysseus, we have to cope with
unfair authority figures. Like him, we have to work
very hard to get what we want " (Doc. A).
TRANSITIONS
• Finally, use transitional words and phrases to link the
body paragraphs. Here is a list of commonly used
transitions:
• To give examples: for example, for instance, such
as, specifically
• To show cause and effect: therefore, hence, thus, as
a result, resulting in, so, consequently
• To contrast: nevertheless, however, but, on the
other hand, in contrast, on the contrary, conversely,
at the same time, still, although, even though,
despite, in spite of
• To show similarity: likewise, similarly, just as, equally
MORE TRANSITIONS
• To concede: although, even though, of course,
granted, while
• To elaborate: in addition, additionally, moreover,
also, furthermore
• To emphasize: more importantly, most importantly,
chiefly, indeed, in fact, primarily, no doubt
• To restate: again, in other words, in effect, that is, in
short
• To indicate time: last, at last, eventually, before,
after, afterwards, finally, during, then, when, as
• To indicate place: to the right, to the left, in the
background, in the foreground, in the distance
EXAMPLE
Additionally, Odysseus illustrates his identity as an epic
hero through his use of strength in the adventure with the
Sirens.
TIPS TO REMEMBER
• When writing the body paragraphs of your
Gateway essay—
• be sure to create a topic sentence for each paragraph
that refers back to the thesis sentence.
• Support your topic sentence with information from the
documents, as well as with your own knowledge.
• Cite the documents in your paragraph.
• Use transitions to link the paragraphs.