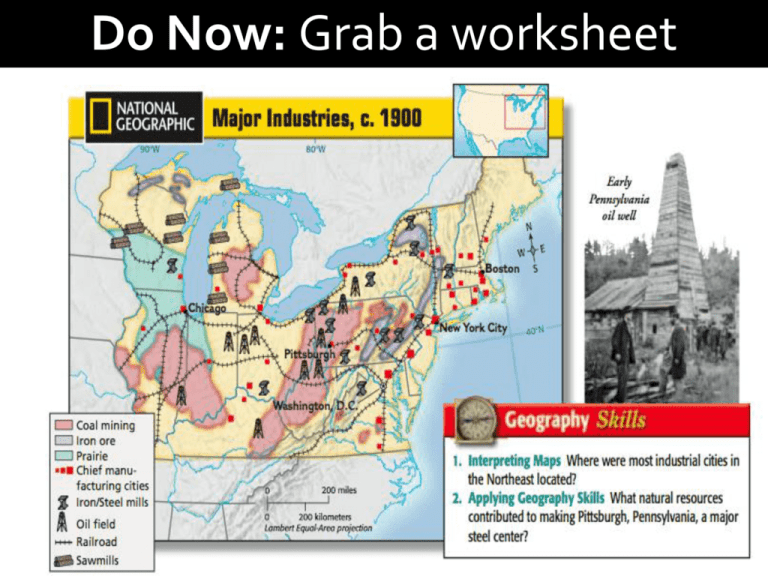 Do Now: Grab a worksheet
Objectives
Students will be able to...(1)define laissez-faire
economics (2) think about supply and demand
Homework: 14.1 DUE FRIDAY
Industrial Revolution
• Began in the early 1800s
• Still lots of farming…
• After Civil War, industry
EXPLODED
• Gross National Product
(GNP) – total value of goods
and services produced by a
country
Natural
Resources
• What resources does the
US have?
• Why is it better to have
them in the US instead of
bringing them in?
• What invention played a
HUGE role in revolution?
Oil…
• New resource –
Petroleum
• Turned into Kerosene
• Edwin Drake – First to
drill in Pennsylvania
Large Workforce!
• 1860-1910: Population of
US Tripled
• Two reasons:
– Large population
– Immigrants (20 Million)
•
•
•
•
Laissez-Faire – "Let Do"
Government should not interfere with
companies
What happens if government controls businesses?
Free market – competing companies (Supply and demand)
LOW TAXES
Entrepreneurs – people who risked money to start businesses
– people made $$$$
Key Terms
• Complete the vocabulary worksheet on the
back
Do Now: Make a list of the top 5
inventions of all time (Your Opinion)
Objectives: Students will be able to...(1)
identify the inventions of Edison and Bell (2)
transfer key information off a timeline to a class
activity.
Homework: Finish 14.1
New Inventions Rule
• http://www.youtube.com/watch?v=HS0YSKa
0hhA
Alexander Bell and the Telephone
• Crazy idea: Talking
through telegraph
• 1874:Alexander
Graham Bell
invented first
telephone
Thomas Alva
Edison
• Most famous inventor of
1800s
• Symbol of emerging
technology
• Light bulb and Electric
Generator
• https://www.youtube.com/w
atch?v=ZlxVDdBtFQQ
Timeline
• Complete Thomas Edison Worksheet
• Create a twitter profile as a reporter for major
inventions of the 1800s and 1900s
– Must have at least 4 Posts about Edison inventions!
– Must have 4 from 'New Inventions' Section on page
439-440
Advertisement
• Choose two inventions and
create an advertisement poster
for them.
• Top 5 will be hung up!
Ticket to Leave
• What do you think was the most important
invention of the 1800s? Why?