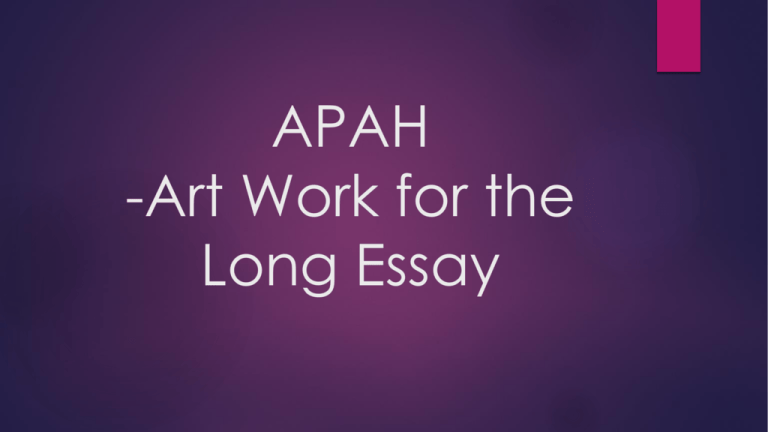 APAH
-Art Work for the
Long Essay
The Great Daibutsu
Buddha
Kamakura Japan
•
•
•
•
•
•
•
•
•
•
Outdoor Bronze Statue-once gold leaf
Temple destroyed by a natural disaster
-a typhoon
43 feet tall and hollow
Meditative face & Draped in a robe
Round rings – remains of the pouring of the
bronze
100s of joints holding the statue together
Clockwise curls-unique city –unique haircounter clock wise
Has mustache- symbolize light
Big ears to hear the people & no earrings
as a priest
Jo-in=meditation but unique
-nails don't point upwards and hides fingers
Augustus of Pimaporta-20-c.e








ROMAN
Marble
Idealized
Resembles Doryphoresthe canon
Cupid= divine nature
Propaganda- Hair and
clothing
Senator & General
Human & Divine
Breast Plate+
Return of Roman
Military Standard
Taj Mahal
Islamic
1632-48

Marble

Symmetry & Balance

Mathematical=4

Paradise Garden

Muhrabs & Onion Dome

Mausoleum for Shah's wife

Wealth, Power, Belief & Love
Maya LinVietnam Memorial1983






SITE ART
Black Granite-highly
reflective-sober and
respectful
Healing Wound-dug into
the earth
Minimalist
Healing Place for Grief
Two Statues dedicated to
Personal Sacrifice
Versailles (b.1669)

Example of French Classical
Style-remodeled hunting
lodge

Louis XIV political &
economic ambitions

Ornate Interior Décor

Hall of Mirrors

Elaborate Gardens and
Water Features

Power and Wealth

Build Town for the Servants

Arnolfini Wedding- Van Eyck
EARLY NO. EUROPEAN (1434)
RENAISSANCE
Oil Paint on Wood
 Wealth & Power
 Signature of Artist
 Celebrates Marriage
 Hidden Symbols-noshoesholiness
 Bed, Dog & Wooden Clogs
=Marriage
 Wealth= Cloth, Window ones,
Oranges & Décor
 Gender roles

Las Meninas-Velasquez (1656)
 SPANISH
BAROQUE
 Oil
 Family
Royal Portrait &Artist
Self Portrait
 Spatial Relationship- forms at
different angles
 Alternating lights & darks
draws viewer into canvas
 Elevates the Artist Status by
Placing him in the Canvas &
Order of Santiago and
importance of painting
Evening Bell at the Clock
Harunobu
Edo Period- 1765

Ink on Paper

Woodblock Print / Ukiyo-E Print

Flat & Black Outlines with distinct
color areas

Beautiful young ladies in their daily
lives

Private view of private moment- after
a bath-snapshot of Japanese culture

Traditional temple bells are
transformed into modern clock

Contrast of modern and traditional
The Gleaners (1857)
Millet

FRENCH REALISM

Oil

Poverty and Abundance

Difficulties of peasant life

Social Criticism

Dignity of Survival

Michelangelo of the Peasant

Muted Colors

Recessional Space- survey the
Les Demoiselles d' Avignon
Picasso (1907)

Oil

Revolutionary

Cubist=fragmented forms and
abstract depictions

Brothels & Prostitutes

Still Life

Influenced by African Mask- figures on
right

Influenced by Iberian art on left side

Exorcised old painting style

Illusion of space in - two dimensions
http://www.bbc.com/news/magazine-32141921
The Great Migration #11
1940-1
Jacob Lawrence

Tempura

Geometric

Bold Primary Colors & Flat Simple
Shapes

Sharp contrasts

Documents & Celebrates the Black
American Experience

Focuses on migration of African
Americans from the South to the North
After WW I

Influenced by Matisse

Dynamic cubism
T
I
Time Period
Image Characteristics
Title
( Shapes, Size,
Artist
L
E
Line=

Angle

Movement

Bold, Soft, Muted, Outlines, Sharp

Color & Light)
Perspective-linear, flat, depth,
2 or 3 dimensional
Expresses the Idea /Theme ofExpresses to what Audience-
Essay Outline

 2)
1) Deconstruct
Write Down all the Tasks
 3)
TILE Two Works
 4)Answer
The Question
 5)WRITE
 Layer
 Be
Prompt
the Essay
Adjectives
Specific- Use Art Details
 Answer
the Question Multiple Times
Self-portraiture provides a wide
range of information about the artist
in addition to physical appearance.
Choose and fully identify two selfportraits, in any medium, each from
a different art-historical period.
Analyze how each self-portrait
conveys information about the artist
and his or her era.
Cultural attitudes about women
are often revealed in art. Select
and fully identify two works of art
that depict one or more women.
Explain how each work reveals its
era's attitudes about women
• Frequently in the history of art, artists and
architects have challenged established
traditions.
• Select and fully identify two works that
challenge established traditions.
• One example must have been produced
before 1800 CE. Discuss how and why each
work constituted a significant challenge to
accepted artistic conventions of the time.