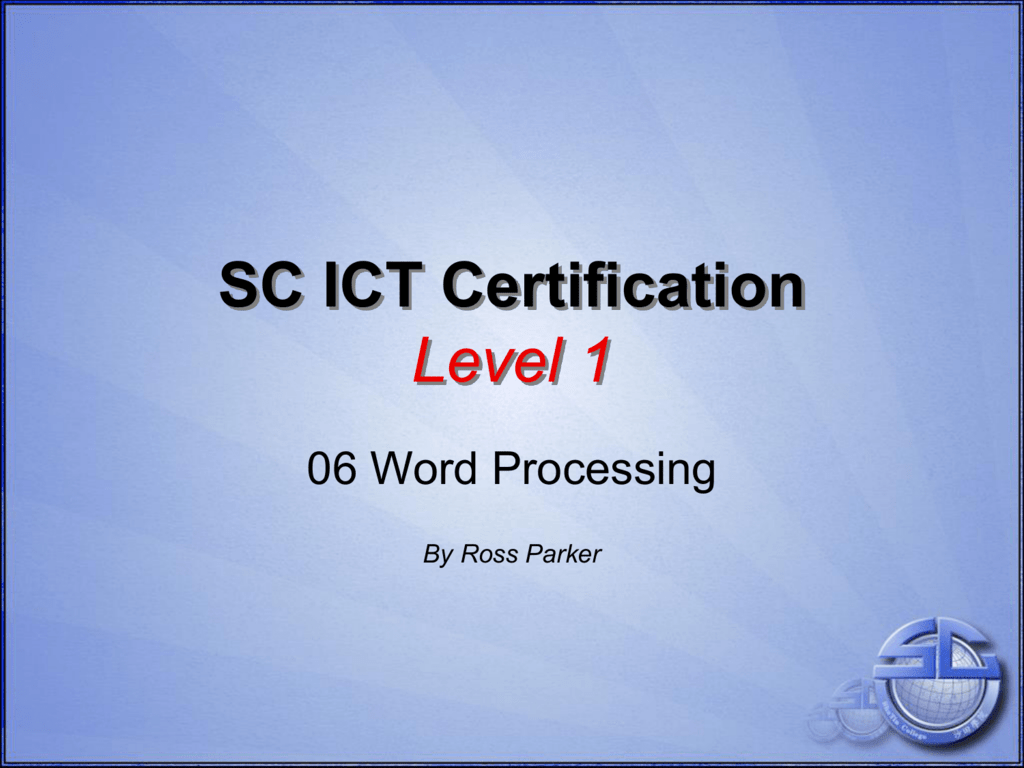 SC ICT Certification
Level 1
06 Word Processing
By Ross Parker
Word Processing
• wikipedia.org: "A word processor is a
computer application used for the
production (including composition, editing,
formatting, and possibly printing) of any
sort of printable material."
3 of many
MS Word 2007
OpenOffice Writer
Google Docs
Replacing Word 2003
De facto standard
Experimental interface
Part of MS Office suite
Desktop application
Costly
Open standards
Traditional interface
Part of OpenOffice suite
Desktop application
Free/open Source
Free (gratis)
Part of Google Docs suite
Web-based application
docs.google.com
Integrated collaboration
Limited Functionality
Free (gratis)
Basics
MS WORD 2007, OPENOFFICE
WRITER, GOOGLE DOCS
New Document
MS Word 2007
OpenOffice Writer
Google Docs
1.
1.
1.
2.
2.
2.
3.
Page Settings
MS Word 2007
1.
OpenOffice Writer
Google Docs
1.
1.
2.
2.
Highlighting Text
• Mouse
– Left mouse button
– Double click
– Triple click (so extreme!)
• Keyboard
– Shift
– Ctrl
– Arrow keys
– Page Up, Page Down
Formatting Text
MS Word 2007
Font, size
Cut, copy, paste
Colour
Alignment
Formatting
OpenOffice Writer
Styles
Styles
Cut, copy, paste
Font, size
Google Docs
Formatting
Alignment
Colour
1
Font, size
Formatting
Alignment
Colour
Saving and conversion
• Save regularly
• Organise files using folders
• Many formats:
– .doc
– .docx
– .odt
– .rtf
• .doc is defacto standard
• Standards are not always compatible
Printing
• Print only when needed.
• Consider:
– Which printer
– Page size vs paper size
– Quality
– Color vs greyscale
– Duplex
– Page Range
– Number of copies
– Pages per sheet
Intermediate Focus
MS WORD 2007
View
• Control what you see:
Print Outline
Full Screen Reading
Web Layout
Outline
Draft
Zoom
Inserts
Pages
Picture
Clip Art
Shapes
Smart Art
Chart
Page Number
Footer
Header
Hyperlink
Symbol
Equation
Quick Parts
(Field)
Spell Check
Choose appropriate
word for replacement
Red underline
indicates error
Right click on word to
reveal context menu
References
Table of Contents
(requires Styles)
Footnotes
Citations
Caption
Index
Format Paragraph
Bullets & numbers
Line spacing
Indentation
Borders & shading
Sort
More settings...
Tables
Simple table insert
Advanced table insert
Integrated Excel sheets
Table templates
Margins
Rulers
Toggle rulers
Line indentation
(grab to adjust)
Margin
(grab to adjust)
Styles
• Using styles
– Define styles
– Set text to a particular style
– Change existing style
• Changes all text instances in this style
• Saves reformatting time
• Encourages consistency
• Automate "Table of contents" creation
Advanced Focus (optional, not assessed)
MS WORD 2007
Advanced Features
•
•
•
•
•
Comments: mark documents with suggestions
Track changes: work together asynchronously
Mail merge: bulk create labels, envelopes, letters
Prepare: encrypt, permissions, mark as final
Publish: blog, online workspace
Licensing
•
•
•
•
•
All original work used here is licensed under the Creative Commons Attribution-Share
Alike 3.0 Unported license. For more details please look at
http://creativecommons.org/licenses/by-sa/3.0/.
This license has been chosen to permit a high degree of sharing, whilst protecting the
author's control as to how the content is used.
Please respect this license and use accordingly!
Recycled and borrowed works from other sources are used under appropriate
licenses, which are not affected by this license. The original source is always given.
All original work created by Ross Parker (Sha Tin College, English Schools
Foundation, Hong Kong), except where specified.