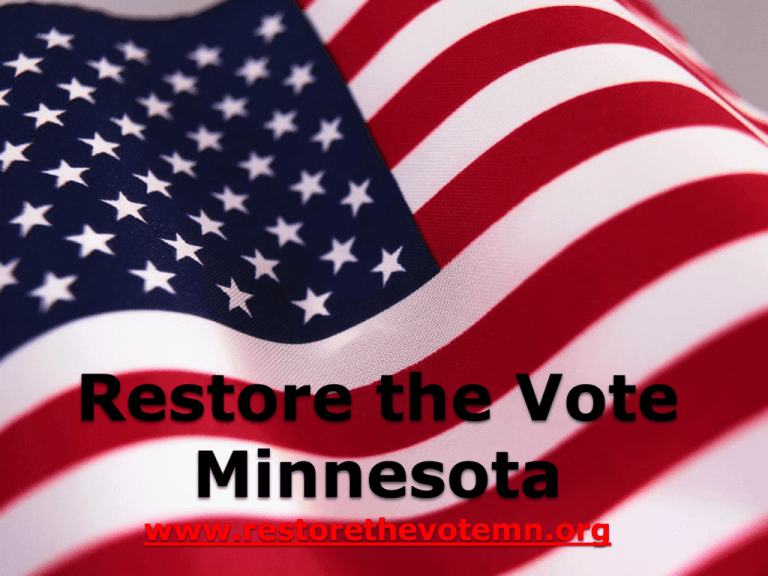 Restore the Vote
Minnesota
www.restorethevotemn.org
What is Disenfranchisement?
Felon disenfranchisement is
the removal of voting rights
from those who have been
convicted of a felony.
A felony is any crime that
carries a sentence of one year
or greater.
Disenfranchisement Nationwide
Nationally, 5.85 million
citizens can no longer vote due
to a felony conviction.
Disenfranchisement in Minnesota
63,000 Minnesotans were
unable to vote due to a
felony conviction in 2011.
Disenfranchisement in Minnesota
• In Minnesota, individuals convicted
of a felony are not eligible to vote
until they have completed all terms
of their sentence, including any
probation or parole.
Minnesota Compared to Nationwide
States with Shorter Disenfranchisement (20)

Never Disenfranchised (2)
◦ Maine and Vermont

No Vote in Prison Only (13)
◦ Hawaii, Illinois, Indiana, Massachusetts, Michigan,
Montana, New Hampshire, North Dakota, Ohio,
Oregon, Pennsylvania, Rhode Island, and Utah

No Vote in Prison or on Parole* (5)
◦ California, Colorado, Connecticut, New York, and
South Dakota
*Parole is a supervised release period after prison (1/3 of
sentences in MN).
Minnesota Compared to Nationwide
Minnesota and Longer Disenfranchisement

No Vote in Prison, Parole, or Probation* (19)
◦ Alaska, Arkansas, Georgia, Idaho, Iowa, Kansas,
Louisiana, Maryland, Minnesota, Missouri, New
Jersey, New Mexico, North Carolina, Oklahoma, South
Carolina, Texas, Washington, West Virginia, and
Wisconsin

No Vote in Prison, Parole, Probation and
Beyond (11)
◦ Alabama, Arizona, Delaware, Florida, Kentucky,
Mississippi, Nebraska, Nevada, Tennessee, Virginia,
and Wyoming
*Probation is a period of supervision without going to prison, often
includes up to 1 year in jail.
Minnesota Compared to the Region
Disenfranchisement Rates












MN
WI
ND
SD
NE
IA
IL
MT
KS
IN
MI
MO
1.5%
1.5%
0.3%
1.1%
1.3%
0.9%
0.5%
0.5%
0.9%
0.6%
0.6%
2.3%
Disenfranchised in
Minnesota
6,899
9,345
5,799
41,073
Probation
Parole
Prison
Jail
75% (53,771 in 2011) of
those disenfranchised in
Minnesota are not behind bars
and unable to vote while they
live in the community.
Disparate Impact on People of Color
◦ African-Americans make up 5% of the
Minnesota population, but represent 25% of
the total number of disenfranchised
individuals.
◦ Over 12% (about 1 in 8) of AfricanAmerican men in Minnesota cannot vote
because of felon disenfranchisement
(compared to 1% of White Minnesotans).
◦ Native Americans make up less than 2% of
the Minnesota population, but represent
more than 6% of those disenfranchised.
African American Disenfranchisement Rate
FL
KY
VA
TN
WY
AL
MS
NV
AZ
WI
DE
AR
ID
GA
MN
AK
TX
23.32%
22.34%
20.37%
18.92%
18.29%
14.98%
13.92%
12.60%
11.20%
8.93%
8.27%
7.89%
7.80%
7.47%
7.27%
7.26%
7.12%
IA
MO
LA
OK
NE
NJ
NM
SD
KS
WA
MT
CA
CO
WV
SC
CT
MD
6.90%
6.88%
6.76%
6.26%
5.52%
5.45%
4.87%
4.73%
4.53%
4.24%
4.14%
4.12%
4.03%
3.45%
3.40%
3.31%
3.21%
UT
NC
OR
PA
OH
IN
MI
ND
NY
IL
RI
NH
HI
MA
ME
VT
3.05%
2.84%
2.63%
2.54%
2.41%
2.39%
2.35%
2.10%
2.10%
2.03%
1.87%
1.55%
1.02%
0.93%
0.00%
0.00%
Historical Perspective
• In the 1860's:
 There were less than 75 felony crimes in
statute.
 There was no probation so all felons were
incarcerated.
 Just over 30 people were in prison, about
.02 percent of the voting age population
then.
• Today:
• There are 368 felony crimes.
• About 75 percent of felonies result in no
prison sentence.
• About 1.5% percent of our voting age
population is disenfranchised.
Historical Perspective
Since 1974, the percentage
of voting age Minnesotans
disenfranchised as a result of
felony conviction has
increased over 400%.
Effect of Current Law
 Disenfranchisement
is not
shown to provide any benefits
for rehabilitation, deterrence,
or increasing public safety.
 People who can't participate
are less likely to feel a
productive part of their
community.
Effect of Current Law
 The
children of parents who
are disenfranchised are less
likely to vote as adults.
 The current law can be
confusing.
Benefits of Restoration
 Provides
individuals with an
opportunity to feel stronger
ties with their community.
 Allowing those who are in the
community to vote reduces
confusion among voters and
election officials about who can
vote.
 Helps address racial
disparities.
Restoring the right to vote for
those living in the community
will:
◦positively engage more people in the
democratic process
◦make all Minnesota communities stronger
◦make the law clear
◦save resources
◦make our communities safer and more just.
Public Safety/Legal Faith Based
 Minnesota Association Organizations
of Criminal Defense
 Joint Religious
Lawyers
Legislative Coalition
 Minnesota Community  Minnesota Catholic
Corrections
Conference
Association
 Minnesota Council of
 Minnesota Corrections Churches
Association
 Minnesota Unitarian
 Minnesota County
Universalist Social
Attorneys Association Justice Alliance
 State Public Defender
Coalition Members
Direct Service Organizations
 African Immigrant Services
 American Indian OIC
 Goodwill/Easter Seals MN
 Integrated Community Solutions,
Inc.
 L.I.F.E. In Recovery
 MN Adult and Teen Challenge
 MN Community Action Partnership
 Minnesota Recovery Connection
 The Neighborhood Hub
 Open Access Connections
 RS Eden
 St. Stephen's Human Services
Civic Engagement and Advocacy
Organizations
 ACLU of Minnesota
 Children's Defense Fund-Minnesota
 Council on Crime and Justice
 Growth & Justice
 Land Stewardship Project
 League of Women Voters Minnesota
















Minnesota Coalition for the
Homeless
MN Second Chance Coalition
Minnesotans Standing Together to
End Poverty (MNSTEP)
NAACP St. Paul Branch
Organizing Apprenticeship Project
People For the American Way
Prison Policy Initiative
R3 Collaborative
TakeAction Minnesota
Ten25Fifty
Republican Liberty Caucus
Liberty MN
Blue Republicans
MN League of Cities
MN Association of Counties
MN County Attorney's Association
Coalition Members
Restore the Vote Minnesota
www.restorethevotemn.org
Sign up for alerts.
 "Like" on Facebook and follow on Twitter.
 Fill out card for your legislator and the
Governor.
 Contact your legislator directly.

What can you do?