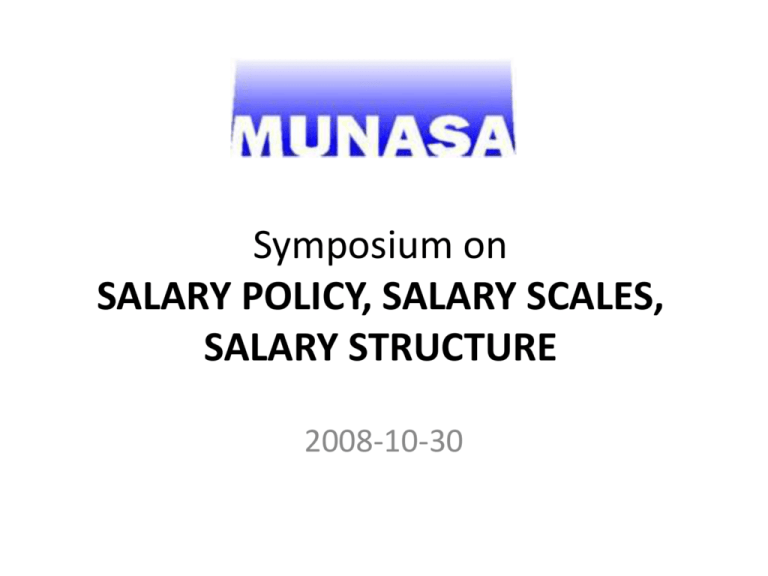 Symposium on
SALARY POLICY, SALARY SCALES,
SALARY STRUCTURE
2008-10-30
Format of Symposium
• Presentation
– Historical Background
– Present Context
• Table Discussion
– Each table selects a 'Rapporteur'
• Reports from the Tables
• Summary and Wrap-up
Trevor Garland Past President
HISTORICAL BACKGROUND
MUNASA and Salaries
1976 MUNASA introduced first Pay Equity
1995 McGill attempted Pay Equity without MUNASA
2001 Quebec Legislated Pay Equity –
"New M Compensation System"
2003 MUNASA introduces
Principles of Performance Planning
2004 MUNASA introduces Competencies Framework
2007 M Compensation Working Group
1976 "Parity Model"
– Each job individually classified based on personal
Job Description (Position Description – one per
employee)
– Salary ranges based on UdeM salary ranges
– M System evaluates jobs against McGill point
system:
– Knowledge (Education and Experience)
– Contacts
– Supervision Exercised
– Working Conditions
2001 M Compensation System
New M Compensation Features
•
•
•
•
job matching instead of job classification
Job Families and sub-families
Role Profiles – 90 generic job descriptions
Role Profiles evaluated using Hay Group system used by all Quebec
universities:
Know How
Problem Solving
Accountability
Working Conditions
• Job match to Role Profile:
– Sub-Family
– Level (1-4)
• Salary minimum uniformly 75% of salary maximum
2003 Principles of Performance Planning
• MUNASA Membership pushes for fair Merit
system
• MUNASA publishes "Principles of Performance
Planning" and proposes Performance Planning
Policy
• McGill rolls out Performance Dialogue to
"discuss the achievements and the challenges and to set
objectives " during summer months (separate
from Merit)
2004 Competencies Framework
– lexicon of 'soft' skills to tie together
– Job Documentation
– Recruiting Requirements
– Staff Development
– Performance Planning
– Based on Lominger Leadership Architect
Competency Library
– Staff Development workshops created for skills
training
2007 M Compensation Working Group
– Study matches job types to agreed reference
markets to compare median salaries
– Comparison of median of actual salaries rather
than salary ranges
– Human Resources hints at widening salary grades
(min 67% of Max instead of 25%)
– Human Resources set to announce changes
November 3rd, 2008 NOON – 1:30PM
New Residence Hall - Ballroom A
3625 Avenue du Parc
Sacha Young Vice-President
PRESENT CONTEXT
Salary Compensation
• At present, in accordance with the McGill
Salary Administration Policy, Article 3.4:
Annual salary increases may comprise two
components:
-a
salary scale revision, as determined by the University;
- a pay for performance (merit) increase, determined on a
discretionary basis by the department head within guidelines
established by an annual policy statement.
Salary Compensation History
YEAR
SCALE
ACROSS THE
BOARD
MERIT
2004
2.0%
2.0%
2.5%
2005
2.0%
1.75%
2.75%
2006
2.0%
1.75%
2.75%
2007
-
-
2008
-
-
2.5%
Annual Salary Adjustment Components
• Scale
- Scale adjustments represent the movement of the entire salary range.
- Salary scale adjustments are generally provided for the purpose of
external equity; that is, ensuring that the salary scale for the respective
role profiles and grades are reflective of the competitive market.
• Merit
- a pay increase granted through a pay-for-performance system.
- represents movement through a pay range that is determined principally,
if not solely, on the basis of job performance.
- can also determine how far employees are allowed to progress in their
pay ranges.
Elements of Merit Pay
• Individual differences in job performance should be measurable
• Individual differences in job performance must be significant enough to
warrant the time and effort required to measure them and relate pay to
them
• The pay range should be sufficiently broad to allow for adequate
differentiation in pay based on performance and/or level of experience
and skill
• Supervisors and managers must be trained in employee performance
planning and appraisal
• Management must be committed, and employees must be receptive to
making distinctions in pay based on performance
• Managers must be adequately skilled in managing pay
• Sufficient control systems must be implemented to ensure that merit
increase guidelines are followed.
Evaluating a Merit Pay Plan*
- Employee satisfaction with the pay program
- Employee job satisfaction
- Employee perception that pay is based on performance
- Employee acceptance of and trust in the performance appraisal process
- Employee trust in management
- Employee and organizational performance
- Employee commitment to the organization as demonstrated through
reduced turnover and absenteeism
- Correlation between actual performance ratings and actual merit
increases.
*World at Work Compensation, Benefits and Total Awards (2007, p.326)
Salary Compensation History
YEAR
SCALE
ACROSS THE
BOARD
MERIT
2004
2.0%
2.0%
2.5%
2005
2.0%
1.75%
2.75%
2006
2.0%
1.75%
2.75%
2007
-
-
2008
-
-
2.5%
Across-the-Board
• What is it?
- Across the Board increases are general increases provided to
all employees, given as a fixed dollar amount or a percentage
increase; can also be considered as a cost of living increase
- Such increases in salary are generally intended to protect
employees' purchasing power against erosion caused by
inflation.
Discussion
What do you want?
Merit or Across-the-Board?
Why?