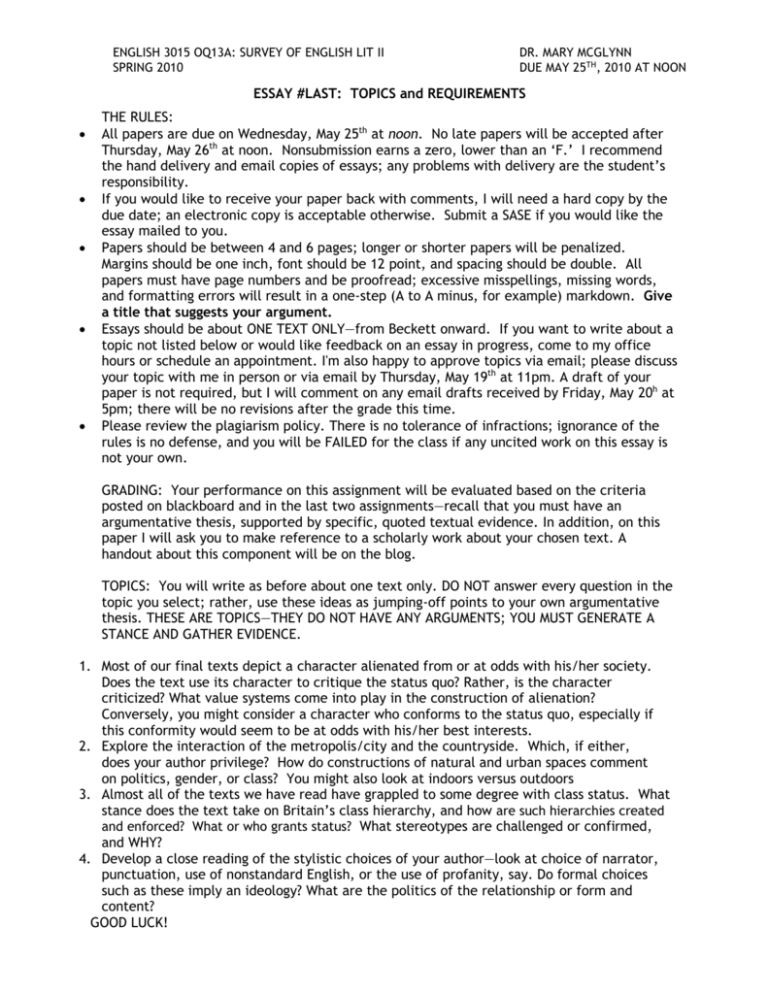 ENGLISH 3015 OQ13A: SURVEY OF ENGLISH LIT II
SPRING 2010
DR. MARY MCGLYNN
DUE MAY 25TH, 2010 AT NOON
ESSAY #LAST: TOPICS and REQUIREMENTS





THE RULES:
All papers are due on Wednesday, May 25th at noon. No late papers will be accepted after
Thursday, May 26th at noon. Nonsubmission earns a zero, lower than an 'F.' I recommend
the hand delivery and email copies of essays; any problems with delivery are the student's
responsibility.
If you would like to receive your paper back with comments, I will need a hard copy by the
due date; an electronic copy is acceptable otherwise. Submit a SASE if you would like the
essay mailed to you.
Papers should be between 4 and 6 pages; longer or shorter papers will be penalized.
Margins should be one inch, font should be 12 point, and spacing should be double. All
papers must have page numbers and be proofread; excessive misspellings, missing words,
and formatting errors will result in a one-step (A to A minus, for example) markdown. Give
a title that suggests your argument.
Essays should be about ONE TEXT ONLY—from Beckett onward. If you want to write about a
topic not listed below or would like feedback on an essay in progress, come to my office
hours or schedule an appointment. I'm also happy to approve topics via email; please discuss
your topic with me in person or via email by Thursday, May 19th at 11pm. A draft of your
paper is not required, but I will comment on any email drafts received by Friday, May 20h at
5pm; there will be no revisions after the grade this time.
Please review the plagiarism policy. There is no tolerance of infractions; ignorance of the
rules is no defense, and you will be FAILED for the class if any uncited work on this essay is
not your own.
GRADING: Your performance on this assignment will be evaluated based on the criteria
posted on blackboard and in the last two assignments—recall that you must have an
argumentative thesis, supported by specific, quoted textual evidence. In addition, on this
paper I will ask you to make reference to a scholarly work about your chosen text. A
handout about this component will be on the blog.
TOPICS: You will write as before about one text only. DO NOT answer every question in the
topic you select; rather, use these ideas as jumping-off points to your own argumentative
thesis. THESE ARE TOPICS—THEY DO NOT HAVE ANY ARGUMENTS; YOU MUST GENERATE A
STANCE AND GATHER EVIDENCE.
1. Most of our final texts depict a character alienated from or at odds with his/her society.
Does the text use its character to critique the status quo? Rather, is the character
criticized? What value systems come into play in the construction of alienation?
Conversely, you might consider a character who conforms to the status quo, especially if
this conformity would seem to be at odds with his/her best interests.
2. Explore the interaction of the metropolis/city and the countryside. Which, if either,
does your author privilege? How do constructions of natural and urban spaces comment
on politics, gender, or class? You might also look at indoors versus outdoors
3. Almost all of the texts we have read have grappled to some degree with class status. What
stance does the text take on Britain's class hierarchy, and how are such hierarchies created
and enforced? What or who grants status? What stereotypes are challenged or confirmed,
and WHY?
4. Develop a close reading of the stylistic choices of your author—look at choice of narrator,
punctuation, use of nonstandard English, or the use of profanity, say. Do formal choices
such as these imply an ideology? What are the politics of the relationship or form and
content?
GOOD LUCK!