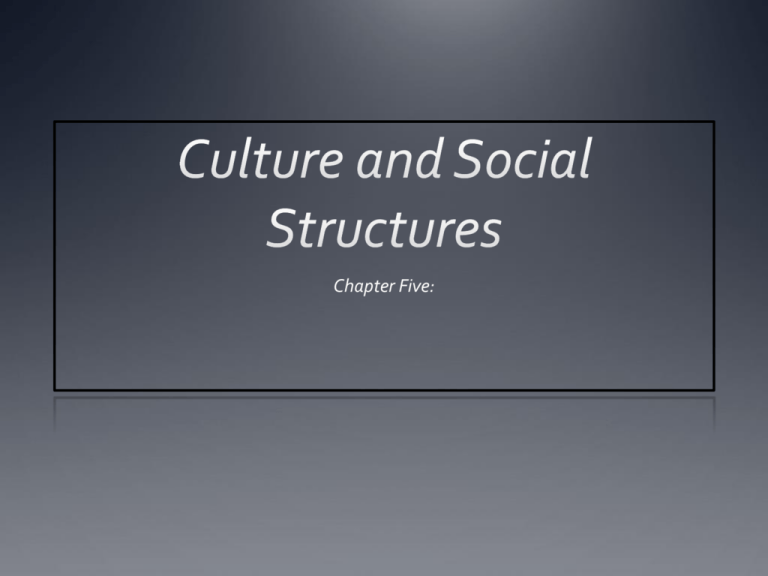 Chapter Five:
Social Structure Example
from World History:
Section One: Social Structure and Status
The underlying pattern of
social relationships in a
group is called social
structure.
Status is one very important
element of social structure.
Ascribed statuses are assigned
at birth; achieved statuses
are earned or chosen.
I. Social Structure is Everywhere
Czarist
Russia
A. Culture guides us in our
thinking, feeling, and
behaving – without culture
there is not blueprint for
social living
B. Social structure
1. Knowledge of how
people normally relate
to one another
2. The underlying pattern
of relationships in
groups
Social Structure in High Schools
Here at NHS:
Principal (1)
Administrators (4)
Principal
Administrators
Teachers (~100)
Students (~1600)
Teachers
Students
Note: CCPS and
NHS are actually
more complicated
than this graphic
but for the sake
of today's
discussion this
simplified version
will do. Excluded
from the graphic
are supervisors,
the Board of
Education,
secretaries,
building services
workers,
instructional aids,
etc.
II. Everyone Has Status
A. We must learn
from others
B. Status: a position
a person occupies
within a social
structure
Statuses
Identified in
Photo:
•Female
•Mother
•Wife
•White
•Employee
(according to
traditional US
status
symbols)
C. Ascribed status
1. Definition: a position
that is neither earned
nor chosen but
assigned
2. Examples: male,
female, Hindu Caste
System labels (see
image), race, naturalborn citizenship, etc.
D. Achieved status
1. Definition: a
position that is
earned or chosen
2. Examples:
student, teacher,
athlete, CEO,
mother, husband,
etc.
E. Status set
1. Definition: all of the
statuses that a person
occupies at any
particular time
2. Example: student,
brother, soccer player,
store clerk, son, piano
player
Barrack Obama: President
of the United States, male,
husband, father, Nobel
Peace Prize Winner, athlete
F. Master Status
1. Definition: A position that
strongly affects most other
aspects of a person's life
2. May be achieved or ascribed
3. In industrial societies
occupations are often master
statuses
4. Can influence where you
live, how well you live, and
how long you live
Luke Skywalker:
Jedi Knight
Section Two: Social Structure and Roles
People interact according to
prescribed roles. These roles carry
certain rights and obligations.
Sometimes conflict or strain occurs
when an individual has too many
roles to play.
I. Rights and Obligations
A. Role: an expected
behavior associated with
a particular status – Any
status can have
numerous roles
B. Based on rights and obligations
1. Right: a behavior that individuals can expect
from others
2. Obligation: a behavior that individuals are
expected to perform toward others
3. Example: doctor – patient
a. Doctor is obligated to diagnose a patient's
illness
b. Patient has the right to expect the doctor to
diagnose to the best of his/her ability
II. Role Performance and Social Interaction
A. Role Performance
1. Definition: the actual
behavior of an individual in a
role
2. Can occur alone but most
evident in social interaction
B. Social Interaction: the process
of influencing each other as
people relate
III. Role Conflict and Role Strain
A. Role Conflict
1. Definition: condition in which
the performance of a role in
one status interferes with the
performance of a role in
another status
2. Example: : teenage can be a
student and an athlete – it can
be difficult to find the time to
study and practice/play
B. Role Strain
1. Definition: condition in which the roles of a single status
are inconsistent or conflicting
2. Example: students are expected to do homework in all
of their classes – it can be difficult to find the time to study
and complete homework for all seven classes in one night
C. How do we manage role conflict and strain?
1. Set priorities
2. Segregate roles – an organized-crime member may
separate his criminal activities from his being a loving
father
Theoretical Perspective
S. S.
Concept
Functionalism – everyone
in a culture has a function
or role to play in order to
provide stability
Role
Conflict Theory – culture is
based on competition and
is therefore constantly
changing
Symbolic Interactionism –
interaction between
individuals in a society
occurs through mutually
understood symbols
Ascribed
Master
Status
Example
Social integration is
promoted by culturally
defined rights and
obligations honored by
group members
Ascribed master status such
as gender and race empower
some to subjugate others
Social
Roles are carried out by
Interaction individuals on the basis of
the symbols and meanings
they share
Section Three: Preindustrial Societies
The way a society provides for basic
needs greatly affects its culture and
social structure. Preindustrial,
industrial, and postindustrial societies
meet basic needs in different ways.
Preindustrial societies include hunting
and gathering, horticultural, pastoral,
and agricultural societies.
I. Types of Society
A. Society definition: people living within defined territorial
boundaries who a share a common culture
B. Society
1. Meet their members' needs in different ways
2. Independent of outsiders
3. Contains smaller structures
C.
Members in each type of society know what is expected
of them and what they can expect of others – share
patterned and predictable social relationships that are
passed from generation to generation
II. Hunting and Gathering Societies
A. Definition: a society that survives by hunting
and gathering edible plants
B. Common Characteristics
1. Nomadic
2. Members have few material goods
3. Members related by blood or marriage
4. Generosity, sharing of goods, and hospitality
are valued
5. No sense of private ownership
6. No social classes
7. Division of labor is limited by sex and age
III. Horticultural Societies
A. Definition: a society that
survives primarily through the
growing of plants
B. Common Characteristics
1. Permanent settlements
2. Primary emphasis is to
provide for the household
3. Family is highly valued
IV. Pastoral Societies
A. Definition: a society in which food is
obtained primarily by raising and taking care
of animals
B. Common Characteristics
1. Herd animals such as cattle, camels, goats,
and sheep, which provide meat and milk
2. Women remain at home and men take the
herd to different pastures
3. Very male dominated
4. More likely to create a surplus food supply
5. Development of social inequality
V. Agricultural Societies
A. Definition: a society
that uses plows and draft
animals in growing food
B. Common
Characteristics
1. Increased productivity
– more food per unit of
land
2. Large settlements
3. More non-economic
activities such as formal
education
4. Political, economic, and
religious institution emerge
5. Government (not family)
is the guiding force
6. Distinct social classes –
wealth and power based on
land ownership
7. Monetary systems (use of
common currencies instead
of goods as payments)
Section Four: Industrial and
Postindustrial Societies
The Industrial Revolution created a new
type of society, called industrial society.
Characteristics that distinguish this
society from all earlier one include the
growth of large cities and a wide spread
dependence on machines and
technology. Postindustrial society has a
predominately white-collar labor force
that is concentrated in service
industries. Social instability has been
linked to the transition from and
industrial to postindustrial society.
I. Basic Features of Industrial Societies
A. Industrial society: a society that depends on science
and technology to produce its basic goods and services
B. Basic structural changes from agricultural to
industrial
1. Away from simple machines and tradition
2. Toward the application of science to create
more technology
3. Mechanization: the process of replacing
animal
and human power with machine power
C. Changes in the family
1. Economic activities are no longer in the home
2. Education of the young through formal schooling
3. Blood relationships decline
4. Women become less subordinate to their husbands
5. Personal choice and love replace arranged marriages
II. A Conversation with Two Sociologists
A. Ferdinand Tonnies
1. Gemeinschaft: preindustrial society based on tradition, kinship,
and close social ties
2. Gesellschaft: industrial society characterized by weak family
ties, competition, and impersonal social relationships
B. Emile Durkheim
1. Social solidarity: the degree to which a society is unified
2. Mechanical solidarity: a type of social unity achieved by people
doing the same type of work and holding similar values
3. Organic solidarity: a type of social unity in which members'
interdependence is based on specialized functions and statuses
III. Major Features of Postindustrial
Society
A. Postindustrial Society: a society in which the
economic emphasis is on providing services and
information
B. Sociologist Daniel Bell's major features of
postindustrial societies
1. Majority of the labor force are employed in
services rather than agriculture or manufacturing
2. White-collar employment replaces much bluecollar work
3. Technical knowledge is the key organizing
feature
4. Technological change is planned and assessed
5. Reliance on computer modeling in all areas
IV. Social Instability in Postindustrial
Society
A. Theory from historian Francis Fukuyama in 1990
B. Three Parts
1. Transition to a service economy has increased
social instability
2. Recent decrease in social instability as new
social norms are established
3. The returned of social stability has occurred
because humans find it difficult to live without
values and norms
Stages of Pre-Industrial Societies
Small groups
of nomadic
huntergatherers
focus on
foraging and
hunting food.
Huntergatherers
begin to farm
in areas
where
climate
allows.
Huntergatherers
make tools
from stone
and bronze
and build
simple
structures in
which to live.
Pastoral
herders begin
to move less
and build
permanent
structures.
Humans
learn how to
domesticate
plants and
animals.
The
invention of
the plow
begins the
rise of
agricultural
societies.
Population
grows
because
there is more
food.
Cities begin
to grow,
skilled
laborers
emerge, and
trade with
other
civilizations
increases.
Stages of Industrial and PostIndustrial Societies
New
occupations,
such as
scientists,
arise, that
expand
knowledge of
the physical
world.
Inventions of
technology,
such as the
steam engine,
allow for
machines that
replace human
labor.
Migration to
urban areas
leads to
safety, waste
management,
and resource.
Increase food
production
and
understanding
of disease
increases life
expectancy.
Economy
moves from
one based on
manufacturing
to one based
on service and
technology.
Increased
industry leads
to a greater
need for
natural
resources.
The microchip
brings about
changes in
biomedicine
and genetic
engineering
which expands
life
expectancy.
Nations
struggle for
natural
resources –
whoever
controls the
technology
has the power.