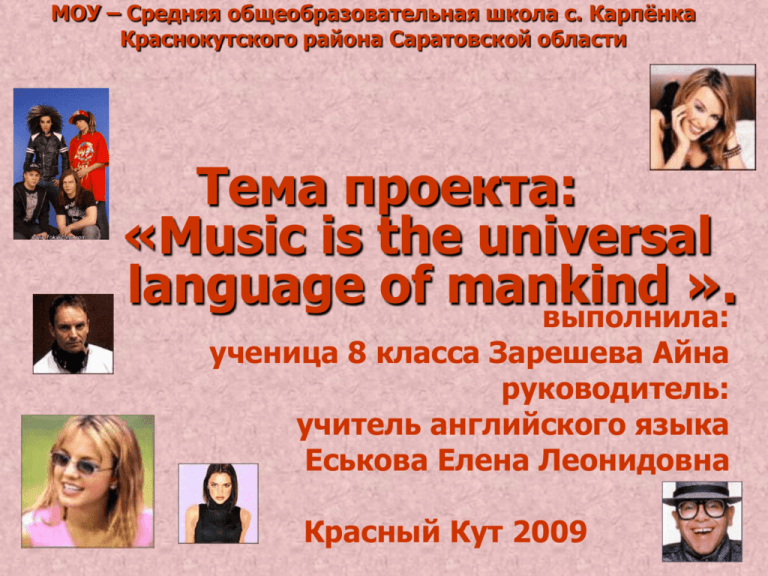 МОУ – Средняя общеобразовательная школа с. Карпёнка
Краснокутского района Саратовской области
Тема проекта:
«Music is the universal
language of mankind
».
выполнила:
ученица 8 класса Зарешева Айна
руководитель:
учитель английского языка
Еськова Елена Леонидовна
Красный Кут 2009
Тема проекта: «Music is the universal
language of mankind »
Обоснование проблемы: многие люди считают, что
музыка – это пустая трата времени.
Актуальность проблемы: музыка способна
объединить подростков по интересам и отвлечь
от вредных привычек; музыка помогает жить,
справляться с трудностями, делает человека
чище и культурнее.
Цель проекта:
 актуализировать и развивать знания сверстников
о стилях музыки;
 привлечь внимание одноклассников к изучению
английского языка;
 расширить лингвистический, филологический и
общий кругозор сверстников, развить их
познавательную активность.
Задачи проекта:
 «разговорить» одноклассников по данной
проблеме;
Famous rapper
EMINEM
ABBA
My favourite group is Abba. It was formed in 1973 in
Sweden.
Abba's
cheerful
tunes
made
them
international pop stars and one of the most successful
groups of the seventies. Their most famous songs
("Waterloo", "Money, Money, Money", "Knowing Me,
Knowing You", etc.) often topped European charts.
Though the group doesn't exist any more, it is still
popular with people of all ages. I can't but admire
their style of singing. I find it fascinating and
overwhelming. When I have free time I listen to their
records.
KATY PERRY
Britney Spears
BOYS BAND US5
The Rasmus
The Rasmus was formed in 1994 in
Helsinki, Finland. Into initial structure
of group have entered: Laurie Ilonen
(vocal), Pauli Rantasalmi (guitar), Aero
Heinonen (bass), Akey Markus Hakala
later to group has joined also (shock).
The first steps in music The Rasmus
have undertaken still teenagers when
they went to school. The group acted in
school parties, executing a coverversion of songs of groups Metallica and
Nirvana. Their contemporaries were in
delight from execution, and someone
even has suggested group to try to
write something. Once during summer
vacations four of young children
decided to earn some money. They got a
job at once in some places. The earned
money sufficed to record the first demo.
The collective had written some songs
and dispatched them to different
Finnish radio stations.
Tokio Hotel
"Tokio Hotel" was founded in 2003. The first album was
named "Shrei", the second "Zimmer 483". Their last
album "Scream" is very popular nowadays. It is the
English version of the songs from "Shrei" and "Zimmer
483". There are four boys in this group. The band is
shooting the video for their next single "Spring Nicht"
("Don't Jump").
Bill and Tom Kaulitz
Bill Kaulitz
Tom Kaulitz
Gustav
Wolfgang
Klaus
Schaffer
Georg
Mortiz
Hagen
Listing
Tokio Hotel
The guys have been working hard on their
English since they gained popularity. The band is
currently working on their English skills.
Tokio Hotel
The four members of Tokio Hotel have been
performing together since they were about 12
years old.
Tokio Hotel is promoting the launch of their
English-language album "Scream".
Лексика и грамматика из песни Tokio Hotel "Monsoon"
My favourite song is "Monsoon". I have mentioned that Tenses of Continuous
Form are often used in the text of this song. I have made some exploration. Look
and you can see some examples:
I'm staring at a broken door…
I'm fighting all this power…
It's making me insane…
I have been waiting here so long
Continuous)
Together we will be running somewhere new
(Present Continuous)
(Present Perfect
(Future Continuous)
I have made practical part of the project. I would like to present it to my
contemporaries to improve English Grammar. I hope it will be useful.
Dear Friend!
Please answer these questions. It doesn't take you a lot of time. Please answer truthfully!
Thank you.
1.Do you like music?
а) yes
б) no
Question
№
1.
Variant of
answer
Number of answers
% correlation
Total %
correlation
boys
girls
boys
girls
а)
36
48
52%
48%
100%
б)
0
0
0
0
0
2. What kind of music do you especially like?
Music styles
6-10 years old
11-19 years old
20-25 years old
boys
girls
boys
girls
boys
girls
Pop-music
40%
60%
30%
50%
40%
60%
Rap
0%
0%
50%
10%
0%
0%
Rock-music
0%
0%
0%
20%
0%
0%
Chanson
0%
0%
20%
10%
60%
40%
I had made the analysis of this exploration and came up to the conclusion:
The most popular style of music is Pop-music.
Chanson takes the second place.
Then – Rap.
At last – Rock - music.
Music is the universal language of mankind.
It goes without saying that music plays a very
important role in people's lives. It reflects our moods
and emotions. Music appeals to our hearts and
transforms our feelings. It conquers our souls and
enriches our minds. Besides, listening to music is the
perfect way to spend free time and not to feel bored.
You can hardly find a person who doesn't like or need
music and who never sings or dances. Music is beauty
in sounds; it is our magic source of inspiration.