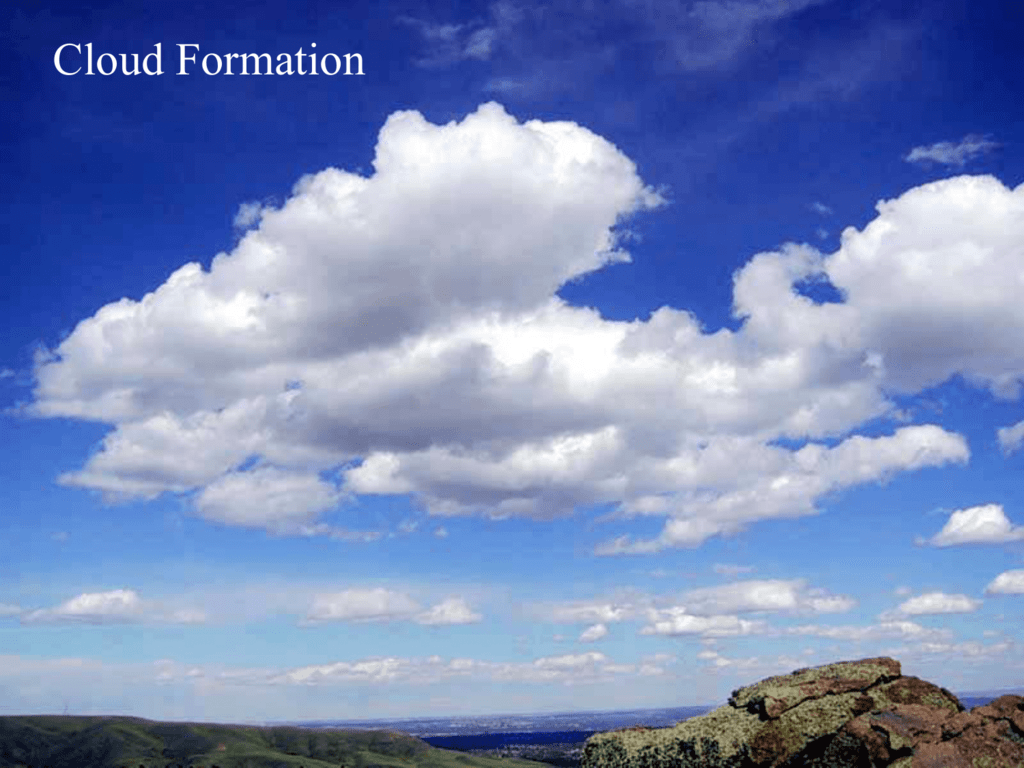 Cloud Formation
Bell-work
1. Two ways to saturate air:
1. __________________
2. __________________
2. As air rises, it cools rate of _____°C / km
3. As ascending air rises, it __________ and
__________
Adiabatic Temperature Changes
Dry and Wet Adiabatic Rates
5°C
wet
10°C
dry
Latent Heat of Condensation
The 600 calories of
heat energy is
released into the
surrounding air by
gas molecules then
they condense into
a water.
Warms the air!
6
Cloud Formation
1. A parcel of air _______
2. It cools to its _____ ________
3. The water vapor ____________ into water
droplets.
4. The air reaches ______________
5. ___________ form.
Cloud formation
At what altitude does the air temperature cool to be the same as the dew point
temperature?
At that altitude and temperature, will the clouds be liquid or ice crystals?
Dry air
Death Valley
Rain Shadow Desert
4 processes of cloud formation
pg. 114-
1. Orographic lifting
2. Frontal Wedging
3. Convergence
4. Local Convection
White board
•
•
•
•
•
Name
Diagram
Location
Type of cloud (puffy cumulous, towering thunderstorm, or low stratus)
Type of rain (sudden quick rain shower, constant rain, no rain)
1. Orographic Lifting Processes
Wetter
Windward
Locations
and Leeward
Rain Shadows
Heavy Precipitation in Mountains
Snow Pack in the Rocky Mountains
2. Frontal Wedging:
a warm front with humid air rises over a cold front.
As it rises, its cools and condenses into clouds
Frontal
wedging
clouds
Cold air fronts collide
with warm air
Large areas of clouds
and steady precipitation
form all along the front
3. Convergence
Clouds
Converge
over
Southern Florida
4. Localized Convection
Bell Work: Match the Location with the Type of Cloud Formation
orographic lifting, convergence, frontal wedging, local convection
1
2
4
3
5
6
Global precipitation
Is there a relationship
between
cloud formation and
precipitation??