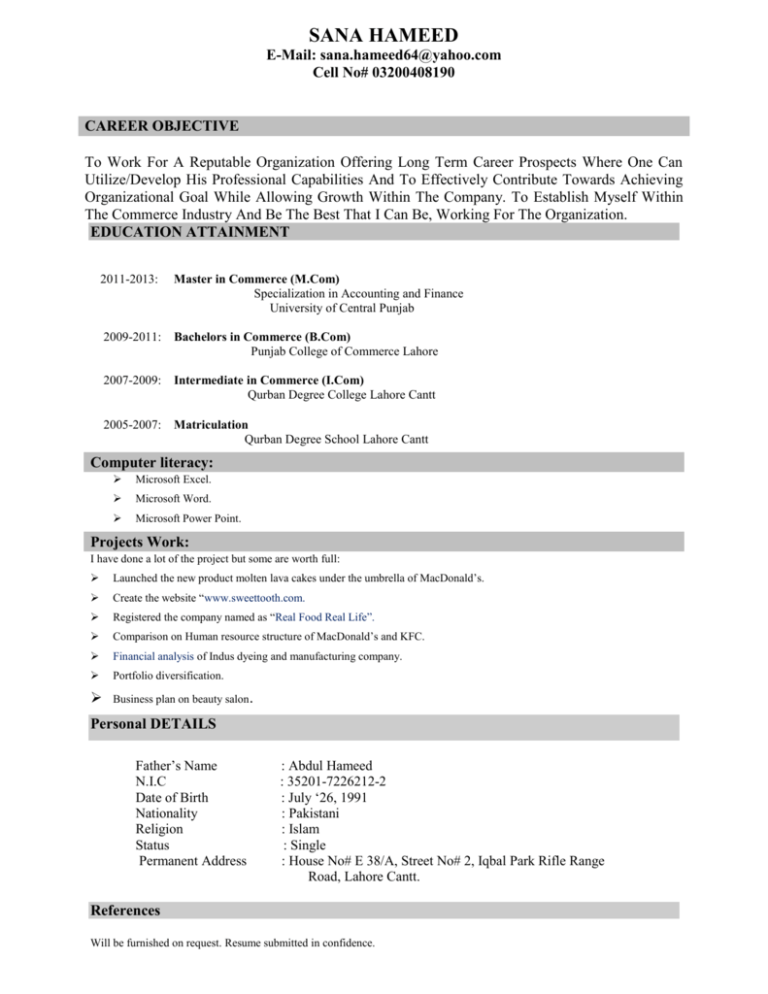 SANA HAMEED
E-Mail: sana.hameed64@yahoo.com
Cell No# 03200408190
CAREER OBJECTIVE
To Work For A Reputable Organization Offering Long Term Career Prospects Where One Can
Utilize/Develop His Professional Capabilities And To Effectively Contribute Towards Achieving
Organizational Goal While Allowing Growth Within The Company. To Establish Myself Within
The Commerce Industry And Be The Best That I Can Be, Working For The Organization.
EDUCATION ATTAINMENT
2011-2013:
Master in Commerce (M.Com)
Specialization in Accounting and Finance
University of Central Punjab
2009-2011:
Bachelors in Commerce (B.Com)
Punjab College of Commerce Lahore
2007-2009:
Intermediate in Commerce (I.Com)
Qurban Degree College Lahore Cantt
2005-2007: Matriculation
Qurban Degree School Lahore Cantt
Computer literacy:

Microsoft Excel.

Microsoft Word.

Microsoft Power Point.
Projects Work:
I have done a lot of the project but some are worth full:

Launched the new product molten lava cakes under the umbrella of MacDonald's.

Create the website "www.sweettooth.com.

Registered the company named as "Real Food Real Life".

Comparison on Human resource structure of MacDonald's and KFC.

Financial analysis of Indus dyeing and manufacturing company.

Portfolio diversification.

Business plan on beauty salon.
Personal DETAILS
Father's Name
N.I.C
Date of Birth
Nationality
Religion
Status
Permanent Address
: Abdul Hameed
: 35201-7226212-2
: July '26, 1991
: Pakistani
: Islam
: Single
: House No# E 38/A, Street No# 2, Iqbal Park Rifle Range
Road, Lahore Cantt.
References
Will be furnished on request. Resume submitted in confidence.