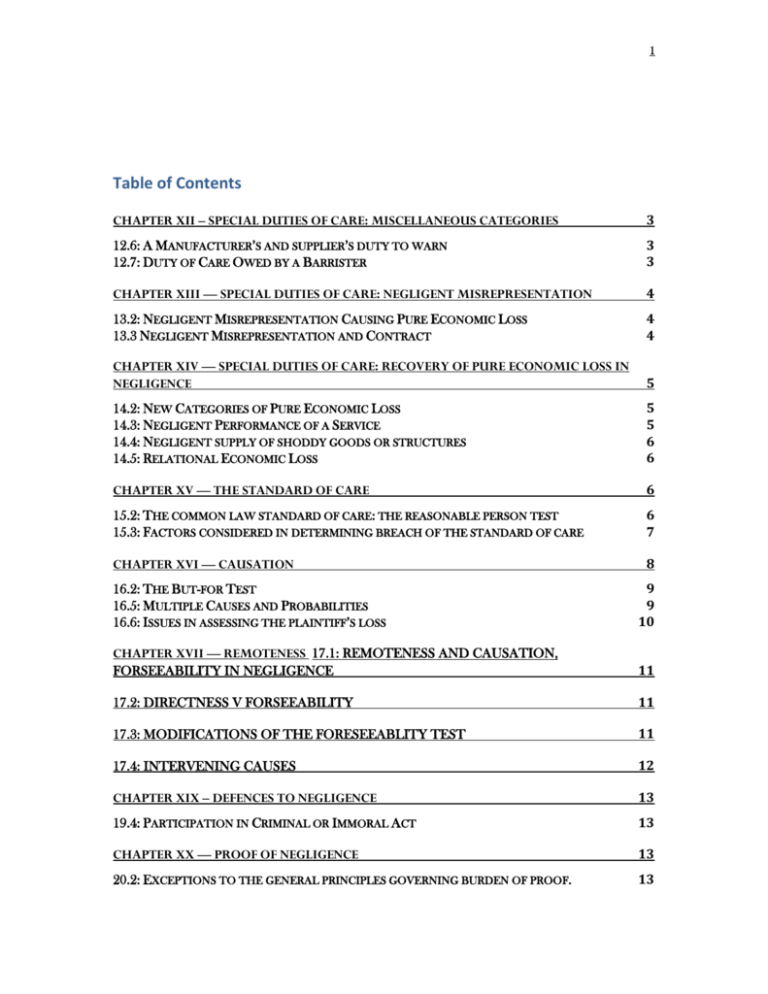 1
Table of Contents
CHAPTER XII – SPECIAL DUTIES OF CARE: MISCELLANEOUS CATEGORIES
3
12.6: A MANUFACTURER'S AND SUPPLIER'S DUTY TO WARN
12.7: DUTY OF CARE OWED BY A BARRISTER
3
3
CHAPTER XIII — SPECIAL DUTIES OF CARE: NEGLIGENT MISREPRESENTATION
4
13.2: NEGLIGENT MISREPRESENTATION CAUSING PURE ECONOMIC LOSS
13.3 NEGLIGENT MISREPRESENTATION AND CONTRACT
4
4
CHAPTER XIV — SPECIAL DUTIES OF CARE: RECOVERY OF PURE ECONOMIC LOSS IN
NEGLIGENCE
5
14.2: NEW CATEGORIES OF PURE ECONOMIC LOSS
14.3: NEGLIGENT PERFORMANCE OF A SERVICE
14.4: NEGLIGENT SUPPLY OF SHODDY GOODS OR STRUCTURES
14.5: RELATIONAL ECONOMIC LOSS
5
5
6
6
CHAPTER XV — THE STANDARD OF CARE
6
15.2: THE COMMON LAW STANDARD OF CARE: THE REASONABLE PERSON TEST
15.3: FACTORS CONSIDERED IN DETERMINING BREACH OF THE STANDARD OF CARE
6
7
CHAPTER XVI — CAUSATION
8
16.2: THE BUT-FOR TEST
16.5: MULTIPLE CAUSES AND PROBABILITIES
16.6: ISSUES IN ASSESSING THE PLAINTIFF'S LOSS
9
9
10
CHAPTER XVII — REMOTENESS 17.1: REMOTENESS AND CAUSATION,
FORSEEABILITY IN NEGLIGENCE
11
17.2: DIRECTNESS V FORSEEABILITY
11
17.3: MODIFICATIONS OF THE FORESEEABLITY TEST
11
17.4: INTERVENING CAUSES
12
CHAPTER XIX – DEFENCES TO NEGLIGENCE
13
19.4: PARTICIPATION IN CRIMINAL OR IMMORAL ACT
13
CHAPTER XX — PROOF OF NEGLIGENCE
13
20.2: EXCEPTIONS TO THE GENERAL PRINCIPLES GOVERNING BURDEN OF PROOF.
13
2
20.3: RES IPSA LOQUITUR
14
CHAPTER XXI – THE TORT LIABILITY OF PUBLIC AUTHORITIES
14
21.3: THE NEGLIGENCE LIABILITY OF PUBLIC AUTHORITIES
21.4: MISFEASANCE IN PUBLIC OFFICE
14
14
CHAPTER XXII — STATUTORY PROVISIONS AND TORT LIABILITY
15
CHAPTER XXIV — NUISANCE
15
24.2: PRIVATE NUISANCE
15
CHAPTER 25 — STRICT AND VICARIOUS LIABILITY
17
24.2: STRICT LIABILITY FOR ESCAPE OF DANGEROUS SUBSTANCES: RYLANDS V FLETCHER TORT
17
25.5 VICARIOUS LIABILITY
18
CHAPTER XXVII — DEFAMATION
18
27.2: ELEMENTS OF A DEFAMATION ACTION.
27.3: DEFENCES TO DEFAMATION
27.4: REMEDIES
19
19
21
STATUTES AND MISCELLANEOUS
21
CLASS ACTION LAW SUITS – CLASS PROCEEDINGS ACT
21
GOOD SAMARITAN ACT – EMERGENCY MEDICAL ASSISTANCE
21
OCCUPIERS LIABILITY ACT – GENERAL DUTY OF CARE
21
INSURANCE (VEHICLE) ACT – "STRUCTURED JUDGMENT"
22
ESTATE ADMINISTRATIONS ACT AND NEGLIGENCE ACT– CLAIMS AGAINST THE ESTATE OF A
DECEASED WRONGDOER
22
FAMILY COMPENSATION ACT (BC) AND FAMILY LAW ACT – CLAIMS BY FAMILY OF DECASED
AGAINST THE WRONGDOER WHO CAUSED DEATH FOR PERSONAL LOSS
22
WORKPLACE COMPENSATION ACT – ABOLITION OF CIVIL LIABILITY FOR WORKPLACE INJURY
22
NEGLIGENCE ACT – CONTRIBUTORY NEGLIGENCE AND APPORTIONMENT OF FAULT
22
3
CHAPTER XII – SPECIAL DUTIES OF CARE: MISCELLANEOUS
CATEGORIES
12.6: A Manufacturer's and supplier's duty to warn
Hollis v Dow Corning Corp (1955 SCC)
A manufacturer of a product has a duty in to tort to warn consumers of dangers inherent in the use
of its product of which it has knowledge or ought to have knowledge.
This is a continuing duty, which applies not only to dangers known at the time of sale, but also of
dangers discovered after the product has been sold and delivered.
The scope and nature of the manufacturer's duty depends on the level of danger entailed by the
ordinary use of the product. General warnings concerning dangers are rarely sufficient, specific and
detailed warnings are required.
Manufacturers of products that are ingested, consumed or otherwise placed in the body, and
thereby have a great capacity to cause injury, are subject to a correspondingly high standard of care.
A duty to warn is owed directly by the manufacturer to the ultimate consumer, but sometimes a
manufacturer may satisfy its duty to the consumer by providing a warning to a "learned
intermediary" (surgeon, doctor, or other expert).
The intermediary's knowledge must approximate the manufacturer's for the latter to discharge its
duty.
In assessing causation, a subjective test of whether the consumer would have elected to purchase
the product had they been properly warned applies.
The duty to warn is specific to the primary user of the product. (Amin v Klironomos)
In this case, the plaintiff was benefitted by a favourable presumption that the doctor would have
warned her if he was properly informed.
In Walker v York-Finch Gen. Hospital (in the book at 568), where the question what a third party
(the blood donor) would have done, had the Red Cross used proper screening advice, was not
presumed in favour of the plaintiff but the plaintiff was said to be able to satisfy the onus of proof,
on what the donor would have done, on a "material contribution" standard rather than a but-for
standard.
12.7: Duty of Care Owed by a Barrister
Lawyers are subject to a duty of professional competence like other professionals; they can be sued
in contract or in tort and that a successful claim must show what the plaintiff's position would have
been if the lawyer had not been negligent.
It is against public policy to sue a criminal defence lawyer in negligence if it amounts to a collateral
attack on the conviction duly arrived at.
4
CHAPTER XIII — SPECIAL DUTIES OF CARE: NEGLIGENT
MISREPRESENTATION
Hedley Byrne affirmed that a person giving information or advice could be under a duty of care in
respect of purely financial risk loss that the recipient incurred because of reliance on the
representation. The line between careless but casual misinformation, and careless, serious
misinformation is very difficult to define precisely.
13.2: Negligent Misrepresentation Causing Pure Economic Loss
Hercules Managements Ltd v Ernst & Young (1997 SCC)
Whether a duty of care exists in negligent misrepresentation must be determined through the two
step Anns test.
Proximity exists between a representor-defendant and a representee-plaintiff when:
1) the defendant ought reasonably to foresee that the plaintiff will rely on his or her
representation; and
2) reliance by the plaintiff would be reasonable in the particular circumstances of the case
Two further requirements come up in the second stage:
1) the defendant know the identity of either the plaintiff or the class of plaintiffs who will rely
on the statement,
2) that the reliance losses claimed by the plaintiff stem from the particular transaction in
respect of which the statement at issue was made
These two requirements are necessary to prove indeterminate liability will not arise, which would
negative the prima facie duty of care. Prof thinks they are better addressed in the first stage because
they are facts about the particular plaintiff-defendant relationship.
13.3 Negligent Misrepresentation and Contract
BG Checo International Ltd v BC Hydro & Power Attorney (1993 SCC)
Queen v Cognos Inc (1993 SCC)
Contract and tort duties can simultaneously exist with respect to the same act or omission.
If there is a tort claim for negligent misrepresentation on the same basis as a breach of contract
claim the following rules apply:
If the contract amplifies or cuts down the tort duty or the liability for breach of it, you have to apply
the contract.
If the contract and tort duties can co-exist, you go with either, whichever suits the plaintiff.
Breaches of contract are actionable without proof of damage.
Causation issues:
5
Contract remedy leaves plaintiff in the position of if the duty had been done.
Tort puts you back in the position of had the tort not been completed (pre-contractual), and can
compensate for expectation damages.
CHAPTER XIV — SPECIAL DUTIES OF CARE: RECOVERY OF
PURE ECONOMIC LOSS IN NEGLIGENCE
Five established categories of pure economic loss:
1)
2)
3)
4)
5)
negligent misrepresentation
independent liability of statutory public authorities
negligent performance of a service
negligent supply of shoddy goods or structures, and
relational economic loss
14.2: New Categories of Pure Economic Loss
Martel Building Ltd v Canada (2000 SCC)
Martel was an attempt to introduce a duty of care in conducting contract renewal negotiations. It
failed on various policy grounds all of which had to do with the idea that parties who are in
negotation are looking after their own interests, not each other's and that a tort duty would be
inconsistent with that basic stance.
The Design Services case similarly held that the subcontractors could not make up in tort what they
failed to gain in contract because they were not parties to the "contract A" in which Public Works
had promised Olympic to conduct the bidding process in a particular way.
14.3: Negligent Performance of a Service
BDC Ltd v Hofstrand Farms Ltd (1986 SCC), James v British Columbia (2005 BCCA)
Sometimes a person dealing (usually contractually) with A and undertakes to perform a service for
A, can owe a duty to B if that service is not done carefully.
BDC failed on proximity (stage 1) when the Court held that there was no duty of care between a
courier, and a third-party (unknown to the courirer) relying on timely delivery. Court held there was
no proximity because courier had no knowledge of the respondent's existence and so could not
have brought him within the reasonable contemplation of the appellant. Furthermore, there was no
reliance because the risk of loss was between the Crown and respondent an arrangement the
courier service was not a party to.
In James the BCCA was not prepared to rule out the the Minister owed a duty of care to the
workers of a mill when in deciding to approve the terms of the mills' new license he did not take
reasonable care to ensure that the employees' interests were protected by retaining the power to
6
prohibit closure of the mill.
Not all pure economic loss duties of care turn on reliance. This is only true of the duties where the
casual link involves the plaintiff doing something different from what he or she otherwise would
have done (like negligent misstatement).
14.4: Negligent supply of shoddy goods or structures
Winnipeg Condominium Corp No 36 v Bird Construction Co (1995 SCC)
Winnipeg Condo found those responsible for the construction of the apartment building were
under a duty of care to eventual owners of the building to ensure that the owners would not have to
spend money on fixing construction defects. It applies only to latent defects (if they were patent,
they would have been taken into account in fixing the purchase price), and only to dangerous
defects (because the tort duty is a duty geared to physical safety, not to other aspects of construction
quality).
"Dangerous", for this purpose, has been pretty generously interpreted – any defect that, if left
unremedied, threatens the eventual structural failure of the building or some other physical harm
(such as the leakage of pollution).
14.5: Relational Economic Loss
Bow Valley Husky (Bermuda) Ltd v Saint John Shipbuilding Ltd (1997 SCC)
Relational Economic loss refers to situations where the defendant, as a result of negligently
damaging property belonging to a third-party, also causes a pure economic loss to the plaintiff with
whom the third party had a relationship. These are very hard to prove, because of proximity
grounds and policy considerations (indeterminate liability).
Norsk and Cattle were the predecessors of Bow Valley Husky. Norsk avoided indeterminate
liability by stipulating a "joint-venture" requirement. D'Amato shows that you can't claim relational
economic loss for physical injury to an employee, which you depend on. The courts usually rely on
the plaintiff to financially manage his own risk of damage to third-party property (insurance) and do
not want to run into indeterminate liability by being unable to reasonably define a limited class of
plaintiffs.
In addition to the Norsk "joint venture" exception, there are also exceptions when the claimant has
a possessory or proprietary interest in the damaged property (not relational economic loss though)
and "general average" cases.
CHAPTER XV — THE STANDARD OF CARE
15.2: The common law standard of care: the reasonable person test
Arland v Taylor (1955 Ont CA)
The standard of care for negligence is the conduct of a reasonable person. The reasonable person
is of normal intelligence who makes prudence a guide to his conduct. The reasonable person is not
the standard of an actual person, because the reasonable person is infallibly reasonable, whereas no
7
actual person is. The jury should not be instructed to ask themselves what they would have done,
because hindsight may get the better of them and cause them to fallaciously raise the standard.
15.3: Factors considered in determining breach of the standard of care
Bolton v Stone (1951 HL, Vaughn v Halifax-Dartmouth Bridge Comm (1961 NSSC), Law Estate v
Simice (1994 BSCS), Watt v Hertfordshire Country Council (1947 2d Cir)
Applying the standard of care involves weighing not only the probability of an accident but also the
severity of the accident, so a small risk of small damage is not negligent (Bolton).
The cost of taking preventive steps is not relevant when the conduct or service is not required
(cricket vs bridge repair), but probability of risk plays a role to proportion chance of risk with cost
of prevention.
The standard for professionals is tailored to what a reasonable colleague would have done, and it is
possible that sometime the expensive use of a scarce resource could legitimately factor into that
professional's decision whether a risk was not significant enough to make use of the resources
appropriate.
The standard of care is lowered to take account of the purpose of the activity (why the risk was
taken; i.e., emergency).
15.4: An economic analysis of the standard of care
United States v Carroll Towing Co (1947 2d Cir)
Punitive damages are used to strip a defendant of their ill-gotten gains, and you should not play riskcalculus (weighing cost of litigation/settlement with cost of preventative measures) where people's
safety/rights is involved.
15.5: Special Standards Of Care
Sometimes the courts will modify or even eliminate the standard of care on account of personal
circumstances of the defendant.
Fiala v Cechmanek (2001 Alta CA) [mental disability]
You must have the capacity to commit the tort. The defendant must show the absence of these by
showing on a balance of probabilities:
1. They had no capacity to understand or appreciate the duty of care owed
2. They were unable to discharge their duty of care as they had no meaningful control over
their action at the time.
Joyal v Barsby (1965 Man CA) [children]
For kids, the standard of care is not reduced to zero, but adjusted to a standard appropriate to the
individual child, given his or her age, intelligence and understanding (and background in terms of
where they've lived and so on). Contributory negligence is therefore possible for children, but must
be determined on a case-by-case basis.
8
In contrast to the typical standard of care test, which is not personalized in this way. Child involved
in adult activity is expected to meet the standard of care of an adult.
White v Turner (1981 Ont HC, affd 1982 Ont Ca) [professionals]
A mere error in judgment by a professional is not by itself negligence. The plaintiff must prove on
Balance of Probabilities both a bad result and a negligent conduct.
The standard of care for professionals is that of a reasonable professional (standard practice).
The cap for non-pecuniary damages ($300 000) applies to cases of medical malpractice, just like
other forms of personal injury.
15.7: Custom
Ter Neuzen v Korn (1995 SCC)
Courts do not have a jurisdiction to settle scientific disputes or choose from divergent opinions of
physicians on certain subject. They may only make a finding of fault where there is a violation of
universally accepted rules of medicine.
The standard itself is often established only be expert evidence; if the professional standard is
proved, a judge or jury can't say it was inadequate unless the issue is something even lay people can
appreciate.
CHAPTER XVI — CAUSATION
Causation is concerned with determining what would have happened if the tort had not been
committed?
In negligence, there are two causation subissues:
1. What test of causation governs the situation? (typically but-for test)
2. Based on the facts, can the plaintiff prove on the balance of probabilities that the
defendant's breach of the standard of care was a cause of his loss? (cause-in-fact test)
These play out differently depending on how many defendants there are:
One defendant
Alternative cause issue: deciding whether the plaintiff's injury was caused by the defendant's tort or
by some other cause altogether.
Cumulative cause issue: extracting the tort from other factors that led to the injury and deciding
whether the tort was necessary for the occurrence of the injury. i.e. whether the injury would have
occurred, but-for the tort.
Multiple defendants
Problems of alternative cause are rare, except for Cook v Lewis.
9
Problems of cumulative cause are frequent (i.e., several concurrent tortfeasors) are very common
for indivisible injuries.
16.2: The But-for Test
Kauffman v Toronto Transit Commn. (1959 Ont CA); Barnet v Chelsea & Kensington Hospital
mgmt. Committee (1969 QBD); Resurfice Corp v Hanke (2007 SCC)
All of these cases were where the evidence did not support but-for causation. The finder of fact
could not say that if the tort had not been committed, the injury would not have happened.
In Kauffman the plaintiff had not shown any connection between the alleged design defect and her
fall (escalator case). In Barnett, it was a timing question; even if the doctor had not been negligent
and had come to the hospital, the treatment would have come too late (plaintiff was already
doomed). In Resurfice the allegedly defective design of the machine was not shown to have had any
bearing on what happened, namely, inadvertently putting a water hose in the gasoline intake; the
injured operator knew which was which and it was just his mistake either in not checking where the
hose was, or in putting the hose in wrong that caused his injury.
16.4: Recent attempt to modify the but-for Test.
Snell v Farrell (1990 SCC)
Alternative cause case – cataract operation. The damage could have occurred naturally or been the
result of the operation. Neither expert witness could determinatively state its cause, but surgeon's
negligence raised a prima facie case of causation, and it shifted to the defendant to disprove
causation.
The legal causation standard is only balance of probabilities, not scientific certaintude. Only looks
to most probable explanation.
Clements v Clements (2012 SCC)
Another case in which the "but for" causation test was hard to apply because it was so difficult to
disentangle the defendant's negligence (overloading the bike and speeding) from the other causes of
the accident (sudden deflation, passing another car).
You should not apply material contribution; that is, material contribution to the risk, unless there
were multiple tortfeasors where each tortfeasor was shown to have been at fault but π could not
prove that the injury resulted from the negligence of defendant #1 as opposed to #2 or #3. I.e.,
Cook v Lewis.
Unclear whether liability for material contribution, is joint and several, or several (proportional).
Unclear also whether material contribution to the risk is unavailable in a one-∂ scenario.
16.5: Multiple Causes and Probabilities
Athney v Leonati (1996 SCC); Nowlan v Brunswick Construction Ltée (1975 SCC)
We prove facts on a balance of probabilities, but when proven we take them as certain. Future
events are only estimates, and sometimes it is appropriate to use probabilities to determine future
events, but not hypothetical past events.
10
If two concurrent tortfeasors cause divisible harm, we don't apportion; the damage is assessed
separately for each tort. We hold the latter tortfeasor liable to the extent her or she added to the
injury that the first had already caused.
If two concurrent tortfeasors cause indivisible harm (one injury cause by the cumulative effect of
both torts), we hold them jointly and severally liable for the whole damage as far as plaintiff is
concerned, but (under the Negligence Act) we apportion liability between them for the purpose of
contribution and indemnity. If however, π is contributorily negligent, we hold both defendants
severally liable because of the weird drafting of section 1 of the Act.)
Crumbling skull principle says that if the plaintiff would have suffered the injury anyways then the
defendant's damages are reduced by the likelihood of that occurrence.
We also work with probabilities when we base damages on contingencies (a percentage chance that
something would have come along to diminish the plaintiff's position anyway), or on loss of chance
(a percentage chance that something would have happened to improve the plaintiff's position had
the tort not been committed).
Loss of chance does not apply to doctor's negligence that caused π to lose a chance of a better
outcome.
We also don't use loss of a chance for negligent misstatement or not having been properly
informed of risk. We don't analyze the chance the plaintiff's decision would have been different,
only whether the plaintiff can prove on balance of probabilities that it would have. Incidentally,
Kripps shows that we prove this by proving that the misstatement was material to the plaintiff's
decision – it played a role in the decision (usually inticement), because proving but-for is
impractical.
Where there are concurrent torts, breaches of contract or a breach of contract and a concurrent
tort both contributing to the same damage, whether or not damage would have occurred in the
absence of either cause, the liability is a joint and several liability and either party causing or
contributing to the damage is liable for the whole damage to the person aggrieved. (Nolwan)
16.6: Issues in assessing the plaintiff's loss
Penner v Mitchell (1978 Alta CA); Dillon v Twin State Gas & Electric Co (1932 NH)
Penner finds that when there is non-culpable injury (pre-existing back damage) before the tort then
the plaintiff should not be overcompensated, if there is a tortuous pre-existing injury then each
wrongdoer is liable for full compensation towards the plaintiff.
In Dillon (kid falling and grabbing wire), the kid was likely going to die had he not grabbed on.
Defendant was liable for exposing wire, but there were no damages. Plaintiff must be put back in
the original position (plummeting to death). If he would be crippled, then you'd have to deduct
what his life was worth in a crippled satte fro his death and award the remainder. If he would be
able to grab the wire and swing back on then he would have a claim. It is a matter of fact.
11
CHAPTER XVII — REMOTENESS
17.1: Remoteness and Causation, Forseeability in Negligence
Even if the defendant had breached the standard of care in a way that caused the plaintiff loss,
liability will be denied if the connection between the breach and the loss was too "Remote".
Remoteness is a rule of fairness.
Whereas causation is concerned with the factual link between negligence and loss, remoteness is
concerned with legal link between the negligence and the loss.
Remoteness is primarily a policy consideration.
Duty, forseeability and standard of care all revolve around forseeability but of different kinds.
Duty: is the plaintiff within the range of possible harm?
Standard of Care: was it reasonably foreseeable as a possibility that this particular act/omission
would cause harm to the victim?
Remoteness: can this kind of harm be reasonably foreseen?
17.2: Directness v Forseeability
Directness: the plaintiff's loss is not too remote if it was directly caused by the defendant's breach of
duty. There must be closeness in time and space (Polemis).
The Wagon Mound (No. 1) (1961 PC (NSW))
Replaced the directness taste with a "reasonably foreseeable" test for deciding whether a particular
type of damage is too remote. Whether damage is "different in kind" from the foreseeable kind.
There is no logical classification of "types" of damage; it relates both to the nature of the injury and
the process by which it was brought about.
17.3: Modifications of the Foreseeablity Test
Hughes v Lord Advocate (1963 HL) [the kind of injury]
Paraffin lamp case. Although massive explosion could not be reasonably foreseen, the kind of
damage (burn) from leaving a paraffin lamp is foreseeable.
Smith v Leech Brain & Co (1962 QBD); Marconato v Franklin (1974 BCSC) [thin-skull rule]
Burn causing cancer case. Any foreseeable physical injury makes the ∂ liable for all the physical
injury, and consequent psychiatric injury even if that psychiatric injury itself was not foreseeable.
(Marconato [accident causing "major personal change"]). However, thin-skull principle does not
apply where there is no primary physical injury (Mustapha)
12
Wagon Mound (No. 2) (1967 PC (NSW); Assiniboine South School Divn No. 3 v Greater
Winnipeg Gas Co. (1973 SCC); Mustapha v Culligan of Canada LTD (2008 SCC) [the possibility
of injury]
If there is even a statistically very small probability of serious harm then there is no problem of
remoteness; more so if as in WM2 it was easy for the defendant to avoid creating the risk. WM2
sets the bar really high, not reasonably foreseeable basically means practically unimaginable.
The remoteness inquiry asks whether "the harm is too unrelated to the wrongful conduct to hold
the defendant fairly liable" (Mustapha).
Has to be a "real risk", not just possible but also not as high as probable. A risk a reasonable man
would contemplate.
In cases where it is provided that the defendant had actual knowledge of the plaintiff's particular
sensibilities, the ordinary fortitude requirement need not be applied strictly.
For psychiatric-harm-only cases, a psychiatric injury is too remote if the reasonably remote man
would not suffer it. Personal cultural concerns/characteristics are not relevant unless the reasonably
robust person possesses these attributes
Remoteness only usually succeeds in cases where the damage is linked to a factual thing which the
tortfeasor has no awareness of (i.e., poisoning a well, which leads to a heart attack).
17.4: Intervening Causes
An intervening act is one that causes or contributes to the plaintiff's loss after the original
defendant's breach has taken effect. For example, a contractor negligently blocks a road causing
pedestrians to go around, and a negligent driver hits one. Both tortfeasors causally contributed, but
traditionally the contractor is not liable because the link between his breach and the plaintiff's loss
was severed by the intervening tortfeasor.
The courts have adopted a general principle: "within the scope of risk" test. Some courts frame the
test as whether the loss was within the scope of the risk created by the original tortfeasor, and some
whether the intervening act was within the scope of the risk created by the original tortfeasor
The cases involve two related issues, causation (is it fair to say the defendant's negligence caused the
other person to act) and remoteness (was it reasonably foreseeable to the defendant that the
negligence could lead to the ultimate injury suffered by the plaintiff).
Bradford v Kanellos (1973 SCC), Price v Milawski (1977 Ont CA), Hewson v Red Deer (1976 Alta
SC)
Bradford was the kitchen fire causing patron panic case. Majority held that the person's reactive yell
was a totally irresponsible act and so severed the link between the negligently started fire and the
plaintiff being trampled. Dissent thought that the reaction was a normal one in the circumstances
and should have been forseen.
Price was the soccer-injury, and two negligent doctors. The first doctor argued that the latter
doctor's negligence severed the link between his beach and the plaintiff's injuries, but the Court of
Appeal held that the latter doctor's negligence was within the scope of risk created by the initial
negligence.
13
Red Deer was the negligent city worker leaving his keys in the ignition. The city pleaded novus
actus but the trial judge found the defence unconvincing since elementary precautions would have
prevented such a thing happening, and it was reasonably foreseeable because of the location of the
site that a person might climb in and drive down the hill. On appeal the Court held that the thirdparty prank was not foreseeable, hence it was a novus actus interveniens and that the defendant was
not negligent in the first place in not taking steps to prevent it.
Skinner v Fu rejects "last clear chance rule", which spared a plaintiff's contributory negligence when
the defendant's negligence came after the plaintiff's. This has been statutorily made irrelevant
because of Negligence Act and apportionment of fault.
CHAPTER XIX – DEFENCES TO NEGLIGENCE
19.4: Participation in Criminal or Immoral Act
Hall v Hebert (1993 SCC)
There is a duty of care to not allow someone you know has been drinking to drive your car.
Ex turpi causa – the common law rule that illegal or immoral action was a bar to claiming in
negligence does not apply except in extremely limited circumstances. It only applies when it would
be a threat to the integrity of the legal system to allow liability (i.e., profiting or capitalizing from
illegal behaviour).
In Zastowny the plaintiff was abused by the defendant as a young teenager. Part of the claim was
that the plaintiff's life of crime and years of jail time was caused by that abuse, and so the plaintiff
wanted compensation. They accepted the defendant's ex turpi causa defense, that the plaintiff
should be barred from action because of his crime, but they accepted that the criminal behaviour
was caused in but-for sense by the tort.
In Folland v Reardon, the plaintiff, whose criminal conviction was set aside, was allowed to sue his
lawyer for letting im get convicted in the first place.
CHAPTER XX — PROOF OF NEGLIGENCE
20.2: Exceptions to the general principles governing burden of proof.
Cook v Lewis (1952 SCC)
The burden of proof is on the plaintiff to prove each element of the tort of negligence, although in
a case like Cook v Lewis, where two defendants are simultaneously negligent but only one of them
could have caused the injury, the court in effect puts the onus on the defendant to prove it was not
their shot that hit the plaintiff. Clements reinterpreted this case as one in which a material
contribution to the risk was sufficient to establish causation.
14
20.3: Res ipsa loquitur
Fontaine v British Columbia (Official Administrator) (1997 SCC)
There is no more res ipsa loquitur doctrine because it adds nothing to the law. Circumstancial
evidence may be some evidence for negligence, and how compelling it is depends on the facts.
Sometimes negligence is easy to infer, in food adulteration cases, while sometimes it is hard to
prove (like in the driving accident case of Fontaine).
The test seems to be in the absence of direct proof, negligence can be inferred when the plaintiff
proves that on the ordinary course of events the loss would not have happened unless there was
negligence by the driver.
CHAPTER XXI – THE TORT LIABILITY OF PUBLIC
AUTHORITIES
21.3: The negligence liability of public authorities
Just v British Columbia (1989 SCC)
This was the boulder falling and crashing on the car killing the plaintiff's daughter case.
The province owes a duty of care, which ordinarily extends to reasonable maintenance, to those
using its highways. The Department of Highways could readily foresee the risk that harm might
befall the users of a highway if it were not reasonably maintained. Therefore, the duty to reasonable
maintenance extends to the duty of prevention of injury from falling rock.
Government agencies may be exempt from the application of the traditional tort law duty of care if
an explicit statutory exemption exists or if the decision arose as a result of a policy decision or as an
operational decisions that rests on the nature of the decision and not the identity of the actors.
This case drew the policy/operation distinction pretty high up, declaring that the decision to inspect
at all was policy and how often they inspect to be the operational decision which demanded
reasonableness. In Swinamer by contrast, the court found the decision of how often and how
rigorously to inspect a policy decision and therefore protected. The idea is that the scale and overall
design of a system is a policy whereas its execution is operational, but there's no bright line between
the two.
21.4: Misfeasance in Public Office
Odhavji Estate v Woodhouse (2003 SCC)
The tort of misfeasance comes in two categories:
A) Involves conduct that is specifically intended to injure a person or class of persons
B) Involves a public officer who acts with knowledge both that she or he has no power to do
the act complained of and that the act is likely to injure the plaintiff.
The same two elements are required for both categories:
15
A) deliberate and unlawful conduct in his or her capacity as public officer
B) the officer must have been aware both that his or her conduct was unlawful and that it was
likely to harm the plaintiff
Category B, the plaintiff must prove two elements independently from each other. In A the fact that
the officer has acted for the express purpose of harming the plaintiff is enough to statisfy both
elements.
There is a requirement of "bad faith" or "dishonesty"
Proximity is met when there is knowledge that misconduct will likely harm the plaintiff or class of
plaintiff.
Misfeasance in public office requires special damage, at least in the sense of actual harm (including
psychiatric or emotional harm).
CHAPTER XXII — STATUTORY PROVISIONS AND TORT
LIABILITY
R v Saskatchewan Wheat Pool (1983 SCC)
If the defendant broke a statutory obligation, it can be evidence of negligence but has no other civil
liability consequence (unless, of course, the statute creates a civil cause of action)
Conversely, complying with statutory regulation does not necessarily absolve a defendant of liability
from negligence (Ryan v Victoria – flangeway case), plaintiff still has to prove that the standard of
care demanded of the defendant's duty goes above the regulations imposed by statute.
CHAPTER XXIV — NUISANCE
24.2: Private Nuisance
430909 Ontario Ltd v Huron Steel Products (Windsor) Ltd. (1990 Ont HC)
Nuisance is proved when the plaintiff proves that there was:
a) unreasonable interference with their use and enjoyment of their land
b) caused by the use or enjoyment of the defendant's land
Liability in nuisance (private) depends on proof of unreasonableness. The court has to way
different interests and consider not only the defendant's perspective, but also the plaintiffs and the
interests of the surrounding occupiers.
Unlike negligence, the inquiry of reasonability attaches to effect on plaintiff's enjoyment of the land,
not the defendant's conduct. So, someone acting reasonably might nevertheless be liable for
nuisance.
Unreasonableness is met when the interference in question would not be tolerated by the ordinary
occupier.
16
The court must weigh a number of factors:
1) severity of interference (nature, duration, effect). To be successful the plaintiff must show that the
nuisance caused damage (effect).
2) the character of the locale. What kind of zoning regulations apply?
3) the utility of ∂'s conduct. The utility of the defendant's use of land may make the remedy more
lenient but does affect liability.
4) the sensitivity of the use interfered with
In Coventry v Lawrence the UK court held that the defendant could refer to its own (noisy) activity
as part of the character of the neighbourhood, but only to the extent that the activity was not a
nuisance. It also held that if the plaintiff acquires the "dominant" property (the property to which
the right to complain of nuisance attaches), he is no better position than the previous owner of that
propery in terms of whether the defendant's activity amounts to an nuisance. However, if the
plaintiff changes the use of that property, by increasing its sensitivity to nuisance, the plaintiff cannot
use that to support a nuisance claim if what the defendant doing was not nuisance under the former
use of that property.
Only someone with proprietary or possessory interests in the property can have a claim in private
nuisance (Hunter).
Interference with TV reception is not sufficient interference for nuisance (Nor-Video). Neither is
having your view, light… etc blocked by the construction of a building.
Nuisance has to be tied to something done or not done by the defendant as owner of the property,
it's not a strict liability tort for whatever comes off your property. In Goldman v Hargrave liability
attached to a landowner who had culpably failed to put out a fire that had started with a lightning
strike on his gum tree, and spread to the plaintiff's property.
Tock v St. John's Metroplitan Area Board (1989 SCC)
Majority says inevitability of nuisance (defence of statutory authority) is not a defence for statutorily
authorized activities.
Concurring judgment says the defence of inevitability should not be abolished, but should only be
available when the government body has no choice of how it exercises its nuisance-creating activity
or where it does so.
Sopinka [concurring] says defendant has the onus of proving practical impossibility in avoiding
nuisance. Sopinka's view prevailed in law.
In Susan Heyes (Canada line construction case) the construction of the Canada line was
unreasonable interference, but it would be too costly and impractical to make it entirely
underground.
Furthermore, practical impossibility can be proven when there is no discretion to avoid nuisance.
You can be liable for nuisance if you buy a property from which nuisance emanates and do nothing
to stop it ("adopting the nuisance").
24.3: Public Nuisance.
17
Hickey v Electric Reduction Co. (1970 Nfld SC)
Any person that suffers peculiar damage has a right of action, but where the damage is common to
all persons of the same class, then a personal right of action is not maintainable.
Plaintiff can't use public nuisance to recover. Fishing rights are not peculiar, but common to all.
Attorney General has to launch a cause of action.
If damage from public nuisance is damage to property then private rights are damaged and so
private actor may sue (property owner or possessory interest).
CHAPTER 25 — STRICT AND VICARIOUS LIABILITY
24.2: Strict Liability for escape of dangerous substances: Rylands v Fletcher tort
Rylands v Fletcher (1868 HL)
Created a unique strict liability tort.
Any person who for his own purposes brings onto his land something, which is likely to cause
mischief it is escapes, does so at his own peril and is strictly liable (prima facie liability) for the
damages it causes it if it escapes.
Elements:




defendant must bring onto land something that is likely to cause mischief it if escapes
has to cause damage on another's property
has to be a non-natural use of land
 natural is defined as something good, or socially useful.
Act of God/Third party exception
Read v J Lyons and Co (1947 HL).
Munitions factory case. Was deemed that creation of munitions was a natural use of land. Court
expressed doubt as to whether the tort could apply to personal injury (there is Ontario precedence
for this though).
This case stands for the principle that the damage has to occur on another's property.
Gertsen v Metropolitan Toronto (Municipality) (1973 Ont HC)
Court says that in considering natural use one has to look at the context of the surrounding area
(similar to nuisance).
No clear determination if this tort exists in Canada, might just be a special case of nuisance. You
only need it for the very unlikely situation wherein nuisance can't do the job. However, the Courts
set the bar for nuisance very low finding in one case that an escaped race car of a track, injuring
someone was a case of nuisance.
Tort has been abolished in Australia, due to their understanding that tort requires fault.
18
In UK, they added a requirement in Cambridge Leathers that the mischief caused was foreseeable.
25.5 Vicarious Liability
Motor Vehicle owners are vicariously liable for accidents caused by family members who drive their
cars, or non-family members who drive their car with their consent (Motor Vehicle Act).
Parents generally are not vicariously liable for their children's torts except in a limited case of
property damage (Parental Responsibility Act section 3).
Bazley v Curry (1999 SCC)
Legislation absolves many public sector employees from liability in negligence for good faith
performance of their duties, but the public body that employed them is still liable (Local
Government Act; Police Act).
Common law did not protect employees, but generally employees were not liable to their
employers for their negligence on the job (except where liability stemmed for contract).
In this case (sexual assault, care facility) the employer was found vicariously liable because their
enterprise created and fostered the risk leading to the harm.
The test is one of "significant connection" between the employer's enterprise and the risk, which
led to the harm.
Factors to consider:
⇒ a. Opportunity afforded by the enterprise to the employee to abuse power
⇒ b. Extent to which wrongful act furthered employer's aim
⇒ c. Extent to which wrongful act was related to an employer friction
⇒ d. Power relationship between employee and victim
⇒ e. Vulnerability of potential victims to wrongful exercise of power
671122 Ontario Ltd v Sagaz Industries Canada Inc (2001 SCC)
Vicarious liability case but the issue was whether the tortfeasor was an employee of the company.
The fact that it was within the scope of employment was clear.
Court ruled that generally independent contractors do not make their employers vicariously liable.
The issue is whether the alleged employee is acting on their own account: whether the employee
provides their own equipment, hires its own workers, has an opportunity for profit and has
autonomy.
It also raised the "non-delegable" aspect of vicarious liability, which deems that the liability for
certain duties are not allowed to be passed to employees or private parties (like Statutory duties).
CHAPTER XXVII — DEFAMATION
19
Common law historically distinguished between libel and slander. Libel was written defamation,
and includes Broadcasts (Libel and Slander Act). Slander is spoken defamation. The only relevant
difference is that since slander is "transitory" it requires proof of special damages unless it falls into
one of the four excepted categories: commissions of a crime, a loathsome disease, a lack of chastity
(women only), and being unfit to practice your profession.
27.2: Elements of a defamation action.
Elements:
1) statement was defamatory
2) made reference to the plaintiff
3) were published or disseminated [words have to be communicated to someone other than
the plaintiff, the third party has to understand them, and every subsequent reiteration of the
statement is a new count of defamation]
Sim v Stretch (1936 HL) [defamatory meaning]
The test for whether words are defamatory is whether the words would tend to lower the plaintiff in
the estimation of right-thinking members of society generally. This involves both a question of fact
to be decided by the judge (are the words capable of carrying defamatory meaning) and a question
of fact for the jury (would the words tend to lower the plaintiff in the estimation of ordinary people)
Where there are a number of reasonable good or neutral interpretations it is unreasonable to seize
upon a bad one.
Knupfer v London Express Newspaper Ltd (1944 HL) [reference to plaintiff]
Whether the words make reference to the plaintiff also is a question of law (whether the words are
capable of referring to the plaintiff), and a question of fact (do the words, as the people who saw or
heard them – or a significant portion of those people – refer to the plaintiff)
There is a statutory tort against promoting hatred or contempt against a group (Civil Rights
Protection Act)
27.3: Defences to Defamation
Williams v Reason (1983 CA) [justification]
"Shammateur" case.
Upon proof of prima facie defamation, the defendant can raise justification – prove that the words
were true – and get a complete defence.
Must show that the "whole of the defamatory matter is substantially true" – courts have applied this
also more narrowly as only having to prove the truth of the defamatory sting.
A failed justification defense counts as a repeat of defamation and aggravates damages.
Reliance on third party, or honest belief in the truth is not a defence.
The court must interpret the words first to see what facts could justify them, and the defendant does
not have to prove the truth of all defamatory interpretations just one reasonable one.
20
Hill v Church of Scientology (1995 SCC) [qualified privilege]
There is a statutory qualified privilege defence for certain fair and accurate reports of public
meetings Libel and Slander Act. The privilege is lost if the publisher refuses to publish a reasonable
contradictory or explanatory letter.
Qualified privilege attaches to the occasion on which the statement was made and not the content
of the statement.
Qualified privilege requires a duty on the part of the defendant to make a statement and a duty or
interest on the part of the recipients to hear it. The idea is that when the defendant has a legitimate
reason for discussing the statements with the audience he should not be liable even if the statements
turn out to be not true. Malice, therefore, negates privilege.
Qualified privilege usually attaches to private or confidential statements since the general people do
not have a duty to speak publically about the plaintiff and no personal interest to defend in doing
so. However, sometimes public statements are privileged like the duty to report on judicial
proceedings like in Hill. However, in Hill the statements were said with malice and were
communicated in a way that exceeded the duty (reporting). The test for qualified privilege is
reasonable appropriateness.
WIC Ltd Radio v Simpson (2008 SCC) [fair comment]
Fair comment, the defence in WIC v Simpson, allows "false" commentary to be sheltered, on the basis that
debate on matters of public interest is a good thing and shouldn't be discouraged by fear of libel suits. It only
protects what the hearers or readers would perceive as the writer's opinion as distinct from assertions of
actual fact. The actual facts on which the opinion is based have to be stated or known to the audience.
The words "fair" do not mean objectively reasonable, but refers to the limits to what any honest person,
however opinionated or prejudiced, would express upon the basis of the relevant facts. Malice also defeats
fair comment
Grant v Torstar Corp. (2009 SCC) [reasonable communication in the public interest]
The defence of reasonable communication in the public interest was established in this case.
Bridges a gap in defamation law that existed when a defendant published statements of fact on a matter of
public interest that defamed the plaintiff. Justification would fail if ∂ could not prove BOP that statements
were true, fair comment would not be available because the statements were allegations of fact (not opinion).
Finally, the defence of qualified privilege would likely fail because there is no "duty" to publish information to
the world at large.
Elements:
A) Public interest. What interest the public is not the same as public interest. It has to be a
matter inviting public intention, or where the public's welfare is at stake.
B) Responsible communication. This amounts to the defendant showing that he was diligent
in verifying the truth of the statements with regard to all relevant circumstances.
Proportionality demands you consider the seriousness of the allegation, public importance of the
matter, the urgency of the matter, the status and reliability of the source, whether the π's side was
sought and accurately reported, whether inclusion of the defamatory statement was justifiable,
whether the defamatory statement's Public Interest lay in the fact that it was made rather than its
truth ('reportage') are all important factors to this defence but non-exhaustive. Responsibility is not
synonymous with carefulness.
Public interest is a matter of law
21
Responsibility is a matter of fact.
27.4: Remedies
Hill v Church of Scientology (1995 SCC)
If statements were false and defamatory then damage is presumed. Some jurisdictions require
further proof on some categories of slander, but not relating to capacity to do job or illegality.
Damages for defamation are compensatory, although not identifiable. They are non-pecuniary but
the SCC determined that the cap does not apply to defamation. In personal injury, non-pecuniary
damages are meant to supplement the compensatory damages which are usually pecuniary but in
defamation all compensatory damages are compensatory.
This is the leading case on aggravated and punitive damages. They are both triggered but bad
conduct. Aggravated focus on the effects of badness on the victim, punitive focuses on deterrence
and stopping the bad conduct.
Deference to jury award is very high and should only be reduced when the award "shocks the
court's conscience".
Newspapers, periodicals and broadcasters can plead a prompt apology in mitigation of damages. If
they prove they promptly apologized then the plaintiff can only recover actual damages if the
broadcaster proves good faith (Libel and Slander Act). Section 10 allows all defendants to adduce,
in mitigation of damages, evidence that they made or offered to make a written apology to the
plaintiff.
STATUTES AND MISCELLANEOUS
Class Action Law Suits – Class Proceedings Act




There must be common issues (legal issues common to the potential claims of all members
of the class)
Class proceeding must be the preferable alternative to dealing with numerous individual
actions
Allows individuals to pool litigation resources
Decision is binding on all members of the class proceeding
Good Samaritan Act – Emergency Medical Assistance
If you render emergency medical assistance you are not liable unless you are grossly negligent
Occupiers Liability Act – General duty of Care
22
Occupiers have the general duty to maintain reasonable care to see that people on their premises
are reasonably safe. Conditions of premises, activities of premises, and conduct of third-parties on
premises.
The nature of occupier's visit determines the scope of the duty. The minimal duty towards
somebody who willingly assumes the risk by which they're injured is also applied to entrants who
come onto the premises to commit a criminal act, or trespassers or recreational entrants on certain
classes of farmland or rural lands. The minimal duty is only to not create a danger with intent to
harm, and not recklessly to disregard the safety of the person or the property.
Insurance (Vehicle) Act – "Structured Judgment"
Section 99 of the Insurance Vehicle Act provides that a Court can order a "structured settlement".
This is contrary to the "once-and-for-all" common law rule that mandates that all losses arising from
the same s facts and the same claim must be claimed in one action.
Estate Administrations Act and Negligence Act– Claims against the estate of a
deceased wrongdoer
Estate Administration Act, Section 59 (1)-(5) allow for the administrator of a deceased's estate to
claim action against tortfeasors on behalf of the deceased as if they were alive (very limited).
Negligence Act, Section 7 – allows for claims against a deceased wrongdoer to continue against his
personal representative and the deceased's estate.
Family Compensation Act (BC) and Family Law Act – Claims by family of decased
against the wrongdoer who caused death for personal loss
Can sue for funeral/medical costs of deceased as well as any financial reliance damages. In Ontario,
the statute is more generous to deceased's family. Can only claim material damages.
Workplace Compensation Act – abolition of civil liability for workplace injury
Workplace accidents are taken out of the tort system by section 10(1) of this Act.
NEGLIGENCE ACT – Contributory negligence and apportionment of fault
Plaintiff's own fault:
Strict bar to action from the common law for contributory negligence is replaced by percentage deduction of
damages for the plaintiff's own negligence (Section 1).
Section 1 of the BC Act is in terms of "fault" not "negligence" so it can and has been interpreted as relevant
to intentional torts. The orthodox position, from the common law, however, is that the plaintiff's own fault
causing the damage from an intentional tort is not relevant to the assessment of damages. There has been
some jurisprudence where the plaintiff's own fault lowered damages for intentional tort. The Supreme Court
ruled that contributory negligence is not relevant for strict liability. However, in Cowles, the dissenting judge
thought a plaintiff's claim could be reduced even though the defendant's liability was strict.
Multiple negligent defendants
23
Apportionment among defendants is required by section 41 of the Negligence Act: "if damage or loss has
been caused by the fault of 2 or more persons, the court must determine the degree to which each person
was at fault"
Defendants' liability to the plaintiff is joint and several, but section 4(2) stipulates that they are liable "to
contribute to and indemnify each other in the degree to which they are respectfully found to be at fault"
Multiple defendants – intentional tort
Section 4 of the BC act refers to "fault", and it has been applied in the jurisprudence sometimes to apportion
fault for intentional torts among the defendants. The Ontario Act, drafted differently, does not apply to
intentional torts.
Multiple defendants – plaintiff's own fault
The Act has been interpreted to make the defendants only severally liable when there is contributory
negligence and not jointly and severally liable. The drafting issue is unique to the BC legislation.