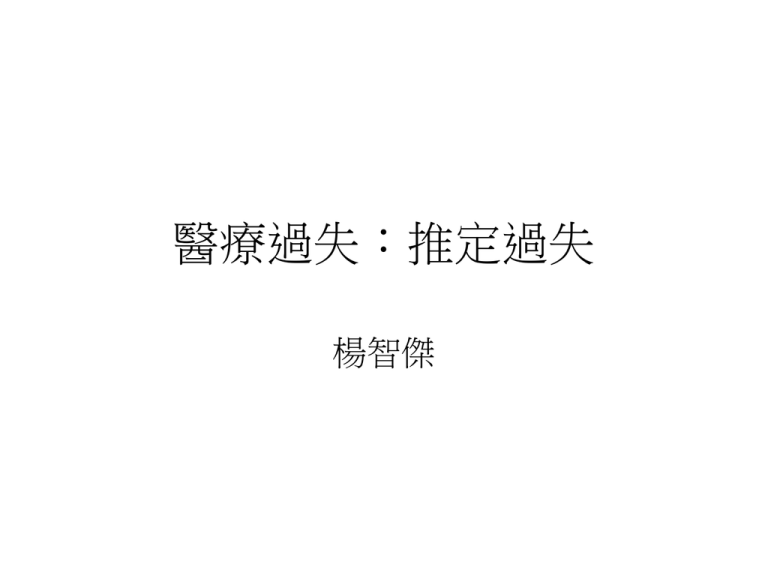 醫療過失:推定過失
楊智傑
證據
• 直接證據(direct evidence)
• 環境證據(circumstantial evidence)
• Res ipsa loquiter
– 讓事實本身證明
– (the thing speaks for itself)
事實本身證明:推定過失
• In limited instances, res ipsa loquitur(讓
事實本身證明)may be applied against
multiple(複數) defendants. The best
know example is Ybarra v. Spangard,
154 P.2d 687 (Cal. 1994) (SATL4th ed., p.
344), a case in which, during an
appendectomy(盲腸切除手術), the
plaintiff suffered an injury to his shoulder.
手術有很多人參與
• A negligence suit was brought against
several defendants, including the surgeon
(外科醫師), the attending physician(主
治醫師), the anesthesiologist(麻醉師),
the owner of the hospital, and two nurses.
• There was no dispute that the injury
normally would not have occurred in the
absence of negligence and that the
plaintiff was not a responsible cause.
誰才有過失?
• The controversy centered on whether the
plaintiff had to show, as in the usual case,
that the negligence was attributable to a
particular defendant.
• The court recognized that it would be
manifestly unreasonable to require a
person who was unconscious(失去意識)
at the time of injury to identify the
wrongdoer.
一般過失或嚴格責任?
• It further acknowledged that unless the
plaintiff could rely on res ipsa loquitur to
establish negligence, the court would be
faced with the unattractive choice of
– allowing the defendants to escape liability,
and thereby perhaps encouraging careless
practices,
– or adopting a rule of strict liability, and thus
discouraging persons from rendering(提供)
services in the health care field.
中間責任:推定過失
• Faced with these undesirable alternatives,
and emphasizing the fact that each
defendant was bound to exercise caution
to see that no unnecessary harm came to
the plaintiff when he was in their care, the
court decided on a middle course.
推定過失,但可舉反證推翻
• It determined that the plaintiff could rely on the
doctrine to raise a presumption of negligence
(推定過失) as to each defendant, but that any
defendant could meet(對付) that presumption
by giving a satisfactory explanation of his or her
conduct.
• At the retrial of the case, some defendants
testified that nothing happened which could
have caused the injury. The jury rejected that
testimony and found all defendants liable.