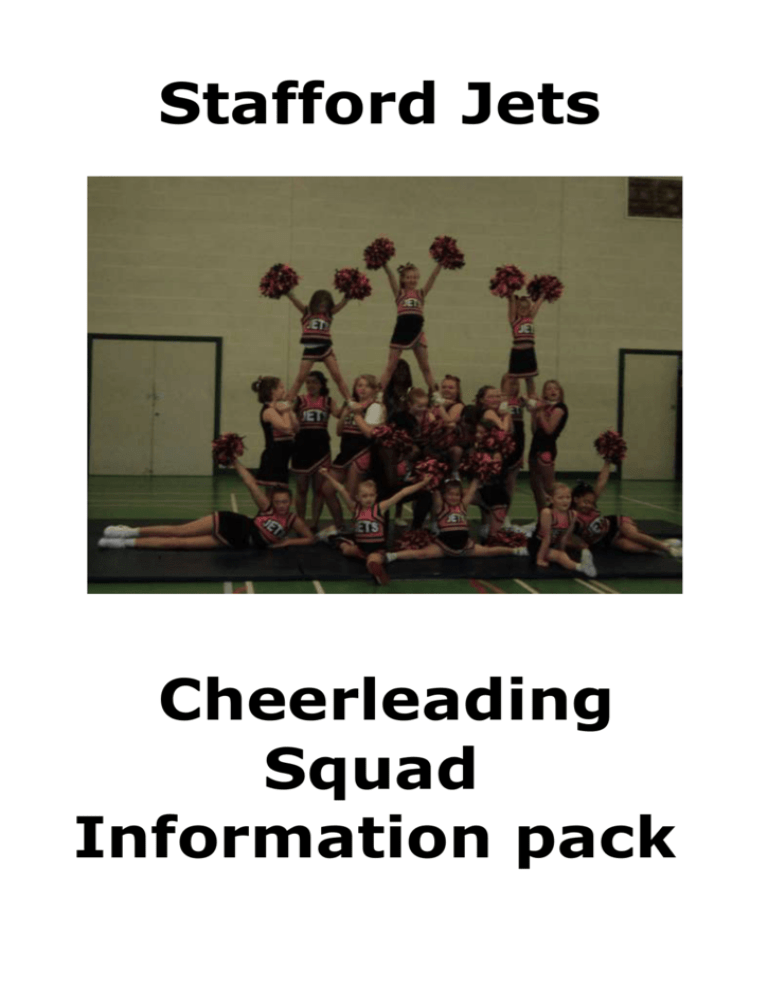 Stafford Jets
Cheerleading
Squad
Information pack
Contents
Hello and thank you in showing an interest in the Stafford Jets
Cheerleading Squad. If after reading this information pack you have
questions, please do not hesitate to get in touch.
stafford_jets@live.co.uk
pg5 Pictures
pg6 The classes
pg12 Sign up sheet
pg13 contact details
The Classes
There are a different variety of classes available with the
Stafford Jets. Some classes are restricted by age, but non are restricted
by ability. Please see the following pages for what we offer.
The class environment will be fun and friendly, but with an
emphasis on safe practice. The classes are a great opportunity to make
new friends, whilst learning new and exciting skills. Cheerleading is a
fantastic way to increase overall body strength and endurance. It doesn't
matter what shape, age, sex, size or background someone comes from,
cheerleading is suitable for all. At the end of the terms, members will be
putting on a performance and there will be presentations. Throughout
the course, there will be exciting opportunities to perform and attend
local events. SJC are also a competitive team, taking part in National
Competions.
SJC Tomcats (4-7yrs)
The Tomcats session is available for 4-7 year olds. (3 year olds are
accepted to join if their birthday is before Aug 31st)
The classes consist of dance, gymnastics and stunts which are taught on
a mainly level 1 basis. They learn routines which are then performed at a
variety of events. To date, The SJC Tomcats have performed at a variety
of event across the county and have also competed in a National
Competition!
There are 18 places available only in the Mini's team, in order for
the coaches to be able to give enough attention and time to the
members. The members learn all their new skills in a safe and fun
environment, whilst making lots of new friends.
The Tomcats may be the littlest members of the Jets, but they are
definitely the loudest!
Age: 4-7yrs
Time: Saturday 1-2pm
Cost: £3
Places: 18
SJC Spitfires (8-13yrs)
The Junior team is made up of members from the age of 8-13
years old. The squad is currently at a Level 2-3 UKCA/BCA standard.
They learn all the different elements of cheerleading, progressing as a
team. The Juniors have appeared at a variety of different events in
Staffordshire. They have performed at Stafford Rangers Football Club,
Super Radio's 'Party in the Car Park' and the Staffordshire Christmas
Parade. They have also appeared in numerous local papers.
The Juniors work hard to produce amazing routines which consist of
dance, gymnastics and stunting. The Juniors have their own facebook
members page, in which they can discuss routines and ask the coaches
questions (Moderated by some of the parents)
Like the Mini's, the Juniors have compete in National Competitions,
placing highly.
Age: 8-13yrs
Time: Saturday 1-2:30pm
Cost: £3
Places: 22
SJC Hawks (14-17yrs)
The Senior team train hard to achieve the results they do! They
learn a mixture of dance, stunts and gymnastics. The Seniors also
perform at local events and compete at National Competitions.
Age: 16-24yrs
Time: Saturday 2-3pm
Cost: £3
Places: 20
SJC Harriers (Adults only Classes)
A new addition to the SJC family in 2012 are the Harriers! This team
comprises of adults only, learning a mixture of dance and stunts, whilst
keeping fit and getting in shape. The Masters Cheer will also be
competing in upcoming competitions.
Age: 24yrs+
Cost: £3
Places: 20
Practice Wear
Please ensure that yourself or your child is wearing appropriate exercise
clothing. Crew neck t-shirts are perfect. Tracksuit bottoms or shorts are
ideal. The kind of clothes your child wears for PE are suitable. For the
young adults, gym wear is fine. Absolutely NO jewellery is permitted or
watches. For safety reasons, hair should be either tied up in a pony or
away from the face. Please can you ensure that trainers are worn, I will
not teach anyone who is wearing plimsolls or any other inappropriate
footwear. If you can fold the shoe in half then it is not suitable (BCA
guidelines) As cheerleading is a very physical, high impact sport there is
a risk of injury, so by wearing appropriate clothing and footwear greatly
minimises this risk.
Prices
The cost of each hour session is:
Mini/Junior/Senior Cheer £3
Multiple Child Discounts are also available
Sign Up Sheet
23/05/2010
The following information needs to be filled in correctly to the best of your knowledge. If
you are under 16 then a parent or guardian needs to fill this in and sign it. Failure to bring
this form will mean that you can not practice until you do. If you are under 16, this form
needs to be filled in by your parent or guardian. IF you are bringing this form with you on
the day, please get in contact with me prior to classes to book your child's name to ensure
that he/she has a place.
About you
Name___________________
Age
_____
Email__________________
Contact Number_____________
Choice of classes___________________________
Any Medical conditions or previous injuries?
(i.e.asthma, knee injury)
Any previous cheer/dance/gymnastics experience?
Emergency Contact Details
Name______________
Relation to you_______________
Contact Number_________________
I have read and understood the information provided
Signed_____________
Contact Details
(parent/guardian/individual)
Date_________
Head Coach
Eleanor Carroll
Email
stafford_jets@live.co.uk
Website
www.staffordjetscheer.co.uk
Phone
07592943379
Stafford Jets Facebook Group
https://www.facebook.com/pages/Stafford-Jets-CheerleadingSquad/254348544609216
Don't forget to check out our website and facebook for more
information, pictures and information on the Coaches!
We look forward to meeting you!