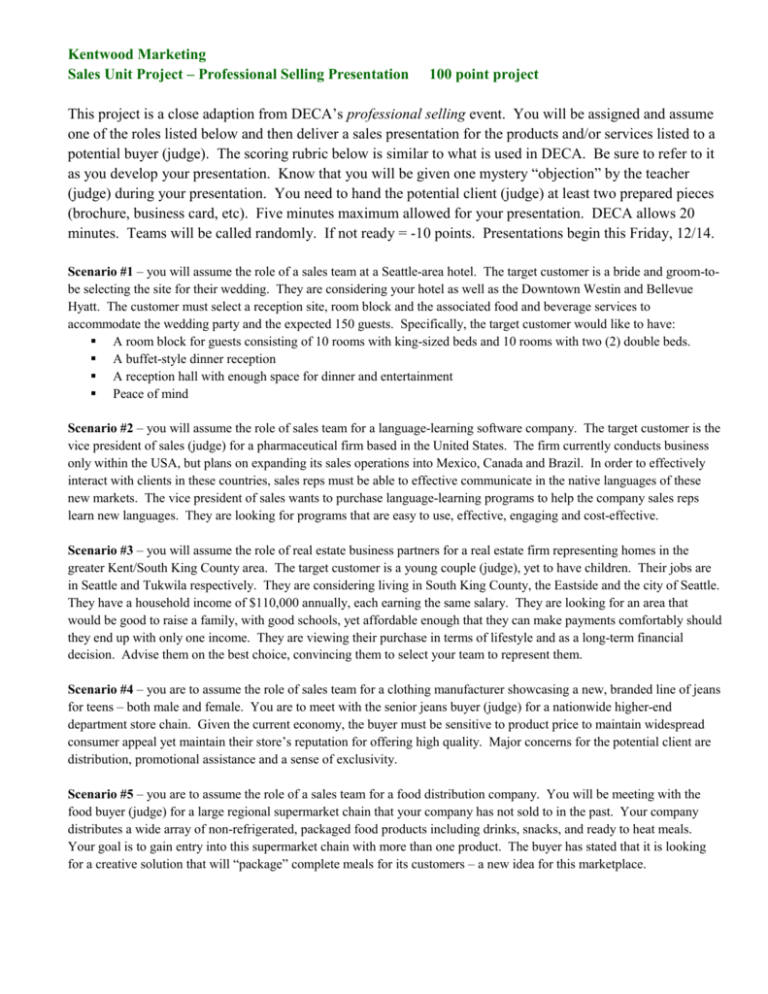 Kentwood Marketing
Sales Unit Project – Professional Selling Presentation
100 point project
This project is a close adaption from DECA's professional selling event. You will be assigned and assume
one of the roles listed below and then deliver a sales presentation for the products and/or services listed to a
potential buyer (judge). The scoring rubric below is similar to what is used in DECA. Be sure to refer to it
as you develop your presentation. Know that you will be given one mystery "objection" by the teacher
(judge) during your presentation. You need to hand the potential client (judge) at least two prepared pieces
(brochure, business card, etc). Five minutes maximum allowed for your presentation. DECA allows 20
minutes. Teams will be called randomly. If not ready = -10 points. Presentations begin this Friday, 12/14.
Scenario #1 – you will assume the role of a sales team at a Seattle-area hotel. The target customer is a bride and groom-tobe selecting the site for their wedding. They are considering your hotel as well as the Downtown Westin and Bellevue
Hyatt. The customer must select a reception site, room block and the associated food and beverage services to
accommodate the wedding party and the expected 150 guests. Specifically, the target customer would like to have:
 A room block for guests consisting of 10 rooms with king-sized beds and 10 rooms with two (2) double beds.
 A buffet-style dinner reception
 A reception hall with enough space for dinner and entertainment
 Peace of mind
Scenario #2 – you will assume the role of sales team for a language-learning software company. The target customer is the
vice president of sales (judge) for a pharmaceutical firm based in the United States. The firm currently conducts business
only within the USA, but plans on expanding its sales operations into Mexico, Canada and Brazil. In order to effectively
interact with clients in these countries, sales reps must be able to effective communicate in the native languages of these
new markets. The vice president of sales wants to purchase language-learning programs to help the company sales reps
learn new languages. They are looking for programs that are easy to use, effective, engaging and cost-effective.
Scenario #3 – you will assume the role of real estate business partners for a real estate firm representing homes in the
greater Kent/South King County area. The target customer is a young couple (judge), yet to have children. Their jobs are
in Seattle and Tukwila respectively. They are considering living in South King County, the Eastside and the city of Seattle.
They have a household income of $110,000 annually, each earning the same salary. They are looking for an area that
would be good to raise a family, with good schools, yet affordable enough that they can make payments comfortably should
they end up with only one income. They are viewing their purchase in terms of lifestyle and as a long-term financial
decision. Advise them on the best choice, convincing them to select your team to represent them.
Scenario #4 – you are to assume the role of sales team for a clothing manufacturer showcasing a new, branded line of jeans
for teens – both male and female. You are to meet with the senior jeans buyer (judge) for a nationwide higher-end
department store chain. Given the current economy, the buyer must be sensitive to product price to maintain widespread
consumer appeal yet maintain their store's reputation for offering high quality. Major concerns for the potential client are
distribution, promotional assistance and a sense of exclusivity.
Scenario #5 – you are to assume the role of a sales team for a food distribution company. You will be meeting with the
food buyer (judge) for a large regional supermarket chain that your company has not sold to in the past. Your company
distributes a wide array of non-refrigerated, packaged food products including drinks, snacks, and ready to heat meals.
Your goal is to gain entry into this supermarket chain with more than one product. The buyer has stated that it is looking
for a creative solution that will "package" complete meals for its customers – a new idea for this marketplace.
Grading Rubric – Make your presentation in the order given in the rubric below. Again, this is a sales
meeting between your team and the client (Zender).
Exceeds
Meets
1. Opening was effective. Strong
handshake, confident introduction,
showcase USP to client . ……………. 5
4
2. Asked questions of client to
determine needs and buying motives … 6
5
3. Referred to SWOT and Target Market
Using them to guide presentation ……. 6
5
4. Focused on benefits of USP …..…
6
5
5. Closed sale smoothly by making a
positive, assumptive statement ….....
6
5
6. Overcame objection in a poised and
confident manner, then closed again ...... 6
5
7. Effectively used suggestion selling
(upselling) after sale was made …....
6
5
8. Visual aids (PowerPoint, props, etc)
enhanced the presentation …….…
5
4
9. The presentation was well-coordinated between partners.
Clearly practiced;
………
14-13
12-10
Each partner participated equally.
1) …………………………...
10-9
8-7
2) …………………………...
10-9
8-7
10. Clearly demonstrated thorough and
effective product knowledge ………… 20-17
16-14
Below
Little Value
Missing
Score
3-2
1
0
____
4-2
1
0
____
4-2
4-2
1
1
0
0
____
____
4-2
1
0
____
4-2
1
0
____
4-2
1
0
____
3-2
1
0
____
9-5
4-1
0
____
6-5
6-5
1
1
0
0
____
____
13-8
7-1
0
____
Total Points Earned (90 possible) ______
Tips for success:
 Talk to someone in the industry from the scenario you chose. They can provide help and meaningful solutions.
This might seem difficult but you will be amazed how willing people are to help you. Wouldn't you help
someone?
 When presenting, don't go into too much detail. Sell benefits. Sell the big picture. Leave the most of the details
as points you make to counter the objection.
 Practice this pattern: Explain USP, present benefits, trial close, counter objection, re-close, upsell after sale.
 Have strong introduction skills – proper handshake, eye contact, confident voice.
 Ask Mr. Zender for help during prep days. If you're not asking, then you're not working toward your best!
 Practice your presentation! The details should come together rather quickly. Practice with others in class. The
day before presentations our class ought to be busy and quite loud with team practicing.
Teaching notes + Objections for role plays
Only allow a limited number of each role play so there is an even number of each – otherwise it gets real boring.
Perhaps write more scenarios.
Objections:
Hotel
 This whole thing makes me nervous
 I'm concerned about the cost
 How do I know your food is good?
 Is there stuff to do here after the event for those who stay?
 Is that the best you can do on a price break?
 My bride and I want a special room. Can we get that @ no extra charge?
Software
 What if my team doesn't' learn from this?
 Technology is intimidating. I think we'd be more comfortable hiring instructors to teach us in person.
 We didn't tell you this, but we're looking into selling in other countries too. Can you handle it if we grow fast?
Real estate
 You've really pushed S. King County. We like the city night life.
 Are the schools really that good here?
 My job is in Seattle. It is a brutal commute to there from here.
 How do I know that you are a good team to work with?
Jeans
 We already sell everything from Levi's to True Religion. Why add yours?
 The economy is really down, I'm not sure the market will buy these jeans.
 What the #1 reason we should sell these?
 I'm concerned with quality. Please address that.
Food
 Have you tested the product with consumers?
 Will this target working moms or young single men?
 We're always concerned about the health and safety of our products. Can we trust your company in this regard?