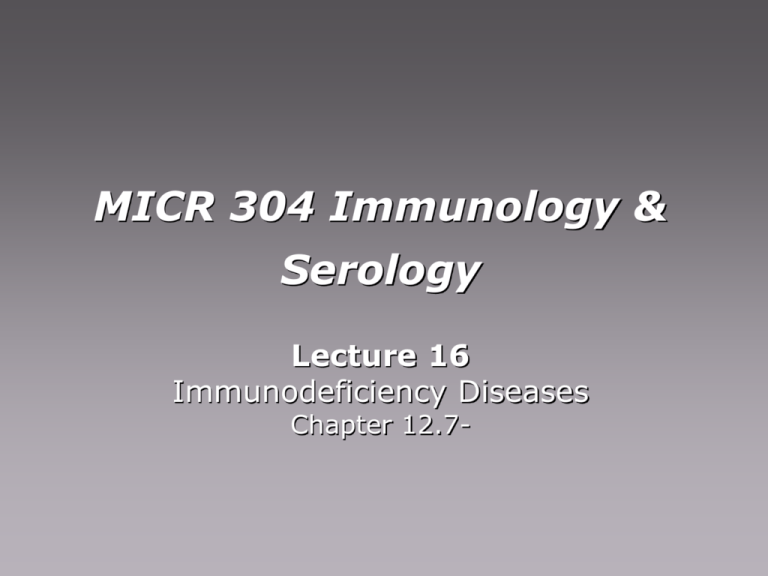 MICR 304 Immunology &
Serology
Lecture 16
Immunodeficiency Diseases
Chapter 12.7-
Overview of Today's Lecture
• Inherited immunodeficiencies
– Immunoglobulins
– Complement
– Phagocytes
– T cells
• Acquired immunodeficiencies
– Artificial
– AIDS
Immunodeficiencies
• Caused by defects of one or more
components of the immune system
• Recurrent infections
• Often opportunistic microbes
Susceptibility for Infections
• Defects in
complement,
phagocytes,
antibodies:
– Extracellular
bacteria, pyogenic
infections
• Defects in T-cells:
– Fungal and viral
infections, infections
with intracellular
pathogens
Compare and Contrast Inherited and
Acquired Immune Deficiencies
• Inherited defects of the immune system
– Alterations in genes involved in immunity
– Symptomatic from infancy on
• Acquired defects of the immune system
– Various causes
– Typically develop later
Our most Important Defense Weapons
• Complement: to opsonize, initiate inflammatory
response, and to kill
• Antimicrobial peptides: to kill and to modulate immune
response
• Phagocytes: to remove microbes, prevent further
spread, to kill and in some cases to initiate adaptive
immune response
• Antibodies: to neutralize, opsonize, and to agglutinate
• Granuloma formation: a concerted action to wall off
and ultimately kill intracellular microbes
• NK cells and CTLs: to remove infected (or maligne)
host cells via apoptosis and indirectly kill microbial
invaders
• TH and regulatory T cells: to orchestrate the immune
response
Evaluation of the Immune System
Inherited Immune Defects
Discussed Today
Complement
C1 Inhibitor deficiency, C5-9 deficiency
Phagocytes
Chronic granulomatous disease
Leukocyte adhesion deficiency
Antibodies (B-cells)
X-linked ammaglobulinemia
X-linked hyper IgM syndrome
T- cells
X-linked gc SCID
B+T cells
ADA deficiency
Complement System
C1INH
DAF
Factor I
Proctectin
Complement Deficiencies
• Lack of active complement factors:
– C3 damage: wide range of pyogenic
infections (S. aureus, S. pyogenes etc)
– Overall and in particular with C5-9
deficiency increased Neisseria infections
• 10,000 x risk increase
• Lack of control proteins
– C1 Inhibitor: angioneurotic edema
– Decay accelerating factor: spontaneous
hemolytic attacks
– Factor I: consumption of complement, lack
of complement
Phagocyte Defects
• Chronic Granulomatous
Disease
– NADPH oxidase defect
• Many different gene mutations
– No superoxide radical
production
– Host forms granulomas to
eliminate pathogens
• Leukocyte adhesion
deficiency
– Mutations in sialyl lewis (ligand
for selectin) or intergrins
– Prevents leukocyte migration to
the locus of infection
Diagnostics in
Chronic Granulomatous Disease
Altered NBT Test
Pneumonia
Normal
Patient
Carrier
Nitro blue tetrazolium is reduced by
NADPH oxidase to yield an insoluble blue
formazan salt.
Aspergillus pneumonia in
CGD patient
X-Linked Agammaglobulinemia (XLA)
• Failure to produce antibodies
– Increase in infections with pyogenic bacteria e.g.
S. pyogenes and chronic viral infections e.g.
hepatitis B
•
•
•
•
Mutations in X-chromosome
One of the common: Bruton's Disease
Mutation in Bruton's tyrosine kinase (Btk)
Signal transduction defect in pre-B cells
– No stimulation in response to Ag
– Arrest of B-cell development
– B-cells rarely found in peripheral blood
Consequences of Btk Mutation
• In normal males, only Xchromosome is active
• In affected male no B-cell
development
• In female carriers, only Bcells that have randomly
inactivated the defect
chromosome mature
– All mature B-cells have the
nondefective x-chromosome
activated
– Non-random X chromosome
inactivation only in B cells
Signal transduced
via Btk
Onset of XLA
• When maternal antibodies fade
Absence of Immunoglobulins in
Serum from XLA Patients
Absence of B-Cells in XLA
• Flow cytometer analysis
• CD19: B-cell marker
• CD3: T-cell marker
Refresher: B-Cell Activation by T-Cells
Hyper IgM Syndrome
Selected syndromes
• Normal B and T cell development
but lack of IgG, IgA, and IgE
• B-cell activation by T-cells is
disrupted
– CD40 ligand deficiency in T-cells
prevents activation of otherwise
normal B-cells
• X-linked
• Also defective in cell mediated
immunity
– Mutations in CD40 in B cells
– Mutation of NFkB pathways in B-cells
(NEMO)
– AID deficiency
• No isotype switch after antigen
recognition
• Lymphoid tissues are devoid of
germinal centers
AID Deficiency
• Mutation in gene for activation induced
cytidine deaminase
• Subform of hyper IgM syndrome
• Defective B cells with lack of isotype
switch
• More susceptible to severe bacterial
infections but not to opportunistic
infections e.g. P. carinii pneumonia
Severe Combined
Immunodeficiencies
• B and T cell function is affected
• Causes can be primary T cell defects or T and B cell
defects
• Without T cells lack of
– T cell dependent antibodies
– Cell mediated immune responses
– Immunological memory
• Severe opportunistic infections
–
–
–
–
Adenoviruses
EBV
Candida albicans
P. carinii
Major Causes of SCID
X-Linked SCID with Common
Gamma Chain Mutation
• Common gamma chain of the following
cytokine receptors affected:
– IL2, IL4, IL7, IL9, IL15, IL21
• Predominantly T-cell defect
• No T-cell development, no NK cells
• B cell numbers are normal but not their
function
• Lack of macrophage activation and B-cell
activation
• X-linked
Refresher: Selected Cytokines
Cytokine
Major Effects
IL2
T cell proliferation
IL4
B cell activation, IgE switch, TH2 differentiation
IL7
Growth of pre-B cells and pre-T cells
IL9
Mast cell enhancing activity, TH2 stimulation
IL15
Stimulates growth of T cells, NK cells, enhances
CD8 memory T cell survival
IL21
Induces proliferation of B, T, and NK cells
Autosomal SCID: ADA Deficiency
• Adenosine deaminase deficiency
• Alterations in purine degradation
• Accumulation of nucleotide metabolites
– In particular toxic for T-cells, also B-cells
• General lack of T and B-cell function
Refresher:
T-Cells and Granuloma Formation
Functional T cells are essential in clearing infections with
intracellular pathogens.
Acquired Immune Deficiencies
• Natural: newborns
• Immune suppressive therapy
– Cyclosporin (transplantation)
– Steroids (autoimmune diseases, chronic inflammation)
• Tumor patients
– Neutropenia during therapy
– Cytokine production (TGF-b, IL10)
• Chronic Disease
• Infections
– Measles
– HIV and AIDS
Transient Immunoglobulin
Deficiency in Newborns
HIV Infection is Pandemic
HIV Virus
• Retrovirus
• Infects CD4+ cells: TH cells,
dendritic cells, macrophages,
monocytes
• Requires co-receptor: chemokine
receptor
– Tropism depends on chemokine
receptor
– CCR5: DC, MP, CD4 T Ly
• R5 virus
• Mutations protect against HIV
infection
– CXCR4: activated T Ly
• X4 virus
Dendritic Cells Transport HIV
to Lymphnodes
Typical Course of Untreated
HIV Infection
Immune Response to HIV
HIV Associated Diseases
•T- cell defect
•Lack of macrophage
activation
•Intracellular
opportunistic infections
•Lack of effective CTLs
•Development of virusassociated tumors
Tumors Associated with HIV
Infection
• Remember
– T-helper cells activate NK cells
• New Herpes viridae are involved that
are not eliminated
• Lymphoma, Kaposi sarkoma
Diagnostics of Immune
Deficiencies
• Complement: CH50 test
• Phagocytes: NBT test, phagocytosis and
killing tests
• Antibodies: immune electrophoresis
• B-cells: pokeweed stimulation, induced
antibody response
• T cells: unspecific lymphocyte stimulation
with phytohemagglutin, skin tests
Therapeutic Approaches for
Immune Deficiencies
•
•
•
•
Symptomatic
Ig treatment
Bone marrow transplantation
Gene therapy
– Remove bone marrow
– Insert new gene into collected cells
– Re-implant bone marrow
• Antiviral therapy
Bone Marrow Grafting is Problematic
Can be prevented
by T-cell depletion
of donor marrow
HIV Therapy
• Reverse Transcriptase Inhibitors
• Protease Inhibitors
• Virus decoys (material to which virus
binds instead of to cells)
• Boosting immune system
Often requires up to 40 pills a day.