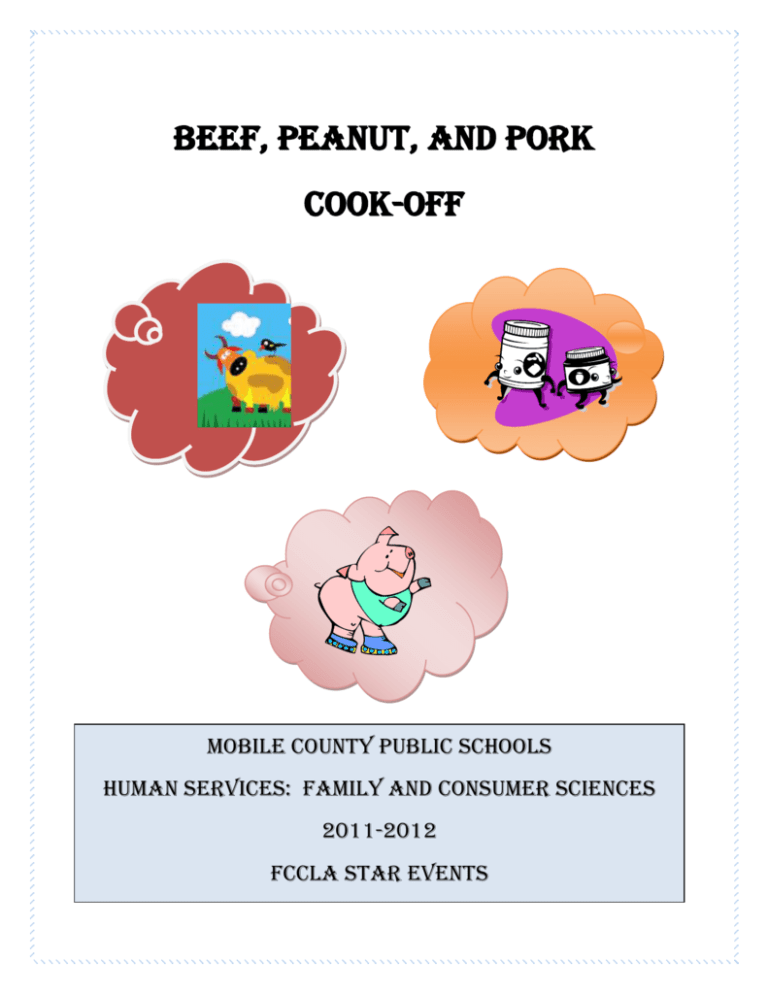 Beef, peanut, and pork
Cook-off
Mobile County Public Schools
Human services: Family and Consumer Sciences
2011-2012
Fccla star events
ACKNOWLEDGEMENTS
The Career and Technical Education Department would like to thank the following people for their participation and
contributions for the success of this year's Family, Community and Career Leaders of America Star Event: Beef,
Peanut, and Pork Cook-Off Contest. We especially thank Mrs. Debbie Freeland for serving as the coordinator for
prizes for all three categories.
Gale Seabury, Supervisor, Career and Technical Education
TEACHERS participating
Allison Blaylock
Jan Patton
Rachel Baxter
Cora Evans
Janie Ward
Roslyn Robinson
Jan Gorzel
Karen Cooper
Sara Mitchell
STUDENTS
Adrian Allen
Allie Taylor
Ansley Laster
April Reid
Brandom Johnson
Briahna Norwood
Cheyanna Mrkwa
Dayanera Clark
Hannah Weaver
Jai Guerin
Marcus Easterling
Mary Allison Sanderson
Michael Baxter
Michael Holmes
Niyah Nettles
Phillip Bolton
Shahed Salim
JUDGES
Allen Merryman, Teacher Coordinator
Jim Todd, County Extension Coordinator
Mandy Marks, Mobile County Agent Assistant
Verdell Trotter-Dees, Mt.Vernon Council Woman
Gail Livings, Retired FACS Teacher
Larry Mouton, Executive Director MCPSS
Robert Broadnax, Teacher Coordinator MCPSS
SPONSORS
Alabama Cattlemen's Association
Alabama Peanut Association
Alabama Pork Association
Mobile Farmers Federations Women's Committee
Mobile County Public Schools
Career and Technical Education
BEEF, PEANUT, & PORK COOK-OFF
Blount High School
November 3, 2011
Winners/participants
Placed
Name
School
_________Dish___________________
Beef:
1st
Jai Guerin
Mattie T. Blount High
Prosciutto Beef Wraps
2nd
Marcus Easterling
Theodore High School
Beef Tenderloin/Yellow & Wild Rice
3rd
Allie Taylor
Baker High School
Veggie Beef Roll Ups
N/A
Dayanera Clark
Semmes Middle School
Daytime Beef Stew
N/A
April Reid
Citronelle High
Great Aunt's Meat Loaf
N/A
Shahed Salim
W. P. Davidson
Steak and Mushrooms
1st
Allison Sanderson
Theodore High School
Spicy Soba Noodles/Chicken in Peanut
Sauce
2nd
Adrian Allen
Mattie T. Blount High
Peanut Shrimp Chowder
3rd
Ansley Laster
Baker High School
Thai Peanut Chicken Pizza
N/A
Michael Baxter
W. P. Davidson High
Beef Steak with Peanut Dipping Sauce
Peanut:
Pork:
1st
Hannah Weaver
Semmes Middle School
Hannah Lynn's Dixieland
Delight Pork Chops
2nd
Brandon Johnson
Davidson High School
Pork Tenderloin Medallions with a
Simple Marsala Sauce
3rd
Michael Holmes
Blount High School
Apple-Glazed Pork Chop
N/A
Niyah Nettles
Citronelle High
Pork Chop Supreme
N/A
Phillip Bolton
Theodore High
Phillip's Pork
N/A
Briahna Norwood
Baker High
Chops ala Queen
BEEF
RECIPES
Prosciutto Beef Wraps
1 pound tender beef cut in 2 inch cubes
Freshly ground black pepper
¼ pound prosciutto
1 tablespoon olive oil
1 tablespoon butter
1 small shallot, diced
½ cup chicken stock
¼ cup heavy cream
Wild rice – directions on box
2 tablespoons freshly chopped parsley leaves
1 can mandarin oranges
Sprinkle beef with black pepper. Wrap beef cubes with enough prosciutto to cover entirely. Be sure that
prosciutto does not overlap more than once. Place wrapped cubes seam side down on a plate. In a large skillet
over medium heat, add oil and butter. When butter has melted, add beef
Cubes, seam-side down to seal, then sauté until crisp on all sides, about 8 – 10 minutes for medium rare.
Remove beef and let rest 5 minutes before serving. Add shallots to pan and sauté 1 minute to soften. Add
chicken stock and scrape up bits stuck to the bottom of the pan. Whisk in heavy cream and cook 1 minute more
to thicken sauce. Remove from heat, season, and serve over wild rice. Garnish with parsley and mandarin
orange slices.
Jai Guerin, Mattie T. Blount High School
more
recipes
Beef Tenderloin Served over Yellow and Wild Rice
¾ teaspoon of garlic powder
1/8 teaspoon of thyme
¾ teaspoon of Tony's
1/8 teaspoon ground red pepper
1/8 teaspoon of oregano
¼ teaspoon paprika
¼ teaspoon of Italian seasoning
yellow rice
wild rice
string beans with bacon
Preheat oven to 350°. Cook yellow rice and wild rice (use directions on box). Take your 1 ½ pound beef
tenderloin and sprinkle with dry rub. Place in on an oiled, heated diron skillet. Once tenderloin is browned on
both sides, place on square cake pan covered with foil. Place in over with one corner lifted so meat can vent.
Cook until the internal temperature is 160°. Serve with rice.
Marcus Easterling, Theodore High School
§§§
Veggie Beef Roll Ups
1 pound lean ground beef
8 lasagna pasta
1 jar spaghetti sauce (sun-dried tomato/basil)
1 small sweet onion, chopped
2 green onions, chopped
2 carrots, chopped
1 heaping tablespoon chopped cilantro
½ green bell pepper, chopped
Shredded mozzarella cheese
Shredded parmesan cheese
1 teaspoon vegetable oil
Salt & pepper to taste
Cilantro for garnish
Preheat oven to 350° F. Bowl the lasagna as directed on the box. In a skillet, sauté onions, carrots, and bell
pepper in the oil. Add cilantro and set aside in a bowl. In the same skillet, brown the ground beef and season
with garlic powder, salt, and pepper. Drain the excess oil.
Combine vegetables, beef, and spaghetti sauce. On a large plate, lay out one pasta strip. Spread a thin layer of
the vegetable/meat mixture. Add a layer of mozzarella cheese. Roll the strip like a pinwheel and set swirl up in
a casserole dish. Continue with the others, reserving a little sauce, and cheese to top the entire dish. Use the
remaining sauce, mozzarella cheese, and the parmesan cheese to sprinkle over the top. Bake 20 minutes or until
the cheese is melted well and is just beginning to brown. Arrange neatly on a serving dish and garnish with
cilantro leaves.
Allie Taylor, Baker High School
more
recipes
Daytime Beef Stew
2 pounds of stew beef
2 tablespoons vegetable oil
2 cups water
1 tablespoon Worcestershire Sauce
1 clove garlic
2 bay leaves
1 teaspoon salt
1 teaspoon sugar
½ teaspoon pepper
3 carrots, sliced
3 ribs celery, sliced
2 tablespoons cornstarch
Rice, Cooked
Rosemary
Basil
Tomato
Brown stew meat in hot oil. Add water, Worcestershire sauce, garlic, bay leaves, onion, salt, sugar, and pepper.
Add carrots and celery. Cover and cook for 30 minutes. To thicken gravy, remove 2 cups of liquid and add
cornstarch to it. Stir until smooth. Return mixture to pot and stir until bubbly. Serve over rice. Garnish with
Rosemary, Basil, or Tomato.
Dayanera Clark, Semmes Middle School
§§§
Great Aunt's Meat Loaf
3 pounds of ground beef
3 cups dark brown sugar
3 cups ketchup
1 tablespoon salt
1 tablespoon pepper
Preheat oven to 350 degrees. Add salt and pepper to ground beef. Place in 8" x 8" pan and form meat into a
loaf. Bake the meat for 45 to 60 minutes or until cooked thoroughly. Mix ketchup and brown sugar to form a
sauce. Remove from oven and pour half of the sauce over meat loaf. Cook an additional 15 minutes. Remove
from oven and add the remaining sauce.
April Reid, Citronelle High School
more
recipes
Steak and Mushrooms
2 tablespoons Olive oil
2 pounds Beef skirt steak cut into 6 pieces
3 cloves garlic, minced
1 ½ cups diced onion
3 cups Prego Fresh Mushroom Italian Sauce
1 10-ounce pkg. Pepperidge Farm Mozzarella Garlic Bread
1 head of broccoli
Small bag of mini carrots
1 can sliced mushrooms
Bunch of Fresh parsley
Heat the oven to 400°F. for the bread. Heat the oil in a 12 inch skillet over medium-high heat. Add the
beef in batches and cook until it is well browned on both sides. Remove the beef from the skillet. (Meanwhile,
boil the broccoli in a pot, and boil the carrots in a different pot.)
Add the garlic and onion to the skillet. Cook until the onion is tender-crisp. Add mushrooms. Stir the
sauce into the skillet and cook for 15 minutes. Return the beef to the skillet. Continue cooking for 5 minutes or
until the beef is cooked through. (Meanwhile, bake the bread according to the package directions.)
Drain the broccoli and the carrots. Chop carrots to small squares. Dice the parsley.
Cut the bread into 2 inch diagonal slices and serve with the beef mixture, carrots, and broccoli. Sprinkle
with the diced fresh parsley.
Shahed Salim, W. P. Davidson High School
more
recipes
PEANUT RECIPES
Spicy Soba Noodles with Chicken in Peanut Sauce
1 carrot
2 cups fat-free, less-sodium chicken broth
1/3 cup reduced-fat peanut butter
1 tablespoon chopped, peeled ginger
2 tablespoon low-sodium soy sauce
6 tablespoon sliced green onions
2 tablespoons honey
1 to 2 teaspoons crushed red pepper
1 garlic clove, minced
1 pound skinless, boneless chicken breast
5 cups cooked soba
6 tablespoons chopped, unsalted,
dry-roasted peanuts
Shave carrot lengthwise into thin strips. Combine 1/3 cup broth, peanut butter, ginger, soy sauce, honey,
pepper, and garlic. Stir until smooth. Place chicken in a large saucepan. Add 2 2/3 cups broth. Bring to boil.
Reduce heat and simmer 4 minutes or until chicken is done. Remove from heat. Let stand 20 minutes. Drain.
Cut chicken into 2-inch pieces. Combine carrot, peanut sauce, chicken and noodles in a large bowl. Toss to
coat. Sprinkle with onions and peanuts. Garnish with parsley and tomato wedges.
Allison Sanderson, Theodore High School
more
recipes
Peanut Shrimp Chowder
½ cup butter
½ cup minced onion
½ cup celery, chopped fine
¼ cup green bell pepper, minced
1 bunch of parsley
6 black peppercorns
1 bay leaf
1 thyme sprig
4 Coriander seeds
½ teaspoon allspice
2 cups minced tomatoes with juice
1 ½ quarts fresh shrimp stock
2 cups Yukon gold potatoes, small, diced
Salt and Pepper to taste
1 ½ cups heavy cream
2 cups raw, whole, peeled shrimp
Chopped peanuts
Basil
Melt 3 tablespoons butter in pot until foamy; add onion, celery and bell pepper; sauté until softened. Add garlic
and half amount of parsley. Combine peppercorns, bay leaf, thyme, coriander seeds, allspice, and parsley stems
in a cheesecloth bundle. Add to pot with tomatoes and stock. Bring to a boil and reduce to a simmer. Cook for
10 minutes and add potatoes, salt and pepper. Mix peanut flour with 2 tablespoons butter until paste is smooth.
Stir peanut flour/butter and cream into simmering soup and simmer for five minutes. Add shrimp; pull off the
heat, cover and let sit until shrimp are cooked through. Ladle into bowls and garnish with shrimp, basil,
chopped peanuts, and parsley.
Adrian Allen, Mattie T. Blount High School
§§§
Thai Peanut Chicken Pizza
Peanut Sauce
1 tablespoon vegetable oil
1 tablespoon minced onion
1 tablespoon minced fresh ginger
1 cup smooth peanut butter
1 cup coconut milk
3 tablespoon soy sauce
1 tablespoon Thai fish sauce
Thai chili sauce (to taste)
Heat the oil in a saucepan over medium heat. Add in the onion and sauté one minute. Add the garlic and
ginger. Continue to cook, stirring, until slightly soft, about five minutes. Add the peanut butter and reduce heat
to low. Allow the peanut butter to melt slightly, and then add the coconut milk, soy sauce, and fish sauce.
Whisk all together until smooth. Add the garlic chili sauce to taste.
(Continued next page)
more
recipes
Pizza
Brown sugar
Chicken breast cut into large chunks
Hot chili sauce
1 lime
1 tablespoon fish sauce
Cilantro
Shredded provolone cheese
Pizza dough
Green onions
Peanut Sauce
Marinate chicken in brown sugar, chili sauce, fish sauce, and juice of lime overnight. Cook chicken thoroughly
with half of marinate in medium skillet. After cooking, cut chicken into bite0-size pieces. Spread peanut sauce
over pizza dough. Top with cooked chicken, provolone, and chopped green onions. Bake pizza according to
package. After baking, top pizza with fresh chopped cilantro.
Ansley Laster, Baker High School
§§§
Beef Steak with Peanut Dipping Sauce
1 cup long grain rice
1 1-pound flank or chuck steak, tripped
2 tablespoons hoisin sauce
¼ teaspoon salt
Cooking Spray
2 tablespoons chopped fresh cilantro
8 skewers
2 tablespoons light coconut milk
1 teaspoon fresh lime juice
1 tablespoon low-sodium soy sauce
1 ½ tablespoons creamy peanut butter
1 teaspoon sugar
½ teaspoon green curry paste
Preheat broiler. Cook rice according to package directions, omitting salt and fat. Drain; cover and keep warm.
Cut steak diagonally across grain into ¼ inch thick slices. Combine steak and hoisin in a bowl. Toss to coat.
Thread steak onto each of eight 8" skewers. Sprinkle evenly with salt. Place skewers on a broiler pan coated
with cooking spray. Broil 3 minutes on each side or until desired degree of doneness. Sprinkle skewers with
cilantro. Combine coconut milk and remaining ingredients in a brown. Stir until smooth. Serve with skewers
and rice. Serves 4.
Michael Baxter, W. P. Davidson High School
more
recipes
Pork recipes
Hannah Lynn's Dixieland Delight Pork Chops
2 pounds thin center cut, boneless pork chops
½ cup all purpose flour
3 tablespoons vegetable oil
2 tablespoons butter
½ cup chopped onion
1 clove garlic
2 – 7 ounce cans mushrooms
2 cans cheddar cheese soup (10.75 ounce)
1 tablespoon salt
1 teaspoon salt
rice
red, green, and yellow bell peppers
Heat vegetable oil in large skillet.
Dredge the pork chops in the flour and brown on both sides.
Remove chops from the skillet and add butter, onions, and garlic. Sauté until onions are golden.
Add soup, mushrooms, salt, and pepper.
Simmer until sauce is bubbly.
Place a layer of chops in casserole dish and pour half the sauce over the chops. Repeat the layers and bake at
275 degrees until chops are tender.
Serve over rice.
Hannah Lynn Weaver, Semmes Middle School
more
recipes
Pork Tenderloin Medallions with a Simple Marsala Sauce
1 large or 2 small pork tenderloins, about 1 ½ pounds
2 tablespoons butter, divided
2 tablespoons olive oil, divided
8 ounces sliced mushrooms
4 green onions, thinly sliced
1/3 cup flour
1 teaspoon salt
¼ teaspoon ground black pepper
¾ cup Marsala wine
½ cup chicken broth
5 or 6 large Red Potatoes
Slice potatoes in half and boil until tender. Set aside.
Slice the pork crosswise, about ¾ to 1-inch in thickness. Gently pound slices with the heel of your hand or a
meat tenderizer to make the medallions about ½ inch thick.
In a large skillet, melt 1 tablespoon of butter with 1 tablespoon of olive oil. Saute the mushrooms until golden.
Add the green onions and continue cooking, stirring, for 1 minute. Remove vegetables to a plate and set aside.
Dredge the pork medallions in the flour mixture. Add 1 tablespoons of butter and 1 tablespoon of oil to the
skillet. Cook the pork medallions over medium heat for about 3 to 4 minutes on each side, or until nicely
browned. Add the wine and broth to the skillet along with the mushroom mixture, and simmer, uncovered, for
2 minutes. Cover and reduce heat to low; cook for about 10 minutes longer. Serve with potatoes. Serves 4.
Brandon Johnson, W. P. Davidson High School
§§§
Apple-Glazed Pork Chops
4 – ¾ inch thick bone-in pork chops
2 tablespoons olive oil
1 cup apple juice
2 tablespoons brown sugar, divided
1 teaspoon salt
¼ teaspoon dried rosemary, crushed
¼ teaspoon dried thyme
1 tablespoon cornstarch
1 tablespoon cold water
2 large, tart apples, sliced
½ cup sliced onion
2 tablespoons butter
Diced apples or crabapples
Parsley
In a large skillet, brown pork chops in oil. Add the apple juice, 1 tablespoon brown sugar, salt, rosemary, and
thyme. Cover and cook for 7-8 minutes or until meat juices run clear. Combine the cornstarch and water until
smooth; add to the skillet. Bring to a boil; cook and stir for 1 – 2 minutes or until thickened. Meanwhile, in
another skillet, cook the apples, onion, butter, and remaining brown sugar over medium heat for 3-4 minutes or
until apples are soften. Serve over pork chops. Garnish with spiced apples or crabapples and parsley.
Michael Holmes, Mattie T. Blount high School
more
recipes
Pork Chop Supreme
5 Pork chops
1 tablespoon onion powder
1 tablespoon pepper
½ tablespoon Accent
Basil flakes
White rice
1 can cream of celery soup
1 tablespoon salt
½ teaspoon lemon pepper
1 tablespoon meat tenderizer
1 cup water
Place foil in a roaster pan, or roaster. Mix pepper, onion powder, salt, accent, lemon pepper, meat tenderizer,
and basil flakes together in a small bowl. Sprinkle on both sides of each pork chop. Place the seasoned pork
chops in the pay and pour the celery soup and water in the pan. Please in an oven and cook for an hour at 250
degrees. Check on the meat from time to time. Cook rice in a pan and let simmer. Gradually season. When
done, serve with pork chops.
Niyah Nettles, Citronelle High
§§§
Phillip's Pork
1 pork tenderloin, cleaned and trimmed
2 cups Zesty Italian Dressing
3 slices of bacon
1 tablespoon garlic powder
1 teaspoon Lawry's Seasoned Salt
1 teaspoon dried basil
½ teaspoon dried oregano
1 teaspoon black pepper
olive oil
Rice /Cream of Roasted Garlic Soup
Green onions, tomatoes, parsley
Put Italian dressing on top of pork tenderloin. Combine garlic powder, seasoned salt, basil, oregano, and black
pepper. Rub seasoning all over the pork tenderloin. Wrap pork with bacon and secure with toothpicks. Take
your olive oil and coat meat well. Place in a 9" x 13" pan and bake uncovered in a 375°F to 400°F oven for 45
to 60 minutes, or until pork reaches about 155°. Make sure the bacon is completely done. Remove and wrap in
foil. Let stand for 10 minutes before slicing. This pork tenderloin recipe serves 2 to 4 served over white rice
and cream of roasted garlic soup. Garnish with green onions, pan seared tomatoes, and parsley.
Phillip Bolton, Theodore High School
more
recipes
Chops ala Queen
Stuffing Chops:
4 Pork chops, 1" thick, bone in
1 cup sweet crisp apples, thinly sliced
½ tablespoon butter
1 teaspoon onion powder
1 teaspoon paprika
¼ cup Brie cheese, thinly sliced
½ cup sweet onion, thinly sliced
1 tablespoon vegetable oil
2 teaspoon garlic salt
½ teaspoon cilantro, minced
Preheat the oven to 424 degrees. Wash chops. Lay each flat and cut a pocket, going from the flesh side
to the bone, leaving about ¼ inch around d the edges. Try not to create a butterfly cut. Season the chops both
inside and out with the garlic salt, onion powder and paprika. Sear the chops in a skillet over medium/high heat
in butter and oil.
Separate the Brie, onion and apple slices into 8 even parts. Half the parts will be used to stuff the chops
and the other half will be used on top of the chops. Evenly stuff the slices in the pocket. Be careful not to over
stuff. Hold closed with tooth picks. Place them into a baking dish, topping with remaining 4 parts. Cover with
aluminum foil. Bake for 40 – 45 minutes.
Linguini Sauce
4 Cups Cooked Linguini (save the water)
1 tablespoon butter
½ sweet onion, chopped
2 teaspoon black pepper
2 tablespoon flour
½ cup green onion, chopped
2 tablespoon cilantro, minced
Slivers of Parmesan Cheese
In the braising skillet brown the flour over medium heat. As the flour takes a light brown color, add ½
cup of the pasta water and simmer for 3 minutes to create a roux. Place chopped green and sweet onions and
cilantro in a microwave safe dish, and microwave on high 1 minute or until tender. Add them to the roux. Add
linguini and toss. Serve with chops placed on top of linguine. Garnish with cilantro and Parmesan cheese.
Briahna Norwood, Baker High School
that's
all!