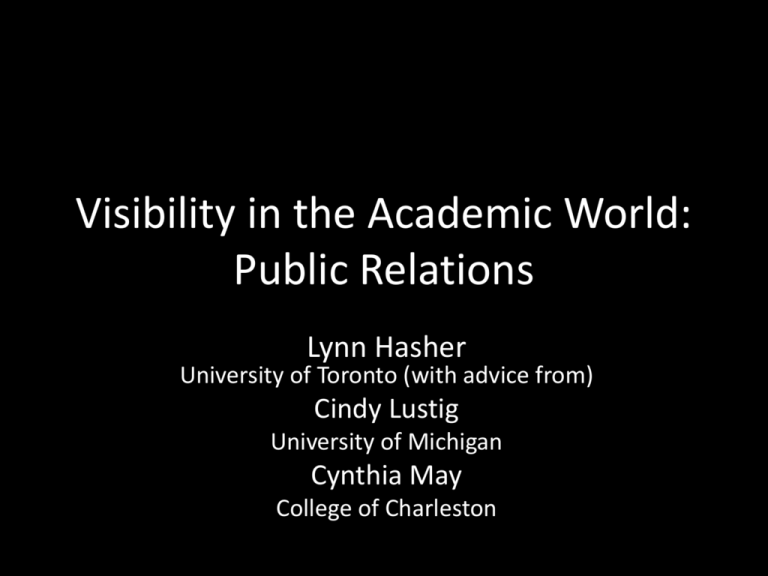 Visibility in the Academic World:
Public Relations
Lynn Hasher
University of Toronto (with advice from)
Cindy Lustig
University of Michigan
Cynthia May
College of Charleston
Richard Russo
Pulitzer Prize for Fiction 2002
• "In junior high school, I wasn't fast, but I could
put one foot in front of the other and keep
going. …the willingness to endure discomfort
was about as good training for a novelist as
you could imagine."
• the willingness to endure discomfort is also
good training for women in psychology.
Sources of Discomfort
•
•
•
•
•
Graduate School
Hiring process
Tenure/ Promotion processes
Research (start to finish)
Publication Process
– Revise and resubmit is good news!
– Rejections, especially rejections
• Grant writing and getting
• And….being visible and valued
How to be visible?
• Do a good job in the classroom
– (keep the + emails and letters)
• Do a good job as a citizen of your dept
/community
– (but be careful what committees you serve on!)
How to be visible?
•
•
•
•
•
•
•
•
And as to research:
Attend meetings, give posters/presentations
Make friends in the field; make more friends
Invite senior people to speak
Organize symposia
Do interesting research and get it published
Do a lot of research and get it all published
AND, RUN YOUR OWN PR FIRM
Public Relations 101
• WEB PAGE
– show off
– What your questions/answers are
– Who your collaborators are
– Where your students are
– Media presentations
– Awards
– Access to publications
Karl Healey wins an award at APA!
Inhibitory effects of emotion in
memory
Can being reminded of some amusing kittens cause one to forget
seeing some clowns? Sison and Mather's (2007) study indicates
that remembering an emotional item can make it less likely that
one will recall an item that evokes the same emotion. Click here for
a summary of the study and here for a review chapter on how
emotion can increase memory interference.
Web sites to look at
•
•
•
•
•
•
•
•
Mara Mather
Laura Carstensen
Marcia Johnson
Cindy Lustig
Cynthia May
Lynn Hasher
Elizabeth Phelps
And many more…
Public Relations 101
• GET A MENTOR
– Find awards/societies you are eligible for
– ASK them to nominate you!
– ASK department to nominate you!
• Apply for things…
• Pick a good sabbatical spot
• If on a social visit somewhere…ask to meet
people in the dept.
Public Relations 101
• MEET THE REAL PR PERSON
– If you've got an interesting paper coming out
– Let them know
– Get a short press release ready
– Get it posted to Eurekalerts (AP Reuters)
– THEN IF YOU GET CALLED/EMAILED
– Get back to reporter ASAP
– We all read the NY Times, listen to NPR
Public Relations 101
• WRITE OP ED PIECES
Sorry, Strivers: Talent Matters
DAVID Z. HAMBRICK and ELIZABETH J. MEINZ
New York Times
November 19, 2011
•
HOW do people acquire high levels of skill in science, business, music, the arts
and sports? …
•
Research in recent decades has shown that a big part of the answer is simply
practice — and a lot of it. In a pioneering study, the Florida State University
psychologist K. Anders Ericsson and his colleagues asked violin students at a
music academy to estimate the amount of time they had devoted to practice
since they started playing. By age 20, the students whom the faculty
nominated as the "best" players had accumulated an average of over 10,000
hours, compared with just under 8,000 hours for the "good" players and not
even 5,000 hours for the least skilled.
•
•
………….
But this isn't quite the story that science tells. Research has shown that
intellectual ability matters for success in many fields — and not just up to a
point.
I.Q. Points for Sale, Cheap
By DAVID Z. HAMBRICK
New York Times
May 5, 2012
•
•
A STRIKING trend in today's culture is the pursuit of rapid cognitive enhancement.
The idea behind many popular video and online "brain-training" games is that
practicing tasks that strengthen memory, attention and other mental processes
will make you a smarter person.
•
Nintendo markets its Brain Age game as a "treadmill for the mind." Lumosity, …,
says that its brain-training games offer "real-world cognitive benefits in individuals
of all ages" ….
•
Why the craze? …..
•
Yet I and many other intelligence researchers are skeptical of this research. Before
anyone spends any more time and money looking for a quick and easy way to
boost intelligence, it's important to explain why we're not sold on the idea.
Who Writes OP Ed Pieces?
•
• women
• men
NYT
22
78
Wash P W St Jnl
19
17
81
83
• Visit http://www.theopedproject.org/
Public Relations 101
POD CAST
• CHECK THESE OUT
– Scientific American
– Brainsciencepodcast.com
– Sciencepodcasters.org/cognitive daily
• TED LECTURE
– (Laura Carstensen; Sheena Iyengar)
Public Relations 101
• BLOG
– For Scientific American
– For Slate
– For blogspot
– For Scientopia
The Inspiration Paradox: Your Best Creative Time Is
Not When You Think
Morning people have more insights in the evening. Night owls have their
breakthroughs in the morning
By Cindi May (in Scientific American)
A bus company in China has launched a new "safe driving" campaign by
suspending bowls of water over their drivers. To avoid getting wet, drivers
must drive gently….. You might imagine that this simple yet ingenious idea was
conjured by someone functioning at their very best, that such "aha insights"
come when innovators are at their peak.
Not so. A recent study by Mareike Wieth and Rose Zacks suggests that
innovation and creativity are greatest when we are not at our best, at least
with respect to our circadian rhythms. ….
Public Relations 101
• Toot your own horn (gently)
– To people in your department, your college, your field.
• (if you win an award, chat with people in the hall, send an
email out – or put it on Facebook or LinkedIn and on your
website).
– If you happen to sit next to the Chair, Dean, Provost,
President on a plane or at a meeting or at a party
• talk about your findings. Your accomplishments. They want
to know!
Public Relations 101
• WRITE A BOOK!
Public Relations 101
Public Relations 101
• The bottom line:
• DO NOT HIDE YOUR LIGHT UNDER A BUSHEL
Life: And most important of all
• Don't count on public rewards
– They are few and far between
– So, "put one foot in front of the other" and don't
be easily deterred.
– And have fun at your work and…
Read funny books!