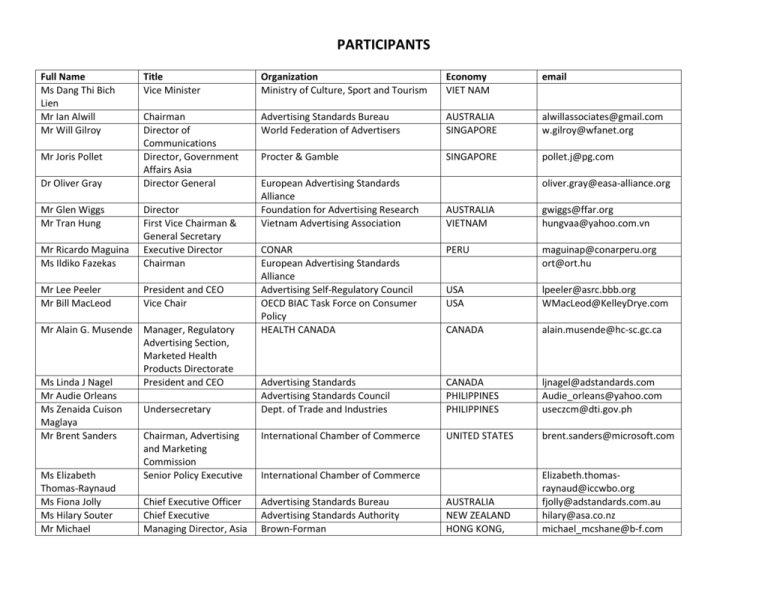 PARTICIPANTS
Full Name
Ms Dang Thi Bich
Lien
Mr Ian Alwill
Mr Will Gilroy
Mr Joris Pollet
Dr Oliver Gray
Mr Glen Wiggs
Mr Tran Hung
Title
Vice Minister
Organization
Ministry of Culture, Sport and Tourism
Economy
VIET NAM
email
Chairman
Director of
Communications
Director, Government
Affairs Asia
Director General
Advertising Standards Bureau
World Federation of Advertisers
AUSTRALIA
SINGAPORE
alwillassociates@gmail.com
w.gilroy@wfanet.org
Procter & Gamble
SINGAPORE
pollet.j@pg.com
Mr Ricardo Maguina
Ms Ildiko Fazekas
Director
First Vice Chairman &
General Secretary
Executive Director
Chairman
Mr Lee Peeler
Mr Bill MacLeod
President and CEO
Vice Chair
Mr Alain G. Musende Manager, Regulatory
Advertising Section,
Marketed Health
Products Directorate
Ms Linda J Nagel
President and CEO
Mr Audie Orleans
Ms Zenaida Cuison
Undersecretary
Maglaya
Mr Brent Sanders
Chairman, Advertising
and Marketing
Commission
Ms Elizabeth
Senior Policy Executive
Thomas-Raynaud
Ms Fiona Jolly
Chief Executive Officer
Ms Hilary Souter
Chief Executive
Mr Michael
Managing Director, Asia
European Advertising Standards
Alliance
Foundation for Advertising Research
Vietnam Advertising Association
oliver.gray@easa-alliance.org
AUSTRALIA
VIETNAM
gwiggs@ffar.org
hungvaa@yahoo.com.vn
CONAR
European Advertising Standards
Alliance
Advertising Self-Regulatory Council
OECD BIAC Task Force on Consumer
Policy
HEALTH CANADA
PERU
maguinap@conarperu.org
ort@ort.hu
USA
USA
lpeeler@asrc.bbb.org
WMacLeod@KelleyDrye.com
CANADA
alain.musende@hc-sc.gc.ca
Advertising Standards
Advertising Standards Council
Dept. of Trade and Industries
CANADA
PHILIPPINES
PHILIPPINES
ljnagel@adstandards.com
Audie_orleans@yahoo.com
useczcm@dti.gov.ph
International Chamber of Commerce
UNITED STATES
brent.sanders@microsoft.com
AUSTRALIA
NEW ZEALAND
HONG KONG,
Elizabeth.thomasraynaud@iccwbo.org
fjolly@adstandards.com.au
hilary@asa.co.nz
michael_mcshane@b-f.com
International Chamber of Commerce
Advertising Standards Bureau
Advertising Standards Authority
Brown-Forman
McShane
Ms Karla Avila
Jimenez
Mr Andrey
Kashevarov
Mr Ignacio Astete
Alvarez
Mr Wu Hao
Pacific
Executive Director
Mr Bambang
Sumaryanto
Ms Dewi Rahmarini
Chairman
Mr Kazuo Owada
Mr Kenneth Wong
Ms Brenda Gonzalez
Mr John Mong
Mr Carlos Cornejo
Guerrero
Mr Fyodor Borisov
Ms Wang Chee Yann
Dr Niwat
Wongprompreeda
Ms Supinya
Klangnarong
Ms Nguyen Thi Kim
Deputy Head
Executive Director
Deputy Section Chief
Senior staff
Directorate General
Information and Public
Communication
General Manager, ARP
Section
Member
Executive Director,
Advertising
CEO
CHINA
MEXICO
karlavila@conar.org.mx
RUSSIA
international@fas.gov.ru
CHILE
iastete@conar.cl
PEOPLE'S REPUBLIC
OF CHINA
INDONESIA
wuhao_gj@mofcom.gov.cn
INDONESIA
dewi.rahmarini@kominfo.go.i
d
Kirin Brewery Company, Ltd
JAPAN
kowada@kirin.co.jp
Advertising Standards Authority
Committee
COFEPRIS
MALAYSIA
kenwong@aaaa.org.my
MEXICO
appineda@cofepris.gob.mx
Kalang Advertising Limited
jmong@fm100.com.pg
CONAR
Federal Antimonopoly Service of
Russian Federation
National Council for Advertising SelfRegulation (CONAR)
Ministry of Commerce
Indonesia Advertising Association
(APPINA)
Ministry of Communications and
Information Technology
sumaryanto.b@pg.com
Vice president,
Overseeing of Unfair
Competition
Commission
Director
Deputy Director,
Content & Standards
Senior Director
INDECOPI
PAPUA NEW
GUINEA
PERU
Russian Association of Advertisers
Media Development Authority
RUSSIA
SINGAPORE
Advertising Association of Thailand
THAILAND
borisov@fyodor.ru
WANG_Chee_Yann@mda.gov.
sg
niwat@searcher.th.com
Director
National Broadcasting and
Telecommunication Committee
Advertising Club Vietnam Advertising
THAILAND
supinya.k@nbtc.go.th
VIET NAM
Loan.nt.1@pg.com
Chair
carloscornejoguerrero@yahoo
.com
Loan
Mr Dinh Quang Ngu
Mr Tri Bunchua
Chairman
Club
Vietnam Advertising Association
National Broadcasting and
Telecommunication Committee
National Broadcasting and
Telecommunication Committee
National Broadcasting and
Telecommunication Committee
VIET NAM
THAILAND
Loan.nt.1@pg.com
trio_th@hotmail.com
THAILAND
visage.b@gmail.com
THAILAND
fern612005@hotmail.com
National Broadcasting and
Telecommunication Committee
Vietnam Brewery Limited
THAILAND
piyapong_khuchart@hotmail.c
om
vuduc.trung@vbl.com.vn
Ms Liza Ramos
Mr Adam Gagen
Procter & Gamble
Pernod-Ricard, Asia
Mr Dj Woolf
Mr Brian Gordon
Crowell & Moring
Advertising Standards Bureau
SINGAPORE
HONG KONG,
CHINA
USA
AUSTRALIA
Ms Daniela Gray
Ms Nikki Paterson
Advertising Standards Bureau
Advertising Standards Bureau
AUSTRALIA
AUSTRALIA
Mr Heath McMichael
Department of Foreign Affairs and
Trade
AUSTRALIA
Mr Nattachat
Paungsudruk
Ms Radee Thanarak
Mr Piyapong
Pratumsuwan
Mr Vu Duc Trung
Public & Regulatory
Affairs Manager
VIET NAM
ramos.lm.1@pg.com
Adam.Gagen@pernodricard.com
DJWolff@crowell.com
bgordon@adstandards.com.a
u
dgray@adstandards.com.au
npaterson@adstandards.com.
au
Heath.McMichael@dfat.gov.a
u
TOTAL: 49 participants (not including Ministry of Culture, Sport and Tourism and Vietnam Advertising Club people) of whom 18 female and 31 male.