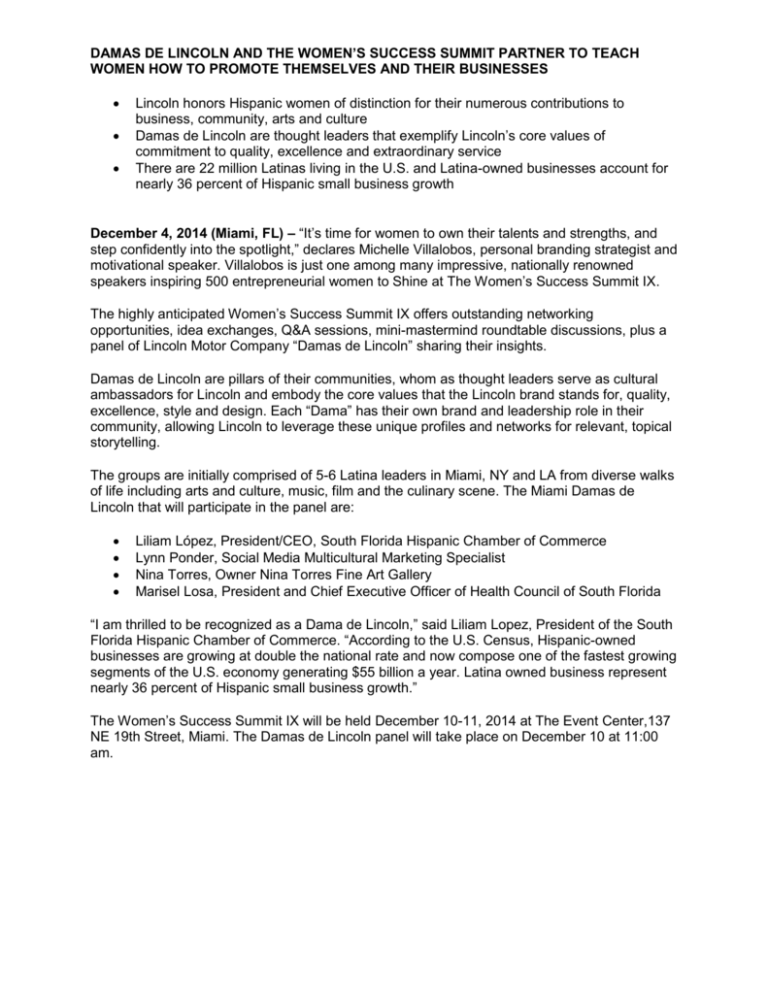 DAMAS DE LINCOLN AND THE WOMEN'S SUCCESS SUMMIT PARTNER TO TEACH
WOMEN HOW TO PROMOTE THEMSELVES AND THEIR BUSINESSES



Lincoln honors Hispanic women of distinction for their numerous contributions to
business, community, arts and culture
Damas de Lincoln are thought leaders that exemplify Lincoln's core values of
commitment to quality, excellence and extraordinary service
There are 22 million Latinas living in the U.S. and Latina-owned businesses account for
nearly 36 percent of Hispanic small business growth
December 4, 2014 (Miami, FL) – "It's time for women to own their talents and strengths, and
step confidently into the spotlight," declares Michelle Villalobos, personal branding strategist and
motivational speaker. Villalobos is just one among many impressive, nationally renowned
speakers inspiring 500 entrepreneurial women to Shine at The Women's Success Summit IX.
The highly anticipated Women's Success Summit IX offers outstanding networking
opportunities, idea exchanges, Q&A sessions, mini-mastermind roundtable discussions, plus a
panel of Lincoln Motor Company "Damas de Lincoln" sharing their insights.
Damas de Lincoln are pillars of their communities, whom as thought leaders serve as cultural
ambassadors for Lincoln and embody the core values that the Lincoln brand stands for, quality,
excellence, style and design. Each "Dama" has their own brand and leadership role in their
community, allowing Lincoln to leverage these unique profiles and networks for relevant, topical
storytelling.
The groups are initially comprised of 5-6 Latina leaders in Miami, NY and LA from diverse walks
of life including arts and culture, music, film and the culinary scene. The Miami Damas de
Lincoln that will participate in the panel are:




Liliam López, President/CEO, South Florida Hispanic Chamber of Commerce
Lynn Ponder, Social Media Multicultural Marketing Specialist
Nina Torres, Owner Nina Torres Fine Art Gallery
Marisel Losa, President and Chief Executive Officer of Health Council of South Florida
"I am thrilled to be recognized as a Dama de Lincoln," said Liliam Lopez, President of the South
Florida Hispanic Chamber of Commerce. "According to the U.S. Census, Hispanic-owned
businesses are growing at double the national rate and now compose one of the fastest growing
segments of the U.S. economy generating $55 billion a year. Latina owned business represent
nearly 36 percent of Hispanic small business growth."
The Women's Success Summit IX will be held December 10-11, 2014 at The Event Center,137
NE 19th Street, Miami. The Damas de Lincoln panel will take place on December 10 at 11:00
am.
Spokespersons Info & Bios
Liliam López, President/CEO, South Florida Hispanic Chamber of Commerce
Liliam M. López is a co-founder of the South Florida Hispanic Chamber of Commerce
(SFLHCC) in 1994 and the South Florida Hispanic Chamber of Commerce Foundation serving
as President/CEO of both organizations. Through her leadership, the SFLHCC has become one
of the most important and influential chambers of the U.S. with over 1,250 members.
Lopez implemented a scholarship program in the year 1995 that has granted $500,000 in
scholarships to financially disadvantaged sr. high school Hispanic students pursuing a career in
health and hospitality. She also founded the Education Enhancement Program, which provides
traveling scholarship opportunities to students of the Academy of Hospitality & Tourism of
Miami-Dade County Public Schools. This program has served 60 students. Because of this, the
South Florida Hispanic Chamber of Commerce was inducted as a Champion of Miami-Dade
County Public Schools' Academy of Hospitality and Tourism. Annually, children of Centro Mater
and the Center for Women and Children of the Miami Rescue Mission receive thousands of
dollars in toys, toiletry items and clothes through a program "Help Our Children" also initiated by
her.
López currently serves on the Board of Directors of the Alliance for Aging, the Miami-Dade Area
Health Education Center and on the President's Council for Florida International University
(FIU). She served on the Entrepreneurial Advisory Council of the Federal Reserve Bank of
Atlanta's Regional Economic Information Network (REIN) as the only Hispanic woman in that
board for the period 2008-2010, among many other boards.
Lynn Ponder, Social Media Multicultural Marketing Specialist
Lynn's passion for social media drives her to find the most creative and forward-thinking uses of
today's social platforms to promote and connect consumers with brands that add value to their
life. Trendsetter launching innovative programs like the first ever #TwitterHellos campaign from
the red carpet, visual storytelling Twitter Party using Nestivity technology, first ever sales and
social media marketing real-time online channel #SocialSalon.
Named TOP Entertainment Blogger by People en Español, Recognized as a Twitter
Powerhouse Passionista by The Huffington Post. Voted LATISM 2013 Best Latina MicroBlogger Endorsed by LATISM the largest organization of Latinos in Social Media as 2012/2013
US Top Blogueras. She has also been a guest speaker at GFR Media Puerto Rico, Florida
Public Relations Association, LATISM, Hispanicize and Social Media Week.
Lynn is the founder of social media interactive platform Web City Girls that develops original
social content, social media experiential marketing experiences for brands like The Ford Motor
Company, McDonalds, Cricket Wireless, Nestlé, COVERGIRL, Ralph Lauren and Pantene
among others.
Past experience includes owner of a successful international production company, Peliculas
Ponder. Lynn is a visionary entrepreneurial Executive Producer, who produced TV commercials
for Hispanic advertising agencies in the US and Latin America. Lynn has worked with such
high-profile multinational brands as Coca-Cola, Procter & Gamble, McDonald's, Kellogg's, and
Pepsi and knows what it takes to connect marketers with consumers.
Lynn has the passion and creativity for social multicultural advertising marketing and social
media programs that keep client's campaigns fresh and relevant.
Nina Torres, Owner Nina Torres Fine Art Gallery
For over 20 years Nina Torres has been actively participating in the international art market,
focusing on Modern and Contemporary Latin American Art and Mexican culture. During her
career, she has created, developed and implemented successful art and cultural programs for
corporate, government and private organizations.
Nina has curated and overseen over a hundred exhibitions in galleries, art shows and museums
around the world including England, Mexico, Belgium, The Netherlands, France, Thailand and
the USA.
In 2010 Nina Torres inaugurates Nina Torres Fine Art in the Wynwood Area, in December of
2011 inaugurates her new location on North Bayshore Drive, at the center of what it promises to
be Miami's most important cultural area: the Arts & Entertainment District.
As the only waterfront gallery to open in this location, it aims to serve the local and international
community as meeting point where art enthusiasts, collectors, and the general public gather for
interactive events in a bright welcoming space.
Nina Torres Fine Art at 1800 Club will continue to offer special projects that inject curatorial
values in a space for cultural exchange while initiating a new phase for this forthcoming District
in a premium location.
"As the Executive Director and Chief Curator, I will continue to curate exhibitions with the goal of
providing new perspectives on global contemporary art practices and trends".
Nina Torres is also the founder and director of the Miami River Art Fair, the first waterfront art
fair during Art Basel Miami week.
Marisel Losa, President and Chief Executive Officer of Health Council of South Florida
As a healthcare leader in the community with more than three decades of experience, Ms.
Marisel Losa is the President and Chief Executive Officer of the Health Council of South Florida,
Inc., a private non-profit organization whose mission is to be the source of unbiased health and
quality of life data and analysis; the preferred partner for quality program planning,
management, evaluation, and community services; the facilitator of collaboration and
partnerships in Miami-Dade and Monroe counties; and the trusted champion for ethical and
targeted healthcare policy at the local, state, and national levels.
Under her leadership, a cohesive, dedicated and dynamic professional leadership team
provides various services to the community: needs assessments, emerging needs solutions,
marshaling private and public stakeholders to form an integrated network, strategic planning,
and program development and evaluation in such areas as service coordination, chronic
disease management, reduction of health disparities and the promotion of wellness and healthy
lifestyles for the residents of Miami-Dade and Monroe counties.
She is the Founder and current Board Chair of the Florida Association of Free Clinics, which
strives to improve access to healthcare for Florida's uninsured and of Miami Matters, an online
interactive data warehouse which boasts over 170 indicators reporting on well-being of MiamiDade and Monroe County residents. She is also Co-Founder, Steering Committee Member and
Facilitator for the Health Action Network which brings together over 2200 members and
stakeholders to facilitate collaborations that maximize and leverage resources for optimal impact
and reach in addressing issues limiting health care access in our community and serves on the
Leadership Council for The Healthy Aging Regional collaborative of South Florida (HARC).
Ms. Losa was the Director of Mission Services at Mercy Hospital and Director of the free St.
John Bosco Clinic. Many in the community for her lifelong dedication, successes and
achievements in improving the public health in South Florida have honored her. Most notably
she has been bestowed the Engaged Leaders Award bestowed by The Miami Foundation for a
Greater Miami, the Bank of America Foundation Neighborhood Excellence Local Hero Award,
the Greater Miami Chamber of Commerce Health Care Hero Award, the March of Dimes
Awards, Building Our Community Humanitarian Award and the Florida International University,
Robert Stempel College of Public Health and Social Work, her alma mater.