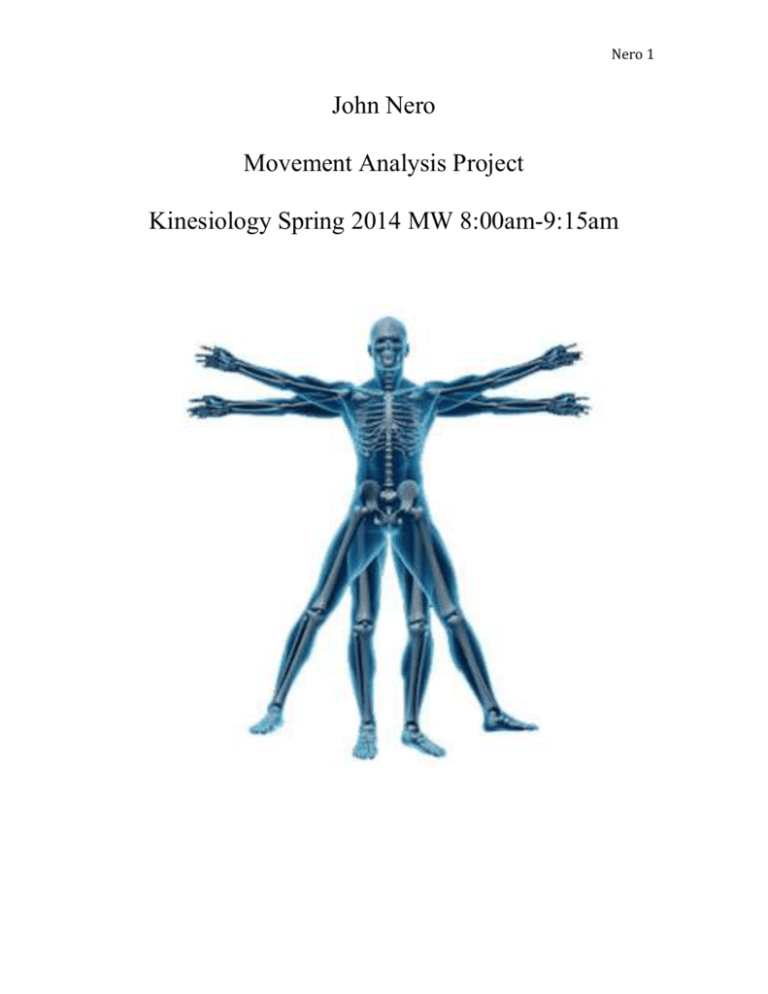 Nero 1
John Nero
Movement Analysis Project
Kinesiology Spring 2014 MW 8:00am-9:15am
Nero 2
Individual Information
Name: John Nero
Birthdate: 12/17/1992
Age: 21
Gender: M
Height: 73 in | 185.42 cm
Weight: 165 lbs. | 74.84 kg
BMI: 21.8
Blood Pressure: 122/81
Physical History
List any medical conditions or diseases that limit or affect bodily movement:

None
List current or previous injuries that affect movement:

I fractured my left pinkie metatarsal bone in 2006

I also tore ligaments in my left ankle in 2010

I had my right testicle removed in 2013
List activities that you have or do participate in that require more than an average
amount of movement (ex. Sports, exercise, etc.)
Have done:

Basketball (10 years)

Football (6 years)

Track Throwing (3 years)

Baseball (1 year)
Nero 3

Soccer (1 year)
Now:

Weight Lifting (4-5x a week)

Basketball (1x a week)

Run 3 miles a week
Please describe your occupation and the activities involved:
My occupation is a part time server at Scotland Run Golf Club. I usually work 23x a week. The job requires moderate physical activity. The job requires me to utilize my
balance and strength. For example, lifting a food tray to bring to a table and balancing a
tray with several drinks. Also, I am constantly on my feet walking around.
Please list past surgeries:

Orchiectomy (testicle removal) 2013
Do you suffer from joint or muscle related pain? Please describe:

None
Goals
Please list personal movement goals:
1. To improve the flexibility of toe touching.
2. Repair the range of motion in my lower abdominals, due to past surgery.
3. Improve range of motion in my hips.
Initial Summary
As I was growing up as an obese child, there were several limitations to my
movements. I eventually started to participate in organized physical activity (sports)
Nero 4
when I was about 10 years old. The amount of time I dedicated to sports was
significant; therefor, my movement limitations began to decrease.
Today, I spend much of my time to physical fitness and strive to be healthy. I
have developed efficient body movements, which enables me to lift weights without
damaging myself. Having said that however, my overall flexibility is poor. For
example, I cannot bend over and touch my toes or sit down and reach my toes. This is
an area in which I need to improve on. Also, I had surgery in 2013 that involved the
removal of my right testicle. The incision was executed where my lower abdominals
are located. This type of injury prevents me from high intensity abdominal exercise. I
want to restore my abdominal strength to where in was. I have strengths throughout
my body movements; however, I also have weaknesses. I will work to progress in
both areas over the course of the semester.
Rang of Motion Analysis
The table below represents the range of motion of various joints in my body.
Motion
Cervical Region
 Flexion
 Extension
 Rotation
 Lateral
Flexion
Glenohumeral
Region
 Abduction
 Flexion
 Internal
Rotation
 External
Rotation
Degree of Motion
Normal
ROM?
Right Left
Right
Left
65
73
81
40
65
73
81
40
Yes
Yes
Yes
Yes
Yes
Yes
Yes
Yes
175
161
73
174
159
73
Yes
No
Yes
Yes
No
Yes
90
90
Yes
Yes
Nero 5
Knee Region
 Extension
 Flexion
Hip Region
 Flexion
 External
Rotation
 Internal
Rotation
 Abduction
0
150
0
150
Yes
Yes
Yes
Yes
99
53
98
53
No
No
No
No
34
33
50
50
Yes
No
Yes
Yes
No
Yes
Elbow Region
 Flexion
 Extension
146
0
146
0
Yes
Yes
Yes
Yes
Radioulnar Region
 Pronation
 Supination
79
90
79
90
Yes
Yes
Yes
Yes
70
61
31
70
59
30
Yes
Yes
Yes
Yes
Yes
Yes
20
18
Yes
Yes
Wrist Region
 Flexion
 Extension
 Ulnar
Deviation
 Radial
Deviation
Nero 6
Neutral Position
Flexion (cervical)
Extension
(cervical)
Lateral Flexion
(cervical)
Rotation (cervical)
Neutral Position
Abduction
(shoulder)
Flexion (shoulder)
Internal Rotation
(shoulder)
External Rotation
(shoulder)
Flexion
(elbow)
Extension (elbow)
Nero 7
Supination (radioulnar)
Radial Deviation
(wrist)
Internal Rotation (hip)
Pronation
(radioulnar)
Ulnar Deviation
(wrist)
External Rotation
(hip)
Flexion (wrist)
Extension (wrist)
Flexion (hip)
Abduction (hip)
Flexion (knee)
Extension (knee)
After the conclusion of my range of motion analysis, my overall ROM is average
with the exception of a few joints. Throughout my analysis, I have discovered my right
side joints/limbs have a greater degree then opposed to my left side. For example, my
extension, radial deviation, and ulnar deviation in my right wrist region, all slightly had a
greater degree. I believe this is because my right side joints/limbs are my dominant usage.
Nero 8
My theory states the more an individual utilizes his or her dominant hand, the better
range of motion will be.
My overall range of motion throughout this analysis appeared to be normal.
Having said that, however, there were a few results that were intriguing. One, being that
my shoulder flexion was abnormal. I have never received any sort of injury to that
specific region, but it is a region where I tend to build muscle. I believe from not
consistently stretching the muscle enough, resulted in low ROM.
Acquiring the knowledge of my range of motion can have beneficial effects for
the future profession that I will be pursuing. The analysis's results allow me to realize
which specific joints I need to improve on. This is important to maintain a healthy
lifestyle and prevent significant injuries. I will assess myself and also apply my
knowledge to patients who need improvements in specific articulations.
Postural Needs Assessment
Subject's Name: John Nero Assessor's Name: Dr. Franlinger Date: March 30th 2014
Frontal View
Eyes Aligned
Yes
No
If no, which side higher
Right
Left
AC Joint Aligned
Left
Yes
No
If no, which side higher
Right
ASIS Aligned
Left
Yes
No
If no, which side higher
Right
Patella Height Even
Left
Yes
No
If no, which side higher
Right
Patella Faces Forward
In
Yes
No
If no, facing which way
Out
Genu Valgum
Both
Yes
No
If yes, which side
R
L
Nero 9
Genu Varum
Both
Yes
No
If yes, which side
R
L
Feet Face Forward
Both
Facing which way
Yes
No
If no, which one
R
L
Out
In
If yes, which side R
L
Head Protruded
Sagittal View
Yes No
Protracted Shoulder Girdle
Yes
No
Kyphosis
Yes
No
Excessive Lordosis
Yes
No
Reduced Lordosis
Yes
No
Genu Recurvatum
Both
Yes
No
*SLIGHTLY
Winged Scapula
Both
Yes
Posterior View
No
If yes, which side
Feet Evert
Both
Yes
No
If yes, which foot
R
L
Feet Invert
Both
Yes
No
If yes, which foot
R
L
R
L
Nero 10
Anterior View
Sagittal View
Posterior View
Overall, my postural alignment is normal; however, there are a couple issues that
can be identified with close examination. Starting from the inferior portion of my body,
my feet face forward, but are turned slightly outward. Possible causes for this postural
misalignment are overactive muscles that include: lateral gastrocnemius, soleus,
piriformis, or biceps femoris and underactive muscles, which include: medial
gastrocnemius and medial hamstrings. This relates directly to my flexibility in which I
cannot touch my toes, when attempting the toe touch stretch. One of my personal goals is
to become more flexible. The postural assessment identified the issues that prevent me
from fully stretching my hamstrings. Also, the study has shown me which muscles are
underactive. I'm now aware of the specific muscles in which I need to improve upon. I
have always thought my feet were slightly turned outward because of past injuries. I torn
ligaments in my left ankle and broken bones in my right foot; however, the postural
assessment showed different factors that caused my feet to slightly turn outward.
Nero 11
Lastly, the superior portion of my body, my head (cervical region) is slightly
protruded. Having said that; however, my spine shows no visual of lordosis or kyphosis. I
never had any type of injury to my cervical region of the spine. The only factor that could
possibly contribute to my head slightly protruding would be my years of participating in
football. My helmet and impacts to the head are the only possible factors that can be
considered. After the conclusion of the postural assessment, accurate causes for this
misalignment could be overactive muscles such as SCM, and underactive muscles such
as cervical extensors and stabilizers. I want to improve the stability and flexibility in the
cervical region of the spine; therefore, preventing any severe injuries.
The postural analysis will help me complete my goal, which is improving my
overall flexibility.
Overhead Squat Analysis
Subject's Name: John Nero Assessor's Name: Dr. Franlinger Date: March 30th 2014
Anterior View
Knees Align with foot:
Yes
No
If no, which one
R
L
Both
which way
valgus
varus
Feet Face Forward:
Yes
No
If no, which one
R
L
Both
which way
abduct
adduct
Normal Forward Flexion:
Yes
Sagittal View
No, excessive forward lean
Normal Lumbar Lordosis: Yes
lordosis
If no,
Arms Remain in Line:
No,
Yes
excessive lordosis
or
reduced
*ARMS SLIGHTLY EXTENDED
Feet Evert:
Yes
Posterior View
No
Heels Rise Off Floor:
Yes
No
Nero 12
Asymmetrical Shift:
Yes
No
If yes which side
R
L
Anterior View
My shoulders and knees are aligned straight. My
knees are facing forward and have no valgus or varus
misalignment. My feet are straight, showing neither
abduct nor adduct. Anterior view of my overhead
squat is correct and normal. Having the correct form
of squat will activate underactive muscles such as the
glutes. This will help my flexibility, which will also
improve my ROM.
Sagittal/Lateral View
Although my scores had normal measurements in all
sections of the sagittal/lateral view, my
shoulders/arms were slightly extended off the parallel
alignment. Possible causes for the postural
misalignment include: overacting my major and minor
pectoralis and underacting my rhomboids and middle
trapezius. This is not a significant problem now;
however, possibly could be one in the future. I can
improve this misalignment activating my rhomboids
Nero 13
and middle trapezius through exercise. There are no symptoms of lumbar lordosis and I
have normal forward flexion. Besides my arms are slightly extending, the sagittal view of
my overhead squat is correct.
Posterior View
All scores had normal measurements in the posterior
view. Again, there were no symptoms of either valgus
or varus direction. My knees and shoulders were
aligned correctly and my feet were straight. There are
no appearances of asymmetrical shifts or heels rising
off the floor. Overall, my overhead squat form is
perfect, with the exception of my shoulders slightly
extending.
Nero 14
Gait Analysis
Stance Phase
*Heel Strike*
My initial contact with the
treadmill reveals my right
heel supinating and
externally rotating my right
leg. It appears that I
excessively tend to walk on
the outside of my foot,
which can cause injuries.
Stance Phase
*Mid-Stance*
My right foot I completely
flat throughout the entire
phase. Following the
supination of my right heel,
my right foot stays in
supination and continues to
externally rotate my right
leg. My vertical alignment
appears to be abnormal.
My knee and ankle are
aligned; however, my hip
is not.
Nero 15
Stand Phase
*Heel Off*
As my right heel begins to
lift off, it starts to slowly
supinate. Also, slightly
supinating my calcaneus
and talus.
Stance Phase
*Toe Off*
Following heel off, my
right ankle is in full
supination pushes off the
treadmill. The right like
begins to externally rotate.
Swing Phase
*Initial Swing*
My right leg begins to
move forward by the pull
of my right hip flexors. The
left foot is in mid-stance,
while the right leg is
moving forward.
Nero 16
Swing Phase
*Mid-Swing*
The right leg moves
forward and straightens.
My left leg begins to
externally rotates and the
left ankle begins to
supinate.
Swing Phase
*Terminal Swing*
In the final stage of the gait
cycle, my right hip flex's,
right knee slightly extends,
and my right ankle is in
dorsiflexion. The process
of my right ankle
supinating and my right leg
externally rotating begins
again.
Nero 17
Corrective Exercise Program for Upper and Lower Body
The conclusions of the overhead squat, postural analysis, gait, and range of
motion; has revealed specific dysfunctions that are limiting my lower body flexibility and
my ability to strengthen my lower core. These complications can be corrected through
corrective exercises and adjustments. The following shows areas in which I need to
improve upon:
1. Protracted shoulder Girdle:
2. Feet Invert/Supinate
3. Lower Back Arch
Corrective Exercises for Protracted Shoulder Girdle:

This picture displays my protracted shoulder
girdle (rounded shoulders). The major and minor
pectoralis muscles are overactive in a protracted
shoulder girdle. This makes perfect sense because I
tend to exercise my major and minor pectoralis
muscles excessively.

My rhomboids and middle trapezius are
underactive muscles, which are key factors in a
protracted shoulder girdle. I can fix my protracted
shoulder girdle postural dysfunction through
corrective exercises and stretches.
Nero 18

First, I would start by stretching my
overactive muscles (major and minor pectoralis)
by placing my forearm and hand on a plastic ball
or steady object, and begin to slightly lean
forward. This lengthens and relaxes my chest
muscles. Also, loosens and prepares the muscles
for an exercise. Hold the stretch for 20-30 seconds.

Following the stretch, I will strengthen
my underactive muscles (rhomboids and middle
trapezius) through a seated row exercise. The
seated row performs a retracting motion. The
rhomboids and middle trapezius are agonist in a
retraction movement; therefore, this exercise is an effective exercise.
Corrective Exercises for Foot Inversion/Supination

The gait analysis has showed me that
my feet/ankles tend to invert/supinate often.
This can cause painful injuries, such as torn
ligaments and sprained ankles. Possible
overactive muscles include: lateral
gastrocnemius, soleus, piriformis, or biceps
femoris. My underactive muscles include: medial gastrocnemius, and medial
hamstrings.
Nero 19

Straitening and pulling the leg
forward, while lying on your back, can stretch
the medial gastrocnemius and hamstring.
While pulling the leg forward, (stretching the
medial hamstring) plantar flex the foot
towards you to stretch the medial
gastrocnemius. This will strengthen the
underactive muscles (medial gastrocnemius &
hamstring).

Following the stretching, this picture
displays how to exercise the medial hamstring.
Have the primary foot start on top of a chair.
Adduct the leg to the ground, slightly rotating the
knee. The medial hamstring is the agonist in this exercise.

Following the stretching, this picture
displays for to exercise the medial gastrocnemius.
Place the primary leg/foot on the stepping block.
Slightly externally rotate your lower, so that you
toes are pointing outward. Begin to lift your heel
up and down. The medial gastrocnemius are the
agonist in this exercise.
Nero 20
Corrective Exercises for Lower Back Arch:

In my overhead squat analysis
examination, I appear to have a slight arch in
my lower back. Overactive muscles
contributed to this dysfunction include:
Superficial erector spinae and hip flexors.
Underactive muscles include: Anterior core
and hamstrings.

I will start by stretching my anterior
abdominals. First, lay on the ground in
prone. Next, push your upper body up, while
at the same time keeping you hips/lower
body flat to the ground. Hold the stretch for
20-30 seconds.

For stretching the hamstrings, flex
the hip 90 degrees and then slightly extend
the knee making sure the contralateral leg
stays flat on the floor with the knee in slight
Nero 21
extension. Hold the stretch for 20-30 seconds and alternate legs.

There are several ways to
exercise the anterior abdominal muscles.
Simple crunches will activate anterior
abdominals muscles, especially the
rectus abdominal. First lay flat on the
ground with your knees flexed. While
keeping your feet on the ground and knees flexed, slowly lift your upper body up
to where your hands meet your knees, then slowly come back down.

Following the hamstring
stretches, an exercise for the hamstring
will be performed. While laying on the
ground, place your feet and lower
gastrocnemius on a medium plastic
ball. Keep your body straight. Flex
your knees, while keeping your lower
feet and gastrocnemius on the ball. Repeat this process.
Conclusion of the Movement Analysis
Overall, the assessment of myself was extremely informative and helpful. I've
discovered postural dysfunctions, of which I wasn't aware before. I learned specific
corrective exercises to enhance my physicality. I will apply the knowledge that I have
Nero 22
learned from this assessment and apply it to my daily life in order to live a heally steady
lifestyle.